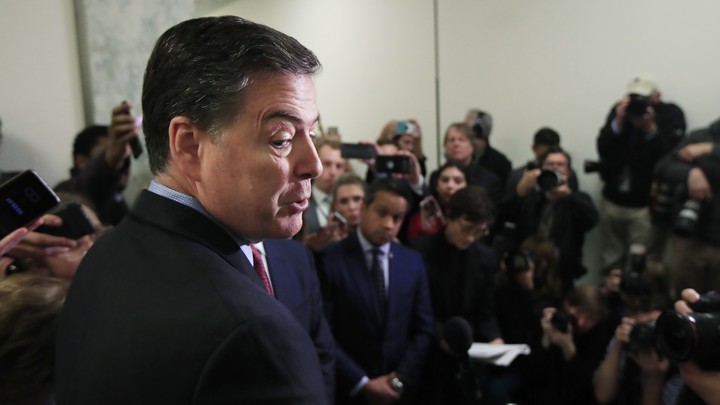 The band got back together on Friday. For five hours, members of the House of Representatives peppered former FBI Director James Comey with questions. All the greatest hits were there: Hillary Clinton's private email server; the tarmac meeting between Bill Clinton and then–Attorney General Loretta Lynch; the affair between the FBI agent Peter Strzok and the FBI attorney Lisa Page, and the anti-Trump texts they'd shared; and, of course, the salacious Steele dossier.
Because this show had no live audience, but also because Comey had resisted an entirely closed hearing, a 235-page transcript of the hearing was released late Saturday. And that's where the twists came in. At one point, for example, an FBI official accompanying Comey confirmed that Special Counsel Robert Mueller is pursuing a possible obstruction-of-justice case against the president.
It's not a page-turner. The representatives from the Judiciary and Oversight Committees questioned Comey on topics that he's addressed before and even covered in a memoir. The closed hearing largely consisted of Republicans pushing Comey on his decision not to prosecute Clinton for her serious lapses in email security, and Democrats pushing him to criticize Trump, as well as occasionally pushing him (again) on his controversial public pronouncement about reopening the email investigation days before the 2016 election. Predictably, he stood by his decisions as FBI director.
Nonetheless, there were a few key moments and some new information.
1. Mueller's Inquiry Covers Possible Obstruction of Justice by President Donald Trump
First there was the FBI official accompanying Comey and her confirmation that Mueller's inquiry covers possible obstruction of justice by President Trump. The moment came as Representative Trey Gowdy, the retiring South Carolina Republican who grew famous for leading a Benghazi investigation, was asking Comey whether he considered a Justice Department memo sufficient grounds for Trump to fire him. The FBI official, Cecilia Bessee, interrupted Gowdy: "Mr. Chairman, to the extent that question goes—again, goes to the special counsel's investigation into obstruction, the witness will not be able to answer."
Much later, Comey made clear that he thinks Trump was trying to obstruct justice when, on Valentine's Day 2017, he asked the FBI director to go easy on the former national-security adviser Michael Flynn, who had lied to FBI agents about his conversations with the Russian ambassador. "Well, the president of the United States asked me—directed me, in my apprehension of it, to drop a criminal investigation, and so that is an extraordinary use of power and could amount to obstruction of justice," Comey said. "That is a corrupt endeavor to impede the administration of justice."
Read: Three remarkable things about Michael Cohen's plea
2. Comey Acknowledged Oddities of the Clinton Email Investigation—Including "Highly Unusual" Tarmac Meeting
While Trump critics will find much ammunition in Comey's words, Republicans may see a small victory in his characterization of the infamous June 2016 Bill Clinton–Loretta Lynch meeting on an Arizona airport tarmac. Lynch said later that they had a wide-ranging 20-minute conversation that did not touch on the investigation into Hillary Clinton's emails, and that she would accept the FBI recommendation on possible charges to avoid any appearance of a conflict of interest. In response to questions from Representative John Ratcliffe, a Texas Republican, Comey agreed that it was "highly unusual" for the attorney general to meet with the spouse of someone under investigation and that it would have been "potentially inappropriate" if they had discussed the investigation. Later, Comey also agreed with Gowdy about the problematic nature of President Obama's statement in October 2015 on 60 Minutes that Clinton's mishandling of government emails on her personal server did not constitute a threat to national security. Obama's comment, Comey said, "threaten[ed] our ability to credibly complete the investigation." But when Ratcliffe challenged Comey about why he had been leaning against recommending charges even before FBI agents interviewed Hillary Clinton, he was firm: "You'd be incompetent if you didn't have a view of the case after a year."
3. Comey Defended Peter Strzok and Said Bill Barr Is "Certainly Fit to be Attorney General"
Republicans have argued that both the Clinton investigation and the Trump investigation were tainted by the personal views of two FBI officials who were secret lovers, Peter Strzok and Lisa Page. They shared their personal anti-Trump views in damning text messages that Trump has used to disparage the Mueller probe. Comey acknowledged that Strzok was one of the two agents to interview Clinton about her emails. He said that, had he known about his and Page's text messages, he would not have let either of them stay on the case, but he also said that he "never saw any indication of anything but the facts and the law from those people." He defended Strzok as "very highly regarded as a counterintelligence professional" and "among the best." He said Strzok's personal bias did not affect his work, pointing to his help composing the late October letter that Hillary Clinton blamed in part for her defeat.
While he praised Strzok, Comey also had praise for a Trump nominee, William Barr. Trump said Friday that Barr would be nominated to take Jeff Sessions's place as attorney general, a role that Barr held in the George H. W. Bush administration. "I think very highly of him," Comey said. "I mean, I used to work for him. I probably know him better than I know Bob Mueller. I probably just damned him by saying he's a friend of mine, but I respect him." He added, "I think he's certainly fit to be attorney general."
4. Comey Disputed Trump's Contention That He and Mueller Are Best Friends: "I Admire the Heck Out of the Man … We're Not Friends"
Jerry Nadler, the Democrat who will take over the Judiciary Committee in January, questioned Comey on Trump's contention that he and Mueller are "best friends" and that Trump "could give you a hundred pictures of him and Comey hugging and kissing each other." In response, Comey described a cordial but impersonal relationship that was far from best-friend status: "I admire the heck out of the man, but I don't know his phone number, I've never been to his house, I don't know his children's names. I think I had a meal once alone with him in a restaurant … We're not friends in any social sense." Addressing Trump's claim about photographs, Comey added in what amounted to the hearing's top laugh line, "I have never hugged or kissed the man. Again, I'm an admirer but not that kind of admirer."
As for Trump's portrayal of Mueller's team as angry partisans, Comey said, "I know them by reputation, and it's an all-star team of people whose names I've known for years as great federal prosecutors." He praised the special counsel's team for working "with extraordinary speed, with extraordinary professionalism, and zero disclosure outside of public court filings." As he put it later, "There are not many things I would bet my life on. I would bet my life that Bob Mueller will do things the right way, the way we would all want, whether we're Republicans or Democrats, the way Americans should want."
The former FBI director reserved his harshest criticism for Trump's portrayal of the bureau and the Justice Department as a politicized mess. "Those kind of lies hurt the ability of the FBI to be believed at a doorway or in a courtroom. That makes all of us less safe," Comey told one Democrat. "I think the relentless attacks on the institutions of justice are something we will all be sorry … if we stood silent and watched that happened," he told another. "When you run them down for political reasons, you may see a short-term gain; you see a long-term damage to our country and its security." Or, as he told a third: "I think we have become numb to lying and attacks on the rule of law by the president."
We want to hear what you think about this article. Submit a letter to the editor or write to letters@theatlantic.com.