The Democrats Who Adored George H. W. Bush
The death of the nation's 41st president marks the passing of bipartisan respect and comity.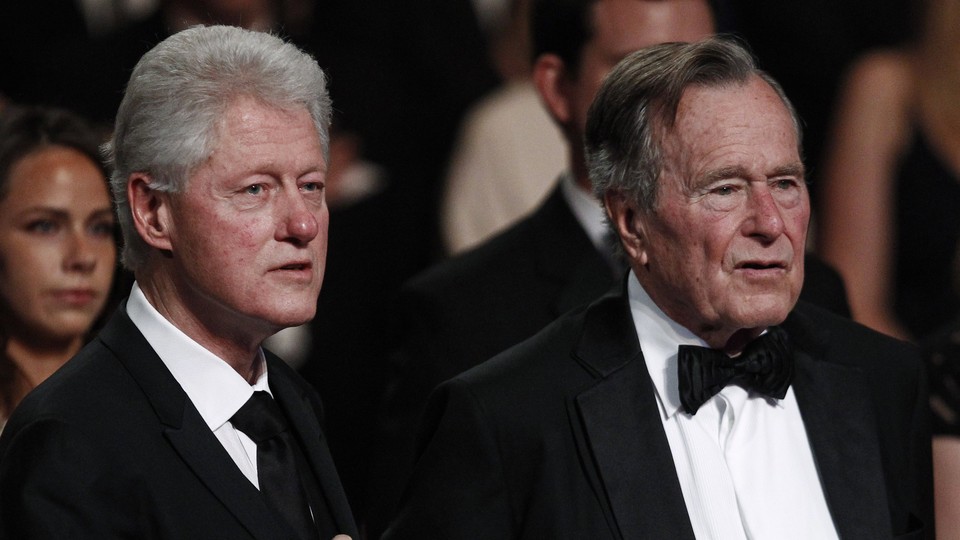 George H. W. Bush exemplified the traditional expectations of an American president: dignified, gracious, restrained, resolute. Though voters gave him only one term in the White House, he commanded bipartisan respect, as leading Democrats' tributes have shown Saturday following his death in Houston at 94. His passing leaves the country without a unifying figure who transcends tribal political disdain. It's hard to imagine one party's eminences uniting in such unalloyed praise for any living figure from across the aisle.
Barack Obama, who had visited Bush just this week during a trip to Houston, paid tribute to Bush's foreign policy, which ejected Saddam Hussein from Kuwait and oversaw the Cold War's end without firing a shot. Obama's personal praise focused on Bush's attitude as a "humble servant" who showed that "public service is a noble, joyous calling." Intentionally or not, Obama seemed to be rebuking the current Oval Office occupant and his "Make America great again" slogan when he wrote that Bush was "a testament to the qualities that make this country great. Service to others. Commitment to leaving behind something better. Sacrifice in the name of lifting this country closer to its founding ideals."
Nancy Pelosi, who entered Congress shortly before Bush became the nation's 41st president in 1989, called him "a gentleman of the highest integrity and deepest patriotism" and said it was a privilege to work with him. While Donald Trump belittles his opponents with demeaning nicknames, Pelosi said that Bush demonstrated "great humility, unwavering compassion, deep faith, and extraordinary kindness in and out of the political arena." Whether she meant to or not, she sounded as if she were drawing a contrast with the current president.
From the Democratic Party's 2020 hopefuls and possibles came more praise. Senator Elizabeth Warren of Massachusetts called him "an American patriot who lived his life and served our country with dignity" and whose "devotion to public service was unmatched." Senator Bernie Sanders of Vermont said that he and Barbara Bush will be "remembered for their humble and devoted service to the country they loved." Julián Castro, the former HUD secretary and mayor of San Antonio, recognized "an admirable life of service to country." Representative Beto O'Rourke of Texas tweeted about "his leadership, his decency & his essential kindness" and how he made "public service about country, and America's responsibility in the world, less about party."
No friendship between former presidents from different parties can exceed that which existed between Bush and the Democrat who sent him to an early retirement in 1992, Bill Clinton. The two eventually built an exceedingly close personal relationship that was made possible by Bush's graciousness. When Clinton entered the Oval Office for the first time as president, he found a note from the outgoing president with a heartfelt message. It concluded, "You will be our President when you read this note. I wish you well. I wish your family well. Your success now is our country's success. I am rooting hard for you." While in office, Clinton sometimes sought his predecessor's advice. And as is often the case with ex-presidents, their relationship continued to deepen once both had left the White House. They united in purpose, leading fund-raising efforts after the 2004 Asian tsunami and Hurricane Katrina the next year.
"It speaks to the character of both men," George W. Bush said of that friendship in 2014. "Bill Clinton treated Dad with great deference and Dad has become a friend of his." Andy Card, who served in the elder Bush's administration and returned as 43's chief of staff, once said: "They have become really great friends; in fact almost like family and that's like a jealousy for the rest of the Bush kids. They think they got this other brother named Bill Clinton." In recent years, the Democrat tried to visit H.W. annually, often bringing the colorful socks that he loved to wear. They had a long lunch last year between the elder Bush's hospitalizations and, it turned out, shortly before Barbara Bush passed away. Calling theirs a father-and-son relationship is probably a saccharine oversimplification, but they were genuinely close.
So it was that Clinton's message upon George H. W. Bush's death moved past giving thanks for "his great long life of service" to a more personal note: "I am grateful for every minute I spent with him and will always hold our friendship as one of my life's greatest gifts."
But elsewhere, the 42nd president pivoted to contrast his predecessor with current debate, surely thinking of President Trump's rallies, where mention of Hillary Clinton still draws chants of "Lock her up." "Given what politics looks like in America and around the world today," Clinton wrote in an appreciation for The Washington Post, "it's easy to sigh and say George H.W. Bush belonged to an era that is gone and never coming back — where our opponents are not our enemies, where we are open to different ideas and changing our minds, where facts matter and where our devotion to our children's future leads to honest compromise and shared progress."
With the passing earlier this year of Senator John McCain, it's hard to imagine any other political leader drawing such broad admiration. Republicans have not warmed to Bill Clinton, and certainly not to Hillary Clinton or Barack Obama; Jimmy Carter will be praised for his humanitarian efforts, but he's still seen by many Republicans as a partisan figure. Though polls show that George W. Bush's standing is on the rise since leaving the White House, Democrats will not forget the Iraq War. And Donald Trump?
George H. W. Bush was the rare figure regarded as a person above politics, with genuine appreciation from across the aisle. Maybe it's because his career mostly predated cable news and the internet. Maybe it's because he rose to power when the parties were bigger tents rather than rigid ideological groupings. Maybe it was the World War II generation's unifying patriotism. Whatever it was, the words from the other party show that he earned their respect. Will that happen again?