Early Signs of a Youth Wave
Young-adult turnout surged by 188 percent in early voting compared with 2014.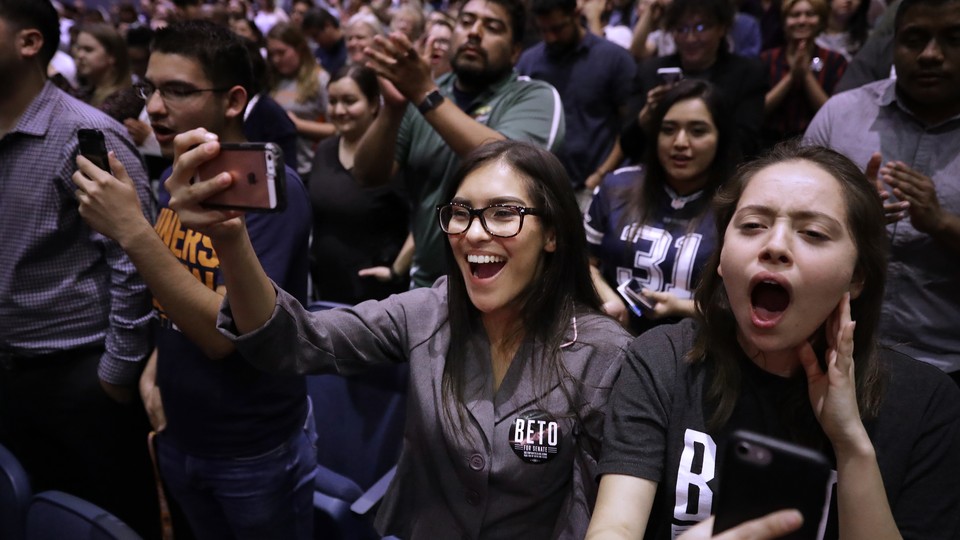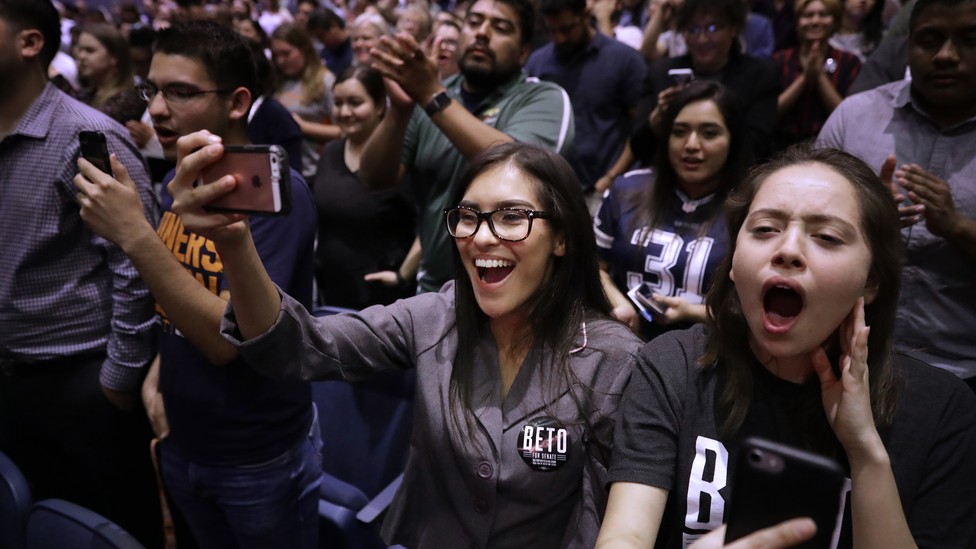 In the lead-up to the midterms, there has been a swell of appeals to the country's youngest voters. Survivors of the Parkland, Florida, shooting launched a nationwide voter-registration drive. Dozens of celebrities organized a live-streamed telethon aimed at directing young voters to the polls. In a rare political message, Taylor Swift, notably silent throughout the 2016 election, urged her 112 million Instagram followers to research their candidates and cast their vote.
It seems to be working.
Preliminary results from ABC exit polls suggest that voters ages 18 to 29 will make up 13 percent of the overall electorate in this year's midterms, up from 11 percent in 2014. While early voting across every age group increased compared with the 2014 midterms, the surge is most pronounced among voters ages 18 to 29. More than 3.3 million voters from that group cast their votes early. That's a 188 percent increase from 2014, according to data from TargetSmart, a political-data-analysis firm.
The spike in youth turnout in several key battleground states is particularly striking. In Texas, where young voters have rallied behind the Democratic Senate candidate Beto O'Rourke, early voting increased fivefold for voters ages 18 to 29, according to The Hill. It's the same story in Nevada, where there's another hotly contested Senate race: Five times as many young voters turned out early in 2018 as they did in 2014.
Young adults have had the worst turnout of any age group in every election since the U.S. Census Bureau began keeping track of voter-age data, in 1978 for midterm races and in 1964 for presidential races. The United States Election Project, which analyzes census data, finds that 18-to-29-year-olds both have the lowest turnout rate and make up the lowest percentage of overall voters. And even though 18-to-29-year-olds saw the greatest increase in voters of any age group in 2018 early-voting returns, they still made up the lowest percentage of early voters.
This election cycle, those trying to read the tea leaves of the midterms have kept squinting into the cup to see whether they could make out the shape of a youth wave. Andre Perry, a fellow at the Brookings Institution, went so far as to predict that the youth vote would determine the outcome of this year's election. Many of the youngest eligible voters seem to have been mobilized to register by the school shooting in Parkland earlier this year and the wave of activism for gun reform that followed. But a Washington Post analysis of that data in August found that those bumps were unlikely to have a significant effect.
The Harvard Kennedy School's biannual youth poll stirred the pot again in October, with news that 2018 midterm turnout could be historically high among young people. Forty percent of the 18-to-29-year-olds surveyed said they planned to vote this year; turnout in this age group has (barely) surpassed 20 percent only two times since 1986. And the poll suggested that a hypothetical youth wave would also be a blue wave, which makes sense, as Millennials lean more Democratic than any other generation, according to Pew. The poll's findings "may signal that the spike in Millennial political involvement that began after the 2016 election of Donald Trump hasn't lost steam in the past two years," Olivia Paschal and Madeleine Carlisle reported for The Atlantic at the time.
But as a New York Times piece titled "Young Voters Could Make a Difference. Will They?" said: "Young people have failed to meet expectations in the past, even when they have appeared unusually enthusiastic."