America, Now More Divided Than (Almost) Ever
Democrats captured the House and the GOP kept the Senate. The results portend the challenges the parties—and President Trump—will have in 2020.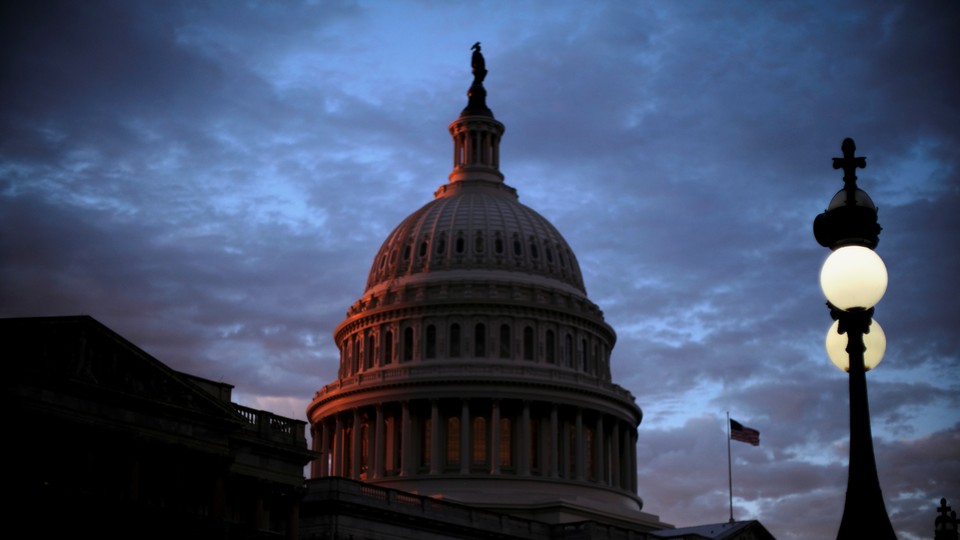 The realignment is consolidating. Republicans won in solid Donald Trump states. Democrats won in solid Hillary Clinton states.
There were exceptions: Senator Joe Manchin won another term in West Virginia despite being a Democrat. But the states where the presidential election of 2016 was the tightest are the ones still figuring out who and what they are.
There's Ohio, which easily reelected Sherrod Brown, a liberal who's been in politics for 50 years, to a third term in the U.S. Senate. On the same night, it narrowly made the Republican Mike DeWine the state's governor. There's Florida, which proved that sheer numbers outweigh movement enthusiasm in making Ron DeSantis, a Republican, the governor over Andrew Gillum. And there's Iowa, which knocked out two incumbent Republicans in the House as it reelected GOP Governor Kim Reynolds, who has been running a stringently spending-cutting administration. Most Democrats in Iowa and Washington, D.C., had for weeks been expecting Reynolds to go down hard.
Democrats woke up Wednesday deflated, despite winning the House, and worried about the way forward in Ohio and, especially, Florida. Like two years ago, the voter surge in Florida had them thinking they were on their way to big wins, only to realize late that they'd lose instead. Republicans, though, did not lock in at nearly the levels that could make Trump's reelection campaign breathe easy. And with Democrats scoring layup statewide wins in Minnesota and Colorado, the president didn't show any expansion into states where his campaign has said it wants to compete. Trump didn't show up in Michigan or Pennsylvania, and Democrats trounced Republicans there in races for the Senate, for governor, and all the way down the ticket. Liberal Democratic Senator Tammy Baldwin skated to another term in Wisconsin and the state's Republican governor, Scott Walker, went down in what was both a significant electoral and moral win for Democrats.
The reality of the numbers: America is a country where the government is much more closely divided than the voters are.
Republicans expanded their majority in the Senate to 51 seats—though 10 million more people voted for Democrats than Republicans. Democrats took the majority in the House, picking up 25 seats; that's more tide than wave, though 3.5 million more people voted for Democrats than Republicans.
The division can seem like it's right down the middle, but in a country where the Republicans have won the popular vote only once in the past 25 years of presidential elections, Tuesday's results are in part a picture of how much power is tilted away from Democrats structurally.
Democrats wanted to believe that Trump and Trumpism could win only against a candidate as flawed as Clinton. The truth is that many Americans are scared, and the president's nonstop shop of invented and embellished horrors has more customers than most Democratic voters can even start to wrap their head around.
While most voters, operatives, and journalists couldn't help but relive 2016 on Tuesday night, there were signs pointing to where politics is headed next. With the exception of Young Kim in California, every Republican who won a competitive House, Senate, or governor's race is white. A historic number of female voters propelled a historic number of women into office.
The suburbs have abandoned Trump. Rural areas are redder. The independents are voting Democratic. Young people are too, but not nearly in the numbers that could have overwhelmed these elections.
White women, particularly those without college educations, have not strayed far from the president. Democrats have not figured out how to win where the electorate is more than two-thirds white.
"By being so narcissistic and making this all about him and his 2020 reelection, [Trump] may have created a fundamental realignment," said Randi Weingarten, the president of the American Federation of Teachers, as she wrapped up a multistate campaign blitz on Tuesday.
This is not how Republicans processed the night.
Josh Hawley, who achieved the longtime Republican dream of knocking out Claire McCaskill from her Senate seat in Missouri, mentioned Trump before he mentioned his family. He got a big cheer out of the crowd by mentioning that he'd just gotten off the phone with the White House.
"Thank you, Mr. President, for your leadership," Hawley said. "Thank you for believing in Missouri."
Then, significantly: Florida approved a ballot question that restored the right to vote to 1.4 million felons, most of whom are black men. If only a third of them exercise that right in 2020 and beyond, that is 420,000 new voters in a state where the governor's race was decided by 74,000 votes out of slightly less than 8 million cast, and where Trump won by 113,000. In Michigan, a ballot question established automatic voter registration and an easy process that essentially creates absentee voting.
Both will reshape the future of state and presidential politics, starting immediately.
By a little after midnight, Senator Cory Booker, the Democrat from New Jersey, was starting to make calls to Iowa. The 2020 presidential race, which has been moving from tease to tickle over the past few weeks, is about to become a stampede. There are lessons from the midterms for that, too: Beto O'Rourke ran a movement campaign in Texas that didn't quite win him Ted Cruz's Senate seat, but it did make him a fund-raising and media phenomenon. That approach brought O'Rourke much closer to victory than Joe Donnelly, with his quiet caution and moderation in the Indiana Senate race. The cavalcade of Democrats' boring-white-guy candidates didn't work as well as they'd hoped: Tony Evers won the Wisconsin governor's race, but Rich Cordray in Ohio and Fred Hubbell in Iowa both lost that race in their respective states. Ditto for O'Rourke and the other national-sensation candidates, Stacey Abrams in Georgia and Gillum in Florida.
Zeroing in on frustration with Republican governance rather than arguing Republican politics, meanwhile, made Gretchen Whitmer governor in Michigan and Laura Kelly governor in Kansas.
The biggest changes to the immediate political landscape, though, will likely come out of three committees in the House, which are now going to be run by Democrats as they comfortably take the majority: Intelligence, Oversight, and Judiciary. Intelligence, which will be run by California's Adam Schiff, will get a new crack at the Russia investigation. Oversight, which will be run by Maryland's Elijah Cummings, can subpoena whatever it wants. Cummings laid out to me earlier in the fall his interest in everything from Jared Kushner's security clearances to what kind of investigation the Senate Judiciary Committee conducted into the women who accused Brett Kavanaugh of sexual misconduct. Judiciary, which will be run by New York's Jerry Nadler, is the only route for any impeachment activity to move through.
And then there's the biggest result that's still sitting out there. It has nothing to do with the midterms, but these outcomes will have everything to do with where it goes: Robert Mueller has an investigation to wrap up, and presumably a report to write. The parlor-game expectation is that will come sometime in the next six months, at most.