Is WikiLeaks a Russian Front?
The idea that the putative transparency group served as a connection between Moscow and the president's associates is starting to become clearer.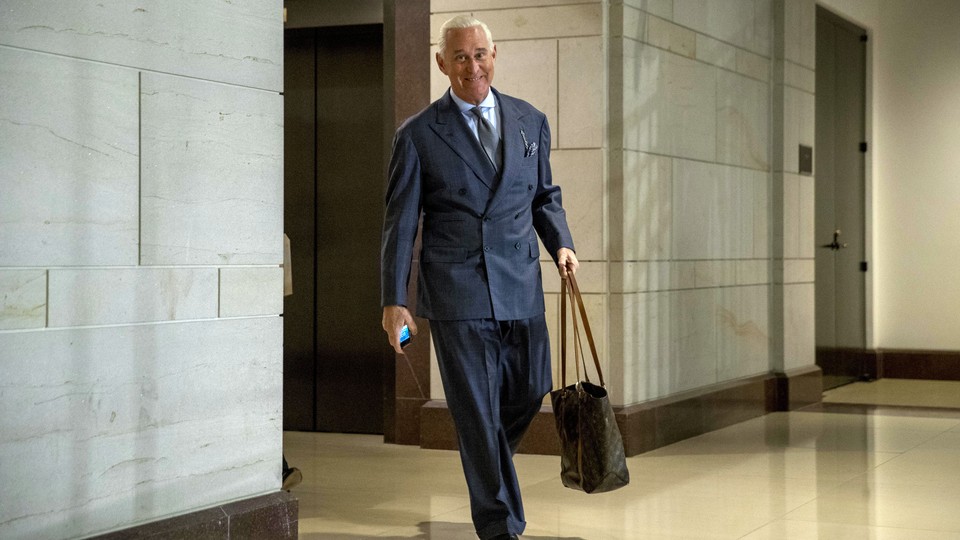 "You know, they like to say every time WikiLeaks comes out, they say this is a conspiracy between Donald Trump and Russia," the then–presidential candidate Donald Trump told a crowd in Kinston, North Carolina, in October 2016. The idea was self-evidently ridiculous, the Republican said: "Give me a break."
Barely two years later, the idea of WikiLeaks serving as a medium for Russia to boost the Trump campaign seems more and more plausible—even likely. For some time, there has been substantial evidence of Russia's involvement in attempts to influence the 2016 presidential election and to hurt the Democrat Hillary Clinton's presidential bid, from an elaborate trolling and Astroturfing operation to simple theft of emails and hacking. Until recently, the connection between those Russian efforts and Trump allies has remained somewhat obscure and speculative. But recent developments have started to flesh out the picture. Russia used WikiLeaks as a conduit—witting or unwitting—and WikiLeaks, in turn, appears to have been in touch with Trump allies. The key remaining questions are what WikiLeaks knew and what Trump himself knew.
According to a draft document from Special Counsel Robert Mueller's team, which is investigating Russian interference in the election, the conservative author Jerome Corsi tipped off Roger Stone, a Trump friend and former political adviser, that WikiLeaks would release a tranche of emails hacked from Clinton campaign chairman John Podesta. The tip came in August, weeks before the October release. Corsi provided the document to NBC News and then several other news organizations. As per his practice, Mueller has not commented.
According to the document, Stone (identified as "Person 1") wrote to Corsi in late July 2016 telling him to get to WikiLeaks founder Julian Assange at the Ecuadorian embassy in London, where Assange has been holed up for years, and obtain the Clinton emails that WikiLeaks had. The document says that Corsi forwarded the note to an individual identified as Ted Malloch, a Trump ally who has also been interviewed by the special counsel's team. Per the document, Corsi replied to Stone in August:
Word is friend in embassy plans 2 more dumps. One shortly after I'm back. 2nd in Oct. Impact planned to be very damaging.… Time to let more than [Podesta] to be exposed as in bed w enemy if they are not ready to drop HRC. That appears to be the game hackers are now about. Would not hurt to start suggesting HRC old, memory bad, has stroke -- neither he nor she well. I expect that much of next dump focus, setting stage for [Clinton] Foundation debacle.
Corsi, however, told Mueller's team that he had not gotten in touch with Assange, which the document says constitutes lying to investigators, a crime.
Corsi told investigators that he understood Stone to be in touch with senior members of the Trump campaign. Stone, a longtime political operative, was initially a member of the Trump presidential campaign before he departed in summer 2015. But Stone apparently remained in touch with the Trump camp, and his friend and former business partner Paul Manafort served as Trump's campaign chairman during summer 2016. Manafort signed a plea agreement with Mueller's team in September, but the special counsel said in a filing this week that Manafort had violated the agreement by continuing to lie to investigators, a claim Manafort denies.
Russia has long appeared to be behind the hacks into computers at the Democratic National Committee, as well as a phishing operation that penetrated Podesta's email account. Private-sector investigators hired by the DNC concluded that Russia was behind the 2016 hacking. Later, a report released by the director of national intelligence reached the same conclusion, though it was sketchy in explaining its reasoning. But in July 2018, an indictment from Mueller's team offered the most detailed accounting of why Russian intelligence was the likely culprit for the hacks, and detailed how Russia passed the emails to WikiLeaks through a persona called Guccifer 2.0, named after another hacker. No trial has been held.
One important question that remains unanswered is the extent to which WikiLeaks was aware that it was receiving hacked emails from Russian agents. Assange has long denied that Russia was the source, and implied baselessly that Seth Rich, a DNC employee whose 2016 murder in Washington remains unsolved, was. He's also cast doubt on the idea that Guccifer 2.0 was Russian or affiliated with the Russian government.
But Assange has a long, if enigmatic, relationship with Russia, and shares a contempt for the U.S. government, and especially Hillary Clinton, with the Kremlin. While Russia's authoritarianism and suppression of free expression are at odds with WikiLeaks's stated principles, Raffi Khatchadourian noted in a 2017 New Yorker profile that Assange has tended to view Russia as an important counterweight to the American empire, and has perhaps thus tended to overlook its flaws. The New York Times concluded in August 2016 that WikiLeaks' actions often seemed to benefit Russia, and Assange also briefly hosted a show on RT, the Kremlin-affiliated propaganda network. On Tuesday, The Guardian reported that Manafort had visited Assange in the Ecuadorian embassy in London in March 2016, around the time he joined the Trump campaign. But the article was opaquely sourced, and hasn't been confirmed by other outlets.
Assange originally entered the Ecuadorian embassy to avoid extradition to Sweden on sex-crimes charges, but since those charges were dropped he has refused to leave, saying he is worried that the U.S. would have him arrested and extradited. Over the more than six years of his residency, Assange's relationship with Ecuador has frayed. The country cut off his internet access late in the 2016 election due to his alleged interference in American politics. More recently, he has sued Ecuador for violating his rights by cutting off communications.
But a recent development in the U.S. buttresses Assange's fears. In an apparently inadvertent disclosure in an unrelated case, a federal prosecutor wrote that Assange had been indicted under seal. The U.S. government said Assange's name was incorrectly placed in the filing. It is not yet clear what Assange might be charged with, or whether the charges would stem from Mueller's probe or something else.
The more consequential questions are what Trump knew about the back channel to WikiLeaks and when he knew it. As my colleague Natasha Bertrand has reported, Stone has repeatedly changed his story to authorities about his communications with both WikiLeaks and Trump campaign officials. Stone also pushed the Seth Rich conspiracy theory. But while Stone was believed to be in touch with people in the Trump campaign, it's not clear whether the candidate himself was aware of those communications.
CNN reports that Trump told Mueller, in written answers to questions, that Stone never told him about the talks with WikiLeaks. Of course, there were other channels: George Papadopoulos, a Trump campaign foreign-policy aide, was told that Russia possessed emails that would be damaging to the Clinton campaign. Manafort, Donald Trump Jr., and Jared Kushner met with a Russian lawyer in June 2016 after being told that Vladimir Putin backed Trump Sr. and that they could expect dirt on Clinton, though all parties say no information was ultimately exchanged. CNN reports that Trump also told Mueller he did not know about that meeting, though the White House has repeatedly changed its story about it.
Trump continues to deny any connections between his campaign and Russia. By now, there's enough evidence to treat this as seriously as much of what he says—which is to say, with the presumption that it's hogwash. There is not, at this point, any public information that connects the president directly to Russian interference in the election, but the emerging evidence strongly suggests that Trump confidants were given forewarning about Russian moves designed to hurt Clinton and boost Trump—and that WikiLeaks was the middleman that made it all possible.