Beto O'Rourke's National Celebrity Was His Undoing
"He was a cause, not a candidate."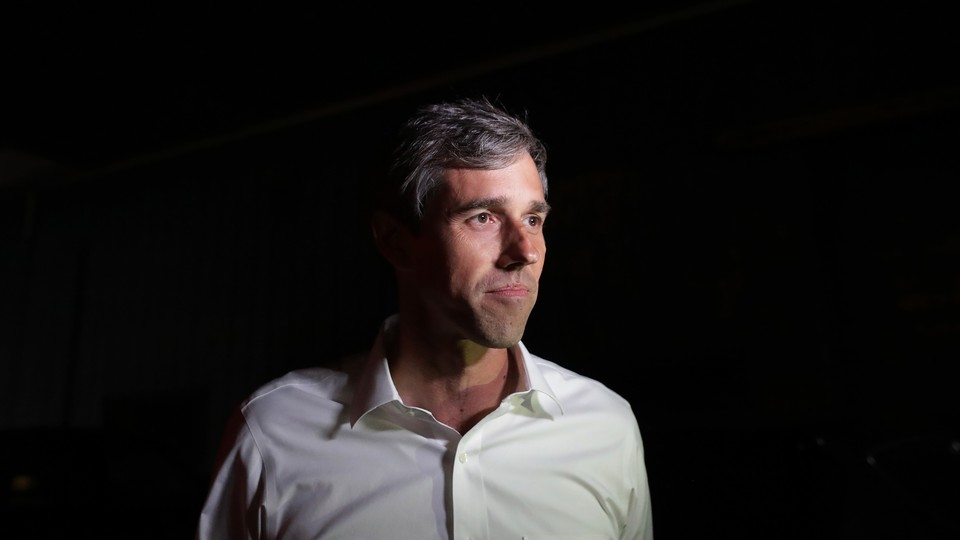 In the past year, the Texas Senate candidate Beto O'Rourke has been compared endlessly to the great charismatic stars of the Democratic Party. He was Kennedyesque! He was the next Obama! With his boyish grin, rhythmic speech, and unabashedly left-leaning platform, the Democratic former representative was not just the state's best hope for going blue: According to political strategists across the country, he is among the party's most promising presidential contenders in 2020.
But O'Rourke, who challenged Ted Cruz for his Senate seat, might empathize better with someone like Republican Senator Marco Rubio. Like Rubio in 2016, O'Rourke stole his national party's heart as a young, handsome, eloquent, prolific fund-raiser. And like Rubio in 2016, his political dreams were dashed by the stubborn demands of the campaign trail.
ABC News called the race for Cruz at around 8 o'clock, with just over 20 percent of precincts reporting, highlighting just how frail national momentum can be when faced with long-standing political realities. Ultimately, in a state where a Democrat has not won statewide office since 1994, O'Rourke failed to make the case that his appeal reached beyond the Acela corridor to the voters he would represent.
"He was a cause, not a candidate," a top Democratic strategist, who requested anonymity because of his involvement in current campaigns, told me. "He was anti-Trump, yes. But he struggled to articulate what that would mean for the people of Texas."
Perhaps the first clue to O'Rourke's defeat is the distance between the national conception of O'Rourke and his actual policy positions. He was cast in profiles in seemingly every major publication as a beacon of centrism in an extremist world—someone who could reach across the aisle with an open mind despite his progressive platform. It's true that O'Rourke spoke with a softness and a compassion that offered a stark contrast to his opponent, the Machiavellian Cruz. But a kind tone does not an ideological moderate make: O'Rourke called for Donald Trump's impeachment, even as his more liberal colleagues declined to touch the topic, and touted his support for "Medicare for All." He supported calls to abolish the Immigration and Customs Enforcement agency. All of which might have worked in a liberal stronghold such as, say, Connecticut. But as the conservative Cruz aptly put it in an interview with Politico, "Both Beto and I are fighting for principles and values we believe in. The difference is, the principles and values I'm fighting for are also the ones the vast majority of Texans support."
O'Rourke's deficiencies, then, might not be so much his own as they are America's. One could argue that O'Rourke ran a campaign that was ideologically and operationally uncompromised: He never shied from his progressive stances, and he held firm in his opposition to deploying negative ads. Yet one could also argue—and quite convincingly, at that—that such a campaign never stood a chance of breaking through in a state as historically red as Texas. That the national party so desperately wanted it to signifies, perhaps, just how weak the Democratic field looks ahead of 2020. Because O'Rourke, like Rubio, in his youth and charisma and energy, is something of a Platonic ideal of a presidential candidate: It was incumbent upon the Democratic Party to manufacture a narrative of success for O'Rourke, no matter the outcome of the race itself. (Luckily for them, the media has already bought into it: Reuters reported that, win or lose, O'Rourke was "set to emerge victorious.")
So O'Rourke may very well emerge the Democratic star of 2020, capturing the national imagination with as much totality as he did in 2018. The problem for Democrats in 2018 was that despite all sensational predictions of a wave election, Texas was not ready to turn blue. But Democrats are hoping that two years from now, the nation will be eager to do just that.