The Democrats' Deep-South Strategy Was a Winner After All
Losses in marquee races might lead the party to believe it can't win elections with candidates like Andrew Gillum, Stacey Abrams, and Beto O'Rourke. But there's more to the story.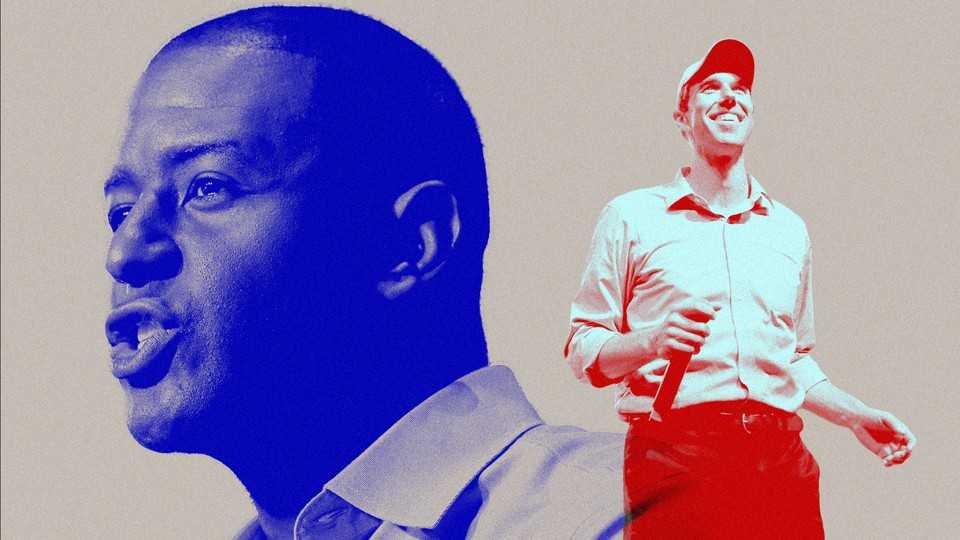 It would be easy to look at what the Democrats tried to do in the Deep South and forget about the incredible degree of difficulty. In Florida, Andrew Gillum aimed to become the state's first Democratic governor in 20 years, and the first black governor in the state's history. In Georgia, Stacey Abrams attempted to break the GOP's monopolistic hold on power, and sought to become her state's first black governor and the country's first black woman governor. In Texas, Beto O'Rourke vied to unseat a sitting senator, Ted Cruz, who'd once been a strong GOP presidential candidate, and to become his state's first Democratic senator since 1993. In 2017, Gillum was considered a "rising star," though he was still mostly unknown; The Washington Post's Ben Terris suggested Texans might be suffering from "mass delusions" when O'Rourke considered the idea of running; and Abrams was, at best, a long shot.
None of these three candidates won Tuesday night, though Abrams is still fighting against her opponent Brian Kemp, pledging to wait until every vote is counted, as she holds out hope for a recount and a runoff. Barring a miracle for Abrams, Democrats will lose all three elections.
But the losses aren't necessarily evidence of a failed strategy. A deeper look at the results from Tuesday shows that the presence of three rock-star candidates with progressive bona fides had real effects beyond their Election Night outcome, and that the payoff came not at the top of the ballot but at the bottom.
For starters, there's little reason to think that running more moderate candidates would have provided Democrats with better results. In Gillum's own state of Florida, incumbent Democratic Senator Bill Nelson is currently in serious danger of losing his seat to the state's Republican governor, Rick Scott. On Wednesday morning, Nelson's campaign announced that the race, which Scott leads by only 35,000 votes, would meet the threshold required for a recount. Unlike Gillum, Nelson is a thoroughly moderate politician. He's a 76-year-old white veteran who has opposed "Medicare for all," has been rated as a centrist by the political monitor GovTrack.us, is known for "reaching across the aisle," and is respected by members of both parties nationally and within the state. Assuming the recount doesn't uncover anything substantial, he'll still lose to the GOP.
Nationally, the story is the same: Moderate Democratic candidates in statewide races underperformed. The group of moderate Democrats in the Senate—West Virginia's Joe Manchin, Indiana's Joe Donnelly, Missouri's Claire McCaskill, North Dakota's Heidi Heitkamp, and Montana's Jon Tester—was all but obliterated on Tuesday, with only Tester and Manchin emerging victorious. These candidates are not from swing states—and indeed may have fallen victim to deepening Republican partisanship in very-red states—so the lessons they provide for thinking about 2020 and other major elections are limited. But all told, there is little evidence in the 2018 results that moderate candidates are the key to the Democratic Party's future.
Beyond the failure of moderates, the most compelling evidence for the viability of a progressive strategy comes from farther down the ballot. Across the country, progressive ballot initiatives fared surprisingly well. Indeed, measures against gerrymandering, in favor of medical marijuana, in favor of higher minimum wages, in favor of Medicaid expansion, and in favor of criminal-justice reform received broad bipartisan support in several states, and actually outperformed Democrats running for statewide office. In Florida, even as Gillum conceded early, Amendment 4—a ballot initiative restoring the right to vote to more than 1 million people in Florida who were previously disenfranchised due to felony convictions—passed a 60 percent vote threshold and will become law. Gillum championed that amendment.
Medicaid expansion, the main policy foundation of Abrams's campaign, passed on ballot initiatives in Idaho, Nebraska, and Utah; minimum-wage hikes—part of all three of the Democratic darlings' platforms—won in Missouri and Arkansas. Voters in Colorado, Michigan, and Missouri moved to take gerrymandering out of the hands of politicians. Other significant criminal-justice reforms passed in Florida and Louisiana.
What this means is that though Gillum and O'Rourke may have lost—and Abrams may be on her way—voters across the country, even some in deep-red states, are amenable to the kinds of policies that the Democratic trio championed. And support for these policies is likely even stronger than Tuesday's results show. Medicaid expansion polls well nationally and in states that haven't adopted it, as do minimum-wage increases. The mechanisms needed to fund those programs aren't quite so beloved, but as Tuesday showed, voters are voluntarily choosing to implement progressive reforms and to pay for them.
Abrams, Gillum, and O'Rourke are likely directly responsible for these down-ballot wins. In Florida, Amendment 4's popularity was clearly boosted by the unprecedented grassroots effort to elect Gillum. In Texas, O'Rourke's momentum was cited as a key factor in major Democratic gains in the state and local judiciary, including the victories of 19 black women judges around the Houston area. In Georgia, Lucy McBath, a black activist whose son, Jordan Davis, was murdered in 2012 in Florida, declared victory in the state's Sixth Congressional District over the Republican Karen Handel, a result—still unconfirmed by some major news outlets—delivered by overlapping circles of activists who'd also helped Abrams.
But perhaps the biggest takeaway is that these three campaigns are going to improve the landscape for Democrats in these states for the years ahead. The turnout strategy for each campaign involved mobilizing low-propensity voters who'd not previously been engaged by politics in this way. There's good evidence that this kind of outreach, when successful, results in increased voter turnout among these groups over the long term. Coupled with the mobilization of voters to enact and protect progressive ballot initiatives, the expansion of political and organizing leadership, and the development of fund-raising acumen, that means the Abramses, Gillums, and O'Rourkes of the future might find it easier to win.
And Gillum, Abrams, and O'Rourke themselves will still be there. Even assuming Abrams doesn't manage to win the election, she's built a strong organizing base in her state, as have Gillum and O'Rourke. They'll be in place to affect state politics in three of the most demographically important states in the country, and can still be expected to whittle away at the vast structural advantages held by the GOP in those states. This is a start, not an end.