What Trump's Latest Outburst About Mueller Could Mean
The president was unusually specific in his attacks against the special counsel.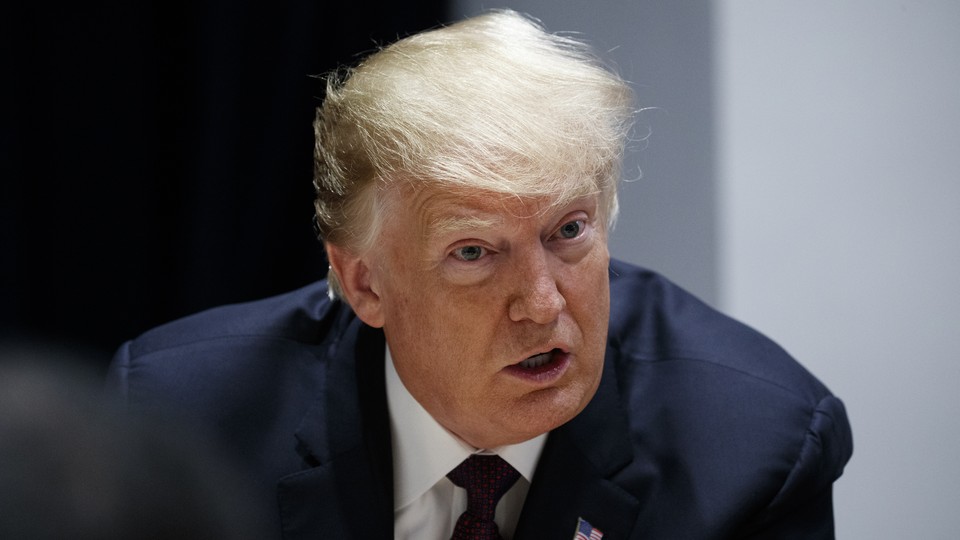 With his former personal lawyer Michael Cohen meeting with Special Counsel Robert Mueller's team this week, and with his son, Donald Trump Jr., speculating that he himself will soon be indicted, President Donald Trump apparently couldn't contain himself anymore.
"The inner workings of the Mueller investigation are a total mess," he tweeted on Thursday morning. "They have found no collusion and have gone absolutely nuts." He added, without providing evidence, that Mueller's team was "screaming and shouting at people, horribly threatening them to come up with the answers they want," and called the investigators "thugs," "a disgrace to our Nation," and "highly conflicted."
It isn't clear what prompted Trump's early-morning tirade. After all, the outburst was not exactly out of character: Trump has attacked Mueller and the Russia investigation on Twitter nearly 50 times this year alone. But it could be a sign that he received negative news from his legal team or that new indictments against his family or associates are coming down the pike.
Whereas Trump typically attacks Mueller's investigation with the same perfunctory language—calling it a "witch hunt" and "rigged"—he was unusually specific in his accusation that Mueller's investigators were "threatening" people "to come up with the answers they want." He made a similar charge in August, claiming that Cohen, who is now cooperating with prosecutors in a separate investigation, "made up stories in order to get a 'deal.'"
Trump's outburst "could just be another rant," said Elie Honig, a former federal prosecutor in the Southern District of New York who handled organized-crime cases. But on the other hand, it could signal action on the part of prosecutors that Trump registers as a threat. Honig explained that prosecutors sometimes get fed up with people they know are not being honest and threaten to bring charges against them. They may also threaten a person's status as a potential cooperator, which typically comes with reduced charges. "My hunch is that prosecutors had some sort of 'Time to get real' conversation with someone implicated in the investigation, which was then relayed to Trump by defense attorneys," Honig said.
The collective hunch in Washington that Mueller is due for his next big move could also be adding to Trump's anxiety. The special counsel's last major indictment came in July, when he brought charges against 12 Russian intelligence officers for hacking emails from the Democratic National Committee and a top Hillary Clinton campaign official in 2016. The four-month delay since the last indictment, combined with Mueller's intensified interest in the Trump campaign's relationship with WikiLeaks and Roger Stone, has left some observers with the sense that the investigation, tightly bottled up before the midterms, is ready to explode.
Like Honig, the former federal prosecutor Dan Goldman suggested that if Trump has learned anything about Mueller's recent moves, it'd likely be from defense lawyers whose clients have been ensnared in the investigation. Goldman, who worked on mob-related cases in the Southern District of New York, speculated that the president may know in advance that "indictments are coming, probably tomorrow." The special counsel's office has a pattern of releasing indictments on Fridays.
The recent rumors about forthcoming indictments have not been baseless. Donald Trump Jr. has reportedly been telling friends that he expects to be indicted as early as this month, though it's still unknown what he would be charged with. Roger Stone has also said he is "prepared" to be indicted "for some extraneous crime pertaining to my business, or maybe not even pertaining to the 2016 election." (Stone's shifting story to the House Intelligence Committee about his interactions with WikiLeaks in 2016 may have left him exposed legally.)
And a Stone associate, the right-wing conspiracy theorist Jerome Corsi, said earlier this week on a live-streamed video that he'd been informed by the special counsel that he will be indicted for lying to investigators. Prosecutors apparently confronted him with phone and email records that contradicted his testimony. After repeated interrogations, "my mind was mush," he told NBC News.
Whatever set Trump off this morning, he does still appear to be cooperating with Mueller's inquiry. Trump's legal team is reportedly close to finishing its answers to written questions Mueller sent its way. Most, if not all, of those queries apparently have to do with the question of the Trump campaign's collusion with Russia, rather than obstruction of justice. Mueller has been examining the latter issue since Trump fired FBI Director James Comey, who had previously led the investigation into Trump's campaign team.
But written answers crafted carefully with the help of Trump's attorneys may not be enough to shield the president from further scrutiny. Mueller could still try to subpoena Trump to testify before a grand jury without his lawyers present, though Matthew Whitaker, who Trump selected last week to replace Attorney General Jeff Sessions, could hypothetically intervene. With Mueller's investigation potentially continuing well into 2019, however, and with so many questions still unanswered, Trump's most recent outburst about the probe likely won't be his last.