Trump Already Won the Midterms
Even if Republicans lose the House on Tuesday, it's unlikely that the president's grip on his party will loosen anytime soon.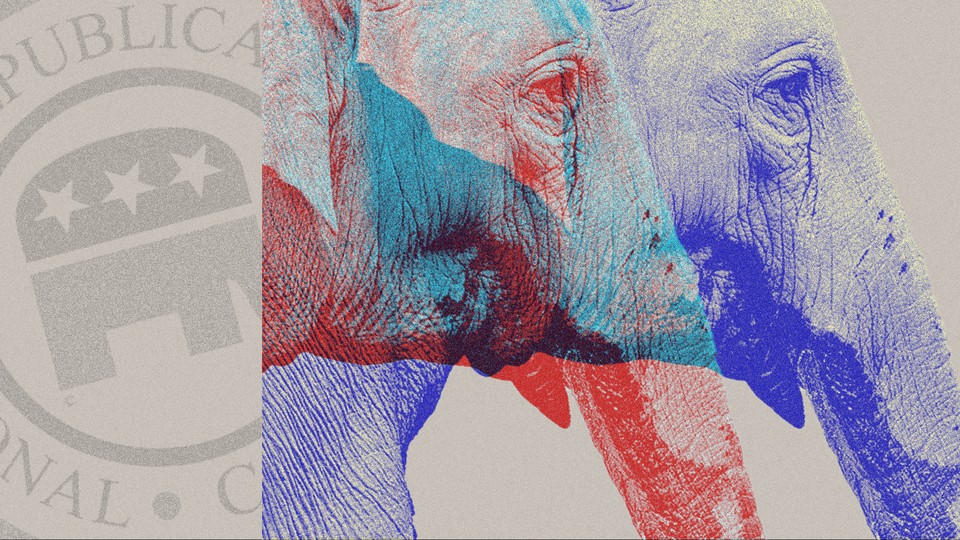 Regardless of how the midterm elections turn out Tuesday night, President Donald Trump will have at least one thing to celebrate: His mission to remake the Republican Party in his own image has been an unequivocal success.
The MAGA-fication of the GOP that Trump first set in motion three years ago has continued apace this campaign season—with disloyal Republicans getting primaried and purged, formerly fringe media outlets gaining mainstream influence, and key party institutions mutating into weapons of presidential culture war. There's little sign these trends will abate with a defeat at the ballot box.
Trump's most vivid triumphs in reorganizing the party around himself came earlier this year, during a wave of primary contests. In one race after another, more traditional Republicans were wiped out by the president's imitators and allies. Those who survived did so, for the most part, by bear-hugging Trump and his agenda.
In South Carolina, Representative Mark Sanford—one of the few House Republicans who regularly criticized the president—suffered a stunning upset to a Trump-backed candidate.
In Alabama, Representative Martha Roby—who said she wouldn't vote for Trump in 2016—was forced into a runoff, and finally won after emphasizing her record of support for the "Make America Great Again" agenda.
In both Kansas and Georgia, Trump's favored gubernatorial candidates defeated Republicans who were seen as more polished and electable. And in Minnesota, the attempted comeback of the one-time GOP darling Tim Pawlenty went bust when he lost his primary.
"The Republican Party has shifted," Pawlenty concluded after his defeat. "It is the era of Trump, and I'm just not a Trumplike politician."
Of course, many of the victorious candidates likely would have won without Trump's support. But by bending over backwards to get it, they have ensured that they'll be beholden to the president once they're in office.
Meanwhile, some of Trump's most prominent Republican critics in Washington are exiting the stage. Senators Bob Corker and Jeff Flake—whose running condemnations and critiques have served as irritants to the White House, if nothing else—are retiring. And the death earlier this year of Senator John McCain stripped the party of a respected elder statesman who often stood up in defense of the old guard's traditions and norms.
Heading into Election Day, some commentators have argued that the best way to de-Trumpify the GOP would be to hand the party a stinging defeat by flipping control of the House. That's certainly possible. But the same electoral dynamics that have placed that goal within reach could also, counterintuitively enough, end up tightening Trump's grip on the caucus that remains.
With so many of this year's campaign battlegrounds located in suburban districts that are trending blue, it stands to reason that the Republicans who lose their seats Tuesday will be those whose constituents don't demand absolute fealty to the president. The result, in this scenario, could be a smaller Republican caucus, yes—but one populated almost entirely by die-hard Trumpists.
As Trump has turned to culture war and conspiracy theories in the final weeks of the election, establishment groups like the National Republican Congressional Committee and the Congressional Leadership Fund have diligently amplified his message. In some alternative political dimension, these organizations might be laser-focused on the booming economy. Instead, they are running attack ads linking Democratic candidates to Colin Kaepernick, the black quarterback known for kneeling in protest during the national anthem, and warning darkly of an immigrant caravan marching toward the border that's allegedly full of criminals and gang members.
Helping to shape these narratives are populist right-wing websites like Breitbart News, which now play an important role in any Republican's press strategy. Not long ago, one GOP strategist told me, it was common for candidates and lawmakers to assign specialized staffers to deal with these unseemly elements of the conservative media. They were to be appeased when necessary, but kept at arm's length. Now, he said, they're so influential and omnipresent that press secretaries are on the phone with them every day.
Back in 2015, The Washington Post published an essay adapted from my book about the Republican Party, in which I argued that Trump had succeeded in the primaries by circumventing traditional GOP institutions and harnessing the power of what I called the "Fringe Establishment." At the time, it was clear that this loose coalition of conservative-populist media and pressure groups was gaining power over party leaders—but it still existed outside the respectable establishment.
Three years later, Trump's conquest of the Republican Party is complete, and the former "fringe" has become so thoroughly intertwined with the "establishment" that the two are virtually indistinguishable. Trump will leave office one day, and a new generation of Republicans may come along and try to disentangle these elements. But for now, this is the party that Trump built—and that's a legacy that will live on past Tuesday.