Trump Restores Acosta's Pass but Issues 'Rules' for Reporters
First Amendment advocates are worried that the White House can use its new code of conduct to threaten expulsions.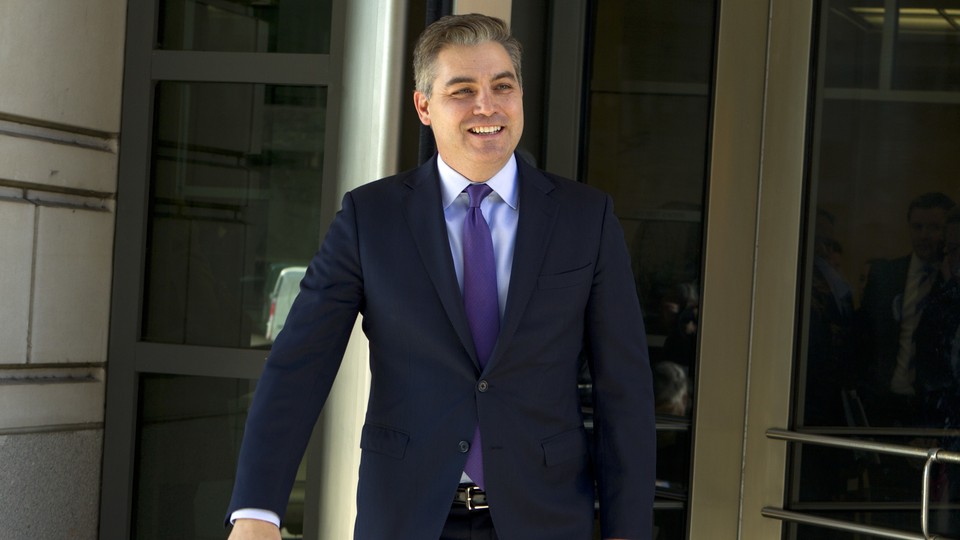 Nearly a week after the start of a heated legal battle, the White House decided on Monday that it would fully restore the CNN chief White House correspondent Jim Acosta's press credentials. In response, CNN announced that its lawsuit is "no longer necessary."
"We look forward to continuing to cover the White House," the network said in a statement.
The decision came in the form of a letter Monday from Bill Shine, the White House deputy chief of staff for communications, and Sarah Sanders, the White House press secretary. The Trump administration revoked Acosta's press pass after he clashed with President Trump on November 7 at a post-midterms news conference. "Having received a formal reply from your counsel to our letter of November 16, we have made a final determination in this process: your hard pass is restored," Shine and Sanders wrote. "Should you refuse to follow these rules in the future, we will take action in accordance with the rules set forth above. The President is aware of this decision and concurs."
Shine and Sanders were the same authors of a Friday letter saying that the White House would revoke Acosta's credentials once a 14-day temporary restraining order issued last week by U.S. District Court Judge Timothy Kelly expired.
In reversing course, the letter from Shine and Sanders set forth rules of decorum governing press briefings, including that journalists "will ask a single question and then will yield the floor to other journalists." Follow-up questions can be granted at the "discretion of the President" or the White House official leading the briefing. The penalty for not abiding by the rules: "suspension or revocation of the journalist's hard pass."
The White House letter began by rebutting CNN's claim that "there are no so-called 'widely understood practices' governing the conduct of journalists covering the White House."
Judge Kelly, who ordered the temporary restoration of Acosta's credentials pending further review, found on Friday that Trump had violated Acosta's Fifth Amendment due-process rights by yanking his press pass without notice, a hearing, or an opportunity to offer a rebuttal.
The Fox News White House correspondent John Roberts was first to the news Monday, tweeting: "@WhiteHouse to not seek revocation of @Acosta hard pass—sources." The ABC White House correspondent Jonathan Karl, who also serves as vice president of the White House Correspondents' Association, elaborated. "A senior WH official tells me the White House is dropping its effort to ban Jim Acosta for his behavior at the Nov 7 press conference," Karl tweeted. "The office says, however, the White House reserves the right to revoke Acosta's pass if he violates White House decorum in the future."
Jonathan Peters, a media-law professor at University of Georgia and a press-freedom correspondent for Columbia Journalism Review, responded: "The constitutionality of this approach, if this turns out to be true, would depend on how the White House defines and applies the concept of 'decorum.'"
Olivier Knox, the president of the White House Correspondents' Association, told me this week that there aren't set rules governing correspondents' behavior. "Same with press conferences," he said via email. "And press secretaries have very different styles, and different approaches to calling on people. So under some administrations, press conferences are rowdy, with shouted questions. Under [President George W. Bush], the president came to press conferences typically with a list of people to call on. Same with Obama. But (famously) women reporters wore red to Reagan pressers in the hopes of getting called on in what were much more free-for-all [conferences]."
George Condon, the White House correspondent for National Journal, expressed some relief that this was settled out of court. "We've gone 100 years working out things between the Correspondents' Association and the White House, and the last thing we want is a judge deciding on how [the press] operates," he said.
In a phone interview on Monday afternoon, Condon walked me through the history of the debate between the White House and reporters regarding "decorum" in briefings. He describes Reagan as pivotal in resetting a tense relationship between the press and the White House in the administrations following the Watergate scandal. "Reagan wanted to go back to what he had in Sacramento, and reporters realized they weren't looking good [shouting at press conferences]. So, Reagan struck a deal: 'I'll call on as many of you as I can, as long as you raise your hand.'" That agreement seemed to govern from Reagan's presidency until Trump's, Condon added, when the relationship began to "break down," in part due to the infrequency of press briefings and presidential press conferences.
The White House Correspondents' Association, which filed an amicus brief in support of CNN, has not yet put out a statement. "We're still sifting through today's events," Knox wrote this afternoon. "I need to talk with our lawyer and consult board members."
William Lafi Youmans, a media-law professor at George Washington University, expressed concern about the rules laid out in the White House letter.
"These rules are so broad that routine antics could be used as the basis for recalling credentials," Youmans said. "That it's stated in the letter to Acosta seems like they're trying to rein him and other correspondents in, while paving the road for future pass rescindment."
David Lurie, a New York–based attorney, emphasized that many questions still remain unanswered. "CNN made a decision to end their case. They did not have to in their case, but they chose to," Lurie said in a phone interview. "The result of that decision is an open question that has yet to be resolved about whether the White House can permit the threat of expulsion from White House grounds as a mechanism for policing the questioning of journalists at White House press conferences. In my view, that is plainly unconstitutional, but that remains for a future case to see if the courts agree with that."
Katie Townsend, the legal director for the Reporters Committee for Freedom of the Press, expressed similar reservations. "We are very concerned by these new 'rules' governing press briefings," she said in an email. "While a White House official has always been able to decline to answer a follow-up question, these 'rules' suggest that a reporter could jeopardize her or his hard pass simply by attempting to ask a single follow-up question without permission. How these 'rules' will be applied is entirely unclear, and the way they are written leaves wide open the possibility that the White House will use them as an excuse to avoid answering questions it does not like, or—as it did with Mr. Acosta and CNN—to punish particular reporters and news outlets based on what the White House views as unfavorable coverage of the administration."
Condon sees an issue with the rule policing follow-up questions in presidential press conferences. "This president interrupts every single question," Condon said. "You might get your premise out, but what they claim as a follow-up question is almost always a reporter returning to state their question."
Shine and Sanders end their letter by saying that "the view from here is that White House interaction with the press is, and generally should be, subject to a kind of natural give-and-take … It would be a great loss for all if, instead of this give-and-take, and instead of relying on the professionalism of White House journalists, we were compelled to devise a lengthy and detailed code of conduct for White House events."
"There still could be legal challenges down the line if pass revocations are arbitrary or capricious," added Youmans, the George Washington professor. "So the administration would need to be careful on how it acts upon its authority, even if it's explicitly discretionary."
Acosta's reaction was, as usual, simple. "Thanks to everybody for their support," he tweeted. "As I said last Friday... let's get back to work."