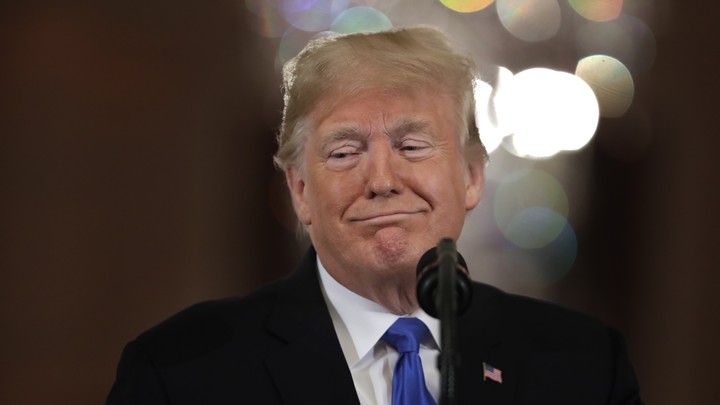 There is by now a familiar pattern to President Donald Trump's news conferences: He loudly proclaims his victories and deal-making prowess; dismisses reporters he believes are unfair to him; and rails against policies he doesn't like. And so it was on Tuesday—with an addition: The president had trouble understanding anyone with a foreign accent.  
Taken in isolation, the exchanges at Tuesday's presidential news conference could be understandable. The news conference was, at times, boisterous, with reporters shouting questions out of turn, which could of course have made it difficult for the president to focus. Or perhaps he simply has difficulty understanding speakers from other backgrounds—many people encounter and struggle with accents they don't understand.
Read: The 10 most dumbfounding moments from Trump's post-election press conference
But it's what Trump does next that exhibits a pattern of the president's tendency to distance himself from people from other backgrounds. He has reportedly mocked Indian Prime Minister Narendra Modi's manner of speaking; is said to have mocked the accents of Asian trade negotiators; and has used an exaggerated Spanish accent to say "Puerto Rico." (Nor is this tendency restricted to foreigners. During a previous news conference, he told ABC's Cecilia Vega, "You're not thinking. You never do." This was after he had misunderstood her saying, "I'm not. Thank you, Mr President" for "I'm not thinking, Mr. President.")
Tuesday's exchanges began with a question from Nadia Bilbassy-Charters, a reporter for the TV network Al Arabiya, who asked Trump about whether the election victories of Democrats Rashida Tlaib of Michigan and Ilhan Omar of Minnesota were a "rebuke" to Trump's policies. Both women are Muslim and Omar, who came to the U.S. as a refugee, wears a hijab.
Trump's initial response: "I do not understand what you are saying."
Bilbassy-Charters subsequently elaborated on her question and the president provided a nonanswer. ("You look at the employment and unemployment numbers for African Americans and Asian Americans or Hispanic Americans, they are at an historic high.")
Trump later called on a reporter from Japan and told him to say "hello to Shinzo" Abe, the Japanese prime minister. The reporter's question: "How do you focus on trade and economic issues with Japan? Do you ask Japan to do more?" Trump's reply: "I really don't understand you." Later, after he apparently did understand the reporter, Trump complained "that Japan does not treat the United States fairly on trade."
Adam Serwer: The cruelty is the point
Finally it was the turn of the reporter from Lebanon's Murr Television, who asked about Turkish President Recep Tayyip Erdoğan's pledge to buy Iranian oil in defiance of U.S. sanctions.
"Who said that?" Trump asked.
"President Erdoğan. Turkey," the reporter replied.
"I know. I know," Trump said. "I just can't understand" you.
To be fair to Trump, it's not just foreign accents he has trouble understanding. Politico reported in August that Trump disliked Jeff Sessions, who quit as attorney general Tuesday, because he "doesn't have [an] Ivy League pedigree" and because he "can't stand his Southern accent."
We want to hear what you think about this article. Submit a letter to the editor or write to letters@theatlantic.com.