The Latest Drama in Trump's Slow-Motion Saturday Night Massacre
The president seemed to jump the shark at a White House news conference, threatening Democrats and reporters—and then he fired Jeff Sessions.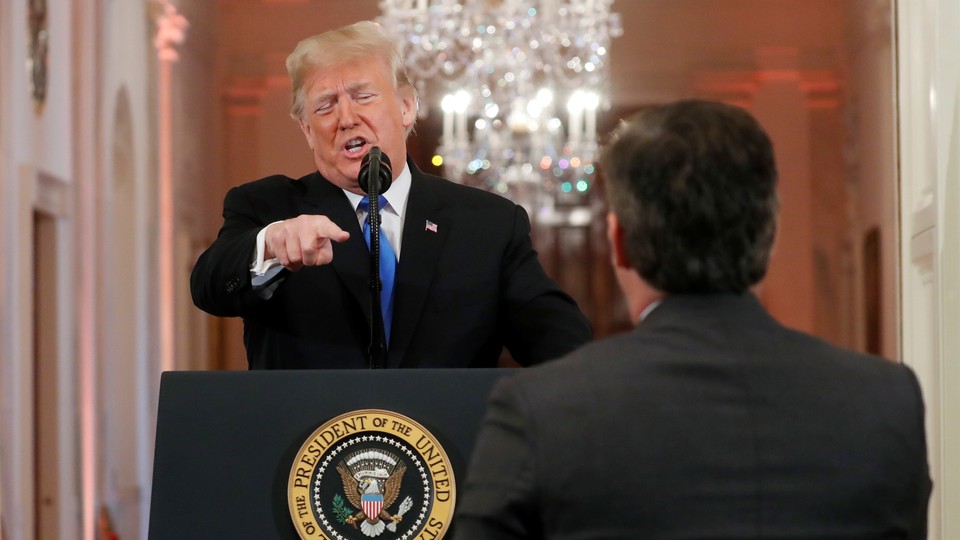 In the space of a single, dizzying day, the president of the United States confronted his party's loss of the House of Representatives (putting him at risk of subpoenas, investigation, and even impeachment). In a rambling, combative news conference, he alternately reached out to his Democratic opponents and lashed out at them, threatening to investigate them.
And finally, as if all that were not enough, he fired his long-suffering attorney general, replacing him with a subordinate who is on record as having argued that Special Counsel Robert Mueller's investigation into Russian meddling in the 2016 election should be curtailed in scope or budgetarily starved into oblivion.
Even by the rollicking, ripsnorting standards of Donald Trump's Washington, it was quite a Wednesday, one that when the history of his presidency is written seems destined to live in Instagram infamy. Fasten your seatbelts: dangerous curves—or a constitutional crisis?—dead ahead.
Trump began the day with a wee-hours tweetstorm of self-congratulation "on our Big Victory last night," ignoring that Republicans lost control of the House for the first time since 2010, and Democrats picked up governorships in states such as Wisconsin, Michigan, Illinois, and Kansas that would be crucial to his reelection. Soon enough, he followed that up with a threat to use his party's slightly increased Senate majority to fire back at any congressional investigation of him. "Two can play that game!" he insisted.
But it was in his post-election White House news conference in the East Room that Trump really seemed to jump the shark. He congratulated victorious Republican candidates, then mockingly singled out by name losing ones who had shrunk from accepting his help. He praised Nancy Pelosi as deserving a return to the speakership, saying, "There are many things we can get along on," including infrastructure and the environment, but warned that if Democrats began flooding him with subpoenas, all bets would be off in a "warlike posture," and he would blame them for gridlock, adding, "I know more than they know."
He once again insisted that he would refuse to release his tax returns as long as he is under "a very continuous audit." "They're extremely complex," he said. "People wouldn't understand them." Asked how he saw himself as "a moral leader," the president modestly averred, "I think I am a great moral leader and I love our country."
At one point, he sharply cut off one black journalist who tried to ask about voter suppression in the midterms ("Sit down, please. Sit down. I didn't call you. I didn't call you."), and he took great offense when another asked if his campaign rhetoric and embrace of nationalism had encouraged white supremacists, snapping, "That's a racist question!" When foreign journalists posed questions in accented English, he scrunched up his face and complained that he could not understand them.
Still, all that was pale prologue compared with his sudden afternoon ouster of Attorney General Jeff Sessions, the latest move in his slow-motion Saturday Night Massacre of nettlesome subordinates that began with his firing of FBI Director James Comey 18 months ago. Indeed, not since Richard Nixon's infamous firing of Watergate Special Prosecutor Archibald Cox on a Saturday evening in October 1973 has a president so electrified the capital (or the country) by seeming to dance so near to the edge of autocratic behavior.
Trump had the unquestioned power to demand Sessions's resignation, of course, and in one way or another had been threatening to do so ever since Sessions recused himself from the Russia investigation early in Trump's administration. "He took the job and then he said, 'I'm going to recuse myself.' I said, 'What kind of a man is this?'" Trump asked in an interview with Fox News earlier this year. Not the kind of man Trump wanted on his team, to say the least.
But the dramatic firing seemed, at a minimum, to contradict—or at least cast doubt on—Trump's own words at his news conference, when he said, "I could fire everybody right now," but added, "Politically, I do not like stopping it." He once again attacked the investigation as marred by conflicts of interest and insisted, "But you know what I do? I let it go on. They are wasting a lot of money. I let it go on because I do not want to do that."
It is a measure of the strange political bedfellows that Trump has made that his firing of Sessions—a hard-line conservative on immigration, civil rights, and law enforcement, and the first sitting senator to endorse his presidential candidacy—produced muted sympathy from unlikely quarters. "Attorney General Sessions has led an unprecedented attack on the Constitution and our civil rights," said Vanita Gupta, president of the Leadership Conference on Civil and Human Rights. "Yet, today is not a day for celebration. Sessions's forced resignation follows unprecedented intimidation from President Trump. The president's blatant disregard for the independence of the country's chief law-enforcement officer undermines the rule of law in America."
Democratic congressional leaders were even more emphatic. "Protecting Mueller and his investigation is paramount," said Senate Minority Leader Chuck Schumer, of New York, adding that any interference would "create a constitutional crisis."
That Sessions's interim successor will not be Deputy Attorney General Rod Rosenstein—the usual next in line, and the current overseer of the Russian probe—but Sessions's chief of staff, Matthew Whitaker, only raised the level of concern. That is because Whitaker, before joining the Justice Department last year, had suggested publicly that Mueller's inquiry would be overstepping the terms that authorized it if it looked into Trump's personal business dealings. Whitaker also suggested that instead of ending the investigation outright, Rosenstein might simply starve it of funds.
At twilight, scores of Justice Department staffers gathered in the headquarters' courtyard off Pennsylvania Avenue to salute a ruddy-cheeked Sessions as he left the building for the last time, his eyes seeming to glisten with tears in the bright television lights. In a final humiliation, word leaked out that it was White House Chief of Staff John Kelly, not Trump himself, who had informed Sessions that the president was demanding his resignation, and Sessions's own brief note to the president made it quite clear that he was leaving only "at your request."
In his news conference, Trump once again insisted, as he had in a recent television interview, that he sometimes wishes he had used a softer tone in the recent campaign. "I would love—I would be very good in a low tone," he said. "I would love to have an even, modest, boring talk. I would be very honored by that. But you know what, when you have to fight all the time because you are being misrepresented by the media, you cannot do that."
If Donald Trump has ever delivered an "even, modest, boring talk" in his life, no public suggestion of it has surfaced. Certainly, there is nothing in the 656 days of his presidency to date to betray any intention to do so. And based on his latest breathtaking performance, it seems a safe bet to say that there probably never will be.