The Latest Target of Trump's Immigration Attacks
In an address Thursday, the president criticized U.S. asylum policy and threatened to detain those who credibly claim the protections.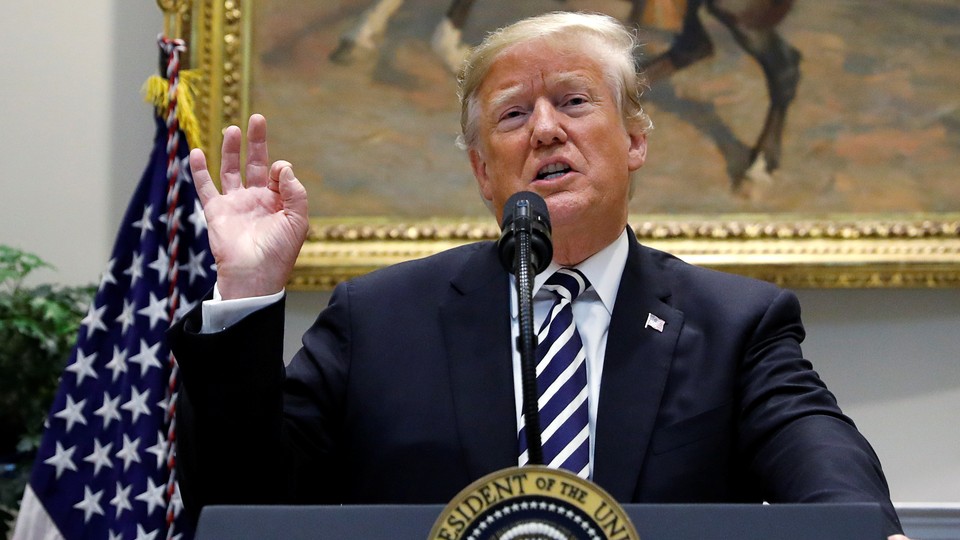 In an address from the Roosevelt Room Thursday, President Donald Trump criticized the nation's immigration laws, decried the Central American migrant caravan moving through Mexico, and announced that he's "finalizing a plan" that would limit who could claim asylum.
"Migrants will have to present themselves lawfully at a port of entry," Trump said. "Those who choose to break our laws and enter illegally will no longer be able to use meritless claims to gain entry into our country."
The plan—which Trump suggested could come via an executive order next week—would likely face immediate legal challenges: U.S. and international law state that migrants have the right to apply for asylum once on U.S. soil. Trump's address on Thursday fell short of describing how he'd circumvent those laws, nor did the president detail any other major policy changes. Instead, his remarks seemed designed to keep the spotlight on immigration, the issue he's betting the midterms on.
Trump has escalated his attacks against Central American migrants in the final days of the campaign, dubbing the caravan an "invasion," releasing a racist ad, and calling into question reports that those traveling have valid asylum claims.
Despite the president's urgent tone, the migrant caravan is still about 1,000 miles away. And the majority of its members—estimated to be around 4,000 people, with other, smaller groups following behind—are reported to be women and children. Many are expected to present themselves to authorities to claim asylum, not evade capture.
Trump spent much of his address condemning "catch and release," the practice of letting immigrants who've claimed asylum into the United States while they await asylum proceedings, so long as they've demonstrated a "credible fear" of returning to their home countries.
Trump said that migrants will no longer be released after being apprehended, but whether his edict has the force of policy is unclear. He didn't explain how his administration would follow through beyond mounting tents. "We have thousands of tents. We have a lot of tents. We have a lot of everything. We are going to hold them right there," he said. He falsely claimed that immigrants purposefully miss their scheduled court hearings after being released. According to a study by the American Immigration Council, over a 15-year period, 96 percent of asylum-seeking families went to their immigration-court hearings.
Trump's address was preceded by a press release from the Department of Homeland Security that condemned "catch and release loopholes," referring to existing asylum laws and the Flores settlement agreement, which places a limit on how long children can be held in immigration detention. The department cited these so-called loopholes as a reason for "a dramatic transformation in the population of those seeking to enter our country illegally."
Indeed, there have been shifts in the migrant population: In fiscal-year 2018, 56 percent of the people apprehended at the southern border were from Central America, according to DHS data. In 2010, it was 10 percent. Deteriorating conditions in El Salvador, Honduras, and Guatemala have contributed to the uptick of migrants journeying to the U.S.-Mexico border from the region.
Trump's address Thursday was the latest in a broad administration effort to limit asylum. Earlier this year, Attorney General Jeff Sessions drastically narrowed what the government considers grounds for asylum, barring victims of domestic abuse and gang violence from accessing the protections. "Asylum was never meant to alleviate all problems—even all serious problems—that people face every day all over the world," he said in a June speech.
Trump's remarks also came on the heels of the deployment of thousands of active-duty National Guard troops to the U.S.-Mexico border. He has repeatedly cited the military's presence as a warning to those journeying to the border, prompting questions about whether troops are being used as a political tool ahead of next week's elections, something Defense Secretary James Mattis denies.
Trump proclaimed Thursday that the number of troops could reach 15,000, far outnumbering the migrants expected to arrive. "We have already dispatched for the border the United States military, and they will do the job," Trump said. "They are setting up right now and they are preparing. We hope nothing happens, but if it does, we are totally prepared, greatest military anywhere in the world."
What Trump didn't say is that the military is limited in what it can do on U.S. soil. Their time at the border will largely be spent assisting Customs and Border Protection. This isn't the first time that troops have been deployed. Previous administrations have also sent them: Former President Barack Obama, for example, sent up to 1,200 Guard members to address drug and human trafficking. But in Trump's mind, it may just be the show of force that counts. As my colleague David Graham reported earlier today, Trump appears to be doing everything he can to ensure that his base turns out next Tuesday. His immigration address is yet another example of that effort.