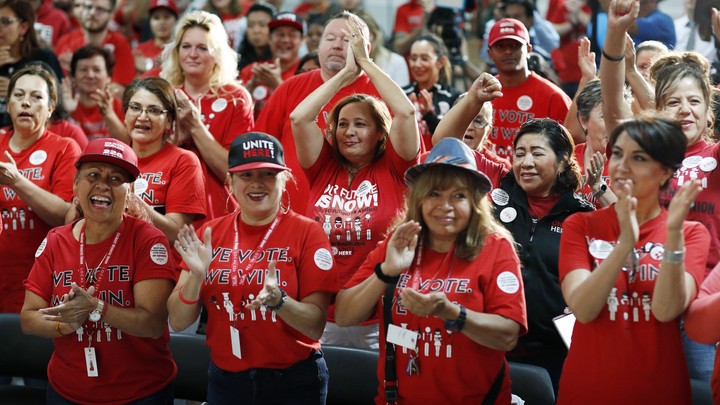 Written by Elaine Godfrey (@elainejgodfrey)
---
Today in 5 Lines
The U.S. renewed the sanctions against Iran that were lifted under the 2015 nuclear deal, but issued "temporary" waivers to eight countries, allowing those nations to continue buying oil from Iran without penalty.

NBC and Fox News said they will no longer air an immigration ad from President Donald Trump that has been widely criticized as racist. Facebook said it wouldn't allow the video to run as an ad on its platform, but individual users can still share it.

The deployment of National Guard troops to the U.S.-Mexico border could cost at least $200 million, according to an estimate from the Center for Strategic and Budgetary Assessments and figures from the Pentagon.

Trump is holding rallies in Ohio, Indiana, and Missouri to make his closing arguments ahead of Tuesday's midterm elections.

Voters across the U.S. will head to the polls on Tuesday, the last of which will close at 11 p.m. ET. We'll be back in your inbox tomorrow and Wednesday with special editions of the Politics & Policy Daily.
---
Today on The Atlantic
---
Snapshot

---
What We're Reading
Did Beto Blow It?: If Senator Ted Cruz's Democratic challenger loses on Tuesday, it could be because he didn't try to win over Republicans in a state as red as Texas. (Tim Alberta, Politico)
The Waiting Game: Farmers in the Midwest are hoping President Trump ends his trade war with China before their soybeans start to rot. (Binyamin Appelbaum, The New York Times)
What Is a Wave?: Democrats are in a good position to do well on Tuesday, but what, exactly, constitutes a blue wave? Sean Trende explains. (Real Clear Politics)
---
Visualized
Health Care, Taxes, or Jobs?: Which are the most commonly discussed issues in your state? Check out this map. (Demetrios Pogkas and David Ingold, Bloomberg)
We want to hear what you think about this article. Submit a letter to the editor or write to letters@theatlantic.com.
Elaine Godfrey
is a staff writer at
The Atlantic
, where she covers politics.