The Year of the Woman Still Leaves Women With Terrible Representation in Government
Female candidates were some of the biggest winners in the 2018 midterms, but women have a long way to go before their success becomes unremarkable for how normal it is.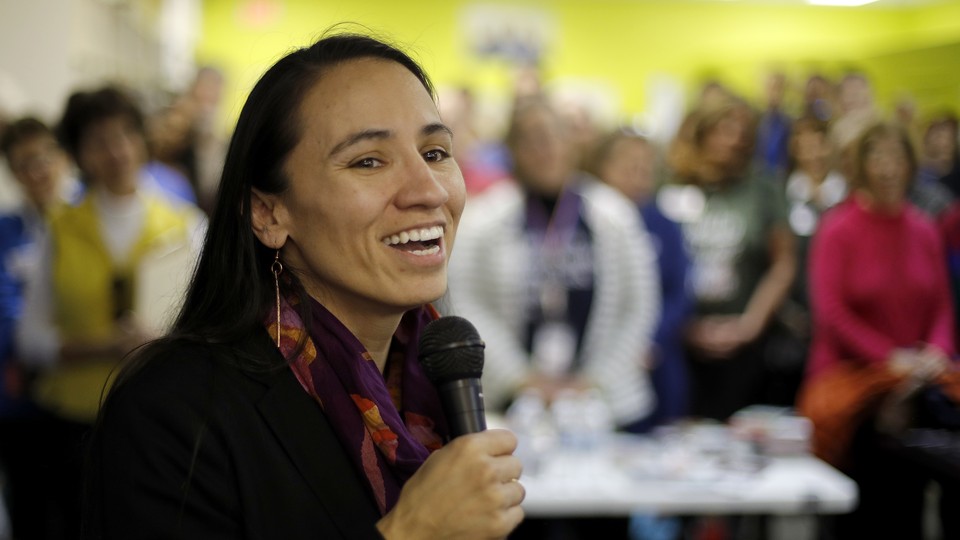 Women led the Democratic takeover of the House of Representatives in 2018. They wrestled seats away from men, and Republicans, in crucial swing states such as Florida and Pennsylvania, and they broke a record with the number of seats they'll occupy in the 116th Congress.
Women stormed governors' mansions this election. At least nine women will now serve as their state's executive, three more than on Monday. They include the Republican Kristi Noem and the Democrat Janet Mills, who will serve as the first female governors of South Dakota and Maine, respectively.
And women moved closer to gender parity in the U.S. Senate. Although two female Democrats, Claire McCaskill and Heidi Heitkamp, lost their seats, Marsha Blackburn, a Republican, became the first woman elected senator from Tennessee. Jacky Rosen, a Nevada Democrat, beat out the Republican incumbent Dean Heller. And the race for Arizona Senate, between Martha McSally and Kyrsten Sinema, is still too close to call, but either way, a woman will occupy that seat.
This is the so-called Year of the Woman, a recycled moniker from 1992, when female rage helped sweep four new female U.S. senators into office. In the wake of Donald Trump's election two years ago, an unprecedented slate of women ran for office this year, and they won historic, record-setting victories in a number of races.
But celebrating these results as the singular Year of the Woman can also obscure how far women still have to go to achieve full representation across all levels of government. As then-Senator Barbara Mikulski commented when the first Year of the Woman was declared, "It [sounds] like the Year of the Caribou or the Year of the Asparagus. We're not a fad, a fancy, or a year." Women voters, volunteers, and candidates were crucial for defining the 2018 election. But they still have a long way to go before their success becomes unremarkable for how normal it is.
The stats for women running this year are astonishing. The Center for American Women and Politics at Rutgers estimates that 529 women filed to run in U.S. House and Senate races this cycle; a little less than half of them made it all the way to November's general election. Thousands of women—literally—across 46 states put themselves up for statehouse positions, running as incumbents, as challengers, or for open seats. At both the federal and state levels, roughly 70 percent of the women running were Democrats.
As this trend developed, hopeful whispers about a repeat of 1992's so-called Year of the Woman began. In October, those whispers became even louder. That year, Anita Hill testified before the Senate Judiciary Committee about sexual harassment at the confirmation hearings of Clarence Thomas, which helped secure women's electoral victories soon afterward. This year, Christine Blasey Ford's testimony against Brett Kavanaugh also seemed to animate female voters.
One of the major gains for women in 1992 was the election of Carol Moseley Braun, who became the first black female senator. This year, women of color set remarkable records as well. A number of new female House members now share the distinction of being a "first" with a colleague: Rashida Tlaib and Ilhan Omar, of Michigan and Minnesota, respectively, are the first Muslim women elected to the U.S. Congress. Deb Haaland of New Mexico and Sharice Davids of Kansas are the first American Indians. And Veronica Escobar and Sylvia Garcia will be the first Latinas to represent Texas.
Black, Latina, Asian, and American Indian women are all underrepresented across U.S. bodies of government, and 2018 will help shift that. Ayanna Pressley became the first black  congresswoman from Massachusetts and a rare elected official of color from New England. Alexandria Ocasio-Cortez, who is Latina, became the youngest woman ever elected to Congress when she pulled out an upset primary victory against Democratic stalwart Joe Crowley in New York. And Lauren Underwood, a black woman and a former senior adviser in the Obama administration, unseated a longtime Republican incumbent in the Chicago exurbs. One of the most watched questions in this election—whether Stacey Abrams will become the first female governor of Georgia and the first African American woman to serve as governor anywhere in the country—is still unresolved. With Abrams coming within just one or two percentage points of her Republican opponent, Brian Kemp, she has called for all absentee ballots to be counted, which could mean weeks of uncertainty ahead.
Elsewhere on the gubernatorial front, Laura Kelly, a Democrat, beat out the controversial Republican politician Kris Kobach in the race for Kansas governor. Michelle Lujan Grisham, a Democrat, followed Susana Martinez, a Republican, into the New Mexico governor's mansion. And Gretchen Whitmer became Michigan's governor, beating out the Republican Bill Schuette.
Perhaps the biggest gain for women was in the House of Representatives, where women broke well past the 107 seats they held in the 115th Congress. Women also helped change the balance of power in the chamber, especially in big states that will be important in elections ahead. There were the women of Virginia—Abigail Spanberger, Elaine Luria, and Jennifer Wexton—who all unseated Republican incumbents. There were the women of Pennsylvania—Mary Gay Scanlon, Susan Wild, and Chrissy Houlahan—who nabbed open conservative districts (and along with their new colleague, Madeleine Dean, helped break up Pennsylvania's all-male congressional delegation). Cindy Axne and Abby Finkenauer, who is just 29 years old, both took down Republican incumbents in Iowa. Lizzie Fletcher did the same in Texas. And Donna Shalala and Debbie Mucarsel-Powell picked up two seats for the Democrats in Florida. Democratic women also picked up Republican seats scattered across other states: Ann Kirkpatrick won Arizona-2, the southeastern district vacated by the Republican Senate candidate Martha McSally. Kendra Horn won in an Oklahoma City district that went for Trump by 13 points. And Angie Craig unseated a Republican incumbent in Minnesota.
By comparison, far fewer Republican women put their names on the ballot this year, and they had far fewer victories. In general, Republican women often get left out of narratives about women's political participation, in part because "the Democrats have been much more likely to embrace a discussion about women's inclusion and women's political empowerment as a … feather in their cap," said Kelly Dittmar, a political scientist at Rutgers University–Camden and a scholar at the Center for American Women and Politics. In general, Republicans are much more reluctant to emphasize gender—including the candidates themselves. Marsha Blackburn, who won over former Governor Phil Bredesen in Tennessee's U.S. Senate race, famously preferred the title "congressman" over "congresswoman" when she served in the U.S. House of Representatives.
This year saw a few notable conservative-women wins: Blackburn in the Senate, Noem in the South Dakota governor's mansions. Kay Ivey and Kim Reynolds, both recent Republican gubernatorial appointees, managed to keep their positions in Alabama and Iowa against male Democratic challengers. Carol Miller, a Republican woman, also beat out the Iraq War veteran Richard Ojeda in a race for Congress in West Virginia.
Some of the Democratic women who were elected to office this year ran against other women, which highlights an element that gets lost in cute names such as "Year of the Woman": "Women aren't the same," said Dittmar. They "come into politics with diverse viewpoints, diverse agendas, and they perform gender in diverse ways." This is easiest to see in races where women run against other women, which is happening more and more often. ("It's not abnormal to have single-gender races," Dittmar pointed out. "We just don't think anything of it when it's all men.")
In the race to fill a vacant U.S. Senate seat in Arizona, for example, Kyrsten Sinema and Martha McSally offered two different versions of femininity; McSally even described the race as "guts versus glitz." Years ago, Sinema jokingly called herself a "Prada socialist," after her love of shoes, while McSally, a veteran, was fond of expressions such as "Grow a pair of ovaries and get the job done!" In the Detroit suburbs, the Republican Lena Epstein went up against the Democrat Haley Stevens; Epstein's gender performance, which included posing pregnant in the back of a pickup while holding an American flag, did not ultimately lead her to victory.
But for all the excitement these numbers might bring for people who care about women getting elected to office, women's representation across government is still very bad. Even if Abrams wins, women will hold only a fifth of America's governorships: Research shows that women struggle to win statewide executive office because voters tend to be biased toward giving men executive power, Dittmar said, which illustrates just how powerfully gender stereotypes still reign in politics. And "women of color in particular have been so horribly underrepresented in statewide executive office," she told me, because of the "conventional wisdom that women of color can't win majority-white constituencies." Only two women of color have ever served as governors; Abrams, if she wins, would be the third.
Insofar as 2018 was the Year of the Woman, it was not just about candidates for office: It was about the female volunteers, campaign staff, protesters, and voters who helped drive this year's election results. Reporters around the country told stories again and again of how that women felt newly empowered to take action in their communities. The question is whether they'll keep showing up, in 2020 and beyond.
The results are a reminder that "we shouldn't be so focused on finding the Year of the Woman, but that we should sustain this conversation about women's underrepresentation," said Dittmar. "The work isn't going to be done this year."