A 'Dark Money' Loophole in the Midterms
A super PAC called Texas Forever has pumped $1.29 million in "dark money" into TV ads bashing Republican Senator Ted Cruz.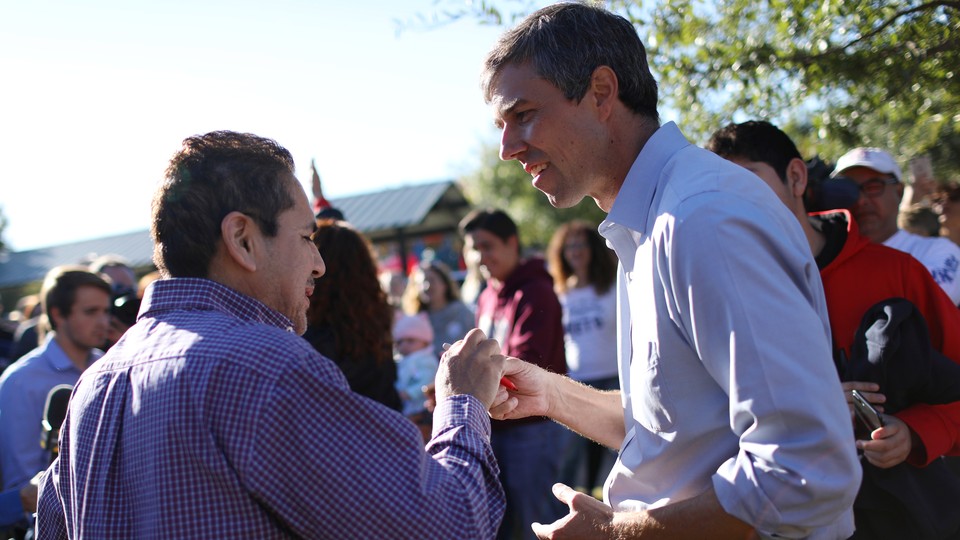 Want to influence Tuesday's midterm election but keep your identity a secret from voters? No problem. Here's how you do it:
Step 1. Pick a super PAC name, treasurer, and bank account.
Step 2. File a short form with the Federal Election Commission.
Step 3. Wait until October 18 to begin spending your money. That way, you won't have to report your donors until an entire month after Election Day.
This is happening now. And Democrats are leading the way despite decrying political efforts funded by "dark money"—cash that can't be traced to its ultimate source.
A Center for Public Integrity analysis of federal campaign records indicates that three super PACs that have formed since October 18 have reported spending a combined $1.4 million across three hotly contested U.S. Senate races and one U.S. House race. Super PACs may raise and spend unlimited amounts of money to advocate for or against political candidates, but they can't contribute money to candidates' campaigns directly.
As of Thursday night, these three groups are among 44 political action committees that have formed since October 18.
These groups must by law disclose their donors. But this election cycle, the final pre–Election Day deadline for PACs and super PACs to reveal their donors came and went on October 25—a deadline covering financial activity from October 1 to October 17. Any group that formed after October 17 isn't subject to this deadline and must first report the identities of its contributors, and the amounts they contributed, on December 6, per federal regulations.
Most notable among these just-formed groups is Texas Forever, a super PAC bashing Republican Senator Ted Cruz of Texas. To date, Texas Forever has spent more than $1.29 million on anti-Cruz TV ads just in the past two weeks.
Who gave that money to Texas Forever is a mystery, and will remain so until December 6. Cruz is battling Democratic Representative Beto O'Rourke in a race that a Wednesday poll from the University of Texas at Tyler indicates is very close and that the Cook Political Report has declared a "toss-up."
"BBQ. Football … There's a lot in Texas you shouldn't mess with. Your health care is one of them. But Ted Cruz did," the ad's voice-over says.
The treasurer of the Texas Forever super PAC is the Democratic Texas political consultant Christopher Lippincott, who from 2006 to 2011 served as the director of media relations for the Texas Department of Transportation.
Lippincott acknowledged an interview request from the Center for Public Integrity, but did not respond to several follow-up attempts. In a recent interview with the Dallas Morning News, he declined to reveal the group's donors but nevertheless called Cruz out for benefiting from conservative political groups' secretive money: "Ted Cruz is a phony politician propped up by millions of out-of-state dark dollars who has spent the past six years doing favors for his special-interest donors."
Catherine Frazier, a Cruz-campaign spokeswoman, said that Lippincott's claim was "an awfully hypocritical charge given that Beto O'Rourke is being propped up by this very super PAC and has taken money for his campaign bundled by multiple PACs."
Although little is known about Texas Forever, it hired a media-buying firm, Waterfront Strategies, that has ties to the national Democratic machinery. O'Rourke has routinely boasted of not accepting corporate-PAC or special-interest money.
But because Texas Forever is a super PAC, and therefore not controlled by the O'Rourke campaign, it can raise and spend unlimited amounts of money as it sees fit—to benefit O'Rourke or any other political candidate. O'Rourke has also financially benefited from the efforts of JStreetPAC, a "pro-Israel, pro-peace" political committee that's served as a "conduit" and directed individuals' contributions to O'Rourke's campaign, as the Associated Press has reported.
"We're not interested in the help of any super PACs or special-interest groups and don't want their involvement in this race, which is why our grassroots campaign has accepted exactly zero dollars from PACs in this election," Chris Evans, the O'Rourke-campaign communications director, told the Center for Public Integrity.
But Democrats of late have not hesitated to use untraceable money as part of their efforts.
A prime example, from late this past year, is the super PAC Highway 31.
Highway 31 spent millions in Alabama's special U.S. Senate race without disclosing its donors—which turned out to be the Democrat-aligned super PACs Senate Majority PAC and Priorities USA Action, as well as the League of Conservation Voters—until after the election.
In Montana this month, a super PAC named Forward Montana has spent about $9,900 on mailers, printouts, and digital ads supporting Democratic Senator Jon Tester and the Democrat Kathleen Williams, a water-conservation expert running for Montana's U.S. House seat. Forward Montana reported receiving no donations as of October 17, according to Federal Election Commission records.
Forward Montana's website says that University of Montana students founded the group in 2004, with its "first fights … focusing on recycling, renewable energy, sexual assault and tenant rights." It boasts being the largest youth civic-engagement organization in Montana, with staff in Billings, Bozeman, and Missoula.
Forward Montana registered a super-PAC arm on October 19 of this year. On Thursday, the super PAC filed paperwork with the FEC, changing itself into a traditional PAC, which is subject to fundraising limits but may donate money directly to candidates.
Forward Montana members did not return the Center for Public Integrity's requests for comment.
David Keating, president of the Institute for Free Speech, which advocates against campaign-finance regulations, said that it's "ironic" that liberals are engaging in such activity.
"If [Democrats] think disclosure is such a good idea, then why aren't they doing it?" Keating mused.
Federal statutes governing campaign-finance disclosure were written in the 1970s and need updating to address the loophole allowing some super PACs and other political committees to hide their donors until after Election Day, said Brett Kappel, an election-law attorney and partner at the law firm Akerman LLP.
Republican groups are also using this donor-disclosure loophole to keep their funders a secret for now.
Take Restore Our Healthcare, a super Pac based in Scottsdale, Arizona. It formed on Halloween, the same day it reported spending almost $46,250 on radio and digital ads, as well as an "air banner" supporting Republican Representative Martha McSally, who is running for Arizona's U.S. Senate seat.
Restore Our Healthcare's treasurer is Randy Pullen, the former chair of the Arizona Republican Party and former treasurer of the Republican National Committee.
The amount of PAC and super PAC money flowing through this legal loophole is significantly more now than in previous election cycles.
At least 28 pop-up PACs formed in the final days of the 2016 presidential election. Together, they spent $220,000 in money whose donors weren't disclosed until after the election, according to a Center for Responsive Politics analysis.
The largest-spending pop-up PAC in that cycle, Truth PAC, dropped $92,000 on anti–Donald Trump ads. One ad overlaid Russian nesting dolls on the faces of Trump and Russian President Vladimir Putin. At least 27 pop-up PACs materialized in the final days of the 2014 election, spending relatively little.
PACs and super PACs that formed earlier in the year but waited until late October to actually spend money in elections are also allowed to hide their donors until after Tuesday's midterm election.
The super PAC American Potential Fund—based in Alexandria, Virginia, and created October 3—waited until after October 17 to spend $186,000 on digital ads opposing  incumbent Democratic Senator Bill Nelson of Florida in his U.S. Senate race against Republican Governor Rick Scott.
Throughout the 2017–2018 election cycle, political groups, especially on the Democratic side, have been creatively filing their registration and campaign-finance-disclosure paperwork with federal regulators, allowing them to temporarily delay revealing who funds them.
In all, 63 committees this cycle together spent more than $22 million on politicking before they were required to reveal who was bankrolling their activities, according to a ProPublica and Politico analysis of Federal Election Commission filings from the beginning of 2017 through October 17, 2018.  This is in addition to the PACs and super PACs that have formed since October 17.
Not all PACs and super PACs that pop up days before Election Day are doing so with the intention of hiding their donors until after the 2018 midterms are complete.
At least six such groups told the Center for Public Integrity that they don't plan on spending money until the 2020 election—or that they were unaware they could keep their donors a secret until December.
Kelly Werder, a hospitality-law professor and administrator at Florida Gulf Coast University, formed a new political action committee, called the 5050 by 2020 Committee, on October 23.
"We're just some pretty frustrated women in a post-[Brett] Kavanaugh world, and that's pretty much it," Werder said.
Werder shared her "very exciting donor list, including me, friends from college, and my mom!" with the Center for Public Integrity. She collected about $500, as well as spending almost $300 herself on a post-office box, web hosting, and graphics.
The group is mostly boosting social-media posts and hopes to start a podcast on female politicians. It has endorsed female candidates from both parties.
Matthew Resh, the treasurer of a new Houston-based super PAC called the Center for Real News, said he hasn't received any money yet.
And Ryan Alsayegh of the Philadelphia-based PAC Second Generation, which formed October 24, said it has no donors and doesn't plan to fund-raise until 2019. The group wants to encourage immigrant communities to be politically engaged.
But by law, if someone wants to form a super PAC and spend unlimited amounts of "dark money" between now and Election Day 2018, they have four days left to do so.