The Ghosts of the 1960s Haunt the Georgia Governor's Race
A widening array of conflicts over voting rights in the state have revived memories of the civil-rights era.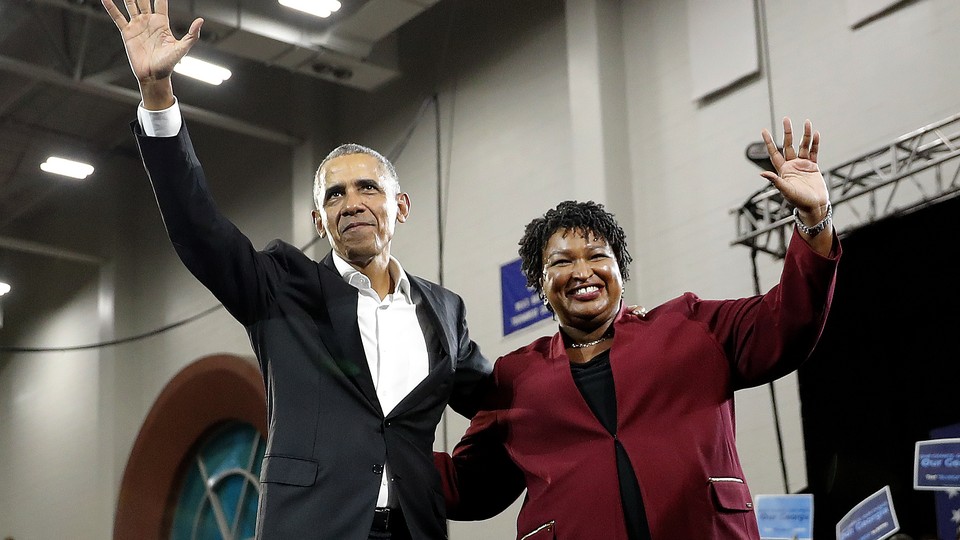 ATLANTA—Virtually every inch of the Forbes Arena at Morehouse College here was filled on Friday night when former President Barack Obama headlined a raucous campaign rally for Stacey Abrams, the Democrat who's bidding to become Georgia's first black governor.
But amid the mass of supporters, who filled the place to the rafters in every direction, the crowded hall still had room for a flock of ghosts from the civil-rights era.
Speakers conjured the names of Rosa Parks, who inspired the Montgomery Bus boycott; James Chaney, Michael Schwerner, and Andrew Goodman, the three young volunteers murdered while trying to register black voters in Mississippi during the Freedom Summer of 1964; and Martin Luther King Jr., Morehouse's most famous alumnus. Several summoned the memory of the 1965 march for voting rights from Selma to Montgomery, a connection made more visceral by the presence at the rally of Democratic Representative John Lewis, whose skull was fractured by Alabama state troopers after he led marchers across the Edmund Pettus Bridge.
"I gave a little blood on that bridge in Selma," Lewis reminded the audience at one point. "I almost died."
This past was even more present than usual at Morehouse, a historically black college considered one of the cradles of the civil-rights movement, because the widening array of conflicts over voting rights in Georgia have revived memories of those fierce battles half a century ago. As Obama told the cheering crowd, "We have been at these kinds of crossroads before."
More than any other contest this year, the Georgia governor's race shows how, in a nation growing rapidly more diverse, the battle over access to the voting booth has reemerged as a central front in the struggle for equal rights.
On one side is Abrams, a former Democratic leader in the state House of Representatives who is banking much of her campaign strategy on mobilizing large numbers of young and nonwhite voters who don't usually turn out.
On the other side is the Republican gubernatorial nominee Brian Kemp, Georgia's secretary of state, who has faced a steady stream of lawsuits over policies that critics charge are unfairly disenfranchising voters, especially minorities and the poor. On Friday alone, separate federal courts ruled for advocacy groups in two different challenges they'd filed against local voting rules.
With polls consistently showing a virtual dead heat in the governor's race, a narrow Kemp victory on Tuesday may ignite cries of outrage from many Democrats who believe that the state's restrictive voting laws, and Kemp's own decisions in implementing them, gave him a thumb on the scale. Kemp raised more red flags on Sunday when his office announced that it was investigating the state Democratic Party for unspecified "cyber crimes"—an allegation that Democrats immediately dismissed as "scurrilous" and an "abuse of power."
However the election turns out, it has offered a chilling vision of an intensifying collision: between a Democratic coalition increasingly reliant on mobilizing minority voters and a preponderantly white Republican coalition determined to maintain strict limits on voting access on the grounds of preventing alleged fraud. The conflict is so intense that the state Democratic Party has hired what it believes to be the nation's first full-time director of voter protection, who supervises a team of volunteer attorneys.
Kemp has refused calls (from former president and former Georgia governor Jimmy Carter, among others) to step aside from his secretary of state position during the race, and he dismisses charges of voter suppression as a fabrication intended to motivate Democratic voters. "This farce about voter suppression … is absolutely not true," he declared when the candidates debated late last month.
Despite all the questions over voter access, Georgia, like many states, is clearly heading for a very high turnout in Tuesday's election. Almost 2.1 million people voted in the early balloting that ended Friday night, and that number is likely to drift slightly higher as the final absentee ballots arrive through Tuesday. That's well over double the nearly 940,000 people who cast early ballots during the last midterm election in 2014. Georgia Votes, a website that tracks the statistics, reports that more than 785,000 of the early voters this year—nearly 38 percent—did not vote at all in 2014. Engaging those irregular voters has been a top priority of Abrams's campaign. "That's where we particularly look and we like what we are seeing," says Seth Bringman, a spokesman for the Georgia Democratic Party.
Georgia's early vote, in fact, is approaching the total number of votes cast through Election Day in 2014—roughly 2.6 million—suggesting that turnout in this election will vastly exceed the overall 2014 level. If neither candidate reaches 50 percent of the vote, which is possible given the presence of a libertarian candidate in the race, they will face an early December runoff under state law.
Even with this high level of participation, groups that monitor voting rights argue that Georgia has cultivated a thicket of obstacles obstructing other voters who want to participate. Under unified GOP control of the governorship and the state legislature, Georgia has been near the forefront of the Republican-led states that have erected a dizzying array of voting restrictions since 2010. That movement intensified after five GOP-appointed Supreme Court justices in 2013 struck down the requirement in the Voting Rights Act that the Justice Department approve voting-law changes in states and local jurisdictions with a history of discrimination. "Everything in the voter-suppression toolkit is in place in Georgia," Andrea Young, the executive director of the state's American Civil Liberties Union, told me.
New York University's Brennan Center for Justice recently cataloged a list of Georgia policies that it says restrict voting access. Among them:
Interference with voter-registration drives: Before the 2014 election, Kemp's office conducted an extensive investigation into New Georgia Project, a voter-registration group founded by Abrams in 2013, that critics said was intended to disrupt its operations. (The last-minute investigation of state Democrats that he announced Sunday is prompting similar concerns.) Later, New Georgia Project sued him when his office refused to process about 40,000 registration applications; the case was dismissed in October 2014, though the project did reach settlements with some of the affected counties.
Aggressive purges of voter rolls: According to the Brennan Center's calculations, from 2012 through 2016, Georgia purged 1.5 million people from voter rolls, twice as many as from 2008 to 2012. More recent figures show that the state has purged about one in 10 of its voters since 2016. Voting experts caution that not everyone purged is removed unfairly, but they contend that Kemp's office has excised too many voters too indiscriminately. "In Georgia, the burden is constantly on the citizen to maintain their registration," Young says.
The state's voter-identification law: Considered one of the nation's strictest, it creates disproportionate hurdles for low-income voters, critics charge. Passed in 2005, the law went into effect in 2008 after a series of court challenges.
The "exact match" law: The element of Georgia voting law that's drawn the most attention has been the requirement that information on the voter-registration rolls exactly match existing state records. Any discrepancy, such as a misplaced hyphen in someone's name, can result in a voter being placed on a pending list. About 50,000 Georgians, more than two-thirds of them black, are now in this position. And though the law allows them to cast a ballot if they provide identification at the polls, the concern is that their uncertain status may discourage them from voting—or that misinformed poll workers will prevent them from doing so. One of Friday's federal court rulings overturned one aspect of the exact-match policy. Deciding against Kemp, District Judge Eleanor Ross ruled that new U.S. citizens placed into pending status because of discrepancies in state records must be allowed to vote if they show proof of citizenship, such as a passport.
Other obstacles: The ACLU threatened legal action against officials in Randolph County after they attempted to close seven of the county's nine polling places. The ACLU (on behalf of the Georgia Muslim Voter Project) also won the other suit decided on Friday: Over Kemp's objections, a federal appeals court required county registrars to provide voters a chance to appeal if officials reject an absentee ballot because they believe that the signature on it does not match the corresponding registration form. The suit came after Gwinnett County, a rapidly diversifying area outside Atlanta, was revealed to be rejecting about one in 11 absentee ballots, far more than the state average.
For Andrea Young, the state ACLU director, these fights are a throwback to issues that she thought Georgia, and the South more broadly, had resolved long ago. Andrew Young, her father, was a civil rights-pioneer, and she participated in the Selma march as a 9-year-old. "I made a point" of walking myself, she told me, refusing offers to ride in a car or to be carried. Now, she's stunned to find herself walking into court over comparable issues so many years after that march, which helped trigger the Voting Rights Act's passage in 1965.
"I very much feel that I'm facing similar issues that we thought would be resolved by the Voting Rights Act," she said. "John Lewis and I were talking to some students the other day, and I observed that [we] both marched in Selma. We never dreamed that 50 years later we would still be fighting the same battles, and so we just have to persevere."
Most agree that the obstacles to voting in Georgia today aren't nearly as great as the barriers, such as the poll tax, that virtually excluded black Americans in the South before the Voting Rights Act. But the sense that the region's history of racial conflict and exclusion is resurfacing in new forms suffuses the final days of this nail-biting governor's contest.
At Friday night's Morehouse rally, Eric Holder, a former attorney general under Obama, explicitly linked the current fights over voting access in Georgia to the bloody struggles of the 1960s. Citing Lewis's fractured skull at Selma and the murdered young civil-rights workers in Mississippi, Holder declared: "We have a responsibility to honor that legacy … We dishonor that sacrifice … if we don't get out and vote. There is a debt we owe … That debt is paid each and every Election Day."
On Saturday morning, Reverend William Barber II, who has led the Moral Mondays campaign in North Carolina, headlined a "Moral Revival for Voting Rights" rally in Atlanta, at a church directly across the street from the state capitol. Barber, a volcanic speaker with a tumbling cadence reminiscent of King's, likewise presented the fight over ballot access as a new stage of the struggle from the 1960s.
"There's a lot of black blood and white blood and brown blood that was shed for the right to vote," he told an audience of roughly 150 people at the Central Presbyterian Church. "So when somebody tries to suppress, deny, or abridge your right to vote … they are starting a blood fight. Not a fight of violence, but we must remember the martyrs … Too many people died, too many people struggled, for all of us to have the right to vote."
Barber went beyond Holder in likening Kemp—who has echoed insular, Donald Trump–like themes on immigration and other cultural issues—to Lester Maddox, the segregationist who served one term as Georgia's governor in the late 1960s.
"Georgia has already had a governor with extreme, radical, race-driven views," Barber declared. "Lester Maddox was his name, and it didn't work then. And Georgia doesn't need any full or partial return to gubernatorial leadership that promotes discrimination, voter suppression, denial of health care, and blocking of common-sense gun control. You already had that, and it didn't work then. Backwards is not where Georgia needs to go."
Barber's tough comparison might strike even some Democrats as too harsh. But his sharp words reflect the widespread sense in both parties that the Trump era is reopening questions about inclusion and civil rights, particularly access to the polls, that many thought had long been decided.
The conflict is growing as more Democrats, like Abrams, are centering their electoral strategy on maximizing registration and turnout among diverse voters—and as more Republicans, like Kemp, are adopting Trump-style racial appeals to white voters uneasy about those demographic changes. On Sunday, Kemp appealed more openly than ever to racial resentments by tweeting a photo of five black men, two of them carrying automatic rifles and others holding Abrams campaign signs, that he said were members of the "New Black
Panther Party." Retweet, Kemp wrote, "if you agree that Abrams & the Black Panthers are TOO EXTREME for GA!" The heightened tension here this year may be only a preview of what's ahead as inimical Democratic and Republican forces collide, not only in the South but in all corners of the country.
In an interview after his speech, Barber said that he believed the intensity of Republicans' actions on voting rights reflects their awareness that the nation's steadily changing demography will threaten their political strength. In Georgia, for example, demographer William Frey projects that as soon as 2020, minorities will represent a majority of the population under 30. These Republicans "know the handwriting is on the wall," Barber told me. "In South Africa, they used to say, 'Only a dying mule kicks the hardest.' So that's what you are seeing."
For some who lived through the South's convulsions in the civil-rights era, that's a portrait of the future that too closely resembles the past. Cora Jane Pope, a white woman who grew up in Arkansas under segregation and now lives in Atlanta, was one of those in the pews for Barber's rally. "He moved me to tears," she said, "because I thought, Why are we doing this now? We've been doing this since the 1950s. I thought by now we'd be done."