Stacey Abrams Is Still Waiting for a Miracle
The battle over Georgia's gubernatorial race might not be over anytime soon.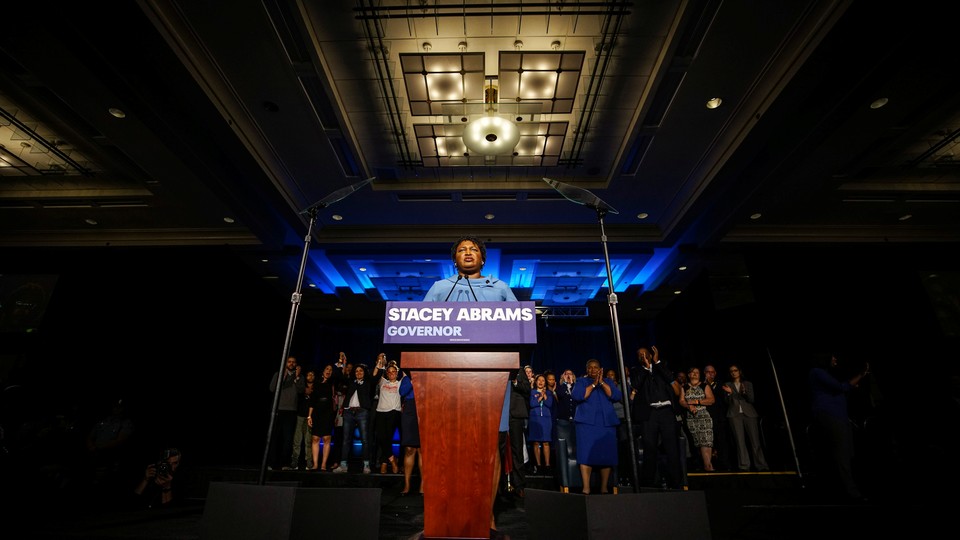 ATLANTA—Late on Election Night, in a ballroom at the Hyatt Regency hotel, Red Bull cans clinked against shoes on the floor. Journalists in a tight media pen scrambled to refresh pages and shared snacks, teen organizers smuggled in pizza, and some exhausted veterans rested their joints on couches outside. A DJ played R&B and hip-hop, and the songs lifted people up—until they didn't. Even Cameo's "Candy" fell flat. The chants and cheers and dances that had filled the room died down to a constant, nervous buzz.
Around 2 a.m., Stacey Abrams, the Democratic candidate for governor, took the stage. "Tonight we have closed the gap between yesterday and tomorrow, but we still have a few more miles to go," she told the crowd to cheers. But even those cheers seemed muted. As of daybreak the next morning, the gap remained. The Georgia Democrat has thus far refused to concede in the state's governor's race, saying that she wants to wait until all the provisional and absentee ballots—which appeared to heavily favor Democrats, and had already cut Secretary of State Brian Kemp's lead by half—are counted. Major outlets have so far refused to call the race in favor of Kemp, a prudence in an election scarred deeply by myriad irregularities. But the fact is, Kemp now leads the race by 150,000 votes, which is outside the margin for both a recount and a runoff.
Regardless of the exact mathematics of her situation, it seems clear that if Stacey Abrams is to fulfill her dream of a more progressive Georgia, one that can solve deep structural issues of poverty, mortality, and discrimination, she needs a Hail Mary.
Tuesday's election might not be resolved on Wednesday or even Thursday. On a press call Wednesday morning, the Abrams campaign indicated that the final count might not be certified by counties until next week. The counting of leftover ballots and the resolution of numerous Election Day discrepancies, such as the use of provisional ballots for valid voters during the early-vote period, might take a while. Those failures—several of them in areas with high proportions of black voters—could ultimately be the story of the election. On Tuesday, there were reports of long lines in several precincts around the state, and ProPublica reports that elections officials struggled to handle high turnout. One location in one of the busiest parts of Atlanta was given only three voting machines to begin with. Multiple polling places in Gwinnett County faced electronic issues with voting machines, and students in the Atlanta University Center reported being unlawfully turned away from their precinct. Amid all the reports of voting hurdles, in the evening on Tuesday, federal district court judges ruled that several precincts would stay open past 7 p.m., the originally mandated closing time, to accommodate voters.
In the press call Wednesday, the Abrams campaign said that Abrams was about 15,000 votes behind the threshold for a runoff, with about that many outstanding mail-in ballots left to be counted. If Abrams's team can't push Kemp's vote share below 50 percent with the late returns—which would trigger a runoff election—they hope to thin the margin to the 1 percent they need to call for a recount. According to The Atlanta Journal-Constitution, the results from some 100,000 or so mail-in and absentee ballots in Democratic-leaning counties are still forthcoming, and Abrams would need to pick up about 25,000 votes from those ballots.
If the election came down to a recount, the major roadblock for Abrams's campaign would be that given his current position as secretary of state, Kemp would be the one to recount his own narrow win. He would be responsible for adjudicating challenges, and during the recount process, many of the actions taken to ameliorate or solve discrepancies in ballots would be up to his discretion. His critics have denounced his conflicts of interest in administering his own election, and one organizing group has filed suit in the Northern Georgia federal district court to force him to recuse himself from a recount.
But embracing long odds is a natural outcome for a campaign that has cloaked itself in the language of a moral majority, and has railed against voter suppression and Kemp's election tactics as the only factors that could stop its momentum. "When you chose me as your Democratic nominee, I made you a vow," Abrams told her supporters Tuesday night. "In our Georgia, no one is unseen, no one is unheard, and no one is uninspired." Those words encapsulated a bold campaign strategy from the candidate attempting to be the first black woman governor in America's history. Instead of sprinting to the middle in an attempt to win over just enough white moderates to keep it interesting, she predicated her strategy on embracing an openly liberal platform, keeping her identity front and center, and betting on so-called unlikely voters: low-propensity voters who are eligible but don't vote, or haven't in multiple elections.
Tuesday highlighted the inherent risks to that strategy. Low-propensity voters are those who tend to be most affected by long lines and problems with election infrastructure, and the most likely people to have to file provisional ballots. They lead inherently less-stable lives than reliable voters, and are difficult to poll and target. They include people such as the organizers I met on the Westside of Atlanta, many of whom were black men who'd served time in prison. "I served 15 years in federal prison, and when I came out I couldn't get a job," said Ricky Brown, who launched an unsuccessful bid for city council last year and runs a job-placement firm that specializes in getting jobs for people with felonies. "We tell people to vote the Westside way, voting for people that are gonna be for us." But, as Brown told me, that effort is difficult, especially since people with felonies often erroneously believe that they will never regain the right to vote, and are never contacted by party organizing machines.
Even the reliable voters among the Abrams coalition faced the tough realities of voting in Georgia. In the predominantly African American neighborhood of Peoplestown, just south of downtown Atlanta, I spent time at the Barack & Michelle Obama Academy, where scores of mostly elderly black voters shuffled in and out. Two of the voting machines appeared not to work, and polling volunteers struggled with the protocol for processing people with disabilities. One of the voters, a 79-year-old woman who said her name was Lucille, told me that she always voted, and that this time she was voting for Abrams. "I voted for Obama," she told me, "and if Stacey wins, we gonna celebrate." But she had no car, and without a ride from a campaign volunteer, she would not have been able to cast a ballot at all.
Abrams's blackness and the historic nature of her candidacy weren't the only reason those voters turned out on Tuesday. Her policy platform rested on proposals that would address the state's deep poverty, along with its enduring inequality along race and class lines. In an election year when exit polls indicated that health care was the biggest single issue across the country, her proposal to expand Medicaid to all low-income adults in the state had polled well across every constituency going in to the election. That plan would provide a lifeline to poor mothers and black mothers especially, in a state where maternal and infant mortality for black women are the highest, or among the highest, of any state. She also called for criminal-justice reform and living wages across Georgia, and she promised to fight for the "common-sense gun reforms," such as universal background checks and mental-health supports, that have become the party line for Democrats in recent years.
With the Abrams campaign, supporters and organizers envisioned a state that could be more than what it was. In Abrams, they were given a choice to embrace the components of the state's history that had provided a cradle for the nonviolent civil-rights movement, as opposed to the components that adopted a Confederate battle flag in that movement's nascence. They hoped that her plan would reduce the burdens of mortality and poverty on the rural reaches of Georgia. They hoped that her rhetoric embracing immigration and stressing racial equality would be both a local and national salve for the rising bigotry and xenophobia of Trumpism. And above all, they hoped that Abrams's goal to expand the electorate and actually turn out disengaged or disenfranchised voters would be a counter to a GOP strategy that has become the standard-bearer for voter suppression in the post–Shelby County v. Holder era.
They are still hoping. Georgia Representative and civil-rights hero John Lewis told the ballroom Tuesday night, "It's gonna be long, but don't give up. Don't get lost in a sea of despair. Keep the faith. We can win, and we must win. Be hopeful. Be optimistic. There's a lot of votes out there, and they just need to be counted." As Abrams added later, "There are voices that are waiting to be heard across our state."
It remains to be seen if those voices will be enough, this time. But although moral victories are often nothing more than paper-thin bits of narrative in a political system where might indeed makes right, some real takeaways exist for Abrams and her team, regardless of the outcome. Georgia might not be ready this time, but early returns from her team do seem to show an electorate that was enthusiastic and broad in a way that looked somewhat like the presidential electorate, a good sign for Democrats in a state that is becoming more purple in those contests. And, as LaTosha Brown and Cliff Albright of the Black Voters Matter Fund—who'd been critical in flipping Alabama during the 2017 Senate special election—wrote in The New York Times, single election cycles are not necessarily enough to mobilize disengaged black voters. They need to continue to be empowered and contacted to become committed voters. In that regard, the Abrams campaign could be seen as a beginning, and not an end.
Still, the end of this election will be bitter, if it is in sight. From my observation, the energy among black enclaves and on the ground on Election Day recalled nothing more than the same day in 2008, when as a sophomore at Morehouse College I watched masses of students celebrate Barack Obama's election as the first black president. In a time when naked bigotry emanates from the White House and specifically repudiates Obama's significance within those communities, if Abrams cannot prevail, the letdown will be considerable. If she can pull off an eleventh-hour miracle, it will be exhausting and hard fought, and would likely drag on into the winter.
We'll soon know which of those outcomes is likely. Right now, supporters are attempting to follow the lead of Atlanta Mayor Keisha Lance Bottoms, who was at Abrams's event in support. "Be cool, be calm," she told the room, sometime after midnight. "Because you've done all that you could do."