The Abrams Machine Is Not Done Yet
Democrat Stacey Abrams acknowledged that Republican Brian Kemp would become Georgia's governor, but she promised to continue her fight against voter suppression.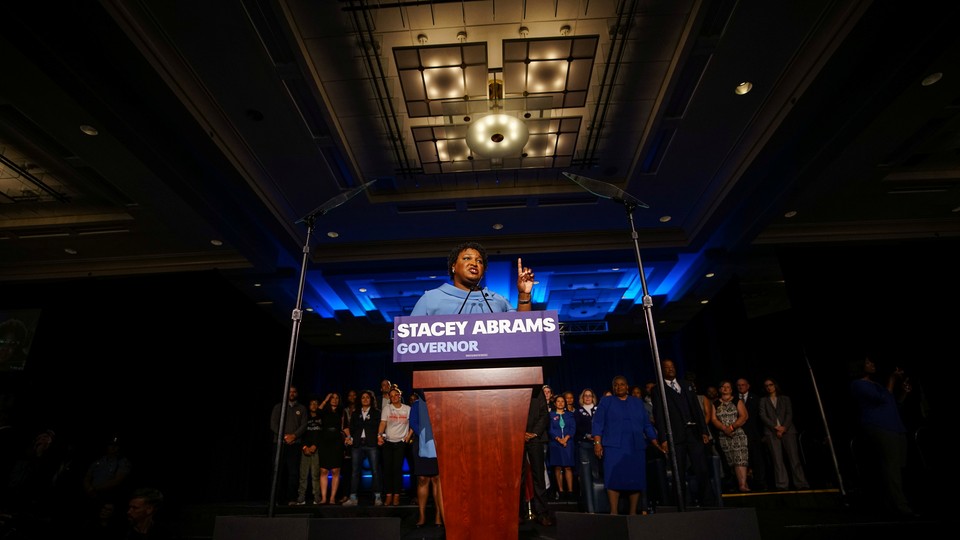 Stacey Abrams is not conceding.
That's what she said at a press conference in Atlanta on Friday. "This is not a speech of concession," she told supporters and reporters, "because concession means an action is right, true, or proper. As a woman of conscience and faith, I cannot concede that."
But the former Georgia state representative and Democratic nominee for governor did essentially end her campaign and recognize that her opponent, Brian Kemp, the GOP nominee and former state secretary of state, will officially win the election. "I acknowledge that Brian Kemp will be certified as the victor in the 2018 gubernatorial election," Abrams said. "But to watch an elected official who claims to represent the people in this state baldly pin his hopes for election on the suppression of the people's democratic right to vote has been truly appalling."
In the immediate term, the specifics don't matter much. This is, for all intents and purposes, legal and otherwise, a concession speech, regardless of Abrams's statement. Kemp will win. Abrams will lose. But in her speech, Abrams also announced that she will continue her fight against Kemp as a private citizen. And that fight could have significant consequences for Georgia, for Abrams's career, and for the Democratic Party nationwide.
Kemp, who stepped down as Georgia secretary of state last week—after he administered the most important parts of his own election—cast Abrams's speech as a full concession, and beseeched her and Georgians to turn the page."Moments ago, Stacey Abrams conceded the race and officially ended her campaign for governor," his campaign said in a statement. "I appreciate her passion, hard work, and commitment to public service. The election is over and hardworking Georgians are ready to move forward. We can no longer dwell on the divisive politics of the past but must focus on Georgia's bright and promising future."
That outcome doesn't seem likely. In her news conference, Abrams announced that she'd be initiating a "major federal lawsuit" against alleged mismanagement of the election under Kemp, through an initiative called "Fair Fight Georgia," which she said will push for major changes to election law in the state.
The existing allegations against Kemp and his old office are manifold. Kemp was the architect of a massive voter-purge campaign and an "exact match" policy requiring registrations to be identical to personal identifications, which moved more than 50,000 registrations—90 percent of them belonging to minorities—to "pending" status before a federal court enjoined it. There were long lines on Election Day, several precincts that were underprepared or featured near-comic mishaps with voting machines, and huge spikes in the number of provisional ballots some precincts offered to voters, especially students.
Abrams also announced that she'll support the Democrat John Barrow in his runoff against the Republican state Representative Brad Raffensperger in the election to succeed Kemp as secretary of state.
Instead of ending "the divisive politics of the past," as Kemp hopes to do, this all seems to place Abrams and Kemp in similar roles relative to each other as the ones they've played in the past few years, but with even higher stakes.
While in the state House, Abrams came to national prominence as the leader of the New Georgia Project, an unprecedented big-money campaign to register more than 100,000 new voters in the state. That initiative, which raised millions of dollars and did add thousands of new mostly black and Hispanic voters to the electorate, was a major part of a concerted new strategy to improve Democratic chances in the South by expanding the electorate. For the majority of Abrams's time leading the project, it was also engaged in a war against Kemp's office. Kemp launched a voter-fraud investigation against the New Georgia Project in 2014, and the New Georgia Project successfully sued the secretary of state's office over purges. In turn, Kemp blames the New Georgia Project's voter-registration drive for the discrepancies leading to the "exact match" fiasco.
Now, with national attention turned toward Georgia, and with the state serving as an emblem of the renewed struggle for voting rights in a post–Shelby County v. Holder world, Abrams and Kemp are avatars of the respective sides. For Democrats and voting-rights activists, Kemp's victory is a stolen one, but also a warning sign of just how powerful voter suppression can be. And with Kansas's Kris Kobach losing his gubernatorial bid, and Wisconsin Governor Scott Walker losing his reelection bid, Kemp will likely be the standard-bearer of state-level Trumpism, with what critics see as its heavy focus on dog whistles and on chasing the specter of voter fraud.
Abrams is now a national standard-bearer of an emerging view within the Democratic Party that voter suppression is a critical threat to democracy, and that aggressive litigation, legislation, and engagement with low-turnout populations are the remedies. Along with efforts like former U.S. Attorney General Eric Holder's redistricting committee, and alongside other campaigns like Andrew Gillum's in Florida and Beto O'Rourke's in Texas, Abrams's organizing represents a new path forward for Democrats, one that could provide them new majorities even in bright-red southern states, and could give them the tools for fighting the GOP's franchise-shrinking machine, which has seemingly outclassed Democrats at almost every turn for decades.
The Georgia governor's race is a loss for Democrats, and a loss for Stacey Abrams. But at her press conference, she announced that she isn't done in the state yet, and offered a glimmer of hope for her supporters, even as she voiced anger and frustration. "Eight years of systemic disenfranchisement, disinvestment, and incompetence had its desired effect on the electoral process in Georgia," she said at the press conference. But the basic message of all of her campaigns has been that each of those can be beaten.