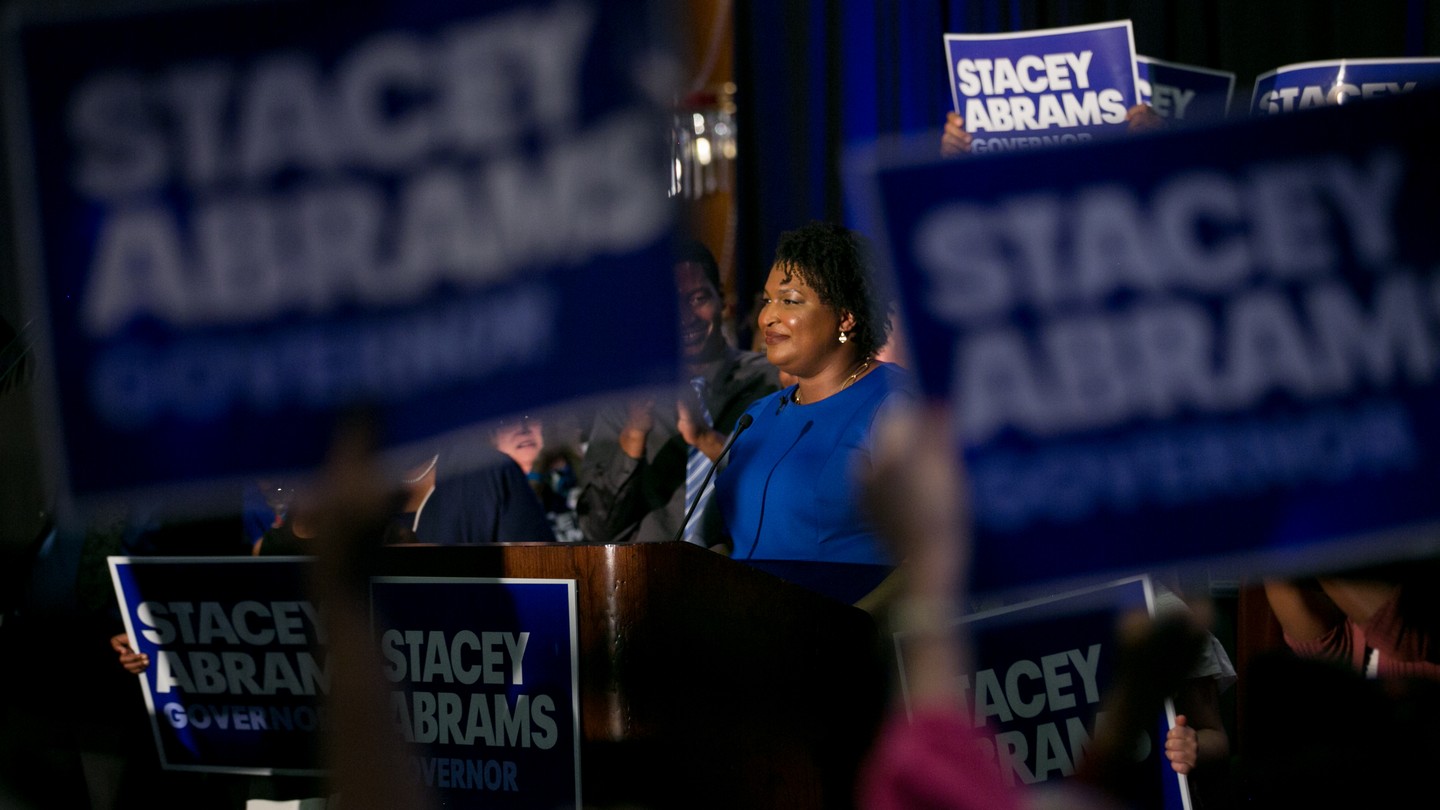 Stacey Abrams's Prescription for a Maternal-Health Crisis
Georgia is one of the riskiest places in the country for black women to have a child. That fact could make the difference in the governor's race.
SAVANNAH, Ga.—On the campaign trail in Georgia, the phrase sweat equity has acquired new meaning. Down below the gnat line, a month into autumn, organizers in this city swarm around a stage on a sweltering 90-degree Tuesday night. Stacey Abrams's bus tour, wending its way through hundreds of miles of Georgia towns, has finally made it to Savannah State University, where a crowd of supporters sits and stands, packed in and drenched. The crowd is remarkably diverse, but it's the crew of elderly black women in the front that draws the eye. For anyone sitting beside them, it's hard to tell whether this is a rally or a revival—whether the tension building in the audience is plain old anticipation or something more spiritual.
When Abrams finally made it to the stage, the crowd erupted. She glistened, reflecting the shining, sweating brown faces seated nearest to the stage, and she extolled, praising the virtues of elbow grease in getting unlikely voters to the polls. And when it was time to bring her message home, she returned to the single policy that has defined the Georgia governor's race—and the one that resonates most with the women at the front of the crowd. Her closing argument was all about Medicaid expansion, which Georgia hasn't adopted, and what it would mean for the lives of people of color and the poor in the state.
"Our opponents want to put a Band-Aid on a gaping wound," Abrams told the crowd. "They want to take from Peter and give to Paul, and tell Paulette she might find something somewhere else.
"But I understand that Medicaid expansion is about more than our physical health and more than our economic health," Abrams said. She detailed how expansion, a provision in the 2010 Affordable Care Act, provides federal funding for states to extend their own programs to cover poor and low-income adults. There's "$3 billion to which we are entitled every single year," Abrams continued. "That's real money, those are real lives, and this is a real opportunity for change in the state of Georgia."
Money, lives, and change. Those three words could roughly summarize any political race, but seem especially important in the state today. The issues facing much of the Georgia electorate are fairly simple: The state is the fifth-poorest in the nation. Its median wages and minimum wages are both below the national average. Across all races, the poor are underserved, often lack insurance, and face remarkably high rates of mortality and morbidity from preventable diseases. The state has huge swaths of rural land whose communities often lack basic services. Outside the urban oasis of the Atlanta metropolitan area, Georgia faces as many challenges to the health and welfare of its citizens as any state in the country. The most important policy issues in the governor's race boil down to each candidate's ability to fill those gaps.
But there's a special dimension in Georgia that could very well mean the difference next week. The state is in the grip of a crisis, one that affects, in particular, the lives of black women like Abrams and like those who form the foundation of her coalition and organizing base. Across the country, black women's health—particularly the fate of mothers and their newborns—is in peril, and mortality rates have spiked. Nowhere is this truer than in Georgia: The issue has been front and center in mobilizing black women, and it's central to the policy platform of the candidate seeking to be the first black woman governor in U.S. history. To black women in Georgia, the stakes of the debate over health-care access are no less than life or death.
Perhaps no one is more aware of those stakes than Joy Baker. Baker is an ob-gyn in Thomaston, a little more than an hour south of Atlanta. Thomaston is the picture of a small southern town. It has a Main Street and a Church Street. The town was built around a mill that's long gone, but it's still a hub for basic services for people living in the deeply rural surrounding areas. For hundreds of poor, rural women, Baker's practice in the Upson Regional Medical Center is the sole lifeline. Half of the rural areas in Georgia don't have any doctors' offices, hospitals, or clinics where women can seek obstetric care. That means Baker is responsible not just for the care of people in and around Thomaston, but also for women from an average of 40 miles away.
"Twenty-five percent of my patient population lives below the poverty line, on less than $17,000 per year," Baker told me. Her patients are disproportionately African American. The vast majority of them are on Medicaid, which by federal mandate covers pregnancy and perinatal services for women under or near the poverty line. They often have to rely on booking Medicaid vans three days in advance to get to doctor visits because they can't afford gas or don't have cars. "Some of my patients can't even afford a prescription at Walmart for $4," Baker says.
Baker told me that at least 60 percent of her patients qualify as having "high-risk" pregnancies, often because of obesity, high blood pressure, diabetes, and other comorbidities common among poor and rural populations. For most of those women, the nine-plus months of pre- and postnatal care they are guaranteed under federal law are the only regular primary and preventive care they'll receive in a given year.
"I see an average of 30 to 40 patients per day in my clinic," Baker says. "That's way more than I'd like to be seeing, but I have to be able to accommodate." Her average week includes two 24-hour shifts in a row, during which she alternates between working in the maternity ward, in the emergency room, and in the operating rooms of her hospital, as well as in her clinic across the street. For her and the one other doctor in her practice, it's a Herculean task just to provide an adequate standard of care—often squeezed into 10-minute visits.
Baker's patients often have chronic conditions that her office can address only while they're there for pregnancy-related care. That includes the mental-health problems that have come to characterize rural American life. Most often, the mental-health dangers associated with pregnancy and childbirth involve postpartum depression, but Baker sees women who are already depressed, suffering from undiagnosed disorders, or having suicidal ideations before and during pregnancy. She's also obtained a special license to treat opioid addiction among women who want to rehabilitate themselves during pregnancy. "We don't have any mental-health services and supports," Baker told me.
Her office tries to confront those challenges head on, counseling patients and finding psychiatric services for them. And Baker utilizes group prenatal care—an attempt to alleviate patients' potential isolation and to provide women with support networks that can help their pregnancy outcomes.
But there are mounting structural issues that even Baker's ingenuity and willpower can't fix. Dozens of labor-and-delivery units across the state have faced closures in the past two decades. Eight rural hospitals in Georgia have shuttered in the past eight years. And that's amid other stresses on rural and maternal health in Georgia, like the opioid crisis.
The biggest challenge is still insurance. Even though poor pregnant women are entitled to Medicaid coverage, that coverage is difficult to navigate, and under state law it comes with a firm expiration date. "Medicaid usually ends about six to eight weeks after the delivery," Baker says. "But the American College of Obstetricians and Gynecologists has come out with a strong suggestion that we follow those patients for the entire year." Baker estimates that after those six to eight weeks, she won't see 90 percent of her patients until they're pregnant again. In the dangerous medical crucible that is the first few weeks after childbirth, she estimates that some 30 percent of her patients won't even make it to their first postpartum visit.
For Baker, the only solution is the one that's at the center of the Georgia governor's race: Medicaid expansion. "I feel like I'm kind of piecing things together here, and I would love to have the resources to do the things we need to do," she told me. Because Medicaid expansion would offer health insurance to more low-income adults than the state's current program, it would provide many residents of Thomaston with the first steady guarantee of coverage in decades. That would give them access to more regular care and reduce their own health-care costs. And it would give Baker's patients year-round access to her services.
The Medicaid expansion would also signal that the state is serious about assisting Baker on the front lines of the crisis—and that it cares about her, too. "As a black woman, it is just really unacceptable to me that black women are more likely to die" than white women, Baker says. "I take it personally because I am a black woman and I would like to live if I should decide to have a baby."
There are 130 miles of mostly rural highway between Savannah and Augusta. Speeding to loop ahead of Stacey Abrams's bus tour, I passed cotton fields, gas stations selling boiled peanuts, and the occasional Confederate flag. I also passed through two counties with no obstetric care at all, drove by a medical center that almost shuttered last year amid a wave of rural-hospital closings, and drove by a hospital that closed its obstetric center in 2012.
Aboard the campaign bus, I told Abrams about that particular route near the Georgia–South Carolina state line. "One of the challenges in the state of Georgia is that we have a largely publicly financed health-care system," she responded, referring to Medicaid. "If you're in an urban area, you have private providers, but by and large, most of the medical provision of services comes from public providers: FQHCs [Federally Qualified Health Centers], county-based hospitals, and community hospitals that rely on public financing."
It was hard to miss her wonkishness on the topic. She's invested in the policy not just as a political matter but also with an expert's interest. Abrams is a tax attorney by training, and one of her specialties was health-care finance. For a moment during our conversation—a fleeting moment—I was grateful for the loans I'd taken out to get a degree in health policy.
"From the very beginning," Abrams continued, "I have been pushing the state of Georgia to expand Medicaid, because we are exactly the state that they were thinking about, a state with a low-wage population, with a high poverty rate, and with a deep reliance on public provision of health care. And the failure to do so has led to exacerbated levels of social and medical pathologies that we've had for years."
I asked Abrams what she thought about the particular crisis I'd been trying to grapple with, and the ways in which Georgia's health-care system uniquely disadvantages black women. As she told me, she's had intimate experience with those disadvantages. Abrams explained how she decided to start paying for her parents' insurance around 2005, after they faced a requirement to self-fund part of their medical care—including her father's prostate-cancer treatment and expensive coverage for her mother.
Read: Reverse migration might turn Georgia blue.
"My mom has given birth to seven children. Her entire existence was a preexisting condition," Abrams told me. "At that moment, I had to step up and take on that responsibility, because if my parents had been moved off of their private insurance into Medicaid, my mom and dad would've lost the health care that they needed."
As a candidate, Abrams has often relayed stories about deferring her tax bills and her struggle with student debt as a way to relate to voters. What's clear, though, is how much health care—or, specifically, the lack of access to affordable health care—formed the foundation of those other problems, illustrating another way that Abrams's own policies are informed by her life.
"For black women across this country, and especially in the state of Georgia, they're being forced to make that decision still," Abrams said, referring to the trade-offs many Americans make because of expensive health care. "These are moms who are being forced to go without health care so they can pay for food for their children. These are daughters who are taking in their parents because they know that that's the only way that they can support their parents, [but then] they can't take care of themselves. Black women have long been essential to the health care of our communities, either directly as health-care professionals or as providers simply because that's what they do in the community."
She gave me the pitch she's been making to voters for months: "Medicaid expansion is a solution for that problem, and it is an atrocity that we are not accepting it now."
Georgia is one of 17 states, including many in the Deep South, that have not adopted the Medicaid expansion, which is funded by a combination of state and federal money. In 2012, Republican Governor Nathan Deal announced that he wouldn't expand the program, citing costs and his skepticism of the federal government's ability to help states pay for it over the long term.
Neither of those concerns have been borne out in recent years: The federal government has kept its obligation to states that have expanded Medicaid, and there's no sign that will change anytime soon. And analyses of state expansions have shown benefits for the states' economies. But opposition to the reform has acquired a political significance since 2012 that goes beyond just concerns over the state budget.
In 2014, Deal supported HB 990, legislation that transferred the power to expand Medicaid from the governor's office to the legislature, thus stripping future chief executives of the ability to move unilaterally on the issue. Though Deal has more recently warmed to the idea of a limited, restrictive Medicaid expansion similar to ones other Republican governors have approved, his would-be successor is wholly resistant.
Georgia's secretary of state, Brian Kemp, the Republican candidate facing off against Abrams, has characterized the expansion as a costly enlargement of the federal government, arguing it would only increase premiums in the state and reduce access to quality care. It's unclear whether Kemp would even be allowed to champion the cause on the campaign trail if he wanted to: HB 943, also passed during Deal's tenure, bars state employees from the use of "moneys, human resources, or assets to advocate or intended to influence the citizens of this state" in support of a Medicaid expansion.
In its place, Kemp favors expanding an existing voluntary tax-credit plan for funding rural hospitals. He promised during the Republican primary to "work with the Trump administration to implement a Georgia-focused, free-market solution that enhances health-care coverage and reduces costs."
The reality of the situation in Georgia has made that platform a difficult sell for Kemp. Baker's poor patients are only a slice of the women in Georgia without adequate health care. Fifteen percent of women in Georgia are uninsured—the third-highest rate in the country. Almost a fifth don't see doctors in any given year because of costs. Twenty-two percent don't have personal doctors.
The health outcomes in the state are fairly predictable, given those numbers: Life expectancy for women in Georgia is almost two years less than the national average. Also, Georgia is one of the most dangerous places in the country to have a baby, with the fifth-highest infant-mortality rate among all states. Depending on which national surveillance system is used, it has either the highest or the second-highest rate of maternal mortality within the year after delivery.
A deeper look at the data shows it's clear just how much racial disparities within Georgia drive its inclusion on so many ignoble lists. According to a 2018 joint report from Yale Law School and the Yale School of Public Health, in 2016, for every 100,000 births, 62 black women in Georgia died from pregnancy complications. That rate is much higher than that of white women in Georgia, for whom maternal mortality is 27 deaths per 100,000 births. The infant-mortality rate for babies born to black mothers in Georgia is 12.5 deaths per 1,000 births, compared with 5.5 deaths per 1,000 births for babies born to white mothers.
To put it all in context: If black Georgia were a separate country, it would be one of the riskiest places in the entire Western Hemisphere for new mothers and for infants. And according to the experts I spoke with, the situation is only worsening.
According to Natalie Hernandez, a professor at Morehouse School of Medicine in Atlanta who researches maternal and child health among women of color in Georgia, much of the crisis, both locally and nationally, is attributable to America's legacy of racism. "When I look at Jim Crow laws and where a lot of these underlying racial policies have existed, that's where you see these disparities," Hernandez told me. At least on a surface level, the existing data appear to affirm that suspicion. Seven of the 10 states with the highest rates of maternal mortality have proportions of black residents that are higher than the national average. Of the 10 states with the highest concentrations of black people, eight also have top-10 infant-mortality rates.
"There's still something so fundamentally different about the experience of a black woman in the South—particularly in Georgia—and how that translates to health outcomes," Hernandez says. "What research is showing is this idea of [the effects of] stress and racism." Contrary to some arguments that women simply aren't accessing the right prenatal care, Hernandez says, "Women are going to their prenatal appointments, and they are accessing care. They're also experiencing racial discrimination when they're accessing that care … [adding] layers of stress that have been put on these women over and over again.
"Prenatal care cannot erase the decades and decades of stress that have been placed on these women," she says.
Emerging research appears to show that the majority of black maternal deaths in Georgia don't come during the prenatal or delivery stages—they come after delivery. That's according to Angela Aina, the co-director of the Black Mamas Matter Alliance, a nonprofit that partnered with Yale on its groundbreaking report. A review from the Georgia Department of Public Health confirms that statistic.
The review also shows that more than half of all maternal deaths in the state are deaths of women who were on Medicaid—and who may have lost that Medicaid shortly after delivery.
The overall burden of maternal and infant mortality is low compared with mortality related to other causes. To wit, Georgia recorded 79 total pregnancy-related deaths in 2013, the latest year it reported this comprehensive metric. In the same year, the state had almost 900 drunk-driving–related fatalities.
But the issue has gained national attention and has helped mobilize voters, for two reasons. For one, these deaths are strong indicators of the overall dysfunction within any health-care system. A system that cannot safeguard the overall health of vulnerable people will tend toward spikes in deaths at the margins—in situations of extreme stress and duress, such as pregnancy and childbirth. There's a reason the two statistics, for maternal and infant mortality, are such elemental indicators of the overall health of countries: Health infrastructure that fails at the main function for which health infrastructure exists—birthing healthy babies—can probably not be trusted for anything else.
But the second reason is more personal for black women in Georgia. It's that so many women know people who've had fatal or near-fatal experiences with childbirth, even if they haven't experienced it themselves. And many are burdened by financial problems stemming from severe health-care episodes unrelated to childbirth.
According to Nikema Williams, a Democratic state senator and the state political director for Care in Action, a social-welfare nonprofit representing domestic workers that is canvassing for Abrams, the specific issue of maternal health has become a key part of the nonprofit's messaging strategy among women of color who may not be likely voters.
"We are very intentional about reaching out to people who often feel unseen and unheard in elections," Williams told me. In Care in Action's door-knocking campaign, organizers have found anecdotally that the issue—and the goal of Medicaid expansion as a curative—has helped move these voters toward the polls. Opinion surveys in the state show that the Medicaid expansion is a unifying force in Georgia politics, as almost three-quarters of all voters, Republican and Democrat, favor the plan. In black communities especially, the ability to vote for such a policy appears to be a strong motivator, though the degree to which the issue has mobilized voters won't become clear until after the election.
"This is something we can beat," Williams told me.
In her group's enthusiasm—in the intense focus on door-knocking campaigns and the strategy of turning out previously disengaged black voters—there are echoes of the 2017 Senate special election in Alabama. Unprecedented levels of voter mobilization in that state's "Black Belt" proved to be the difference for the winning Democratic candidate, Doug Jones. And as is true of the Georgia race and the barrage of stories of last-minute voter purges by Kemp's office, reports of the suppression of black votes characterized the weeks before Alabama's election.
The Alabama race was a coming-out party of sorts for the political strength of machines built for and by black women. Since then, that emerging network has been critical in fielding a burgeoning class of black women as current and future candidates, and in fueling the ascendance of what could be—from Andrew Gillum in Florida to Ayanna Pressley in Massachusetts—one of the most remarkable single classes of black politicians since Reconstruction.
But Georgia is a bit different from its western neighbor. In Alabama's Senate race, the machinery created by black women, which drew down massive amounts of fund-raising for a time-intensive voter-engagement strategy, often did so with little regard for Jones himself. For the victorious coalition in that election, the race was more about reestablishing and flexing black power than about the promises of a particular Democratic politician.
In Georgia, however, Stacey Abrams is both a leader who arose from the kinds of institutions that were so pivotal in Alabama and a representative of the unique policy issues that face the black women who have now suddenly become kingmakers in the Deep South. And perhaps unlike the path many black politicians before her would have chosen, Abrams has not sought to minimize the role that her identity has played in her own candidacy.
"We live in a time where it is necessary to talk about race," she told me. But "if it's only a conversation about race, or only a conversation about gender, then I'm not doing anyone a good service. But I use it as a way to have a broader conversation about the issues that we face, because solving those issues means that we solve issues for everyone regardless of race and gender."
For Abrams, that means attempting an alchemy that has rarely been tried in American history. It means taking a silent menace, one visited upon a disenfranchised minority in a continuation of America's racial sins, and giving the people most affected by it a voice. And it means convincing people inclined to oppose her candidacy that Medicaid expansion is not only a cure for the literal ills of black women, but also one that would improve the lives of scores of low-income Georgians.
"My focus is on Georgia, but the reality is, Georgia matters to everyone," Abrams told me. "If you change the leadership of Georgia, you change the South. If you change the South, you change the country."