The Republican Senate Majority Is Growing
Conservatives defeated Senators Heidi Heitkamp of North Dakota, Claire McCaskill of Missouri, and Joe Donnelly of Indiana—clinching a GOP edge for the next two years.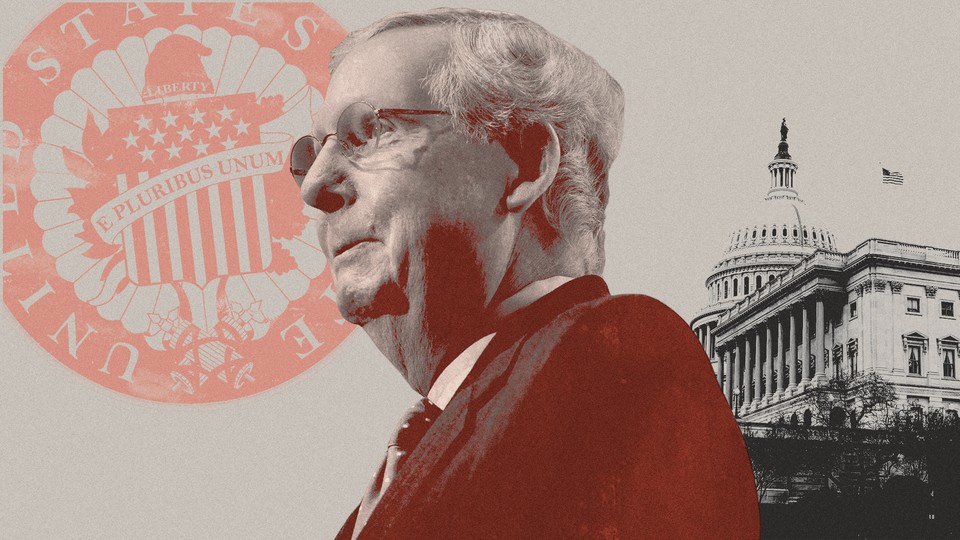 Updated on November 6 at 11:50 p.m. ET
Republicans were poised to expand their slim Senate majority on Tuesday night, picking up three seats in Indiana, Missouri, and North Dakota while cutting off the Democrats' narrow path to retake control of the chamber.
Democratic Senators Heidi Heitkamp of North Dakota, Claire McCaskill of Missouri, and Joe Donnelly of Indiana were defeated by conservative challengers who leaned heavily on President Donald Trump's enduring popularity in their deeply red states. And in Texas and Tennessee, neither the insurgent energy behind Beto O'Rourke nor the middle-of-the-road appeal of former Governor Phil Bredesen could overcome the Republican lean of the electorate. Senator Ted Cruz defeated O'Rourke, the well-funded three-term congressman, while the conservative Representative Marsha Blackburn of Tennessee won election to the seat vacated by the retiring Senator Bob Corker.
The initial results assured that Republicans would retain their Senate advantage even as Democrats were on the verge of recapturing the House. The GOP held a 51–49 edge heading into the midterm elections. And while Democrats have a chance to pick up seats in Arizona and Nevada later in the night, the three losses in the middle of the country effectively ended their chances for a majority. In Florida, the incumbent Senator Bill Nelson was trailing Republican Governor Rick Scott with 99 percent of precincts reporting.
The precise size of the GOP Senate majority will likely have limited impact on legislation. Because Democrats appear to have won back the House, any further effort to repeal the Affordable Care Act, for example, is doomed. But Republican control of the Senate, however narrow, will allow Trump to make an even deeper conservative imprint on the federal judiciary, and potentially on the Supreme Court. Republicans have confirmed dozens of appellate and district-court judges in the past two years, and they have cemented a conservative Supreme Court majority with the elevation of Justices Neil Gorsuch and Brett Kavanaugh.
Republicans captured their first major Senate battleground shortly before 9 p.m. eastern time, when the networks called the Indiana race for Mike Braun, a businessman who ran as a conservative outsider against Donnelly, a centrist Democrat. Later in the evening, GOP Representative Kevin Cramer defeated Heitkamp in North Dakota, and McCaskill lost to state Attorney General Josh Hawley in Missouri.
Democrats scored their own victories in West Virginia, where Senator Joe Manchin defeated the state's attorney general, Patrick Morrisey; and in New Jersey, where the scandal-tarred Senator Bob Menendez held on despite an aggressive and well-funded challenge from the businessman Bob Hugin. The Menendez race became competitive after the longtime Democratic senator was tried on corruption charges and admonished by the Senate Ethics Committee. A federal trial ended in a hung jury.
Republicans retained a critical seat in Tennessee, where Blackburn defeated Bredesen, the state's former governor, in a race that Democrats had higher hopes for earlier in the campaign.
In the closing weeks, the races for control of the House and the Senate seemed to cleave in separate directions. The Senate campaign was fought largely on Republican turf, unlike many of the critical House races playing out in GOP-held districts that swung toward Democrats in 2016. Led by Trump, the GOP tried to press its advantage by hammering Democrats over their treatment of the Supreme Court nominee—and now justice—Kavanaugh, and by summoning fears of a migrant caravan of refugees moving north through Central America toward Mexico and the southern border.
Trump, too, played sharply different roles in the most competitive House and Senate contests. Many House contenders in suburban districts that have turned against Trump wanted nothing to do with the president and touted their willingness to oppose him. But GOP Senate candidates like Hawley in Missouri, Cramer in North Dakota, Braun in Indiana, and Morrisey in West Virginia welcomed him to enormous rallies in the hope that he could drive his loyal supporters to the polls.
And as his party's fortunes sagged in one chamber and improved in the other, Trump tried to take credit for the GOP's Senate campaigns while dismissing potential losses in the House as par for the course for a first-term president. "I think we're going to do well in the House," he told reporters on Sunday. "But as you know, my primary focus has been on the Senate, and I think we're doing really well in the Senate."
Despite the favorable political climate, the path for Democrats to a Senate majority this year was daunting from the beginning. Just one-third of the chamber's 100 seats open up every two years, and in 2018 Democrats were defending 26 seats while Republicans had to protect only nine. And many of those Democratic incumbents were fighting for reelection in red states that Trump carried by wide margins two years ago. In North Dakota, for example, Heitkamp won her first election in 2012 by fewer than 3,000 votes. Two years ago, Trump won the state by a whopping 35 percentage points.
Heitkamp entered Tuesday as the Democrats' most vulnerable incumbent, with some polls showing her losing to Cramer by double digits. In addition to Donnelly and Heitkamp, Republicans were hoping to oust Nelson and Senator Jon Tester of Montana, who found themselves in toss-up races as the election drew to a close.
Yet even the prospective loss of a few seats did not match the nightmare scenario Senate Democrats were contemplating at the beginning of Trump's term, when it seemed possible that a strong year could give Republicans close to a filibuster-proof 60 seats. Several Democrats representing states that Trump won in the Rust Belt and the upper Midwest had strengthened their positions long before Election Day. They included Senators Sherrod Brown of Ohio, Tammy Baldwin of Wisconsin, Debbie Stabenow of Michigan, and Bob Casey of Pennsylvania—all of whom were expected to prevail easily on Tuesday. In West Virginia, Manchin had also been narrowly favored to hold his seat in a state that Trump won by more than 40 points two years ago. The early call of his victory was a good sign that Democrats could limit their losses.
In contrast to the Democrats, just a single Senate Republican, Dean Heller of Nevada, was up for reelection in a state Hillary Clinton carried in 2016. But the race for control of the chamber became much closer with the surprise retirements of Senators Jeff Flake of Arizona and Corker of Tennessee, two Republicans who had bickered with Trump and grown weary of his bombastic brand of politics. In Arizona, Democratic Representative Kyrsten Sinema was running about even with GOP Representative Martha McSally, while Bredesen had faced longer odds against Blackburn.
Still, no Democratic candidate in 2018 captured the imagination—and adoration—of the party's liberal base more than O'Rourke, the 46-year-old, third-term El Paso congressman who challenged Senator Ted Cruz in Texas. O'Rourke reached voters in every corner of the state by broadcasting his long weekend drives on Facebook Live, and by Election Day he had raised more than $70 million—easily the most for any candidate in the country who was not contributing substantial sums of his own money to his campaign. The energy behind his campaign made the Senate race the closest Texas has seen in years and undoubtedly helped Democrats down the ballot. But it was not enough to overtake Cruz.
Though the Republicans were likely to keep their majority, the precise margin may not be known for weeks. In Mississippi, the special election to fill the remainder of retired Senator Thad Cochran's term was likely headed to a runoff because none of the three major candidates—Democrat Mike Espy and Republicans Chris McDaniel and Cindy Hyde-Smith—were expected to achieve the majority needed to win on Tuesday night.