San Francisco's Mayor Opposes Proposition C for the Homeless
The ballot measure would raise $300 million in corporate taxes to combat the city's most visible problem, but London Breed, San Francisco's Democratic mayor, fears it could cost jobs.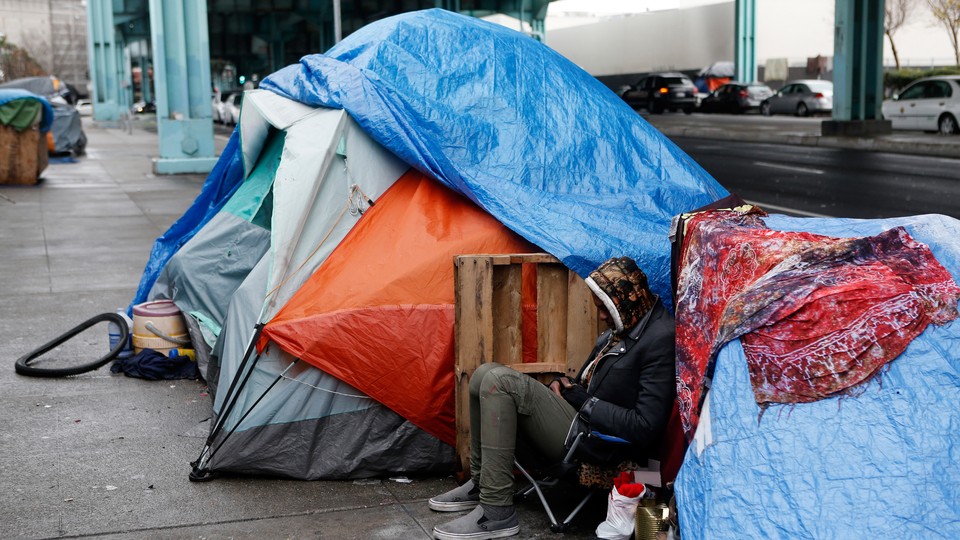 San Francisco voters will decide in Tuesday's election the fate of Proposition C, a measure that could generate $300 million in additional services for the homeless by increasing corporate taxes on the largest companies in the city. Contrary to expectations in one of the country's most liberal cities, some progressive leaders are urging residents to vote no.
Historically, San Francisco has been at the forefront of liberal causes, such as the anti–Vietnam War protests or the LGBTQ-rights movement. San Francisco County overwhelmingly supported Hillary Clinton in 2016 with almost 85 percent of the vote. Although the city prides itself on its progressive values, extreme wealth and poverty are on display, as homelessness is the city's most visible problem. The endless shelter lines, panhandling on Market Street, and encampments across the city represent a fraction of the 7,500 homeless people who call San Francisco home, 58 percent of whom are unsheltered.
While disruption fuels the tech giants of Silicon Valley, the residual impact is widespread gentrification throughout the Bay Area. Companies*, like Twitter,* set up shop in the city after they were offered significant tax breaks, bringing with them thousands of jobs, but also exacerbating inequality.* In San Francisco, the median cost of a house is $1.57 million and the average salary for someone working in tech is $142,000, almost three times the national average. Over the years, as the titans of Silicon Valley have grown in wealth and unchecked power, the homeless have languished.
"There's an inadequate supply of affordable housing in the country," said Nan Roman, the president and chief executive officer of the National Alliance to End Homelessness, a nonprofit in Washington, D.C. Roman declined to take a position on Prop C, but said people often forget that homelessness is a crisis, because it's existed for so long.
If Prop C passes, companies with more than $50 million in gross annual receipts would see taxes on gross receipts increase by .175 percent to .69 percent. Businesses with more than $1 billion in gross annual receipts will pay 1.5 percent of payroll expenses.
Although the ballot initiative is a local matter, it has gained national attention because the billionaire CEOs Marc Benioff, of Salesforce, and Jack Dorsey, of Twitter and Square, have been arguing about it on Twitter. Benioff has spent the past month campaigning in favor of Prop C and stressing the moral obligation businesses have to their communities. Salesforce and Benioff have contributed about $7 million in support of Prop C, according to Fast Company. On Twitter, Dorsey said Square, his credit-card processing company, stands to pay more under Prop C than Salesforce. Companies that facilitate financial transactions will be taxed at a higher rate. Dorsey estimates that under Prop C, Square will pay $20 million more in taxes in 2019. Dorsey defended his position against Prop C by noting that the Democrat London Breed, elected San Francisco's first female African American mayor in a special election in June, also does not support the measure.**
In early October, Breed urged voters not to support Prop C. "I understand why Proposition C sounds appealing, and I know those who support it are well-intentioned," Breed said in a statement. "I must consider the long-term impacts on our City, and thus, upon lengthy analysis and consideration, I cannot support Proposition C."
Breed campaigned on battling homelessness and has made it a priority. So far, Breed says she's added 50 new supportive-housing units and 125 short-term beds, in addition to $60 million in services for the homeless. Breed said the city is already spending around $300 million on homelessness without even auditing the expenditures. Breed also worries that businesses that established headquarters in San Francisco will leave rather than pay the new tax and take jobs with them. Democratic Councilman David Chiu and State Senator Scott Wiener, a former member of the San Francisco Board of Supervisors, don't support the measure, either.
"I think it's sensible legislation that is designed to help address the crisis in San Francisco," said Dr. Margot Kushel, the director of the University of California at San Francisco's Center for Vulnerable Populations. "The amount of human suffering in a city as wealthy as San Francisco is really unbearable and unsustainable."
Dr. Kushel has spent the past 20 years treating the city's homeless community and studying the causes and consequences of homelessness. Dr. Kushel, among other experts, believes the most effective way to combat homelessness is through permanent supportive housing, which is where San Francisco commits most of its funding. Supportive housing typically comes with substance-abuse treatment and counseling. It is not inexpensive, but costs far less than the persistent emergency-room visits that plague cities with chronic homeless populations.
In September, the San Francisco Chronicle reported that a poll of 800 likely voters conducted by EMC Research found support for Prop C running 56 percent to 42 percent opposed, with 3 percent undecided. When pollsters clarified how much the measure would cost in taxes, support dropped by almost 10 points.
Elyse Lee, 24, reluctantly cast her ballot in favor of Prop C ahead of Tuesday's election. "I don't know if Prop C is the best way to do it, but I think it's a step toward helping alleviate the homelessness issue," Lee said. "I think the private sector does have some sort of responsibility to engage."
---
* This article originally stated that Dropbox and Pinterest were offered a tax break. ** This article originally stated that London Breed was San Francisco's first African American mayor. We regret the errors.