Roger Stone's Shifting Story Is a Liability
The longtime Trump confidant could face federal charges if Special Counsel Robert Mueller determines he lied to Congress about his contacts with campaign officials and WikiLeaks.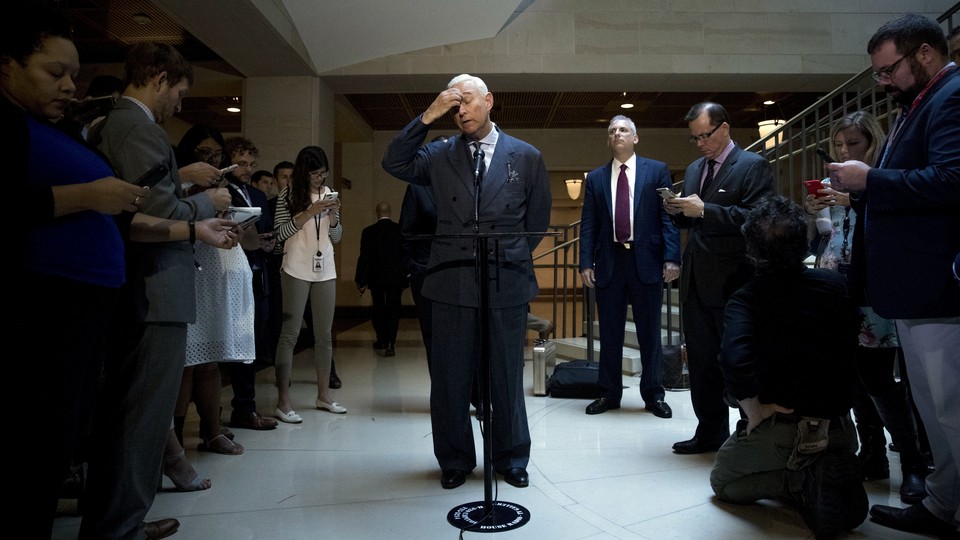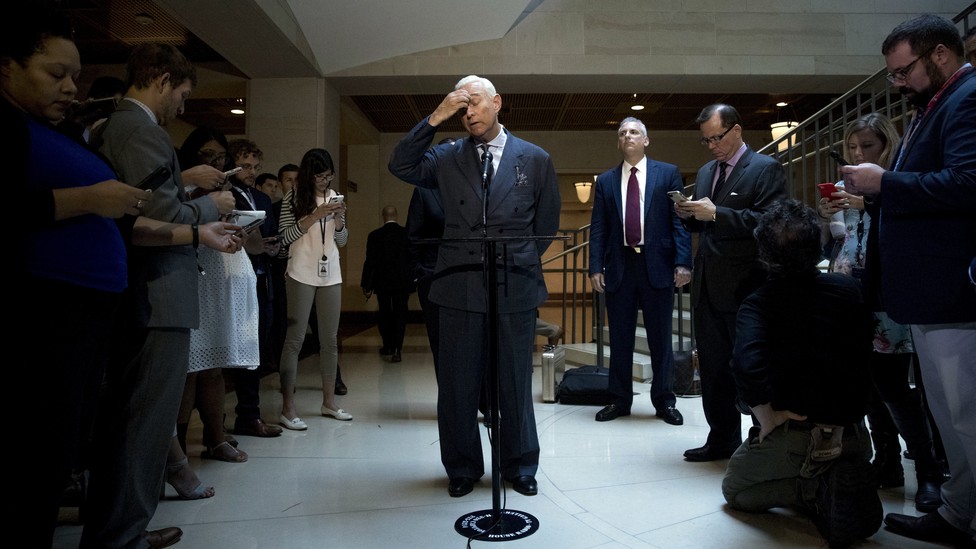 Roger Stone can't seem to get his story straight. In 2017, the political world's most well-known "dirty trickster" denied ever having a direct line to WikiLeaks founder Julian Assange, as he repeatedly boasted during the 2016 election. Now, in light of new emails showing that he communicated WikiLeaks's pre–Election Day plans to at least one senior Donald Trump–campaign official in the weeks before the election, his recollection is changing yet again.
Even before the latest email revelation, Stone, a longtime friend and confidant of President Trump, was in hot water with the House Intelligence Committee. Since his September 2017 hearing before the panel, he's amended his testimony three times as new reports have emerged about his contacts with Russian nationals, the extent of his interactions with WikiLeaks, and his conversations with Trump-campaign officials. Despite those changes, the question of whether he perjured himself before the committee still stands—and is reportedly being examined by Special Counsel Robert Mueller.
"Roger Stone had a chance, under oath, to tell the House Intel Committee about his contacts with Russians and WikiLeaks during the 2016 campaign," Democratic Representative Eric Swalwell of California, who sits on the panel, told me. "He misled us and has repeatedly—three times now—amended his testimony to fit new press reporting." Swalwell noted that the committee's Democrats voted to send transcripts related to its Russia investigation to Mueller, but Republicans resisted. "The special counsel should see Stone's transcripts and the accounts of all witnesses," he added.
Mueller, who is investigating whether the Trump campaign conspired with Russia to win the 2016 election, has been interviewing Stone associates and senior campaign officials in recent weeks—including campaign CEO Steve Bannon and the former campaign chairman, Paul Manafort. He's reportedly trying to determine whether Stone coordinated the release of hacked emails from a senior Clinton-campaign official, John Podesta, to distract from the damaging Access Hollywood tape, which showed Trump making vulgar comments about women. The tape was released just minutes before the email dump. Stone has long denied that he discussed WikiLeaks's plans with Bannon or any other campaign official. "There are no such communications, and if Bannon says there are he would be dissembling," Stone told The Washington Post as recently as Tuesday.
But emails from Stone made public Thursday belie that claim. On October 4, 2016, three days before the Podesta emails were published, Stone emailed Bannon predicting "a load" of new WikiLeaks disclosures "every week going forward." According to Swalwell, Stone "had an opportunity" to tell the committee about his WikiLeaks-related conversations with Bannon, but "he didn't." (Stone told the Post on Thursday that he "was unaware of this email exchange until it was leaked," adding that "we had not turned it up in our search.")
It isn't clear whether the panel's Democrats plan to bring Stone back in for further questioning if they retake the House majority and assume subpoena power. But, like Swalwell, a Democratic aide on the committee emphasized the importance of getting Stone's full transcript to Mueller to determine whether he committed perjury. "We've repeatedly urged the majority to provide the special counsel with access to Roger Stone's transcript, among others, both for the evidence they offer and to determine whether witnesses have committed perjury," said the aide, speaking on the condition of anonymity. "This is a particular concern with Roger Stone, especially after the publication of these emails." Stone didn't immediately return a request for comment.
Former federal prosecutors told me that inconsistencies between Stone's testimony and what Mueller has learned could hypothetically lead to federal charges. If Mueller were to determine that Stone lied to the panel, "I think he would just charge Stone with perjury" rather than refer the matter to the committee for further review, said Dan Goldman, a former federal prosecutor in the Southern District of New York who specialized in organized crime. "If, for some reason, he didn't think he had a perjury case but believes Stone misled the committee," Mueller may notify lawmakers anyway, he said.
Stone's conflicting statements have been material to both federal and congressional investigators, who want to know whether Stone served as a conduit between the campaign, WikiLeaks, and Russia. Despite telling the committee that he never "had any communication with any Russians or individuals fronting for Russians, in connection with the 2016 presidential election," Stone later acknowledged meeting with a Russian man named Henry Greenberg in May 2016 to obtain dirt on Hillary Clinton. With regard to Assange, Stone told the House Intelligence Committee that they spoke only through an intermediary, but Twitter direct messages show Stone communicating with the WikiLeaks Twitter account in October 2016. It's widely understood that Assange is that account's primary administrator.
Elie Honig, who was also a federal prosecutor in the Southern District, largely agreed with Goldman's assessment. "If Stone lied to the House committee, that certainly could give rise to criminal charges for false statements and obstruction of justice," Honig, who prosecuted mob cases, said. "Mueller could charge simply on the basis of Stone's testimony and the evidence proving that testimony to be knowingly false."
The content of the newly revealed email with Bannon doesn't prove that Stone had advance knowledge of WikiLeaks's roll-out plan for the Podesta emails; Assange had already told reporters that morning that there would be a disclosure every week until the election. And WikiLeaks could easily have decided on its own, without the urging of anyone associated with the Trump campaign, that the best way to deflect attention away from the Access Hollywood tape was to give the world some stolen emails to sift through. But Stone seemed to know well in advance that WikiLeaks was planning something big—and that it concerned Podesta.
"It will soon [be] Podesta's time in the barrel. #CrookedHillary" Stone wrote in a now-famous tweet on August 21, 2016. (Stone told the House Intelligence Committee that the tweet was prompted by the resignation of his "boyhood friend and colleague, Paul Manafort" over his ties to Ukraine. He said that he "thought it manifestly unfair" that Podesta, Clinton's campaign chairman, was not "held to the same standard" due to his own foreign business dealings.)
On October 2, 2016, Stone told the far-right talk-radio host Alex Jones that he had been "assured that the mother lode" was coming. The next day, he tweeted that he had "total confidence that @wikileaks" and his "hero Julian Assange" would come through.
On October 7, WikiLeaks began publishing the contents of Podesta's inbox, which had been infiltrated by Russian hackers seven months earlier. Stone told The Daily Caller on October 12 that Assange had delayed the email dump on purpose: "I was led to believe that there would be a major release on a previous Wednesday," October 5, he said. Despite his public statement in August that he'd been speaking directly to Assange, he denied that he had been given "advance knowledge of the details" of WikiLeaks's release and maintained that he was in touch with Assange only indirectly.
WikiLeaks has downplayed its relationship with Stone, and asked him in private messages that I obtained to stop making "false claims of association" with the organization. That was in October 2016. But it reopened its line of communication with Stone in November. "Happy?" WikiLeaks wrote to Stone, the day after Trump won the election. "We are now more free to communicate." Fourteen months later, Stone visited the Ecuadorian embassy in London, where Assange has been holed up for more than five years.
"There is no doubt that WikiLeaks, controlled by known foreign citizens, tried to influence the election," Goldman said. "But the question for Mueller is whether Stone knew about it or whether he assisted it in any way. If he encouraged Assange to release the emails, or advised him on the timing or strategy of doing so, that would be enough [to charge him with a crime]. But the emails released in [The New York Times] only shows knowledge, not coordination."
"It is very difficult—not impossible, but difficult—for Stone to walk the fine line between intermediary and co-conspirator," Honig said. But given what is known about how Russian intelligence illegally hacked the emails of both Podesta and the Democratic National Committee; how those hackers used both WikiLeaks and a Russian intelligence officer with the nom de guerre Guccifer 2.0 to disseminate the stolen materials; and how Stone had direct contact with WikiLeaks, Guccifer 2.0, and Bannon, that line seems to be blurring rapidly.
"If Stone knew or should have known that the emails were illegally obtained … and took some step either to disseminate those stolen emails, or to encourage the hackers to continue their illegal work, or to assist in the overall effort to steal and disseminate the stolen emails," Honig said, "then he likely crosses over into criminal co-conspirator or accomplice territory."