A New Indictment Looms in the Mueller Probe
Jerome Corsi, an associate of the Trump confidant Roger Stone, says he's been offered a plea deal on one perjury count—but won't take it.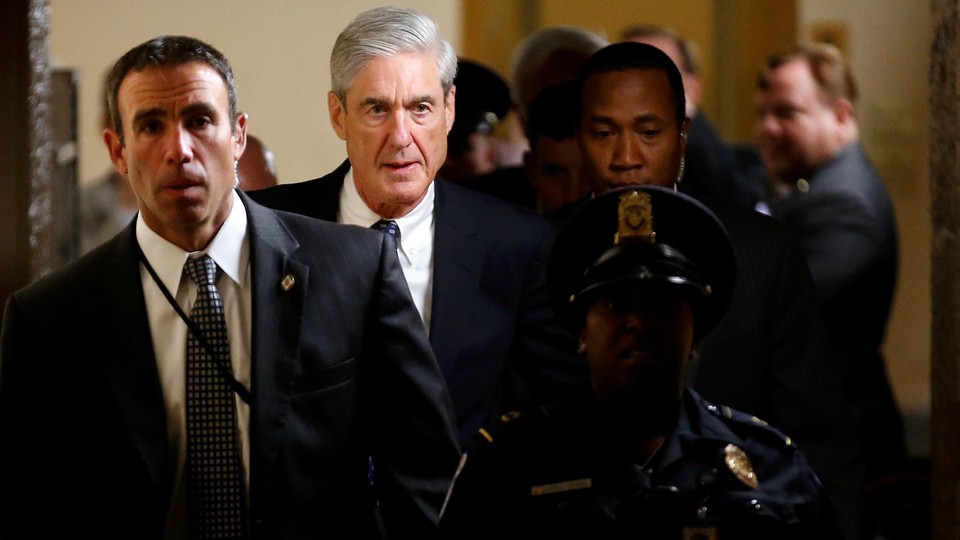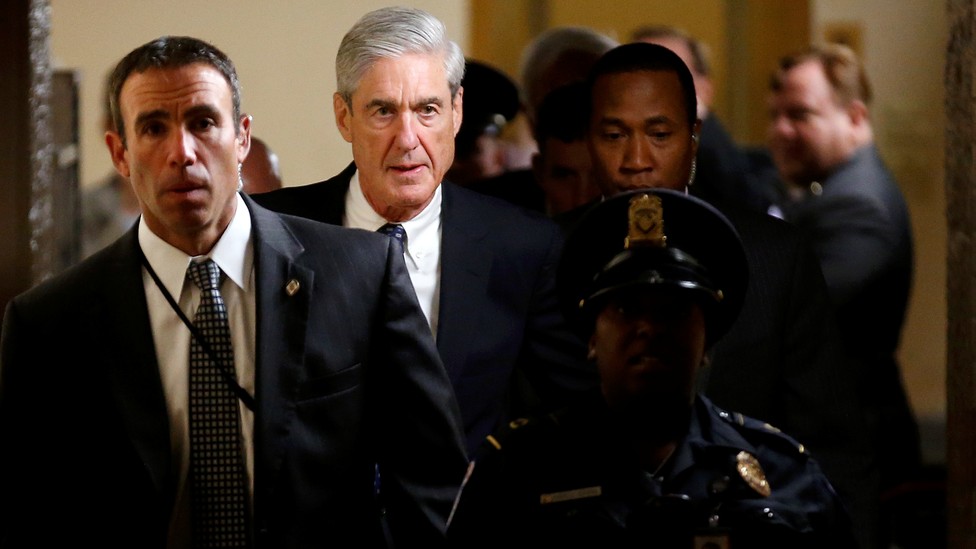 Updated on November 27 at 6 p.m. ET.
A far-right conspiracy theorist who landed in Special Counsel Robert Mueller's crosshairs over his friendship with the longtime Donald Trump confidant Roger Stone now says that Mueller has offered him a plea deal on one count of perjury related to his conversations with Stone in 2016—but he is not going to take the deal, he told me in an interview on Monday. "I will not sign a statement that says I willfully and knowingly lied, because I did not," Jerome Corsi said.
Mueller has been interviewing Stone's associates and senior Trump-campaign officials in recent months—including Corsi, Trump's former campaign CEO Steve Bannon, and the former campaign chairman Paul Manafort—to determine whether Stone knew in advance that WikiLeaks had obtained hacked emails from a senior Clinton-campaign official, John Podesta, and coordinated the release to distract from the damaging Access Hollywood tape that showed Trump making vulgar comments about women. (The emails were dumped on October 7, 2016, just minutes after the tape was released by The Washington Post.)
Corsi was subpoenaed by Mueller's team in September and has been predicting since last month that he might be indicted for lying. He has said that he told Stone in August 2016 that Podesta would be WikiLeaks' next victim, but insists it was just a theory that he developed while traveling in Italy with his wife in the summer of 2016—a trip that Mueller has been very interested in, Corsi said. "They wanted me to connect Roger Stone with Assange," Corsi told me, referring to the WikiLeaks founder who released the hacked Podesta emails in October. "They couldn't believe how I knew in August that Assange had Podesta's emails."
Corsi, who was working on opposition research with Stone throughout 2016, said he shared his "hunch" with Stone at the time, but has denied having any inside information from Assange. Instead, he says, he figured that Podesta "had to be next" if he was left out of the July 22, 2016, email dump of Democratic National Committee emails. "I had sources who had shown me how [the] Democratic Party had put their systems together, and gave me thousands of pages of information over the summer on how the DNC's computers worked," Corsi said. "So when Assange on July 22 dropped the Democratic National Committee emails, which included messages from Debbie Wasserman Schultz, I did a forensic analysis and determined that there were no Podesta emails in there." It isn't clear who Corsi's "sources" were, or why he considered Podesta, who had no role at the DNC, to be conspicuously missing from a DNC email release. But Corsi claims that he simply "connected the dots and figured Podesta must be next. Mueller doesn't want to believe that."
Stone, for his part, denies having had any such conversations about Podesta with Corsi. But he famously predicted in a tweet months before the election, around the time that he was "conducting research" with Corsi, that damaging information would soon emerge about Podesta. "It will soon [be] Podesta's time in the barrel. #CrookedHillary," he wrote on August 21, 2016.
Corsi told me that he emailed Stone in 2016 telling him to "go see Assange"—an email that prosecutors showed Corsi earlier this year and that he apparently had not voluntarily produced. Draft copies of Mueller's Statement of the Offense that Corsi has since provided to NBC and CNN include an email from Stone to Corsi on July 25, 2016 in which Stone asks Corsi to "get to Assange." It isn't clear whether they are different emails.
"Get to (Assange) [a]t Ecuadorian Embassy in London and get the pending (WikiLeaks) emails," Stone wrote to Corsi, according to the draft court documents. Corsi told prosecutors that he turned down Stone's request, but that was apparently a lie—he passed along the request to a conservative author Ted Malloch and responded to Stone eight days later. "Word is friend in embassy plans 2 more dumps," Corsi wrote on Aug. 2, 2016, referring to WikiLeaks founder Julian Assange. "One shortly after I'm back. 2nd in Oct. Impact planned to be very damaging." WikiLeaks began releasing the Podesta emails on October 7, 2016.
Corsi told me he "couldn't remember any" of his 2016 emails. "I hadn't looked at them," he said on Monday. "So they let me amend my testimony, but now they want to charge me for the initial day when I said I didn't remember that email. I won't plead guilty to it." But Mueller's team has reportedly accused of Corsi of scrubbing his computer between January-March 2017 of all emails that predated October 11, 2016.
Dan Goldman, a former federal prosecutor in the Southern District of New York, found it hard to believe that any prosecutor would charge Corsi with knowingly making a false statement after allowing him to amend his testimony. "I would be shocked if there weren't more evidence of his lying if he is ultimately charged with making false statements to federal officials," Goldman told me.
Corsi has also added a new twist to the saga, claiming that he plans to file a complaint with Acting Attorney General Matt Whitaker over Mueller's team's alleged recommendation that he keep his plea deal a secret from the Financial Industry Regulatory Authority (FINRA).
"FINRA requires by law that I immediately report anything that might affect my ability to hold securities licenses," Corsi explained. "So I asked the special counsel's team how they expected me to fulfill my legal obligation to FINRA if they want me to keep the plea deal a secret. And they said, 'You don't have to tell FINRA because this will all be under seal.' So I told them I was going to file criminal charges against them with Whitaker, because they just advised me to commit a crime." The former federal prosecutor Renato Mariotti, who prosecuted white-collar crimes, including commodities and securities fraud, in the Northern District of Illinois, noted that FINRA is not a government agency—so failing to report a sealed plea deal is not a crime. The special counsel's office declined to comment.
Mueller has not gone easy on witnesses who appear to have lied to federal agents—Corsi is the fourth witness caught up in the probe who could soon be facing charges for lying to investigators. However, unlike the former national-security adviser Michael Flynn, the former Trump-campaign foreign-policy adviser George Papadopoulos, or the lawyer Alex van der Zwaan, all of whom pleaded guilty and struck a deal with Mueller's team, Corsi is apparently resisting any kind of cooperation. "They can put me in prison for the rest of my life, but I'm not going to lie," Corsi said.
Elie Honig, a former federal prosecutor in the Southern District of New York, told me in an email that Corsi's pledge not to cooperate means either that he knows Mueller is bluffing and doesn't have enough evidence to charge him, which is "unlikely," or that Corsi now finds himself "on the wrong end of an indictment." If Corsi had decided to cooperate, Honig explained, "it would have been Mueller announcing Corsi's cooperation along with the indictment of Stone (and perhaps others). Now, it'll be Mueller announcing an indictment of Stone and Corsi (and perhaps others) all together."
Roger Stone, meanwhile, should be taking note of Corsi's ordeal, former federal prosecutors told me. Any inconsistencies between Stone's testimony and what Mueller has learned could hypothetically lead to federal charges. While Stone has long denied that he discussed WikiLeaks' plans with Bannon or any other campaign official in 2016, for example, emails from Stone made public last month belie that claim. On October 4, 2016, three days before the Podesta emails were published, Stone emailed Bannon predicting "a load" of new WikiLeaks disclosures "every week going forward." (Stone told the Post that he "was unaware of this email exchange until it was leaked," adding that "we had not turned it up in our search.")
Stone has also had to amend his House Intelligence Committee testimony three times since last November, as new reports have emerged about his contacts with Russian nationals, the extent of his interactions with WikiLeaks (he exchanged private Twitter messages with WikiLeaks in mid-October 2016), and his conversations with Trump-campaign officials. Despite those changes, the question of whether he perjured himself before the committee still stands—and is reportedly being examined by Mueller.
"Roger Stone had a chance, under oath, to tell the House Intel Committee about his contacts with Russians and WikiLeaks during the 2016 campaign," Democratic Representative Eric Swalwell of California, who sits on the panel, told me last month. "He misled us and has repeatedly—three times now—amended his testimony to fit new press reporting." Swalwell noted that the committee's Democrats voted to send transcripts related to its Russia investigation to Mueller, but Republicans resisted. That's likely to change when Democrats regain control over the panel in January. "The special counsel should see Stone's transcripts and the accounts of all witnesses," Swalwell said.