The Last Liberal Republicans Hang On
In New England, a few Republican governors cling to the views that most of their party has abandoned—and are more popular for it.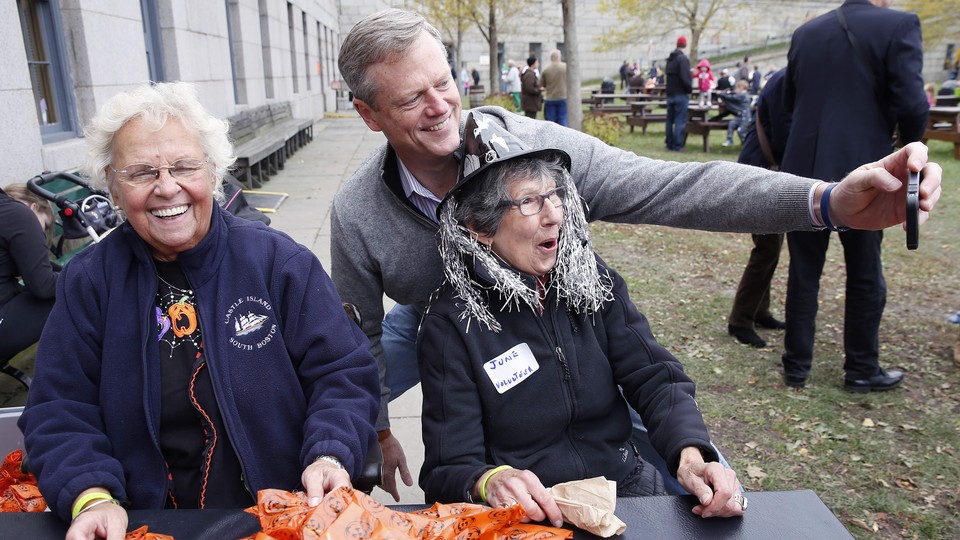 The question is not whether Massachusetts Governor Charlie Baker will win reelection. It's whether he can beat Bill Weld's 1994 showing, when he took 71 percent of the vote. There's been no sea change in Massachusetts politics—the state remains a Democratic bastion. But Baker, an overwhelmingly popular Republican, is in the tradition of Weld and a slew of other GOP governors in New England who have thrived even as their party edges further and further right on the national level.
Baker and Vermont's Phil Scott are oddities in the Republican Party of Donald Trump. Both are moderate, even liberal. Both have taken positions against Republican orthodoxy, with Scott pushing gun control legislation in Vermont and Baker backing environmental and social-welfare legislation that would be out of place in most GOP platforms. Both governors are clearly cruising to reelection—what's less clear is whether the pair can translate their personal popularity into newfound electoral success for their party in a region that was once the Republicans' most redoubtable stronghold.
For a century, the Republican Party was the natural governing force in New England. Its brand of moderate liberalism, anchored in the Protestant middle classes and morally founded upon its origins in the abolition movement, received broad popular support. Though Republican rule was challenged from time to time, particularly in more urban southern New England, the party's ascendancy was never truly in doubt until its national arm began drifting rightward under Richard Nixon. But when the GOP became a predominantly southern and western party, its grip on its traditional northeastern base eroded rapidly. "For a state like Vermont, when the Republican Party starts talking with a more southern accent, it's a little bit of a problem," says Nicol C. Rae, the dean of Montana State University and author of The Decline and Fall of the Liberal Republicans.
Baker is likely the truest avatar of liberal Republicanism still standing. His tenure as governor has seen a comprehensive plan to combat climate change developed alongside the announcement that the commonwealth would reach its 2020 emissions targets. He has enacted legislation to reduce gender pay gaps, pledged to make up federal funding cuts to Planned Parenthood with state money, said that he supports the settlement of Syrian refugees in Massachusetts, and been vocal in his support for LGBT rights. And he's one of a few in a cycle: Bill Weld, Paul Cellucci, and—more arguably—Mitt Romney all governed from either a centrist or a moderate liberal position when they occupied the corner office on Beacon Hill. Baker's approach is one of "constructive friction" with the Democratic supermajorities in the state legislature, Billy Pitman, his deputy campaign manager, says.
The strategy seems to be working. A poll for the public-radio station WBUR in Boston found that Baker leads his Democratic opponent, Jay Gonzalez, by 19 points—among Democrats. Gonzalez has never polled above 27 percent. In Vermont, even an internal poll for the state's Democratic Party showed Scott winning by a comfortable margin. In New Hampshire, Governor Chris Sununu—a less moderate figure whose attempts to curtail the franchise for college students have met a negative reaction from many Democrats—faces less certain reelection, though he is also favored.
Maine is an outlier. Though both parties in the state have historically been known for their moderation, the state elected Paul LePage, a right-wing populist, in the 2010 Tea Party wave. Shawn Moody, the Republican nominee to succeed LePage, who is term-limited this year, is akin to the outgoing governor, though without his history of controversy and racism. Although the race between Moody and Attorney General Janet T. Mills is competitive, the Democrat is favored and Moody has never led in a publicly released poll.
Whether that indicates a repudiation of LePage's record is less clear. In early October, the state's senior senator, Susan Collins, was variously castigated and lauded for her vote to confirm Justice Brett Kavanaugh to the Supreme Court. Collins has often been viewed as a moderate, but she has lately seemed less willing to break with her Republican colleagues on key votes. "My sense of Senator Collins is that she's never been a moderate—she just plays one on TV," says Janann Sherman, an emeritus professor at the University of Memphis and a biographer of Margaret Chase Smith, the Maine senator famed for her political independence. Collins may fear a primary challenge if she seeks a fifth term in 2020, driving her to the right.
Sherman argues that Collins attempts to cultivate an image as a successor to Smith, but has struck a vastly divergent course in practice. Smith was the first woman elected to the Senate in her own right after first following her husband, the progressive, pro-union Republican Clyde Smith, into a Skowhegan-based House seat. Her most famed moment in the legislature came in 1950, when she gave her "Declaration of Conscience" speech against fellow Republican Senator Joseph McCarthy's anticommunist crackdown, in which she declared "fear, ignorance, bigotry, and smear" the "four horsemen of calumny."
But Maine may be more fertile ground for a Trump-inspired GOP today than it has been in the past. "There's something of a base in Maine for populist social conservatism that there isn't in other states" in New England, according to Rae. Collins is certainly more conservative than her former partner in the Senate, Olympia Snowe, or Snowe's husband, the former governor and congressman Jock McKernan. Still, even in Maine, taking positions on issues such as marriage equality and abortion—which national Republicans typically oppose but are overwhelmingly popular in New England—can doom GOP candidates, either with their own base or with independents and Democrats.
In a 1966 poem published in The Atlantic, the Bostonian poet Robert Lowell wrote of "the scions of the good old strain, / the poor who always must remain / poor and Republicans in Maine." Lowell seems to have sought to invoke a New England puritanism, one that mixed with the later religious themes of transcendentalism into a coherent ideology of individualism collectively understood that took particular root in rural communities and small towns across the region.
In April, Scott stood on the steps of Vermont's golden-domed statehouse while protesters in orange hunting gear screamed at him: "Traitor!" He had just upended the state's political scene, signing extensive gun control legislation that raised the minimum age to purchase a firearm from 16 to 21, mandated background checks, introduced a system to remove guns from those deemed threats to public safety, and banned bump stocks and high-capacity magazines. Scott, who had previously held an A rating from the National Rifle Association, executed a brisk about-face following the Marjory Stoneman Douglas shootings in Florida and rammed through the extensive legislation in the historically gun-friendly state.
It was an act of extreme political daring—Scott later drew a surprisingly strong primary challenger who campaigned on a pro-gun platform and ultimately garnered 32 percent of the vote—but it was not unprecedented. In 1990, a socialist former mayor of Burlington named Bernie Sanders took advantage of the NRA's opposition to Republican Representative Peter Smith to seize the seat. The result was not close. Smith had come out in favor of an assault-weapons ban, an unpopular position in the state, and Sanders promised to back no federal gun legislation. Conservative Republicans opposed to Smith's liberal views joined with the state's left wing to send Sanders to Congress, where his long-standing pro-gun stances would trouble him decades later during his 2016 run for the presidency.
Smith chuckles when he talks about Scott's effort on gun control. The governor "showed great courage," he says. But, as Smith sees it, Scott could be the last of a dying breed. A former stock-car driver who later represented central Vermont in the state senate, Scott's personal brand is stronger than that of his party, which—despite its small size—has embraced Trumpism more than its counterpart in Massachusetts, Smith believes. There is "just something decent and basic" about Scott, he says, but "if you take those things away, Republicans have a very hard time … getting elected to statewide office."
Indeed, the state's Republican Party has rarely been at a lower point. It has been reduced to a rump force in the legislature despite holding majorities barely more than a dozen years ago, and its candidates for federal office have been regularly trounced since former Senator Jim Jeffords left the party to become an independent in 2001. The lack of a "farm team of moderates," as Rae puts it, is a serious detriment. Scott may be a natural successor to figures such as Jim Douglas, the state's Republican governor from 2003 to 2011, but there are fewer clear heirs to Scott.
Still, candidates can make personal appeals in a small state such as Vermont in ways they cannot in more populous areas. "It's harder to demonize people when we know them. It's harder to play to the extremes here," says Richard Watts, the director of the Center for Research on Vermont. Vermont politics are noted for a relative dearth of negative advertising and a somewhat collegial atmosphere. After one debate between candidates for state representative in rural Lamoille County, the contenders brought out instruments and played a duet, local paper Seven Days reported.
That's not to say that things don't get heated in the state's politics, but it isn't personal, Smith says. Smith was labeled "Peter Preppy" during his first run for the House. An educator by trade, he founded the Community College of Vermont after earning his doctorate from Harvard and his undergraduate degree from Princeton. Coupled with his family's banking background, it created a veneer of privilege, he says. "I was a very privileged person, and I never felt that was something I could or should deny," he says. But he never believed that the language was incendiary, he says, and it was not repeated or hostile in the same way that Trump has used monikers like "Lyin' Ted" and "Low-Energy Jeb."
Watts says he once met a woman in Bethel—a small erstwhile mill town deep in the Green Mountains—who refused to put a sign up for a candidate unless the candidate joined her for tea at her home. Her yard was packed with signs—and the next week, the lieutenant governor showed up for tea.
Writing about a municipal election in 1983, the conservative stalwart George Will noted that being "an extremely liberal Republican … is like being a High-Church Unitarian: It is possible, but why bother?" In New England, the two go hand in hand. The Republican Party in the region had its genesis in intellectual circles where Unitarianism ran deep, partly in this magazine's pages, where Unitarians such as Ralph Waldo Emerson and James Russell Lowell pushed Republican candidates and ideas before, during, and after the Civil War.
Smith and his ideological allies advocate a vision not dissimilar to the Republicans who came a century earlier. "Liberty can't just be an icon of individualism telling everybody else to make their own sense and take what they can get," he says. "We're really at a major crossroads, and the abundance of information is contributing to a redefinition of how liberty and justice might work together for the greater good of the many." It's not the message coming out of Republican headquarters in Washington.
Claudine Schneider—a representative from Rhode Island from 1981 until her defeat in a Senate election a decade later—wrote in an email that New England is "well-read, well-educated, [and] made up of immigrants, and inherently prefers what have been Republican values." Schneider proudly wears the label of gypsy moth, a term pejoratively applied to liberal Republicans from the north during the 1980s who provided a key swing vote in the House during that period. Schneider said that she now typically votes for Democrats, though she has co-founded a group, called Republicans for Integrity, that seeks to oppose Trump's influence within the GOP.
Rhode Island produced what may have been the last major election in which a Republican nominee was to the left of the Democratic candidate. In 2006, Lincoln Chafee, the incumbent, was defeated by Democrat Sheldon Whitehouse. The candidates' positions were markedly similar, often differing only on small points. Ultimately, Chafee's loss likely came down to national factors rather than his own standing in the state. Asked later if Whitehouse's victory had been good for the country because it took Senate control away from the GOP, Chafee answered, "To be honest, yes." (Chafee later became an independent, won the state's governorship in 2010, then became a Democrat, declined to run for reelection, and sought the presidency in 2016 on a platform that called for the United States to adopt the metric system. He dropped out of the Democratic primary before the Iowa caucus.)
The Massachusetts Republicans are, perhaps, in a stronger position for the future than their peers in northern New England. Their "uncanny ability to find local moderates" who work with, but provide a check on, the Democratic-dominated state legislature has been a boon to the party, Rae says. Smith largely agrees. The Massachusetts branch of the party features more of the "old-style moderate-to-liberal" politics, he says, reminiscent of figures such as Edward Brooke and Leverett Saltonstall.
Demographic changes have struck New England in recent decades, but even as views shift, it's hard to shake the impression that it is the Republican Party that has changed, not the voters. Scott and Baker paint a clear picture: A Republican who embodies old-school party principles can still win elections. One embroiled in Trump-esque populism, hard-right politics, and race-baiting? Not so much. The party emerged, in part, out of the Free Soil movement that fought slavery expansion in the mid-19th century. For figures like today's moderate governors, the movement's slogan needs only one change—to make it gender neutral, of course—to apply today: Free Soil, Free Speech, Free Labor, Free People.