The President's Lies
Donald Trump is spreading misinformation at a dizzying clip—even for him.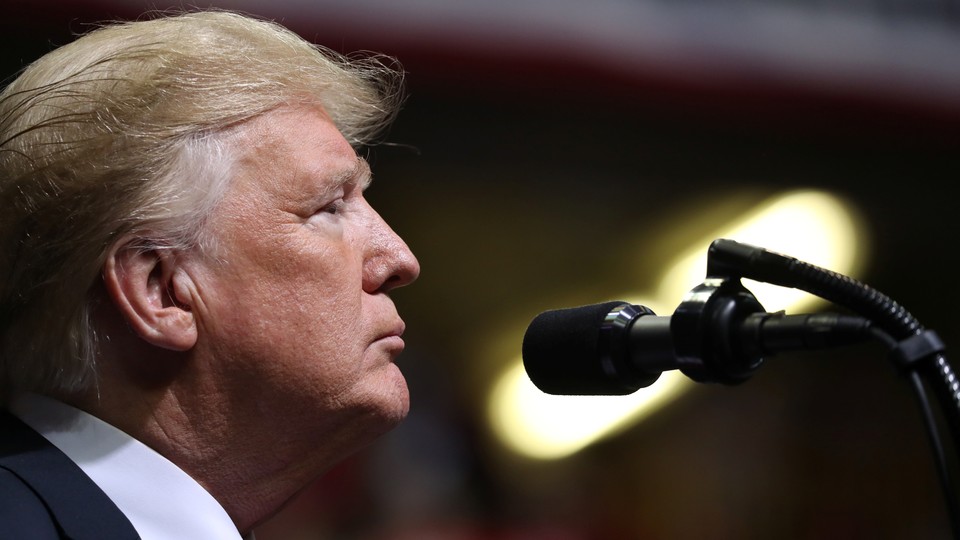 President Donald Trump's low regard for the truth is, by now, well established. Yet his penchant for lying, about matters large and small, seems to be intensifying on the eve of a crucial election.
The Washington Post's fact-checkers published their latest compilation two days ago, tallying 6,420 false or misleading claims in 649 days in office. That works out to almost 10 falsehoods a day. The president went into overdrive at his latest mega-rally, achieving in minutes what it normally takes him a full day to do.
In Chattanooga, before a packed stadium of hooting supporters, he began an animated, 45-minute oration this way: "This is one of the most important elections of our time. This is a big one. It will decide whether we build on the extraordinary prosperity that we've achieved for our nation or whether we let the radical Democrats take control of Congress and take a giant wrecking ball to our economy and our future." And then came the misinformation:
(Here, the crowd in excess of 10,000 people in the McKenzie Arena at the University of Tennessee Chattanooga began chanting: "Build that wall! Build that wall!")
6. "The Democrats want to abolish
ICE
and turn America into a giant sanctuary city for gang members and MS-13 killers."
7. "If Democrats gain power on Tuesday, they will try to raid your
Medicare
to fund socialism, you know that."
8. "The Democrat health-care plan would obliterate Medicare and eliminate Medicare Advantage for more than half a million Tennessee seniors."
9."The Democrats' plan to destroy health care also includes giving away your benefits to illegal immigrants, you know that."
10. "As we speak, Democrats are openly encouraging millions of illegal aliens to break our laws, violate our borders, and destroy our nation in so many ways, and they want to sign them up for free welfare, free health care, free education and, most importantly, the right to vote. They want them to vote. Come on in and
vote
. They love them voting."
None of those claims is hard to debunk—but the last one, about Republicans always protecting preexisting conditions, speaks to a president and many other Republicans running for Congress who have simply become unmoored from the truth on health care, which polling shows is by far the No. 1 issue among voters.
Twenty Republican-led states are awaiting a federal-court ruling on a lawsuit aimed at demolishing the vestiges of the Affordable Care Act that remain in existence, including the hugely popular provision that prohibits insurance companies from denying insurance to people with serious medical problems or "preexisting conditions." The Trump administration has filed a brief in support of the lawsuit. And just the other week, the administration issued a rule that makes it easier for states to begin offering watered-down insurance plans that do not include preexisting conditions, which some have begun doing.
But none of this has stopped Republican candidates for Congress in those 20 states, or the president himself, from claiming that Republicans will always protect the very thing they are now in court to abolish.
And so it went for Trump at the Chattanooga rally. In introducing Marsha Blackburn, the Republican Senate candidate from Tennessee, Trump said of her opponent, the moderate former Democratic Governor Phil Bredesen, who supported Brett Kavanaugh's Supreme Court nomination and has an A rating from the National Rifle Association:
"Marsha is running against a far-left liberal."
  "The hand-picked candidate of Chuck Schumer." (The two are not close.)
" Schumer begged Phil to run because he knows that Phil will always do what Schumer says and always, always do what Nancy Pelosi wants him to do. "
"Phil will block pro-Constitution judges."
"He will cut funding to our military and law enforcement."
"He will embrace a socialist takeover of health care."
"Phil totally supports the Democrats' open-border madness."
"What's that all about?" Trump finally said, ending his litany of Bredesen falsehoods. "If you want to stop the liberal agenda of high taxes and high crime, you need to vote for Marsha Blackburn."
Trump's prevarications are easier to count than to understand, in terms of their effectiveness as the election approaches. At his rallies, he is painfully easy to fact check. But among his base, as represented by those in attendance on Sunday night in Chattanooga, Trump's performance played brilliantly and, among many, seemed to have been largely taken literally.
Leaving the rally for the 90-minute drive home to Knoxville, a couple who said they'd formerly registered as Democrats explained why they're voting Republican. Kathy Kelly, a 52-year-old respiratory therapist, summed up her understanding of Democratic immigration policy: "It's a free-for-all. Take everybody." Her husband, the 62-year-old electrical system designer Steve Kelly, quickly added that "America is built on immigration" and later echoed Trump's warning that many criminal migrants are coming to take free health care that American taxpayers will have to fund.
Kathy Kelly said she bet a lot of the 100 or 200 protesters outside the arena live in their parents' basements, don't work, and take welfare checks. "I would swear that some of them are being paid," she said, echoing a common Trump line. They acknowledged they don't have evidence to back up that assertion, but Steve Kelly brought up George Soros, the liberal billionaire donor who does fund Democratic political campaigns but is also targeted by pro-Trump and anti-Semitic conspiracy theorists.
After the rally, Kim and David Moore were sputtering with rage over what they saw as the press pen's lack of respect for the president, citing faces that some among the TV reporters and camera operators made as Trump said the phrase "one nation under God."
The northern Georgia couple described concerns over what they believe Democrats want to do on immigration. "They don't want border security," said Kim Moore, a 50-year-old who works for an insurer coordinating Medicaid programs. "I think they would throw open the border," said David Moore, a 48-year-old textile manager currently between jobs. They talked about the Trump administration's family-separation policy as a reasonable response when parents break the law; they did not know that a first-time illegal border crossing is a civil rather than criminal violation, and they seemed to think all separated families had been caught crossing illegally, while many presented themselves to U.S. officials and asked for asylum.
How about health care? "They would give it away," Kim Moore said, saying that Democrats want to pay for health care for people here illegally.
As Trump gets closer and closer to the election that could lead to his impeachment, he appears more and more willing to say anything, without regard for truth, to fire up his base. It worked for him in 2016, and, from the parking lots around the McKenzie Arena, it seemed to be working in Chattanooga. But it's a risky strategy, because for every member of his base who believes the Democrats will destroy Medicare and allow undocumented immigrants to vote, the alarm bell rings even louder for Democrats. And independents who took a chance on Trump in 2016 no longer seem so willing to believe what obviously is not true.