The Opposition to Nancy Pelosi Stumbles
A group of 16 Democrats has signed a letter pledging to vote for new House leadership, but it has no viable alternative to the California representative.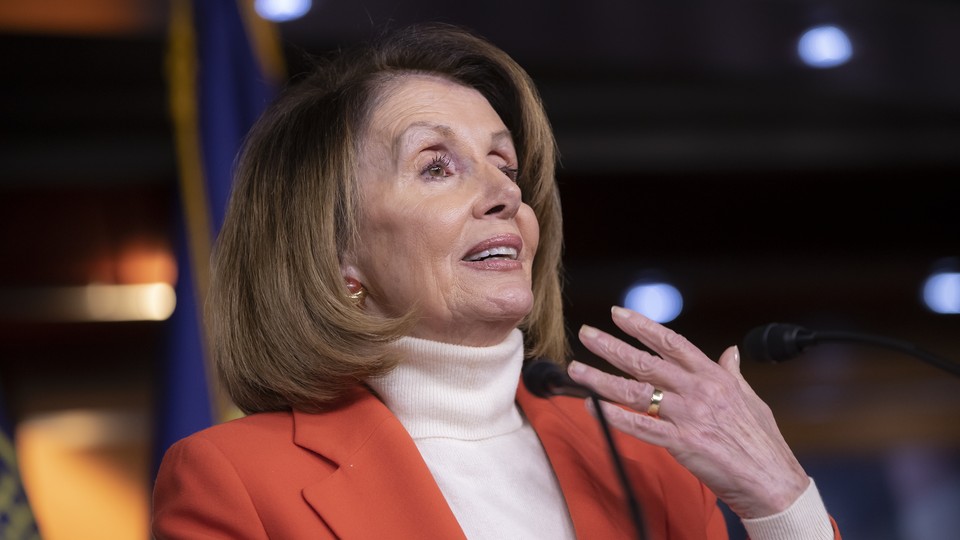 The effort of some House Democrats to deny Nancy Pelosi the speakership may be trending more whimper than bang.
On Monday, 16 members and members-in-waiting signed on to a letter pledging to vote for "new leadership" in the caucus's internal elections next week and on the House floor in January. "We are thankful to Leader Pelosi for her years of service to our country and to our caucus," the letter reads. "However, we also recognize that in this recent election, Democrats ran and won on a message of change … We promised to change the status quo, and we intend to deliver on that promise."
The letter had been hyped in recent weeks, as leaders of the anti-Pelosi movement, including Representative Seth Moulton of Massachusetts and Representative Tim Ryan of Ohio, dropped hints that they had corralled as many as 20 members committed to opposing the California Democrat's attempt to take back the speakership. She's led House Democrats for 15 years, including four as speaker.
But Monday's letter suggests that Pelosi's naysayers could be contending with problems well beyond the most obvious one, which is that they've offered no alternative candidate for speaker. Multiple Democratic aides I spoke to have interpreted the letter's language—that signees are committed to voting "for new leadership" rather than explicitly against Pelosi—as a sign that members wanted an "out" to vote for Pelosi should a challenger not emerge. Moreover, many of the incoming freshmen who pledged to oppose Pelosi on the campaign trail, including Pennsylvania's Conor Lamb, Virginia's Abigail Spanberger, Maine's Jared Golden, New Jersey's Mikie Sherrill, and Colorado's Jason Crow, did not sign the letter.
"Think about the fact that there were 63 public 'No' votes two years ago, and now there are 16," said one Democratic strategist, who was referring to the number of Democrats who voted against Pelosi for minority leader on the House floor in 2016. "Members are realizing that we just came off a huge base election that was fueled by suburban women," said the strategist, who spoke on the condition of anonymity so as not to damage relationships with members. "And now we're going to try and get rid of the woman?"
Aides to representatives who signed on to the effort, however, argued that the letter represents a critical step toward inducting a new speaker. Pelosi, as it stands, can afford to lose 15 votes on the floor, and "with this letter, we've shown we have that," said one staffer who requested anonymity to divulge private conversations. "We're very confident there's going to be another candidate." The source added that many of the ostensibly anti-Pelosi freshmen declined to sign the letter because "they'd rather break the news on their own terms." The group of signees is still banking that those freshmen will ultimately oppose Pelosi, the staffer said.
There's good reason to believe, however, that the list of members against Pelosi will begin to shrink rather than grow. The minority leader is campaigning aggressively behind the scenes, holding meetings with members, caucus leadership, and outside organizations in order to bolster support for her candidacy. Prominent surrogates—including former Vice President Al Gore, former Secretary of State John Kerry, and New York Governor Andrew Cuomo—have made calls on her behalf. And she's shown she's willing to make deals, including, most recently, promising the Progressive Caucus proportional representation on plum committees in exchange for its support.
Representative Marcia Fudge of Ohio is so far the only member to publicly mull a challenge to Pelosi. As I first reported in September, Fudge was one of around 10 members who wanted to change the caucus's rules for internal elections, an implicit attempt to make it more difficult for Pelosi to get the votes she'd need for her candidacy to move to a floor vote. Fudge's name was conspicuously missing from Monday's letter. It's a development that, according to aides on both sides, Pelosi's opposition interprets as Fudge still unsure about her plans to challenge Pelosi, and that her supporters read as Fudge's openness to making a deal. (Fudge did not respond to an email requesting comment.)
Some aides to members of Pelosi's opposition acknowledged privately that the letter is all but "meaningless," but maintain that more and more members will emerge and sign on to the cause.
"The danger for Pelosi is not how many members are on this letter right now," one aide to an anti-Pelosi member told me. "It's how many are yet to come forward."