In Pennsylvania, One Democrat's Message: 'Trump, Trump, Trump, Trump'
A win by the Democrat Scott Wallace in the First Congressional District would signal a blue wave that could give Democrats another three to five seats in the state.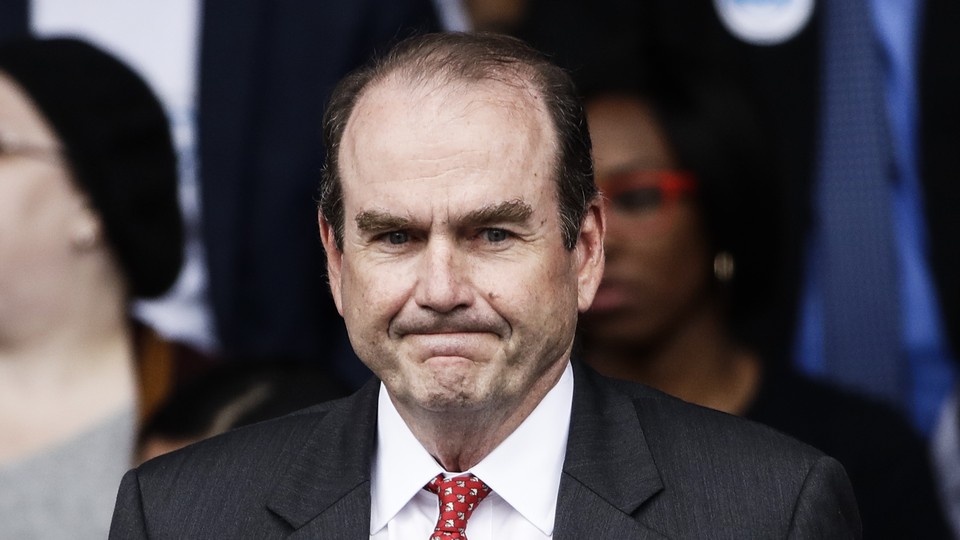 BRISTOL, Pa.—The King George II Inn, founded in 1681 and situated at the southern tip of Pennsylvania's First Congressional District, is steeped in iconic Americana. Colonial-era crystal goblets gleam in the cabinets, letters penned on parchment are framed under glass, paintings depict frock-coated families in tricornered hats strolling country lanes, and the low ceilings in the Lincoln and Presidential Rooms would best accommodate the most diminutive Founding Fathers.
It thus seemed like the ideal setting for a congressional challenger's patriotic cri de coeur. The Democrat Scott Wallace was locked in one of the nation's tightest House races with the freshman incumbent Brian Fitzpatrick, the midterm clock was winding down here in Bucks County, just 10 miles up the highway from Philadelphia, and Wallace, facing a roomful of friends and allies this past Monday night, was determined to stoke their ire. So he climbed on a chair and attacked Donald Trump, veritably wrapping himself in the American flag. There was nary a word about his opponent.
"This is the worst national crisis—moral crisis—since maybe the Civil War," he said, in the measured tones befitting a 66-year-old philanthropist. "This one-man hurricane is destroying us, sweeping down on our institutions of justice, of the media, of facts, of truth, of moral decency. We have to stand up. It's not just about this race, it's about the entire country. We have to start holding these folks accountable. This is a battle for the soul of our nation."
Most House Democratic candidates haven't been talking that way. Most have been reluctant to put Trump front and center—even though midterms are typically referendums on the White House, even though voters this year have the choice of resisting or relicensing Trump's MAGA movement. Most Democrats have preferred to stress kitchen-table issues, notably health care, and Wallace himself has done so. But because he has the soul of a moralist—his grandfather was the progressive leader Henry Wallace, Franklin D. Roosevelt's third vice president—and because Trump has a tepid approval rating of 42 percent in this normally Republican district, a strong anti-Trump closing message gives him a decent shot at becoming the fourth Democrat in history to serve the district that encompasses Bucks County.
If that happens—if independent and even Republican-leaning women in this suburban enclave show up en masse to register their disgust with Trump, and if normally apathetic young voters show up because, as Wallace insists to me, they are "incensed with the 'adults' in the room"—a Democratic victory in the First District would truly signal the onset of a blue wave. If Wallace can win here, beating a moderate Republican (Brian Fitzpatrick is moderate by today's Trump Republican standards, having voted against repealing Obamacare), it likely means that Democrats will pick up three to five House seats elsewhere in Pennsylvania—and boost the party's odds of netting the necessary 23 seats nationwide.
In the words of the veteran nonpartisan Pennsylvania analyst Terry Madonna, the director of the Center for Politics and Public Affairs at Franklin and Marshall College: "We're in uncharted territory, with the most wild and woolly congressional elections"—not simply because Trump has rewritten the rules of engagement, or because the polls have been so volatile (in the First District, Wallace and Fitzpatrick have traded leads), but because, in Pennsylvania, the entire congressional map has been overhauled to the Democrats' benefit.
Last winter, in response to an anti-gerrymandering lawsuit, the state's highest court junked the prevailing House map that had been crafted by Republican legislators in the state capital. Armed with the 2010 census, and taking full advantage of their Harrisburg majority clout, they drew boundaries and chopped up counties in order to maximize GOP voters and disperse Democratic voters; most infamously, the old Seventh District in the western Philadelphia suburbs was a national laughingstock because it resembled "Goofy kicking Donald Duck." The high court ruled that the GOP's map violated the state constitution's guarantee that all elections be "free and equal." The justices drew a new map that wiped out the old gerrymander and leveled the playing field.Two Republican congressmen, Charlie Dent and Ryan Costello, opted to retire rather than play on the new map, although they cited other reasons, including discomfort with Trump.
I saw Dent at a Philadelphia forum last spring, on his final weekday as a member of Congress (he quit early rather than serve out his term in the old Lehigh Valley district), and his prediction on that day seems credible now: "The issue for Republicans this year is the Democratic wave that's brewing. Anybody can see this. This election is about the president of the United States and his conduct in office … The best-case scenario for House Republicans is, they hang on to the House by their fingernails. The worst case is, they lose more than 35 seats … Democrats need only 23, and I can get you another 12 in about a minute." That dovetails with the new assessment from Stu Rothenberg, the nonpartisan Washington analyst, who wrote this week that Pennsylvania in particular looks like "a bloodbath for the GOP, with eye-popping Democratic gains almost certain."
Dent's reconfigured Seventh District is likely to flip blue; Ryan Costello's Sixth District, even more so. And a brand new Fifth District, carved from a slice of Philadelphia and the western suburbs, is viewed as one of the Democrats' easiest pickups nationwide. Democratic women, powered in part by strong female turnout, are poised to win all three. Indeed, Costello made it clear when he announced his retirement that he had no interest in defending Trump on the stump, not in this political climate. In a March appearance on MSNBC, he said: "I have little kids, and I don't want them to ask me what Stormy Daniels does for a living. I don't like to hear a lot of the things I hear when we tweet the way that we tweet … I think a lot of voters support a lot of [Trump's] policies, but we cannot discount the fact that a lot of Americans legitimately look at any president of the United States and say, 'He or she should be a role model' … This stuff is not good for our country, it's not good for our culture."
Brian Fitzpatrick, in the Bucks County district (which remained largely intact under the new map), is arguably well equipped to withstand a blue wave. He touts himself as an independent; he's been endorsed by the Pennsylvania AFL-CIO, a federation of labor unions in the state, as well as the liberal-leaning Philadelphia Inquirer editorial page; and even though he has voted with Trump 84 percent of the time (a statistic that Wallace frequently cites), a nonpartisan think tank rated Fitzpatrick as the House's third most bipartisan lawmaker in 2017. He recently told the press that he takes hits from both sides (for siding with Trump too much or not enough), but that that's merely "the price you pay for being a centrist."
Prior to this tumultuous year, Fitzpatrick's "brand" would virtually guarantee reelection, particularly in a district that's rated slightly more Republican than the national average. But it's a sign of the times—and of Trump's potential toxicity—that Wallace deems it advantageous to remind voters that Fitzpatrick is a Republican. In a debate last week, Wallace did it so often that Fitzpatrick bridled: "Scott, I'm hearing you throw the word Republican out. Do your best to try to keep party labels out of the debate, because it's really important, okay?"
Wallace's strategy is obvious: Tie his opponent to Trump, and tell voters that today's GOP is synonymous with Trump. (He told me at one point: "We have a president with no shame, and a Congress with no spine.") That's arguably his best hope for stoking a turnout surge, particularly among Democratic women and Millennials who normally skip midterms. Terry Madonna, the political analyst, told me: "His best message now is 'Trump, Trump, Trump, Trump.' It's, 'If you want to stop Trump, vote for me.'"
That message is also pitched to disenchanted Republican women, some of whom showed up at the King George II Inn. In a likely squeaker next Tuesday, even a small percentage of GOP defectors could be pivotal. Shelley Howland, who works in commercial real estate and grew up stuffing GOP envelopes, told me that she spoke for many of her Republican friends and family members: "Voting for Wallace is about checks and balances and sending a message. Trump's attitude, his disrespect, his attacking institutions—we find him offensive, beyond the pale. Politics is rough-and-tumble, I get that, but he has taken us into the sewer. I watch Trump screaming and I ask: How long can we go on like this?"
That question doesn't appear on the midterm ballot. But in swing districts like Pennsylvania's First, voters will supply the answer.