Obama Plays the Closer as the Midterms Approach
The former president told Democrats rallying in Miami to beware of Republican lies.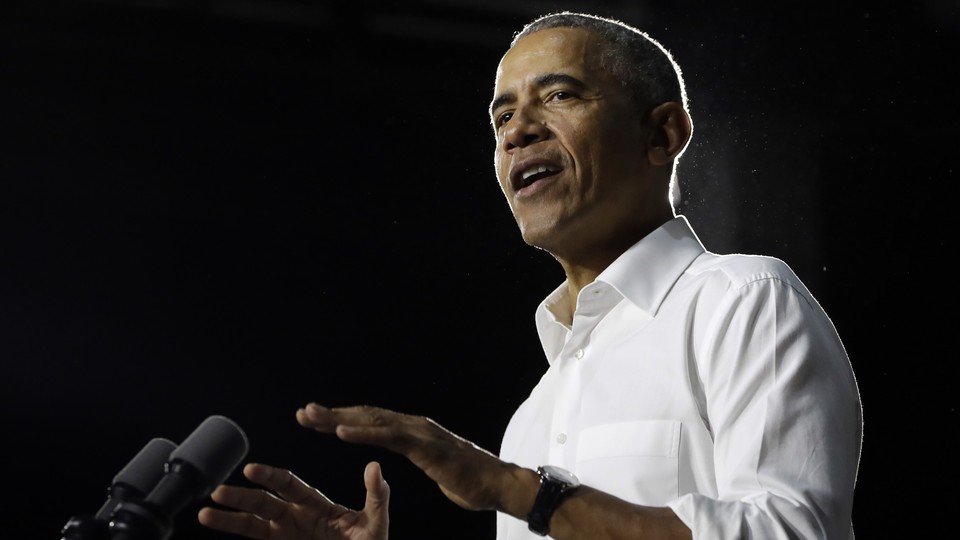 MIAMI—The rally began with a rabbi, priest, and imam joining together to pray for the victims of last week's shootings and for the targets of the mail bombs. Then each, in turn, ended their prayers with the words to bring it home.
Democratic National Committee Chairman Tom Perez knew who was best suited for that: "Bring in the closer," he said as the rally began.
After everyone looking for votes in a 50-mile radius had spoken here on Friday afternoon, Barack Obama walked out onstage, joked for a moment about good weather and Cuban sandwiches, and delivered a roaring final argument for Democrats heading into the weekend before the midterms: He spoke of "hope over hate," and advised those in attendance to "cut through noise" and "block out the lies."
When Republicans say they will protect preexisting conditions, a signature provision of the Affordable Care Act, Obama said they have "some kind of gall, some kind of chutzpah."
"It's a lie," he said. "They're lying to you."
Democrats will have a dozen or more candidates running for president by the end of the year. But they still clearly want Obama to lead them. Enthusiasm for the 44th president hasn't been this high since 2008, and his style is evident in the party's breakout candidates of 2018: Andrew Gillum here in Florida, Beto O'Rourke in Texas, and Stacey Abrams in Georgia, all of whom are running optimistic campaigns rooted in broadening their electorate.
There isn't another Democratic leader who comes close—virtually no candidate asked for Hillary Clinton to appear on the trail, despite the nonstop interviews she's been doing to stay part of the conversation.
So for Obama, it's about making sure Democrats win, but it's also a final attempt to protect a legacy Donald Trump has relentlessly attacked—and to convince the country that the future lies in his hopeful multiculturalism rather than in the current president's dark nativism.
Obama dismissed what's been coming out of Trump. He rebuked Trump for "taking our brave troops away from their families for a political stunt at the border." And he said that "a president doesn't get to decide on his own who's an American and who's not. That's not how the Constitution works."
The irony is that Democrats are more eager to have Obama out on the trail than they ever were when he was actually president.
"The question is," wondered one person who worked on Obama's campaign plans and acknowledged his poor track record at getting anyone but himself elected, "will it translate?"
On Friday in Miami, at least, it translated: Obama connected the 2018 election to the one that made him president 10 years ago, predicting a Democratic resurgence answering years of Republican entrenchment. But he warned against complacency, reminding Democrats of the scare tactics Republicans used to such devastating midterm effect in 2010 with the "death panels" and in 2014 with the "Ebola scare."
That, Obama said, is what Democrats need to be worried about in these final days of the campaign, as President Trump has piled a conveniently timed announcement about reimplementing Iran sanctions on top of a video of an immigrant cop killer, on top of promises to revoke birthright citizenship, on top of warnings that a distant immigrant caravan is a terrorist invasion, on top of claims that Democrats were the only ones standing in the way of a middle-class tax cut he lied about producing before the election.
"Too often we fall for it. Too often we fall for the distraction," Obama said, comparing Democrats to Charlie Brown, every time going in to kick the football Republicans throw up right before the election and never talk about again, as happened with the death panels, Ebola, and Clinton's emails.
It's like listening to a scam artist pretending to sell a security system, Obama said, while his partner goes around the back and steals what's in the house.
"Don't be Charlie Brown," Obama said. "While you're distracted, they're also robbing you blind."
Back when Bill Clinton delivered the speech at the 2012 Democratic convention that helped stabilize Obama's reelection campaign and earned him the grateful "explainer in chief" nickname, Obama aides fantasized about a day when their guy would be the loved one, the one so much in demand. They didn't expect that day to arrive so soon.
All year long, as Obama's popularity has continued to rise, they've been scrambling to build a political machine unlike anything any ex-president has built before, with a smaller staff and an approach that's defined by his positive, principled message, not by opposition to Trump.
His machine has produced 300 endorsements for candidates running for everything from Senate races to state legislative seats in two mass-email press releases. The candidates, in turn, have used them to fund-raise and to organize.
There have also been videos, robocalls, radio spots, and targeted digital ads that have enabled campaigns to show off Obama's support to committed Democrats without catching the attention of most Republicans online.
They're tracking the stats, with his video on NowThis having generated 33 million views and his get-out-the-vote video on Attn: hitting 16 million. Close to 700,000 who watched then followed instructions and proceeded to Vote.org for voting information.
Then there's the travel, which he has done in bursts since he unleashed his anti-Trump argument in September, and which aides have for the most part left to the strategists in Washington running House, Senate, and gubernatorial campaigns to rank by priority.
At times, it has seemed almost haphazard. Obama's trip to Indiana coming up on Sunday left a lot of people scratching their head when it was announced, but the request came from Senate Minority Leader Chuck Schumer calling Obama directly last week and telling him that he could make the difference in Joe Donnelly being reelected to the Senate, and that the city of Gary, hugging the Chicago suburbs, is where he could really goose voter turnout.
Obama and Trump, meanwhile, are chasing each other's tail around the country even through the last days. Trump was just in Florida on Wednesday and will be back on Saturday. Obama flew on Friday from his rally in Miami to Atlanta for Abrams's gubernatorial campaign in Georgia. Trump will be in Macon on Sunday afternoon. The day after Obama is in Gary, Trump will make his second-to-last stop on Monday, the night before the election, 130 miles east, in Fort Wayne, Indiana.
"It's not by design, but by necessity. The states are what they are," said one person who's worked on Obama's planning.
At every rally, the excitement to see him is intense. So is the resentment his supporters still feel.
"Is Donald Trump an American? Someone check his birth certificate," said Donna Shalala, the former Bill Clinton health-and-human-services secretary running for a House seat that's been tighter than Democrats had expected, when she was speaking before Obama.
"No!" the crowd called back to her.
"He sure doesn't act like one," she said. "Let's send him back to Mar-a-Lago on Tuesday."
But even without him there, candidates are doing what they can to talk about Obama, whether it was Elizabeth Warren on Thursday in Ohio gushing about how cool it was to get the phone call from him as president asking her to come help form the Consumer Financial Protection Bureau or the Wisconsin lieutenant-governor candidate Mandela Barnes saying Tuesday at an event in Madison that he felt comfortable calling Republicans liars because the former president had.
"Normally we wouldn't talk about it in as plain terms, but Barack Obama gave us the green light," Barnes said. "They are lying."
Friday in Miami, Perez used the comparison between Obama and Trump to rile up the crowd.
"He has nothing in common with our current president," Perez said. "But I'll tell you something—in two years, they will have something in common: They'll both be ex-presidents."
Obama, meanwhile, ended on a familiar note.
Elect Democrats, he said, and it'll be about health care and stopping climate change and the rest of the agenda. "Change starts to happen. Hopes starts to happen," he said. "It enters into each of us."