Barack Obama and Donald Trump Can't Stand Each Other
The former president never uttered his successor's name at an event in Chicago, but the animus was obvious.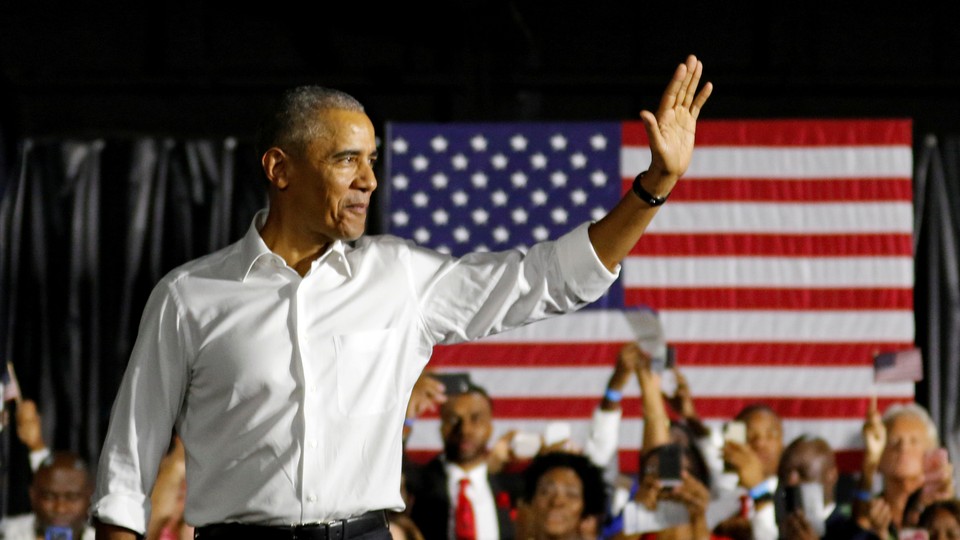 CHICAGO—The midterms are done, and Barack Obama is trying to get back to his post-presidency. He still thinks the country and the world are broken, but he's dropping back out of the public debate, urging those who came to his foundation's second annual summit here on Monday that they need to pick back up the charge for change.
"You literally can remake the world right now, because it badly needs remaking," Obama said.
The answers to fixing problems in agriculture, education, sustainable energy, and other fields, he said, aren't as complicated as they're made out to be. But, he insisted, "the reason we don't do it is because we are still confused, blind, shrouded with hate, anger, racism, mommy issues."
Obama is back to his mode of not saying Donald Trump's name, or speaking about him directly. Many of the candidates he campaigned for won, and many of the people who worked for his administration who ran got elected. He's eager to see the Democrats move in to a number of governors' mansions and in to the majority in the House, but he's looking to get back out of politics again.
He won't campaign next until 2020, and probably not until the Democratic presidential nominee is decided—don't expect him to jump in to the Mississippi Senate runoff next week, or in to any of the other races coming next year.
But also don't expect Obama, who blew up the tradition of former presidents deferring to successors this fall by campaigning against Trump as a threat to democracy, to back off.
Obama and Trump still haven't spoken since the helicopter took the former president away after the inauguration, and the worst relationship in politics has only gotten worse. Obama's exasperation at what's coming out of Trump has spiked again and again. Trump's bitterness at Obama hasn't faded at all, and he's bristled at the former president staying active. The Friday before the midterm elections, Obama was calling Trump a manipulative liar, and Trump was mocking the size of the crowds Obama was drawing. In an interview with Fox News recorded at the White House last Friday, Trump refused to even give Obama credit for killing Osama bin Laden.
Throughout the past few years, Obama's been returning to a thought that he says gives him hope—that if you had to choose any time and any place to be born, for all the problems, you would choose America.
Monday, he amended it: "You'd choose now—or maybe two years ago."
He compared progress to a crab walk, pointing out that those who praise Franklin D. Roosevelt for the New Deal also have to reckon with internment camps and African Americans who were kept in subservient positions.
"One of the mistakes we all make, and I've made it, is to think that this is easy and to believe that societies change in accordance with our timetables," Obama said.
The former president launched the Obama Foundation as he left office last year around a vague vision of community organizing and empowerment to make the world a better place.
For months, neither he nor the people who worked for him had any idea what that was supposed to mean. When they gathered at this same Marriott Marquis last November, it was mostly feel-good group therapy, hallways in the hotel clogged with former aides and donors who'd flown in to O'Hare to convince themselves that the world outside wasn't reality, or didn't have to be. The stage was a procession of celebrities still looking for a little Obama sheen and the chance to take pictures of themselves in front of the old "O" sunrise logo. It was, essentially, an event built around having a concert that at one point featured Chance the Rapper and Lin-Manuel Miranda doing a duet from Hamilton.
The original plan for this year didn't include another summit. Between the midterms and Michelle Obama's book tour, Barack Obama's advisers thought it would conflict and complicate what he was doing. But he insisted on it, and a very different kind of event came together. There were still stars, but of a different sort—swap in a talk by the author Zadie Smith for a panel headlined last year by Prince Harry. And there were still cheery TED Talk–style headset microphones up on stage. But this time they were mostly used by people who'd actually been part of the programs and sessions that the foundation has started to put together over the past year.
"That was hope," the foundation's CEO, David Simas, said in an interview during a break on Monday. "This is tangible."
There was a virtual-reality tour of the Obama Presidential Center to be taken, and a wall where people could write their "stories" on different colored slips of paper and insert them into a giant HOPE. Janelle Monáe, fresh off her participation in Michelle Obama's voter-registration drive, kicked off the event by moderating an opening panel on creativity on Sunday and walked the hallways Monday in a bright-red suit. But the focus was less on her than on the two members of the "Community Leadership Corps" whom she was talking to: one who'd formed a group that creates digital campaigns for local initiatives in her native Arizona, and another who is a "Dreamer" and trans Latino man who blends art and activism in South Carolina.
Then there are the 20 fellows, chosen from more than 20,000 applicants around the world, like Veronica Crespin-Palmer, who runs an advocacy and empowerment group in Aurora, Colorado, devoted to helping low-income immigrant families of color organize to change the public-school system. She's been brought in to trainings and connected with other fellows who talk monthly over Skype, with a colleague in El Salvador who's advised her on applying for federal grants and another in the Philippines who's talked to her about building team culture.
"I, as a leader, will last longer, but when I decide it's time to move on, the group will last longer, too," Crespin-Palmer said.
There have also been two classes of Obama Scholars, placed at the University of Chicago and Columbia University, "international leaders" from all over the world brought in for smaller sessions, an expansion of the My Brother's Keeper initiative to mentor young black men and the next stage of Michelle Obama's Global Girls Alliance.
Talking up inclusion and diversity and the power of organizing, it all boils down to a choice between the Obama way and the Trump way, though the Obama supporters try not to make it quite so explicit.
"There is a fork in the road in our nation where one path prioritizes isolationism and the other path focuses on civic and community engagement," said Robert Wolf, an Obama donor who's now on the board of the foundation. "I am glad that our young leaders are working together and picking the path of doing good."
And that boils down to people still trying to connect with Obama.
"His ability to engage and inspire people was never a sole function of being president," Simas said. "There is something intrinsic both in his story and the way he articulates it that transcends the presidency. It is now enhanced."
Despite that, Obama was a small part of this year's program. He didn't even arrive in Chicago until midday on Monday, and spent his first few hours at the summit speaking to top donors who'd been brought together for a special lunch. Michelle Obama, who's currently selling out arenas on her book tour, didn't attend at all, and the pop-up bookstore on site, which was stocked with all sorts of fiction and nonfiction that resonated with the foundation's programming, might be the only bookstore in America that didn't carry a single copy of her book, Becoming.
In the meantime, Obama is trying to finish his own memoir, which was originally scheduled for 2019 but now has a moving deadline.
"Writing's hard," he said when he took the stage for the very last session of the event, a conversation with the author Dave Eggers. "I'm just sitting there, I type two words … delete."
"Michelle's out there. Go buy her book," he joked. "This is causing some strain in our marriage, the fact that she is finished and I am not. She's got her feet up. 'So how's it going?'"
Repeatedly, though, the books he referenced were by Dr. Seuss—the power dynamics and discrimination of The Sneetches and Other Stories and the environmentalism of The Lorax. Through them, he pressed the point that the solutions to problems are the easy part. It's finding the innovation and determination to get there that's hard.
"Most of what you need to know," Obama said, "you can learn from Dr. Seuss."