Nancy Pelosi Wouldn't Cut a Deal That Would Have Ensured Her Speakership
Ahead of House Democrats' leadership elections, the Californian was approached about giving her tenure an expiration date. She wouldn't budge.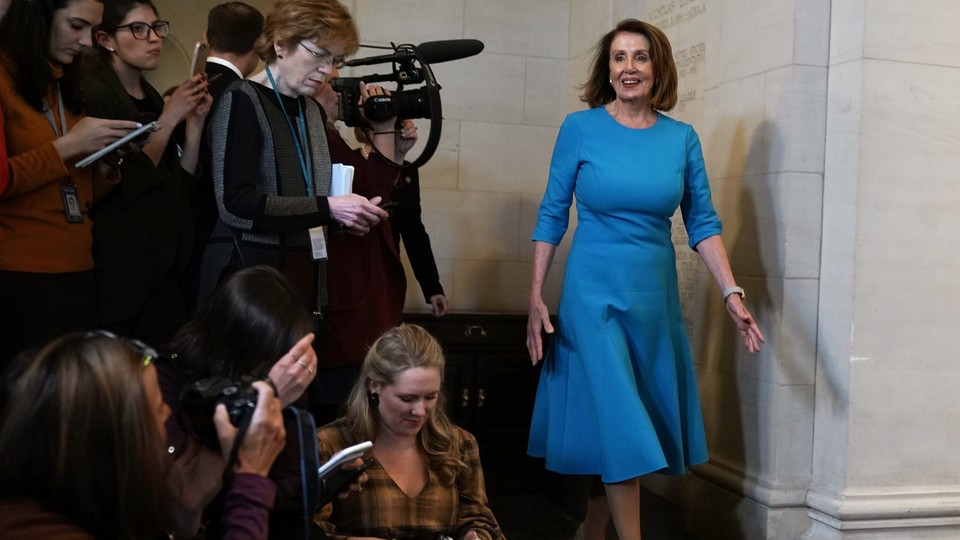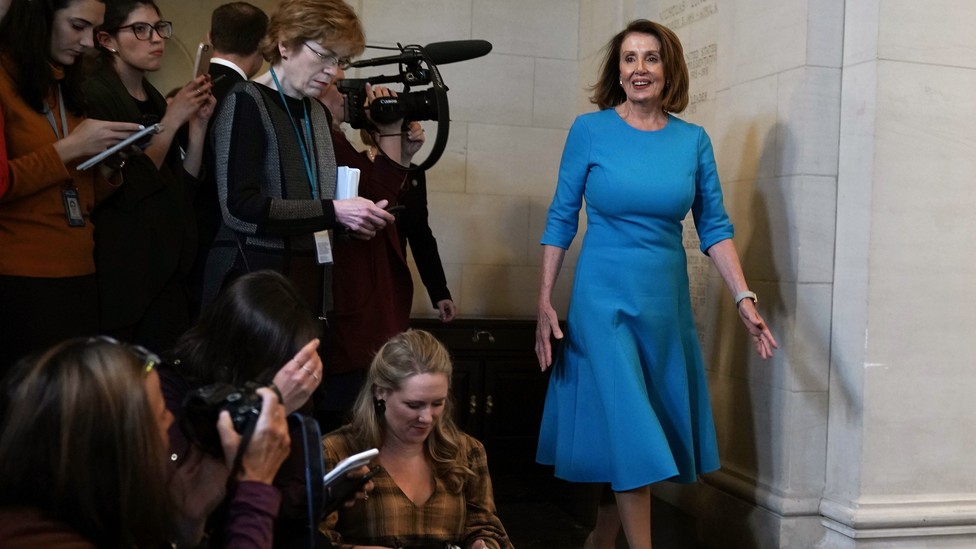 Around lunchtime on Wednesday, Nancy Pelosi gathered in her Capitol office with three of her harshest critics.
Representatives Seth Moulton, Kathleen Rice, and Tim Ryan are the de facto leaders of a coterie of House Democrats trying to prevent Pelosi from becoming speaker in the next Congress. For two months, the group has broadcast its desire for new leadership, with many of its members adamant that under no circumstances would they support the California Democrat in an internal caucus vote or on the House floor.
But on Wednesday, they came ready to make a deal—one that would quickly come to nothing.
According to two senior House Democratic aides briefed on the meeting, Moulton, Rice, and Ryan told Pelosi that they would ensure her the speakership if she agreed to a firm term limit. Anti-Pelosi lawmakers had grown more and more uncertain that a viable challenger would step forward before the January floor vote. So in the past week, a few of them came up with the proposal; delivering her the speakership, but with an expiration date attached, would be their best chance at reshaping their leadership.
Moulton, Rice, and Ryan strode out of Pelosi's quarters less than half an hour later, refusing to discuss the conversation with reporters. And as they headed into the caucus's leadership elections later in the afternoon, all three declined to say whether they still planned to vote against Pelosi.
Soon after, a statement from Rice on behalf of the group hit reporters' inboxes. "Moments ago we met with Leader Pelosi and tried to engage her in a reasonable conversation about leadership transition," Rice said. "Unfortunately, our concerns were dismissed outright. We remain united behind our goal of new leadership and intend to vote against Leader Pelosi in Caucus and on the Floor of the House."
The statement reflected the most emboldened stance yet from the anti-Pelosi ringleaders. On November 19, 16 members signed on to a letter pressing for "new leadership," but the language was interpreted by many as intentionally vague, signaling that some signees may have wanted an "out" to vote for Pelosi on the floor should no other candidate emerge. Yet Rice's language on Wednesday was definitive: "She does not have the ability to get 218 votes on the floor," she told reporters after the election. "I think people need to know when this leadership team plans on turning the reins over to the next generation."
But if Pelosi's naysayers had dug in, Pelosi herself had, too. Late Wednesday afternoon, she emerged as the caucus's nominee for speaker, with 203 yeas and 32 nays. The nays were a mere half of the dissenting votes she'd received in 2016, when Ryan challenged her for the party's nomination for minority leader. On Tuesday night, Pelosi had shrewdly offered members the option to vote "No" on her nomination rather than holding a voice vote, which is traditional when a leadership candidate runs unopposed. In doing so, she granted those who'd campaigned this year on opposing her the opportunity to stick to their promise, even if they eventually vote "Yes" on the House floor. The move signified her confidence in a victory on Wednesday, and offered her another tool to forge new alliances between now and January.
"We had a most unifying session just now in the House Democratic caucus," Pelosi told reporters following the vote. "I'm very proud."
Pelosi still has a math problem, to be sure. She needs 218 votes to win the speakership on January 3, 15 more than she received on Wednesday. She can ultimately afford to lose around 17 members out of the roughly 235 Democrats expected to cast a vote. Her opposition was quick to tout that figure: Following the elections, Ryan told reporters that with their 32 nays, they'd managed "twice as many [votes] as you need" to thwart Pelosi.
"It's pretty obvious why there weren't as many votes against her this time," Rice added, "because there was no one running against her."
The challenge now for her opponents will be to convince as many of those dissenters as possible to hold the line come January. Their strategy, according to multiple House Democratic aides, is to present themselves as pragmatists seeking a compromise against Pelosi's continued rebuffing. They also plan to highlight their frustration that Pelosi "still refuses to acknowledge our concerns with her," according to a senior aide to an anti-Pelosi member.
The aides say their bosses will argue that while Pelosi has been willing to negotiate for support from the Congressional Progressive Caucus and the Problem Solvers Caucus—promising plum committee spots to members of the former and agreeing to rule changes proposed by the latter—she's failed to extend the same good-faith effort to the group of so-called rebels. "If she won't even start a discussion about how we have a generational problem with our leadership," the senior aide said, "it's impossible to find a solution." (Pelosi's team could not be reached for comment as of press time.)
Indeed, Pelosi appeared unwilling to acknowledge her dissenters following her victory. A reporter attempted to ask Pelosi about Rice's statement, but the newly elected nominee was quick to cut him off.
"Let me tell you something," she said. "I'm talking about scores of members of Congress who just gave me a vote, are giving me a vote, of confidence. That is where our focus is. Are there dissenters? Yes, but I expect to have a powerful vote as we go forward."
"Any other questions?"