How Mueller Could Defend the Russia Investigation From Interference
The special counsel could find recourse in the courts if the new acting attorney general tries to chip away at his work.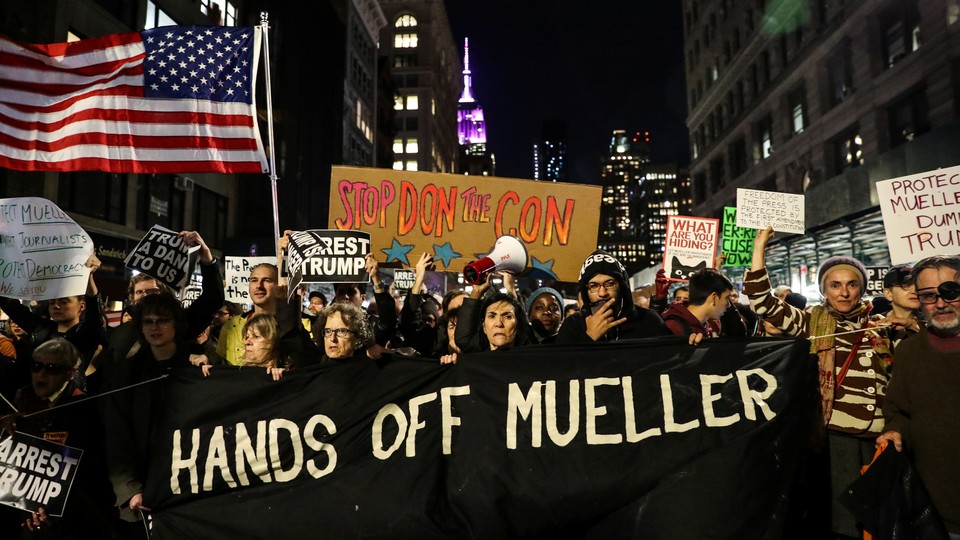 In a little-noticed hearing this week before the D.C. Circuit Court of Appeals, attorneys for Special Counsel Robert Mueller laid out how much authority the acting attorney general has over the Russia investigation, including the ability to reject a proposed subpoena and scuttle an indictment. Although on its face the hearing had little to do with Matthew Whitaker, the man President Donald Trump just appointed to the post, it raised fresh questions about how far Whitaker could hypothetically go in gutting the investigation—and how the special counsel could fight back.
On Thursday, a three-judge panel considered a legal challenge to Mueller's authority brought by an assistant to Roger Stone, the longtime Trump confidant who is being investigated by Mueller for his ties to Russia and WikiLeaks. The aide, Andrew Miller, has been trying to fend off a grand-jury subpoena issued by Mueller earlier this year. Miller's lawyers tried to argue that Mueller's work isn't lawful, saying that he's effectively acting as a principal officer of the U.S. government without having gone through the proper Senate confirmation process that position requires. ("Principal officers" include Cabinet officials, among other posts.) But Michael Dreeben, Mueller's lawyer, insisted that Mueller doesn't qualify as a principal officer, because he "has a regular reporting obligation to the acting attorney general."
Who Mueller reports to is of major consequence. Jeff Sessions, the former attorney general, had recused himself from oversight of the federal Russia investigation, so Mueller reported to his deputy, Rod Rosenstein. Now that Trump has fired Sessions, those oversight responsibilities fall to his replacement, Whitaker, who has previously expressed skepticism about the scope of Mueller's probe.
And in that role, as Dreeben explained in court, Whitaker has significant power: While Mueller's team is "independent on a day-to-day basis," if the acting attorney general found anything to be "inappropriate" or "unwarranted," he could intervene. Indeed, the special-counsel guidelines allow the acting attorney general to overrule any "investigative or procedural step" proposed by Mueller if the move is deemed "inappropriate or unwarranted under established department practices."
It's unknown whether Whitaker would shut down Mueller's investigation if the president asked. But Dreeben's explanation suggests that Whitaker need not fire Mueller in order to stymie his work. Whitaker wrote last year that the Mueller inquiry had "gone too far" and opined on CNN about the ability of a potential Sessions replacement to grind the investigation almost to a halt. He could opt for a death-by-a-thousand-cuts approach instead of risking the inevitable political blowback from firing Mueller directly. And he could try to hinder Mueller from revealing his findings without having to justify his decision to Congress until after the probe is over.
"According to the regulations, should the attorney general determine that an action is so inappropriate that it must not be pursued, he or she has to report that to Congress along with the justification," several national-security–law experts wrote in Lawfare earlier this week. "Such a report, however, is not required until the 'conclusion of the Special Counsel's investigation,' so this oversight protection is unlikely to be helpful in the short term.
"Put simply," they continued, "if someone in Whitaker's new role wants to create big problems for Mueller, he has ample tools to do so."
The D.C. circuit court is now examining what influence, if any, Sessions's ouster and Whitaker's appointment could have on the Miller case. It is possible that the court will decide that Rosenstein, not Whitaker, is Mueller's rightful boss, according to Neal Katyal, a former acting solicitor general under President Barack Obama.
Short of that conclusion, however, Mueller may have some recourse in the event that Whitaker maintains control over the investigation and attempts to either suppress it or shut it down. Several legal experts have argued that Trump's appointment of Whitaker may have been unconstitutional. At issue is the same question of who qualifies as a principal officer. Because Whitaker reports directly to the president, he is a principal officer, these experts say, and would have required Senate confirmation.
"That has a very significant consequence today," Katyal and the conservative lawyer George Conway wrote in The New York Times on Thursday, citing Justice Clarence Thomas's opinion in National Labor Relations Board v. SW General, Inc. "It means that Mr. Trump's installation of Matthew Whitaker ... is unconstitutional. It's illegal. And it means that anything Mr. Whitaker does, or tries to do, in that position is invalid."
Questions over Whitaker's legitimacy could work to Mueller's advantage, according to Jens David Ohlin, a professor at Cornell Law School who specializes in criminal law. Ohlin explained that Mueller could challenge Whitaker's appointment in federal court on both statutory and constitutional grounds, the latter of which is "most likely to succeed."
"In order to get either of these issues before a federal court, someone needs standing to bring the claim, which means they've been specifically harmed," Ohlin told me. "If Mueller is fired, which is Whitaker's 'nuclear option,' Mueller certainly has standing to object to Whitaker's appointment."
He added that Trump's decision to appoint a "constitutional nobody" to head the Justice Department "is so far from mainstream practice" that a federal court would likely "scrutinize this carefully and would be skeptical that this is consistent with the [Constitution's] Appointments Clause," which outlines how appointments are to be made. Before he went to work at the Justice Department under Sessions, Whitaker served as the U.S. attorney for the Southern District of Iowa from 2004 to 2009, then worked in private practice and appeared as a cable-news pundit throughout 2017.
Marty Lederman, who served as the deputy assistant attorney general in the Justice Department's Office of Legal Counsel under Obama, is less sure, writing Thursday that the constitutionality of Whitaker's appointment is "technically an open question." But he tentatively assumed that "anyone who suffers an 'injury in fact' by virtue of something Whitaker does would have … standing to challenge his appointment in court."
William Yeomans, a former deputy assistant attorney general who spent 26 years at the Justice Department, had similar reservations. "I think the constitutional argument is more complicated than many are suggesting and I am undecided," he told me. Yeomans noted, however, that if Whitaker's appointment was unlawful, Mueller "theoretically could refuse to carry out his instructions and could contest, for example, his firing."
Whether Mueller would actually take such a dramatic step is another question. Paul Rosenzweig, a former senior counsel on the Whitewater investigation in the 1990s, doubted that Mueller would challenge Whitaker's appointment, "both because it is no slam dunk legally and because he is bound" as a Justice Department employee by the opinions of the Office of Legal Counsel, which concluded in 2003 that "a Senate-confirmed position may be temporarily filled on an acting basis" by any "officer or employee" who "has served in the agency for at least 90 days in the preceding 365 days"—regardless of whether they are confirmed by the Senate. "It is also strategically incautious," Rosenzweig said.
Still, if Mueller were to challenge Whitaker, one "solid way" to do it would be to defy him, Rosenzweig said, setting up a "live case" in which the court would have to address Whitaker's legitimacy directly.
Mueller is not known for disobedience or public spectacles. In the 18 months since he was appointed, he has not said a single word about the Russia investigation, and his spokesman is best known for declining to comment in response to press inquiries. With his final report already in the works, however, and various elements of the investigation farmed out to prosecutors in New York and Washington, D.C., it is unlikely that Mueller's findings—as they relate to a potential conspiracy between the Trump campaign and Russia—will never see the light of day.
If Whitaker were to refuse to release Mueller's final report, for example, Mueller and the grand jury could make their evidence available to Congress through a report transmitted by the court, as the former Watergate prosecutors Richard Ben-Veniste and George Frampton recently noted. And "with the fox now guarding the henhouse," they wrote, "there is sufficient precedent" for them to do so.