The Democrats Are Stuck With Menendez
If New Jersey Senator Bob Menendez wins reelection on Tuesday, he'll have only Donald Trump to thank.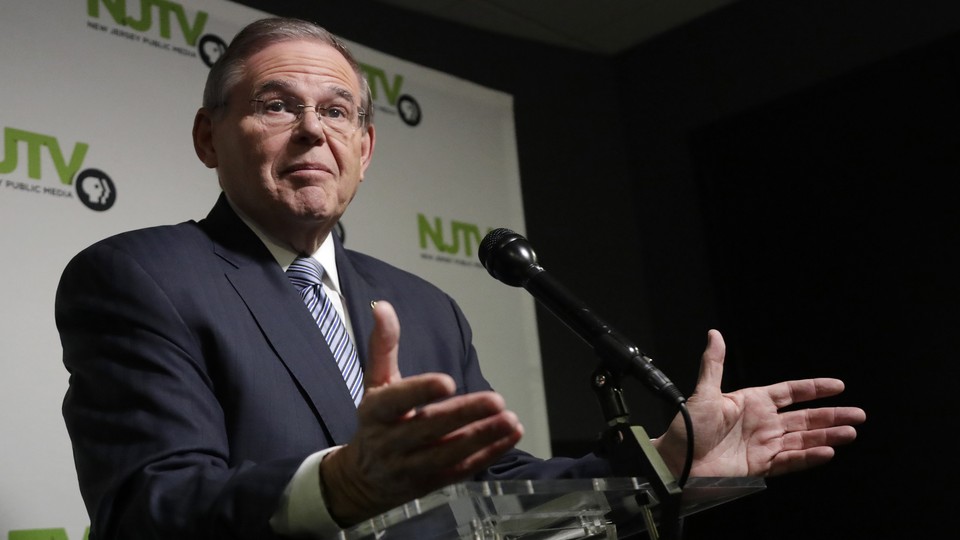 It's difficult to pinpoint when Bob Menendez's name first became synonymous with ethical lapses. Perhaps it was in 2006, when federal prosecutors suspected that the New Jersey senator had steered federal funds to a nonprofit group that was paying him rent. Or perhaps it was in 2014, when the FBI suspected that he'd intervened on behalf of two accused Ecuadorian criminals in exchange for campaign donations. Or perhaps it was in 2017, when he stood accused in federal court of helping Salomon Melgen, an affluent eye doctor, in exchange for gifts that were valued at nearly $1 million.
Menendez has never been found guilty of anything, and last year's federal trial ended with a hung jury. There were even rumors, on the eve of his 2012 reelection, that he had partied with underage prostitutes in the Dominican Republic, but after conservative media outlets wrote dozens of stories, the FBI concluded that the rumors had no basis in fact. Thus far, the harshest verdict against Menendez has been rendered by the Senate Ethics Committee, which earlier this year "severely admonished" him for his relationship with the affluent eye doctor. It would appear that Menendez has escaped more scrapes than Houdini.
The downside for Democrats, however, is that they're sweating his 2018 reelection bid. The Senate map for Democrats is bad enough this year—their long-shot bid to capture the Senate next Tuesday hinges on defending and winning seats in southern and western red states—and the last thing they needed was a toss-up race in blue New Jersey. But they're stuck with Menendez, and in recent weeks their Senate PAC has been compelled to pump $6 million into the contest.
In a normal year, Menendez might well be doomed. Voters in the so-called Sopranos State aren't totally numb regarding corruption; in the latest poll conducted by Rutgers University's Eagleton Institute of Politics, only 28 percent of New Jerseyans view Menendez favorably. They've long been reluctant to send Republicans to the Senate—that hasn't happened since 1972—but if this were a normal year, they'd likely be tempted. Indeed, the nonpartisan Cook Political Report says that this race is a toss-up. Even the Jersey editorial writers who have endorsed Menendez say that he's "slippery" and "awful."
But if Menendez survives election night, he should probably pen a thank-you note to Donald Trump—with perhaps a separate note to his Republican opponent, the pharmaceutical mogul Bob Hugin, who in 2016 raised money for Trump, donated $200,000 to Trump, and served as a convention delegate for Trump. Menendez has lucked out because in New Jersey, the president's baggage is far weightier than his.
Trump's share of the Jersey vote in 2016 was 41 percent, and his summer approval rating was 33 percent. Trump has been a drag on Republicans campaigning for the House; at least two of the GOP's five New Jersey seats seem poised to go blue, and voters statewide, by double-digit margins, reportedly favor a Democratic Congress. Trump has staged numerous rallies in the closing weeks of the midterm campaign, but it's telling that none have been in swing Jersey districts. Menendez has duly taken advantage, airing TV ads that link his foe to the president ("To stop Trump, stop Hugin"). Hugin, mindful of the statewide polls, has been compelled to insist that he's not a toady for Trump ("I've been independent my whole life"), which doesn't square with his lavish praise of Trump, most notably on Fox News, where he called the president "constructive and engaged."
Hugin, who has pumped his own wealth into the campaign, has hammered Menendez with references to last year's federal trial—Menendez was hit with 18 corruption charges—but that hasn't trumped his own baggage. Hugin also swung for the fences by resurrecting the long-debunked rumors of underage prostitutes, but that move merely underscored the ugliness of the race that editorialists call "the most depressing choice for New Jersey voters in a generation."
A Democratic candidate without a checkered reputation would most likely have left Hugin in the dust months ago; Menendez reportedly leads by only single digits. He could've eased his party's burden by stepping aside and clearing the way for a better candidate—which is what happened in the autumn of 2002, when the Democrat incumbent Bob Torricelli, who'd also been admonished by the Senate Ethics Committee for taking gifts from a donor, dropped out and was hastily replaced by Frank Lautenberg—but Menendez wanted political redemption. He declared outside the courthouse last November, after his federal trial ended with a hung jury: "To those who were digging my political grave so they could jump into my seat: I know who you are, and I won't forget you." (There was talk that day, especially among fans of The Sopranos, that Menendez sounded stereotypically Jersey.)
The prosecutors had contended that Menendez "sold his soul for a lifestyle he couldn't afford," but the jury couldn't agree on whether his behavior—taking free flights, free vacations, and big donations, in exchange for helping to promote Melgen's personal and business interests (including the settlement of an $8.9 million Medicare dispute)—was criminally corrupt or politics as usual. Federal prosecutors failed to prove a direct bribery-for-favors connection. In fact, the bar for proving such a connection had been raised by the Republican-led U.S. Supreme Court. It was ironic that Menendez, the scandal-tainted Democrat, would ultimately benefit.
John Roberts and his fellow Republican appointees—worried about prosecutorial overreach, worried about the criminalization of political behavior—had decreed in several rulings that federal prosecutors needed to have slam-dunk evidence of a direct, specific connection between a donor's gift and a politician's favor. In 2016, they overturned the corruption conviction of former Virginia Republican governor Robert McDonnell, ruling that even though he'd made calls to help a benefactor who'd given him gifts, he hadn't formally used gubernatorial power to benefit the benefactor. The court said that "arranging a meeting, contacting another public official, or hosting an event" was not sufficient proof of a gift-for-favors link. That was a break for Menendez, who had arranged meetings for Melgen but had never flexed legislative muscle.
They've long said in New Jersey that Bob Menendez has a gift for escaping unscathed, but his biggest break is running for a third term on turf that is virulently anti-Trump. And he'll likely limp to victory, keeping that Senate seat blue, confident in the knowledge that voters will typically make the least unpalatable choice.