Is Manafort Angling for a Pardon?
Legal experts call his ongoing talks with Trump about the Mueller probe "extremely unusual."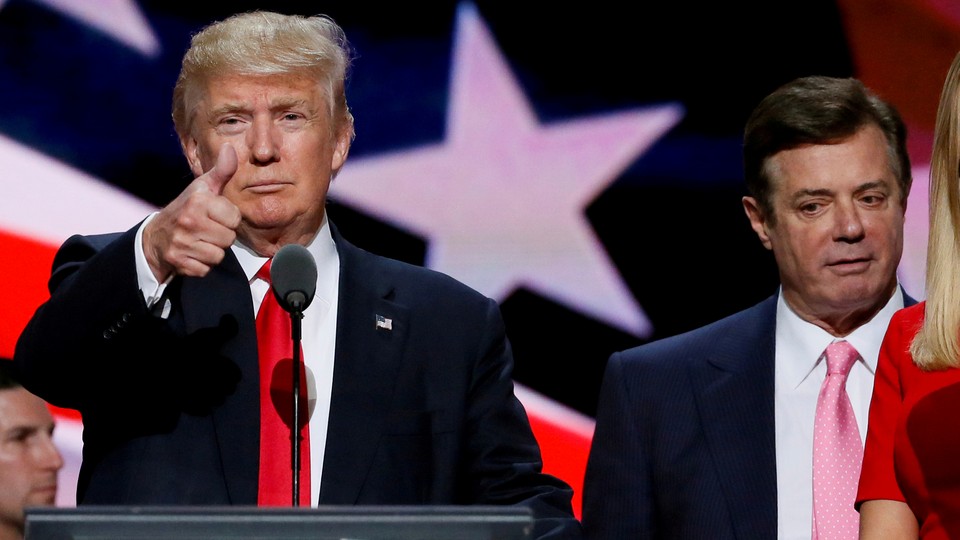 On September 14, prosecutors for Special Counsel Robert Mueller revealed that President Donald Trump's former campaign chairman, the convicted felon Paul Manafort, had decided to sign a plea agreement in exchange for a lighter sentence. To those who have been watching the Mueller investigation unfold, the implications of the deal seemed clear: Manafort was going to flip on Trump, and help Mueller get to the bottom of whether Trump's campaign conspired with Russia to win the 2016 election. But Manafort apparently had other plans.
On Monday, more than two months after Manafort agreed to cooperate, prosecutors revealed that he has "committed federal crimes by lying to the Federal Bureau of Investigation and the Special Counsel's Office on a variety of subject matters, which constitute breaches of the plea agreement." It isn't clear what Manafort allegedly lied about, or why he would risk spending the rest of his life in prison rather than tell prosecutors the truth. (Manafort's lawyer told the judge on Monday that they disagreed with Mueller's assertion that Manafort had lied.) But a New York Times report on Tuesday raised even more questions about Manafort's motivations: He apparently never pulled out of a joint defense agreement with Trump, and his lawyer has been providing valuable insights about the inquiry to Trump's legal team over the past two months, Trump's lawyer Rudy Giuliani told the Times.
Mueller said in the joint status report filed on Monday that because Manafort had violated the plea agreement, their cooperation was over and the judge should move forward with sentencing. In failing to fully cooperate with Mueller, Manafort appears to have risked additional charges and harsher sentencing, which wouldn't matter if Trump issues a pardon. But Manafort could still be vulnerable to prosecution at the state level, like in New York for tax fraud, and his guilty pleas related to filing false tax returns would likely be used against him.
On the one hand, the collapse of the plea agreement could be a setback for Mueller, who may have been counting on Manafort to confirm missing details that the special counsel needs to potentially secure future indictments. But the fact that Mueller even knew Manafort was lying at all—he intends to detail exactly how he knew in a forthcoming report—shows that the special counsel may already know more than we think. Trump, moreover, submitted his written answers to Mueller last week. If any of Trump's answers line up with Manafort's allegedly false statements, Mueller could accuse him of misleading investigators.
Legal experts called Manafort's arrangement "extremely unusual"—and potentially unethical depending on what was discussed between Manafort's lawyer and Trump's team. Alex Whiting, a former federal prosecutor in Washington, D.C., and Boston who focused on organized crime and corruption cases, told me that if Manafort approved of his lawyers sharing information with Trump, then he never fully aligned his interests with the government—and was therefore never fully serious about cooperating. "I think it's likely that … it was all a game to buy time, to obstruct the investigation, and perhaps even to find out more about the investigation," Whiting said.
Former federal prosecutors turned defense attorneys told me earlier this year that joint defense agreements are common in multi-defendant cases like Mueller's probe, which has embroiled dozens of White House staffers, Trump-campaign advisers, and associates of the president. Essentially, they said, these agreements allow defendants to get their stories straight. But once a defendant signs a plea agreement, it is typically in the defendant's interest to coordinate exclusively with prosecutors so as to secure a lighter sentence.
The former national-security adviser Michael Flynn, for example, who pleaded guilty last December to lying to federal agents, stopped sharing information with the president's lawyers in November 2017, as The New York Times reported. It was perceived as an early sign that he had decided to start cooperating with Mueller. The Manafort associate Rick Gates, who has been cooperating with Mueller since February, never entered into a joint defense agreement with Trump, according to his lawyer. And Trump's longtime personal lawyer Michael Cohen, who has been cooperating with Mueller for months, has not been sharing information with Trump, either. His lawyer Lanny Davis has said publicly that Cohen has completely turned on the president and would not accept a presidential pardon.
"What is particularly concerning in this case is the allegation that Manafort has lied to the special counsel," Barbara McQuade, who served as the United States attorney for the Eastern District of Michigan until last year, told me. McQuade noted that Manafort's arrangement with Trump, combined with Mueller's allegation that he has been lying to investigators, "raises questions as to whether Manafort has simply been feeding information to, or lying for, Trump. Either scenario could amount to obstruction of justice by the subjects and even their lawyers if their intent is to interfere with the investigation."
Another veteran Washington lawyer, who declined to be named because he represents an individual involved in the Mueller probe, said he had "never in my life" heard of a defendant staying in a joint defense agreement after signing a plea agreement with prosecutors. "It has to be that Manafort expected a pardon," the lawyer said. "He's not dumb. He had to have known how dangerous this was. And if his lawyer agreed to go along with it, then he is on the borderline of professional malpractice—especially knowing that Giuliani, an unguided missile, is around. So there must have been a damn good reason for him to stay in this joint defense agreement." Giuliani freely acknowledged the joint defense agreement in an interview with the Times and seemed to boast about the insight Trump's legal team had gained from working with Manafort.
Whiting noted that Manafort has been taking risks throughout this process. "Manafort has always gambled for the big win that would get him out of this completely," Whiting said, pointing out that Manafort chose to go to trial "against all odds" that he would be found not guilty. "I think he knew what he was doing all along, and that this was not a genuine effort to cooperate but a further gambit to try to win a pardon."
Trump has not ruled out a pardon for Manafort, and the joint defense agreement, combined with  the plea agreement, would have provided Manafort with both useful insight into the Mueller inquiry and a channel into Trumpworld. It's not clear that Trump's lawyers would use the agreement to dangle a pardon in exchange for Manafort's silence—doing so could constitute obstruction of justice, and therefore be subject to the crime-fraud exception to attorney-client privilege, legal experts say.
But if Trump's team felt reassured that Manafort wouldn't flip, then continuing in the joint defense agreement and hoping for it to be mutually beneficial may not have been "a bad roll of the dice" for either party, Jeff Cramer, a former federal prosecutor, told me earlier this year. "As we've seen from Trump's past pardons, Manafort won't need to wait on career prosecutors or the White House's pardon office to make a recommendation. It's really just about waiting on the president's whim."