The Legal Precedent That Could Protect Jim Acosta's Credentials
A 1977 court ruling said that administrations cannot bar correspondents from the briefing room without "due process."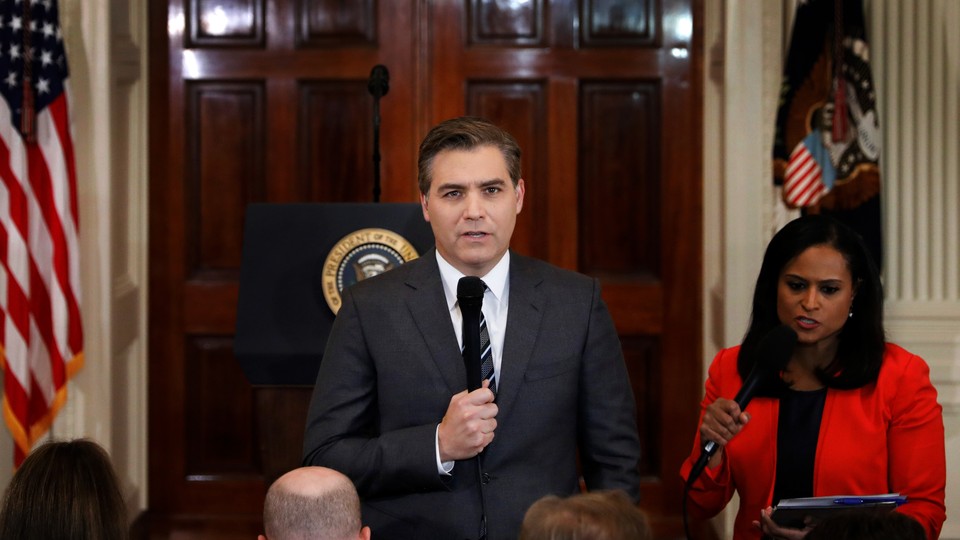 Robert Sherrill was an outsider by the nature of his work as a Washington correspondent for The Nation. A prolific anti-establishment voice, Sherrill was unafraid to play contrarian to the left or right of the aisle.
"He took the shibboleths of liberalism and exposed them as what he felt they were," Ralph Nader told The Washington Post when Sherrill died in 2014. "He took liberals and progressives down a peg or two, or 10 pegs or two."
But Sherrill was also an outsider for a more obvious reason: He was denied White House press credentials—and fought in the courts for a decade to obtain access in a case that has become an important precedent this week.
After receiving credentials to the House and Senate press galleries in 1965—a prerequisite for receiving White House credentials—Sherrill received a letter in 1966 from the U.S. Secret Service denying him access to the grounds. No explanation was given. When he asked why his request for credentials was rejected, the Secret Service replied, "We can't tell you the reasons."
Thinking that his writing got him in trouble, Sherrill did not try to appease the Johnson administration. His 1967 book, The Accidental President, and the book that followed in 1968, The Drugstore Liberal, were assaults on President Lyndon B. Johnson and Vice President Hubert H. Humphrey, respectively. If he was being shut out for political reasons, so be it.
In January 1972, when Sherrill reapplied for White House press credentials, he was again denied without explanation. That's when the American Civil Liberties Union took his case to federal court. With the ACLU's help, Sherrill sued the Secret Service for violating his First and Fifth Amendment rights.
By the time a D.C. circuit-court judge ruled in his case in 1977, it had been 11 years after his credentials were originally denied.
When Donald Trump clashed with Jim Acosta, the chief White House correspondent for CNN, at his post-midterms news conference on Wednesday—and later revoked his press credentials—he most likely knew nothing about the precedent set by the D.C. Circuit Court of Appeals in Robert Sherrill's case—precedent, experts said, that put the law squarely on Acosta's side.
"Thank you Mr. President. I wanted to challenge you on one of the statements that you made on the tail end of the campaign in the midterms," Acosta started, microphone in hand, staring ahead toward the president from the front row of the press conference.
Trump's lips pursed and then released. "Here we go," he said, practically breaking the fourth wall.
"If you don't mind, Mr. President—" Acosta tried.
"C'mon, c'mon, let's go." The president let out a half whistle from his mouth and motioned to his rival to hurry up and ask his question.
"—that this caravan was an invasion."
"I consider it to be an invasion," Trump replied.
The exchange became testier and Trump's complexion reddened. "Honestly, I think you should let me run the country. You run CNN. And if you did it well, your ratings would be better," Trump told the reporter.
Acosta held on to the microphone as a White House intern tried to grab it back from him. "Mr. President, I had one other question, if I may ask, on the Russia investigation," Acosta said. "Are you concerned that—"
Trump lifted a finger and wagged it from the podium. "I'm not concerned about anything about the Russia investigation, 'cause it's a hoax." He walked away from the podium momentarily, readying for his next hit. Acosta gave in and relinquished the mic.
"I'll tell you what," the president huffed. "CNN should be ashamed of itself, having you working for them. You are a rude, terrible person. You shouldn't be working for CNN … You're a very rude person. The way you treat Sarah Huckabee [Sanders] is horrible and the way you treat other people are horrible. You shouldn't treat people that way."
When Acosta returned to the White House grounds later that evening to do a live shot for Anderson Cooper 360°, the Secret Service asked for his hard pass, which he had held since 2013, and confiscated it. They were just following orders, and he understood that; the orders came from higher up. His access was revoked: He was locked out of the Trump White House.
To explain why Acosta's credentials had been revoked, Sarah Huckabee Sanders, Trump's press secretary, tweeted a highly edited video on Wednesday that appeared to show Acosta hitting the intern who tried to grab his microphone. Sanders wrote on Twitter, "President Trump believes in a free press and expects and welcomes tough questions of him and his administration. We will, however, never tolerate a reporter placing his hands on a young woman just trying to do her job as a White House intern..." Acosta tweeted back, "This is a lie."
In actuality, the video Sanders shared was doctored and originally posted by Paul Joseph Watson, a British conspiracy theorist associated with the fake-news website Infowars.
CNN immediately issued a strongly worded protest: "The White House announced tonight that it has revoked the press pass of CNN's Chief White House Correspondent Jim Acosta," the network's statement read. "It was done in retaliation for his challenging questions at today's press conference. In an explanation, Press Secretary Sarah Sanders lied. She provided fraudulent accusations and cited an incident that never happened. This unprecedented decision is a threat to democracy and the country deserves better. Jim Acosta has our full support."
The decision to revoke Acosta's credentials has led to condemnation from other journalists.
The White House Correspondents' Association denounced "the Trump Administration's decision to use US Secret Service security credentials as a tool to punish a reporter with whom it has a difficult relationship." The Reporters Committee for Freedom of the Press wrote, "This is clearly inappropriate and unprecedented punishment by the Trump Administration for what it perceives as unfair coverage by the reporter, and White House Press Secretary Sarah Sanders' false description of the events leading up to it is insulting not only to the nation's journalists, but to its people."
Journalists and a number of politicians shared support for Acosta, some calling for solidarity on both sides of the aisle and among the press corps. "News the White House pulled Jim @Acosta's credentials is not an attack on one journalist but all of the press," the veteran journalist Dan Rather, formerly of CBS News, tweeted. "There should be complete solidarity. This is a moment for any Republican who says they believe in the Constitution to stand up."
Many Republicans and conservative journalists did stand up for Acosta.
"The media is not the enemy of the people," the former Florida Governor Jeb Bush tweeted. "The freedom of the press is protected by the Constitution. Presidents never enjoy pointed questions from the press, but President Trump should respect their right to ask them and respect Americans enough to answer them."
The conservative blogger Erick Erickson tweeted, "Y'all, I'm sorry to defy the tribe, but I've watched this video over and over and it looks more like @Acosta had his arm out pointing with his finger and when she tried to pull the microphone down, both his arms went down rather naturally."
Howie Kurtz, the host of Fox News' Media Buzz, said that while he criticized Acosta's behavior, "The [White House] escalation is just making him into a journalistic martyr."
"No ref would throw flags for the physical altercation," Ari Fleischer, a former White House press secretary under George W. Bush, said in an interview. "It wasn't a physical altercation; it was incidental contact. No flags should be thrown." Fleischer refused to defend Acosta's behavior or blame the White House for its actions, but he agreed that this was not about Acosta assaulting anyone.
Among those in media and politics, the widespread consensus was an obvious one: This was not about safety and security; this was not about an assault. Acosta was punished for the way he went about his reporting.
"The White House Correspondents Association, the White House, and CNN should be sitting down together and separately to address this," Frank Sesno, the director of George Washington University's School of Media and Public Affairs, told me. Sesno is a former CNN Washington bureau chief and White House correspondent as well. "If there are professional concerns that the White House has about Jim Acosta or anyone else, they should express that professionally. They should be talking about that openly and there should be an effort to determine what, if anything, needs to change. The response is not engaging the Secret Service to pull someone's credentials."
"That's just completely inappropriate and just this side of thuggery in my view," Sesno added.
In public remarks on Friday morning, Trump seemed unremorseful about pulling Acosta's credentials. The president threatened further punishment for reporters like American Urban Radio Networks' April Ryan, calling her a "loser."
"It could be others also" if they "don't treat the White House and the office of the presidency with respect," Trump said.
Sherrill never knew why the Secret Service had refused to issue him credentials; they wouldn't tell him. Only in 1972 did White House counsel John Dean and John Warner, the assistant to the director of the Secret Service, inform the ACLU that "Sherrill had been denied accreditation 'for reasons of security' on May 3, 1966."
The Secret Service cited two incidents that had little to do with the president's safety or White House security: Sherrill had gotten into a physical altercation in 1964, while he was a political writer for the Miami Herald, when he punched the press secretary to Florida Governor C. Farris Bryant aboard a Johnson campaign train. (He was arrested and fined for physical assault.) Additionally, the Secret Service noted that Sherrill had been charged with assault in 1962 in Texas.
The D.C. circuit court ruled in Sherrill's favor in 1977. While the court did not demand that the Secret Service issue him a press credential, it did set forth a series of new, transparent steps to ensure that no reporter's First Amendment rights were violated.
"Once the government creates the kind of forum that it has created, like the White House briefing room, it can't selectively include or exclude people on the basis of ideology or viewpoint," said Ben Wizner, the director of the ACLU's Speech, Privacy, and Technology Project.
The new steps enunciated in the Sherrill decision to ensure that reporters' First Amendment rights are not violated include the requirement to give the reporter notice and the right to rebut a formal written decision, which must accompany any revocation. "We further conclude that notice, opportunity to rebut, and a written decision are required because the denial of a pass potentially infringes upon First Amendment guarantees," the court's ruling states. "Such impairment of this interest cannot be permitted to occur in the absence of adequate procedural due process."
"If the Secret Service makes this kind of determination that they're going to no longer let someone have access, or limit access from the start, there should be a really good reason for that," Michele Kimball, a media-law professor at George Washington University, said. "And if you are denied that access, there should be some sort of procedural due process for you, [so] that you can find out what happened. And it's sort of that check to make sure that, again, it's being handled evenhandedly."
CNN declined to comment on Acosta's situation. The network did not respond to questions about whether Acosta planned to sue or whether he is taking the steps put forth in Sherrill that allow him to object, rebut the decision, and seek written explanation from the Secret Service.
"What they've done here is not only unwise, but probably illegal," the ACLU's Wizner concluded.
In 1990, The Los Angeles Times profiled The Nation in its 125th year.
Sherrill had continued to cover the White House in the Carter and Reagan administrations, and he kept up his role writing about major corporations.
"Sherrill is the ultimate outsider, journalistically speaking, which makes him the quintessential Nation writer," the Times wrote.
He clearly relished that role as an outsider, because when he won his 11-year battle with the White House to get credentialed, he opted against it.
"The fun thing about this was that when I was finally going to get a press pass, I never applied," Sherrill told the Times. "I didn't want to be in the White House. I had been in Washington long enough to realize that was the last place to waste your time sitting around for some dumb [expletive] to give a press conference."
When all was said and done, Sherrill knew his best work would be done far away from the place he was never allowed to visit.
On Thursday night, Acosta's name was part of a triple-byline story on CNN.com. "Trump considering [Chris] Christie, [Pam] Bondi, [Alexander] Acosta for attorney general," he reported alongside Jeremy Diamond and Sarah Westwood.
"When they go low, we keep doing our jobs," Acosta said on air Wednesday afternoon.
Acosta, like Sherrill, had shown that the White House could revoke his credentials, but it couldn't stop him from doing his job.