After the Pittsburgh Shootings, a Thanksgiving Pilgrimage to the Texas Border
Rabbi Josh Whinston from Ann Arbor, Michigan, led his people to the desert in El Paso to help asylum seekers from Central America.
By midday, the desert sun is high and this little protest frankly feels like a misguided act in powerless futility.
About 200 people, Jews and Christians, cluster near an eight-foot stone gate in the West Texas town of Tornillo, singing and praying for hundreds of Central American children held by the federal government. Two cop cars and chain-link fences topped with concertina wire keep them a good 150 yards out of the children's sight and well beyond their hearing. Every 20 minutes, buses with tinted windows arrive ferrying still more children.
The group sings Olam Chesed Yibaneh, "We Will Build This World From Love," as a folk guitar strums; signs, like one that says Let my people go with a drawing of Moses, are taped to the fence. But one driver, his federal uniform and badge clearly visible, brazenly leans on the horn of a bus marked Homeland Security. A towering, curly-headed young reform rabbi, Joshua Whinston, his head covered by a yarmulke and his big shoulders draped by a prayer shawl, tells the knot of people to follow him.
But if the police turn them back, they should return to the gate that serves as a designated protest zone, he cautions: "We didn't come here to get arrested." Dutifully, most follow, although a pack of Catholic schoolgirls peels away to second period back at school in nearby El Paso. The group shambles toward the police; they have seen this drill here so many times that they could ladle the tension with a spoon. Sure enough, the group turns and shambles back.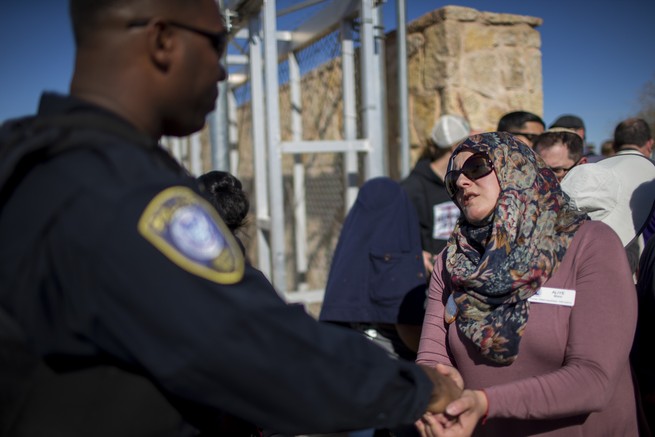 Fittingly, this place is called Tornillo—Spanish for "The Screw." Nevertheless, this group of American Jews, with a gaggle of Christians, has emerged from the fearful sorrow of the Pittsburgh synagogue massacre to travel from Illinois, Michigan, Ohio, and other points to help refugees from Honduras, Guatemala, and El Salvador. And it could, in theory, get them killed. After all, the suspected Pittsburgh gunman railed against Jews and immigrants in online posts before the massacre.
Nevertheless, their young rabbi, Joshua, has been stirred enough by the current moment, and by a cadre of religious 30-somethings, to lead these people into this desert. Yes, the government has made their journey nearly fruitless. But here, faith confronts power in a place that is ground zero in the firestorm over the changing complexion of America. The desert backdrop of their pilgrimage is richly instructive, too, filled with the footsteps of immigrants, including Jews, and the first actual site of that uniquely immigrant celebration, the reason for the journey: Thanksgiving.
Joshua's voyage to the U.S.-Mexico border began in an unlikely place, 37 years ago, in sunny Southern California.
He was the prototypical upper-middle-class Jewish kid from the West Coast. He was involved in Jewish youth-group music in high school, waiting in suburban San Diego for the annual experience of Jewish summer camp. After college at the University of California at Santa Barbara and a stint at Hebrew Union College-Jewish Institute of Religion in Los Angeles, he wound up in leafy Ann Arbor, Michigan, with his wife, Sarah, three small children—ages 3, 6, and 8—and a Reform congregation at Temple Beth Emeth.
Of course, he is a grown man with a whole flock of responsibility. He can recite chapter and verse of scripture. He enjoys a stiff Maker's Mark after work. Yet he carries himself with the earnestness of an oversized teenager. He has a warm smile and seems privately unsure at times, and his beefy cheeks turn pink when he gets overheated. Back in the summer of 2018, he was definitely overheated.
He had just driven a Guatemalan refugee, Yeni Gonzalez, from Ann Arbor to Pittsburgh, en route to be reunited with her three small children. At the time, images of the government's tent internment camp at Tornillo unfolded on television. America was jailing children separately from their parents—a practice not even contemplated since Native American children were stripped from their parents and sent to the white, Christian boarding schools in Oklahoma where many of them died.
Nearly 1,800 miles removed, his congregants at Temple Beth Emeth asked: What could they do? The question nagged at him. After all, being Jewish had taught him, he says, "that it is more important to welcome the stranger than honor the presence of God."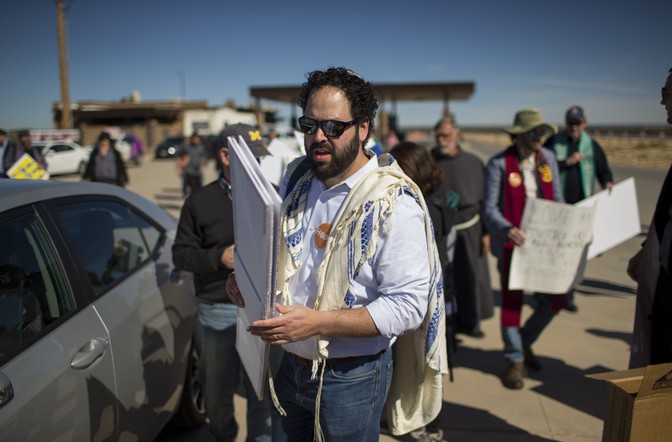 The admonition that came from the Biblical exile of the Jews was written in the scripture of Exodus 22:21: "Thou shalt neither vex a stranger, nor oppress him: for ye were strangers in the land of Egypt." His own favorite Talmudic teaching was the story of Abraham in Genesis 18:1–8: when God appears to Abraham at his tent on the plains of Mamre and Abraham feeds a trio of strangers in the shade of a nearby tree. And, of course, Jews have been immigrants—often unwanted—for much of their history. They fled the Spanish Inquisition in the 17th century, European oppression in the 19th century, and the Holocaust in the 20th century.
"I've been saying this stuff since I was a kid," says Whinston, whose friends call him Josh. "How do I say all those things and now not do something? How do I say to my people that being Jewish just doesn't matter?"
In the summer, drones flew over the Tornillo camp as it expanded, photographing teenage boys marching single file. Elsewhere, pictures were smuggled out of Texas Immigration and Customs Enforcement facilities—places known as hieleras, or iceboxes—with children shivering under mylar blankets on air-conditioned concrete floors.
An audio file was smuggled out, recording one little girl sobbing to be released while another begged to call her aunt on a phone number she had memorized. The American public was outraged and despite congressional inaction, the courts struck down the practice known as family separation.
In Ann Arbor, Josh was hardly alone. His friend Xan Morgan, the director of the children's ministry at a renegade Baptist church, along with her Episcopalian friends, egged him on. It occurred to Josh to go into the desert and to the very heart of the Trump centerpiece. He had no idea, exactly, how to do this. So he picked up the phone to call the one person who would know: a fast-talking, rabble-rousing blond rabbi in Cincinnati, who had already done a little time in jail along the way.
The journey would be 1,728 miles to the most controversial, maligned, and mischaracterized place in America: the U.S.-Mexico border, stretching 1,933 miles from the cold Pacific Ocean to the warm, shallow Gulf of Mexico.
I know the place. I grew up here, in El Paso, in fact. And never have so many words been wasted on so much misunderstanding. Frankly, the border has always been out of sight and out of mind for most Americans. In the 1970s, when my family moved here, the border was a place to go shopping, watch a bullfight, and get drunk on cheap tequila.
In the 1980s, the violence of the cocaine trade scared away a lot of Americans. By the time the Mexican drug war rolled around in the early 2000s, with bodies turning up by the hundreds in the Chihuahuan Desert, Americans were staying away in droves. The bars, nightclubs, and, yes, whorehouses of my youth were bulldozed. About 2.3 million people live here in Texas, Mexico, and New Mexico, none separated by more than a short drive or a brisk walk.
It is a combined metropolitan area the population of Pittsburgh, but it might as well be on the moon. The nearest big city—still in Texas—is 600 miles away. The rugged Franklin Mountains, the very ass-end of the American Rockies, bisect the city with a pile of rocks and creosote. Nearly bald dunes line the river. Winters are bone-snapping cold, spring is a three-month dust storm, and summer is an experience just this side of hell.
In a stroke of purely evil genius, this is the perfect place to hide an entire class of reviled people, namely the asylum seekers. After the Tornillo tent camp went up, the military made ready to incarcerate entire families of immigrants here at Fort Bliss. Home to the 1st Armored Division, the post is so big that not a single trooper can be seen from the perimeter road. Thousands of immigrants would have effectively disappeared into one million acres of desert, the largest military installation in the entire world.
The very remoteness of this place, in turn, has made it easy to malign. President Donald Trump has called Mexicans "rapists" and the Central American caravans an "invasion," and depicted a region so in crisis it requires a wall and deploying up to 15,000 troops, whose greatest risk, so far, is dying of boredom within sight of a Whataburger in South Texas. He's not alone. Mississippi's interim Republican senator, Cindy Hyde-Smith, has claimed: "I have been in the Rio Grande River with a bulletproof vest and machine guns all around."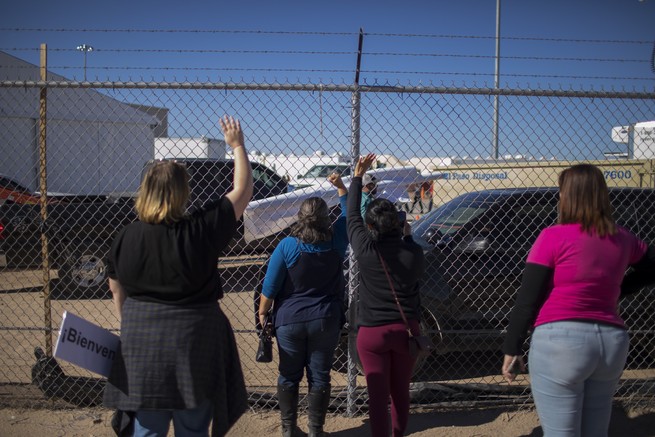 Which is all bullshit. My 81-year-old mother lives about half a mile from the river. I went there the other day in shorts and watched a father, daughter, and their dog from the levee. The biggest threat was a shiver at sunset. The closer Americans are to the border, the less they fear it. After all, it is remote but not lonely: Some 10 million people live along it, from San Diego–Tijuana to Brownsville–Matamoros.
American border cities have the lowest rates of violent crime in the country, even though the drug war raged right across the boundary for years. While Baltimore leads American cities in violent crime, according to FBI statistics, El Paso doesn't even crack the top 40. Instead of zombie immigrant hordes streaming across the international boundary, some two million people cross the U.S.-Mexico border every single day—legally.
Even the word border is a misnomer, suggesting a place that separates lands. In Spanish, the word is frontera, as in "frontier"—a place where lands meet. My hometown is a rough-around-the-edges kind of place. Redbox movie rentals passed for culture until it was destroyed by Netflix. This is a blue-collar, tattooed town, where trucks and trains rumble north and south all day and all night against a skyline that is more refinery and rail-yard than skyscraper and green space. English is welcome but Spanish is spoken.
Some of the best food in town is at the H&H Car Wash. When the day is done, you might wash it away with a craft brew at the Black Orchid. But a tall-boy Tecate from a can in the front seat of your truck is a whole lot likelier. The local anthem used to be "El Paso," by the late, great Marty Robbins; I still go to Rosa's Cantina for lunch, dinner, and tequila Tuesdays. But now the soundtrack is anything by Khalid, a homegrown, Army brat hip-hop artist.
Don't get me wrong. This is no paradise. My hometown has among the highest illiteracy rates in America, the crummiest health care, and the most epic poverty. But intermarriage between Latinos and Anglos here is so common as to be unremarkable; intermarriage, by the way, is least common in Mississippi. Sitting in a Walmart parking lot on a Friday, I notice all kinds of people streaming by.
There are license plates from Texas, New Mexico, and Chihuahua and a trio of young, Mennonite Anglo women with no makeup and long skirts perched on a pickup tailgate after a long-distance shopping trip. They descended from people who actually migrated the other way—from the United States into Mexico. But the farther you are from the border—like Mississippi or Michigan—the more invisible and the scarier it gets.
The farther a Republican lives from the border, according to a Pew Research Center study, the more he or she clamors for a border wall. The genius of Donald Trump is that he has seized on this: He has made everyone here essentially disappear. And the alternate universe he conjures at his rallies scares the shit out of Americans.
By the time they arrive in El Paso, it is clear that Josh Whinston's little band of faithful is more than a little nervous, their emotions still raw from the Pittsburgh shootings.
On the eighth floor of the Embassy Suites, hard by the roar of Interstate 10, they gather to go over their plan: visit migrants stuck on the international pedestrian bridge, protest in Tornillo, and volunteer by performing such mundane chores as washing the clothes of the migrants the government is suddenly dumping on the streets of El Paso.
And there is an alarming wrinkle: The local Reform synagogue has been besieged with threatening calls all day because of their arrival; one caller who'd read news stories online about their journey to the border spewed anti-Semitic filth for 10 straight minutes. And there are lots of questions from the group: about safety, passports, and basic constitutional rights. What do they do if border agents arrest them? Whinston looks tired; he should be, having driven all the way from Michigan in a drab gray minivan.
Stacked on a table in the back of the room, there are rifled pizza boxes and uneaten quinoa salad. Plunked in the middle is Miriam Terlinchamp, the rabbi of Temple Sholom in Cincinnati, who stands out from the generally older crowd with her short, brassy blond hair, great big glasses, and explosive energy. As soon as Josh called her back in September, Terlinchamp poured ideas into spreadsheets of money, logistics, dates, and times. Protest isn't just principle, after all; it's war. And an army travels on its stomach.
She, in turn, connected him with other ringleaders who stick out of the crowd, frankly, for their youth. Against the far wall is Megan Black, a tall Vanderbilt seminary graduate from Iowa; she is the only African American in the room, working for Faith in Action, a storied Oakland social-justice organization founded by a Jesuit community organizer in the early 1970s. Up at the podium, another young rabbi, Bruce Elder from suburban Chicago, strums the guitar and tries to warm the crowd with "We Will Build This World From Love."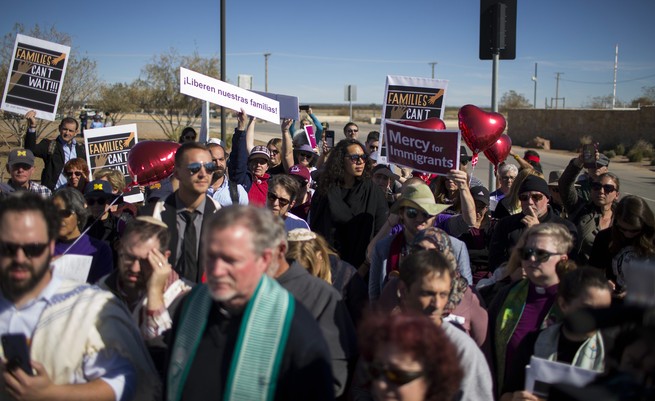 When Josh first phoned her about coming here, Terlinchamp recognized the flash of righteousness in his voice. "That was the way I felt when Maribel was deported," she says. In 2017, Maribel Trujillo Diaz got snatched off the streets of Cincinnati by ICE agents; she had entered the United States illegally 15 years earlier and was in the process of seeking asylum from drug cartels when she was ordered to be deported.
Terlinchamp got busy with the logistics of organizing not just her congregation, but also other temples and churches, to free the Mexican immigrant, who was now bouncing from jail to jail. Both Democratic Senator Sherrod Brown and Republican Senator Rob Portman appealed to the government to let Trujillo-Diaz plead her case; after all, she feared being killed if she was expelled to Mexico. And she learned that her family was targeted for execution as well. In September, a federal judge freed her from jail and ordered a new asylum hearing.
"They actually listened to us," Terlinchamp recalls. But she learned that turning faith into acts beyond the bimah—the temple's equivalent of a pulpit—requires relentless pushing and pressing, "leaving some of us out there on the field." And she learned the hard way: In January, she got arrested during a Capitol Hill sit-in in Washington, D.C.
By now, Josh is riding an emotional roller coaster. On the one hand, he's had the adrenaline spike of activism, and it courses through his blood like good heroin; by his own description, this trip is nearly all he's done since September. He dreads coming down, returning to the quiet of merely leading a flock. But he's also frightened. Pittsburgh scared him. After the shootings, he talked himself out of his fear. But now that he's here, with the threats phoned in to the local synagogue, it's not working. "I'm such a coward," he confesses, visibly deflated.
In the meantime, Terlinchamp is all business. She pushes a congregant with a hotel-supply company to donate 3,000 brand new towels. Then she hears from people in El Paso that there is no room to store that many. Then she learns from the big, Catholic charity, Annunciation House, that 3,000 is precisely the number needed for all the Central Americans being shipped in and released on the streets after their "credible fear" interviews. These people all need showers.
"The Jewish God is a God of abundance," she says, her eyes flashing, almost giddy. Then her mood stiffens and her eyes widen as she pulls closer. "And if the face of 'Never Again' can't step into this space," she says, referring to herself, "then tell me this. Who in the fuck is it going to be?"
As dawn arrives with the low-slung sun of autumn, Josh and his little band probably don't need to be worried about violence. They need to be worried that the government is winning by keeping the migrants out of reach and even out of sight.
Last night, Carlos Spector probably put the fear of God into the new arrivals. "You are now the most dangerous people in America," the bearded, Jewish, red-headed, local-immigration-lawyer firebrand exhorted. Comparing the present to the Nuremberg Laws that presaged the Holocaust, he added: "This is how it begins."
This morning, the car radio crackles with a report that a militia is coming to patrol the border—but in reality, it's just a ragtag handful of old men with pistols, from states as far away as Alabama, who show up in Columbus, New Mexico, 80 miles to the west. One is a 71-year-old retired cop—from Michigan, in fact. Josh had more to worry about by just staying home.
In Columbus, at a windblown, little desert outpost, the mayor makes it clear that these outside geezers are just not welcome. "A lot of people who never come here, they have a misunderstanding," Mayor Esequiel Salas tells the Albuquerque Journal. "They hear things that are not true."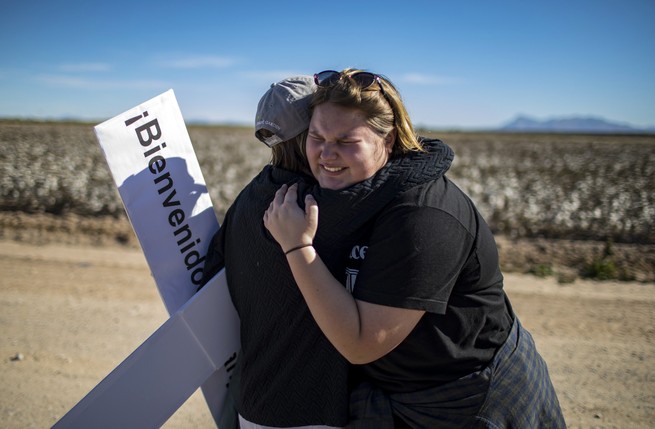 The truth here is long and complicated—and not at all like the caricature of controversy whipped up by Donald Trump. The 10 million people who live on the border are made up of a lot of immigrants—and a lot of Jews. The original El Paso was actually established in what is now Mexico in 1659. After the 1848 Mexican War, a ramshackle village sprouted up on the American side as waves of successive immigrants kept coming north, driven by Mexico's 19th-century civil wars and lured by expanding agricultural work.
A man named Simeon Hart built Hart's Mill on the Rio Grande, grinding corn with the power of river water; for a while, Hart's Mill was the name of the town. Sephardic Jews, conversos—Jewish converts to Christianity dating back to the Spanish Inquisition—arrived from Mexico; European Jews migrated through South America in the 19th century and Jews fleeing Germany came in the 20th, after a long stopover in Mexico.
After the railroad came to town in 1881, according to the history of Temple Mount Sinai, the big Reform synagogue, the first mayor was Solomon Schutz. Soon after, the city took shape and so did Mount Sinai, originally a pair of onion domes near what is now downtown. There was so much Jewish history that the late Reform Rabbi Floyd S. Fierman wrote two books about it; the Conservative Rabbi Stephen Leon wrote another book on the crypto-Jews here, many of them Hispanic, practicing Catholics.
Lebanese, Syrian Christian, and European Jewish merchant families settled; the Schwartz family started a dry-goods store that later became The Popular, a department-store chain. The family sponsored immigrants during World War II. In the 1980s, I went to school with the Schwartz descendants. Israeli troops who trained at Fort Bliss went home, returned, and retired here. Still more Jews arrived from Mexico when that country's peso melted down in 1982.
"Jews congregate, and in El Paso they congregated on the west side of town," recalls Michael Raileneau, a 54-year-old self-described Modern Orthodox Jew, a Jewish educator in Los Angeles, and a high-school buddy. Along with Mexicans, Jews just kept gathering here, including his own. "It was just who we were."
But throughout the day, the very migrants these people came to witness to, march for, and help are conspicuous in one frustrating way: their absence.
The crowds of Hondurans, Salvadorans, and Guatemalans have simply vanished. Claiming that an advancing cold front posed too great a humanitarian danger, the Mexican government has cleared the international pedestrian bridge of the women and children who were sleeping on it by night, hoping to apply for asylum by day.
As the visiting Jews, Episcopalians, Catholics, and Disciples of Christ traipse to the bridge, there are no refugees to whom to witness. At the internment camp at Tornillo, the designated protest area is still a good 150 yards from the camp gate, at least. They can't even be seen—or likely heard—because of the high stone walls and long sight lines.
It's possible that the buses coming through with still more kids will carry word of the protesters' presence to the children behind the razor wire. The few kids arriving who can be glimpsed in silhouette wave back, after all. But that's all. After unsuccessfully trying to march to the gate, the group mills around outside the stone wall. A few people then scatter along a dirt road into an alfalfa field that parallels the perimeter.
Sure enough, before too long, the farmer calls the county sheriff and black-and-whites drive out to warn off the trespassers. The bureaucrats, federal agents, and cops are winning: They've made the very object of concern, outrage, and even faith just vanish. On Facebook, a few photos circulate of Central Americans removed from the bridge by the Mexicans; eerily, each man in the picture stares back, posing with a number written in black marker on his forearm. Justin Hamel snaps a shot of a few teenage boys inside, waving back. But that's it.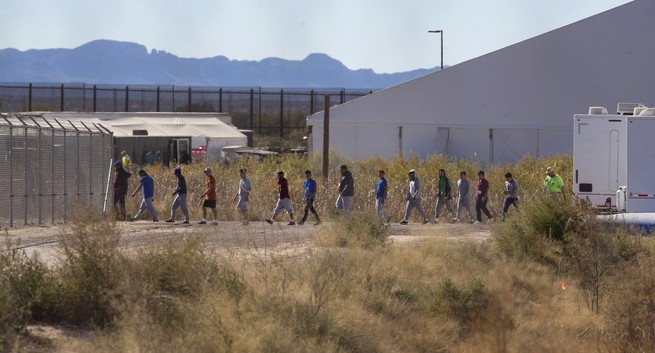 Almost nothing is really known about the conditions inside the camp—except that it keeps growing. In June, when the internment camp opened, there were up to 400 kids in there; people who did get in described a fairly austere but serviceable environment, with 20 kids—mostly boys—in 10 bunks to a tent, and temporary medical facilities. By the time of the protest in November, though, nearly 1,800 kids are in there, ages 13 to 17, according to the Health and Human Services Department.
One in five is a girl; the rest are boys. But the camp is set to swell to 3,800, to the tune of hundreds of millions of dollars. The industry of holding nearly 15,000 immigrant children, according to The New York Times, has suddenly swollen into a billion-dollar business. In Austin, the state government has insisted that none of its resources are being used here, but I've seen a big trailer marked with a state seal and the words Emergency Management Division go in—and now I watch a white van with the same markings go by.
"They lied to us when we were there," says Bruce Lesley, the president of First Focus, an advocacy group for children and families in Washington, D.C., and an El Paso native. "They told us it was going to be strictly temporary."
The group was also threatened, he says, not to criticize the camp; doing so would risk losing access altogether. Nevertheless, there is no formal schooling. A telephone for kids to report abuse can only be used when they are supervised by staff, according to the group's site-visit report. Mental-health care is only available in a crisis, despite thousands of miles of travel, privation, separation, and the specters of physical and sexual abuse along the way.
The very people the protest group came to help are absolutely invisible, and Josh's people know it. "We wrestled with this for a very long time," says the Reverend Alan Dicken, who leads a Cincinnati Disciples of Christ church. "But even if it doesn't work, it's the right thing to do."
Yet there must be a reason for these people to be here in the desert now. There are Jews; Episcopalians; Catholic Sisters of Mercy. Some of the schoolgirls from Loretto Academy leave with tears streaming down their face. They cannot all be self-delusional fools. Religious faith, after all, is an exercise in embracing something invisible, intangible. And there are at least 14 passages—and as many as 36—in the Bible telling believers to welcome the stranger, from Revelation 21:3 to Romans 12:13: "Contribute to the needs of the saints; extend hospitality to strangers."
Still, it feels like I'm grasping at straws. Yet this is not just an airy-fairy exercise in abstract faith. About 200 Americans have gathered here from points near and far. They will go home inspired by their experience—like Josh. They will proselytize, one on one, to others about what they did and saw. And the historic Jesus Christ, after all, wasn't just the son of God. He was a rebel against the established rabbinical order under the Roman empire. And he died for it.
"You can't separate faith," says Oppenheimer, 62, one of the Episcopalians, "from works." But it's clear that this isn't just religious; it's political and it's personal. It has an edge. "Look, I may not change what the president does," says Morgan, the 37-year-old Baptist children's director. "But he's not going to change me."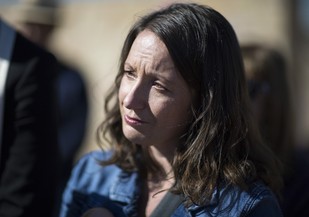 In their millennial stubbornness, the people of the Abrahamic faiths, after all, share a strange fate: They are the only people in the history of the world who win the long game by losing the short one. And the steeliest person in the crowd turns out to be Nancy Goodman, a slight, 65-year-old gray-haired woman from suburban Chicago, here with her husband, Lee. Married for decades, both are part of Bruce Elder's Reform Hakafah congregation.
And no, Lee says, Pittsburgh did not scare him. And it's Nancy who finishes their sentences, flatly and even defiantly: "I think as Jews, we don't own suffering. And sure, there's not much here. But it's something. And nothing good ever came out of doing nothing."
The light falls from the sky, and the people this was all about finally emerge into view: a woman, a couple of toddlers, a handful of ponytailed girls, then a man, a boy, and more.
In the lengthening shadows, the visiting midwesterners, some wearing University of Michigan ball caps or yarmulkes, hustle big plastic bags stuffed with towels into the adobe-colored buildings, one replete with a tile mural of the Virgin Mary, on the broad but humble campus of buildings owned by the Catholic church. Morgan, the Baptist children's minister, strikes up a game of duck-duck-goose, translating it as pato-pago-ganzo. The little girls smile and chase her. They laugh. And now it's time for dinner.
About 80 people—mostly women and children—from Guatemala, Honduras, and El Salvador form a line through their own olive-drab cots in the harshly lit main hall. Unlike those still in federal custody, they have prevailed at their "credible fear" interviews and have been released pending their asylum hearings in immigration court, which are typically scheduled months, even years, into the future. Most of the women are wearing ankle bracelets. For so many people housed here, the hall is neat as a pin; cleaning supplies are stacked at the front. The line shuffles down a narrow hallway, past a pantry overflowing with bread, cereal, and canned goods. The visitors pile roasted chicken, cherry tomato, and potato salad onto paper plates for the strangers. Warm air fills with the aroma of food and the patter of Spanish.
One of the few men in the room, Juan Francisco Artiaga, lifts forkfuls of rice to his mouth, still bundled up in a big down jacket. Dangling from his neck is an inexpensive plastic rosary, just given to him by Father Tom Smith, a steely-haired Franciscan in the back of the room. Here with his son, Ronnie, 13, the 37-year-old laborer first arrived hundreds of miles away, in Presidio, and was bused here. Every one of these Americans, he says, has apologized to him for the way their country has treated him and his boy.
"But you have nothing to apologize for," he says, breaking into a broad-toothed grin. "The president is doing what he thinks he has to do to protect the nation. And the people have been good and generous with us. Look at all this," he says, waving at the smiling faces and mounds of food in a clean and safe place.
His boy's growth is stunted, clearly, from too little food and too much field labor. He is skinny to the point of emaciated and has endured captivity, jail, and standing before a judge to plead his case: He came to work, perhaps as a construction laborer, and he cannot return home for fear of being killed. "The judge said to me, 'Thank you for your honesty,'" he recounts. "He even released me without an ankle monitor." His next stop: New Jersey, where he checks in with the government pending a final judgment on his asylum application.
"I have nothing at all in my heart but gratitude, for God and for how we have been treated here," he says, his eyes welling up briefly. "And I will never be able to repay God for this."
This simple meal is revealed as a feast. The original Thanksgiving in America was not held by Massachusetts Pilgrims in October 1621, a harvest feast of immigrants outnumbered by Native Americans. It was actually held more than two decades earlier, on April 30, 1598, about a dozen miles from this spot. Led by the last conquistador, Juan de Onate y Salazar, 500 Spanish troops, Nahuatl-speaking Indian wives, settlers, and priests, along with 7,000 head of cattle, crossed trackless dunes, running out of water and dying from thirst.
Desperate, they collapsed on the welcome site of the river bank, resting for days. Then, a Franciscan said Mass for the entire expedition and a gathering of local Manso people. "We built a great bonfire and roasted the meat and fish, and then all sat down to a repast the like of which we had never enjoyed before," wrote Gaspar Pérez de Villagrá, one of the captains. "We were happy that our trials were over; as happy as were the passengers in the Ark when they saw the dove returning with the olive branch in his beak, bringing tidings that the deluge had subsided."
Now, still bundled up in his down jacket, Josh towers over these latest pilgrims, serving them heaps of vanilla cake, thick with frosting. He can't speak a lick of Spanish and they can't speak any English. Some do not even speak much Spanish, in fact; Nahuatl or Pipil is still the preferred tongue for some Guatemalans. But he is beaming, this big American giant, passing out plates. And those cheeks of his have turned rosy red.
I ask him why he is smiling.
"I wanted them to see a white person smiling back at them," he answers. "I wanted to connect." The empty bridge and the faraway internment camp were not a waste of time, he insists: "Going to a place where people have been, but you can't see them, is just like going to any sacred place."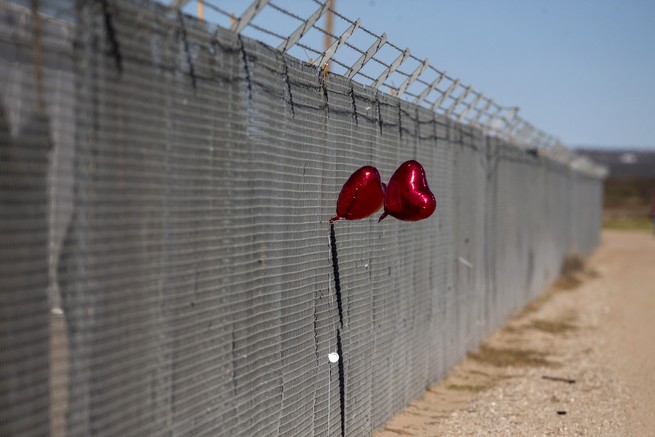 And what did he and his own get out of all this? After all, now they're wiping down tables with bleach and bundling up leftovers. The Central Americans are thanking and shaking the hands of every American they see as they shuffle back out the dining-room door. And the Trump administration has announced plans to hold future asylum seekers indefinitely.
"I got to act in a way more raw than ever before," Josh replies. "Especially if this turns out worse. If they start holding people indefinitely? I just can't be on record anymore as not having done something. Not in my name."
Outside, in the dark of the once-mysterious border, his fear has now vanished. Tom, the Franciscan in his vestment, walks up to Josh, still wearing his yarmulke, and asks to get his jacket out of the gray minivan. The two stride across the dormant grass.
"Do you speak Spanish?" asks the Franciscan.
"No," says the rabbi, sheepishly. "But I think it's time to learn."
Together, the two disappear into the cold, nearly moonless night.