An Incomplete Reconstruction
Mike Espy's defeat in Mississippi marks the end of a disappointing season for black candidates for statewide offices across the country. But for some it's a turning point.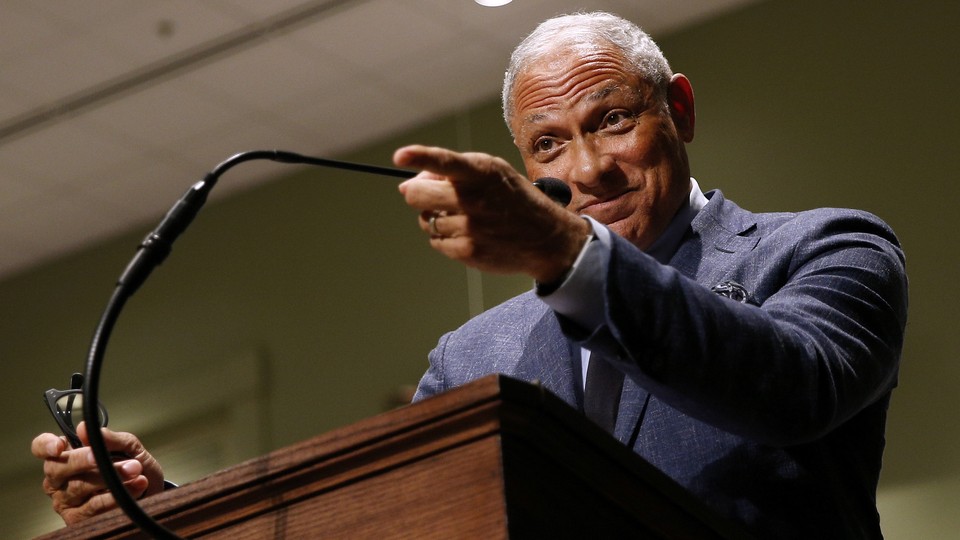 JACKSON, Miss.—In a museum that memorializes the black victims of the lynching capital of the world, Mike Espy conceded victory to a candidate who made an infamous joke about lynchings. On the day of the Senate runoff, the Democratic candidate's supporters gathered at the Mississippi Civil Rights Museum, which features detailed exhibits on the horrors of racial terrorism and also highlights the term of Senator Hiram Revels, the last African American elected to statewide office in Mississippi. If Espy had managed to win, not only would it have meant pulling off one of the greatest long-shot victories in politics, but it would also have placed his name in the history exhibits with his most immediate predecessor, whose time in the U.S. Senate ended 147 years ago.
Espy did not pull off that long-shot victory. He lost to the Republican incumbent, Cindy Hyde-Smith, by eight points. As Maze's "Before I Let Go" faded into Jackie Wilson's "(Your Love Keeps Lifting Me) Higher and Higher" and Espy took the stage, there was little drama. "It's very clear to me and to the campaign that there are just not enough votes," Espy told the crowd. "She has my prayers as she goes to Washington to unite a very divided Mississippi." Both for Mississippi and for the country as a whole, as the rear guard of a large—but doomed—class of black candidates in the South, Espy's defeat is a hard lesson for just how much ground there is left to cover.
Espy was the last holdout in a class of at least nine black candidates across the country who secured major-party nominations for statewide office. Stacey Abrams, Ben Jealous, and Andrew Gillum ran for the governor's mansions in Georgia, Maryland, and Florida, respectively. Mandela Barnes ran for lieutenant governor in Wisconsin, and Deidre DeJear ran for secretary of state in Iowa. There was also a deep roster of black candidates seeking election to state attorney-general offices, including Aaron Ford of Nevada, Sean Shaw of Florida, Letitia James of New York, and Representative Keith Ellison of Minnesota. Of the entire slate of candidates for statewide offices, only James, Barnes, Ellison, and Ford won. There hasn't been an election year featuring this many serious black challengers in the South since Reconstruction. Yet every such candidate in the South lost.
For many black voters, there's despair in just how those black candidates have lost. In Florida, Gillum, the Democratic candidate, lost his bid for governor to the Republican Ron DeSantis. DeSantis opened his campaign against Gillum by warning voters not to "monkey this up." The race featured revelations of DeSantis's connections to neo-Confederate groups and virulent racists, including Steven M. Alembik, a major donor who, according to a Politico report, recently called former President Barack Obama a "fucking Muslim nigger" on Twitter. And just days before the election, a white-supremacist group directed robocalls to Democratic leaders in the state, saying, "I is the Negro, Andrew Gillum, and I be askin' you to make me governor of this here state of Florida."
In Georgia, just before controversies involving voter suppression and a flood of irregularities on Election Day marred the governor's race, another robocall told voters, "This is the magical Negro Oprah Winfrey asking you to make my fellow Negress Stacey Abrams the governor of Georgia." As the race reached crunch time, The New York Times reported that a photo of Abrams appearing to burn an old Georgia state flag began to "emerge on social media." That old flag featured the Confederate battle banner, and in 2000 the state government replaced the flag and admitted that it had been adopted in 1956 "in an atmosphere of preserving segregation and resentment toward the United States government." Yet Abrams's Republican opponent, Brian Kemp, attempted to use the photo to illustrate that she was "too extreme for Georgia." Continuing on that theme, on the day before Election Day, Kemp drummed up the New Black Panther Party and its support for Abrams, and ran robocalls repeating a lie that she would win with votes from unauthorized immigrants.
For the marquee races, President Donald Trump had a knack for intervening in a way that evoked the language of the old segregationists. A day before the runoff between Espy and Hyde-Smith, which was triggered after neither gathered the 50 percent of votes needed to win, Trump echoed an old-school racist innuendo about Espy on the trail in Tupelo. "How does he fit in with Mississippi?" the president asked about the former congressman from Yazoo City, whose grandfather built Mississippi's first black-owned hospital. Before the general election, without citing any evidence or giving any reasoning, the president called Abrams "not qualified" and stated that she intended to turn Georgia into a "giant sanctuary city." The president did one further for Gillum, labeling him a "thief" on Twitter. Those characterizations from the president are just one more example of a GOP signature strategy: closing with racist appeals.
As they did in Georgia and Florida, race and racism cast long shadows this November in the Magnolia State. Espy's parting words imploring Hyde-Smith to "unite a very divided Mississippi" were ironic. It's hard to imagine a person who could possibly be a greater icon of the things that divide Mississippi than Hyde-Smith. She secured the victory just weeks removed from the infamous reference to "public hangings." She won on the strength of racial polarization at the ballot, after embracing Confederate symbols and history, and after local news reports revealed she'd gone to a private school designed to resist racial integration, and sent her daughter to one, too. There's little evidence that those things hurt Hyde-Smith at all in the final outcome. In fact, Mississippi showed what was also evident in Florida and Georgia: At least when it comes to squaring off against black candidates, running refurbished versions of George Wallace–era campaigns still works. In other words, the Southern Strategy is still the southern strategy.
That realization has both tempered and excited black voters and organizers. Across the state Tuesday, those conflicting emotions showed up in black communities. A waitress in a Jackson Waffle House encouraged every patron, with every meal, to go out and vote, even as she told me she thought Mike Espy would probably lose. Small farm co-ops skipped the day's meetings in favor of knocking on doors. Young black activists canvassed the Delta, driving miles down county roads to scrounge black votes. The night before the election, luminaries such as newly elected Representative Ayanna Pressley of Massachusetts descended on Meridian. Mississippi doesn't usually get this much attention during big national and statewide elections, and black voters here are often underserved by national parties, if not outright ignored.
In the end, the same old forces that have often shaped the lives of those black voters for the worse still won out. For the party reliant on their votes, that lesson is sobering. Although Espy ran closer than any other Democrat would have, although the Democratic Party made huge gains in this year's midterm elections across the country, and although the House and state legislatures have seriously increased their diversity this year, the main barrier in the Deep South especially—where the highest proportions of black voters live—is the degree to which white voters will shun black candidates, and the degree to which bigotry will derail those candidates. In a world where gerrymandering and segregation dominate legislative maps, it's possible that legislatures could become somewhat more racially diverse and representative, even as statewide positions become less so, and even as overtly racist appeals to voters gain traction, especially throughout the South, where racially polarized voting is most often exhibited.
Espy's defeat is the final moment in a series of demoralizations of black voters in the South. While the politics of Espy, Gillum, Abrams, and Jealous are substantially different from one another, they did represent the chance to accomplish something historic, and to finally reach a breakthrough point for the dream of racial political equality. After a century and change of waiting, the tantalizing defeat on the brink of success is especially bitter.
But, as Espy noted in his speech, there are other more positive signs for black candidates in the South. "Did you know that we built the largest grassroots organization that our state has ever seen in a generation?" he asked supporters. "Make no mistake. Tonight is the beginning. Tonight is not the end." As has been the case in Florida and Georgia, the organizing infrastructure and the voter-engagement strategies in Mississippi, which was until this election considered a no-fly zone for Democrats, have become powerful change-making forces in their own right, even as the Espy campaign winds down. Espy characterized that possibility as "a movement."
From Alabama to Georgia to Florida, and now to Mississippi, black politicians and voters have told me that they do believe they are building a movement, and that even in losing campaigns, they are building the infrastructure not just to promote black candidates, but to ensure that the needs of black communities are met for the first time in decades.
It could be the case that a movement does arise, and this organizing effort and others like it make strong slates of black candidates across the ballot the norm, rather than the exception. It took a cataclysmic war to give Revels a path to the Senate, and to shake his black colleagues in government out of their chains. It took a massive civil-rights movement to give the ballot to black people, a movement that started in Mississippi. If those conditions ever do come to pass, the words of Revels found on his portrait in the Civil Rights Museum will have new relevance: "We are determined that Mississippi shall be settled on a basis of justice and political and legal equality."