Why Young, Talented Democrats Flee the House
The lack of young challengers to Nancy Pelosi as the next House speaker is both a symptom and a cause of her leadership.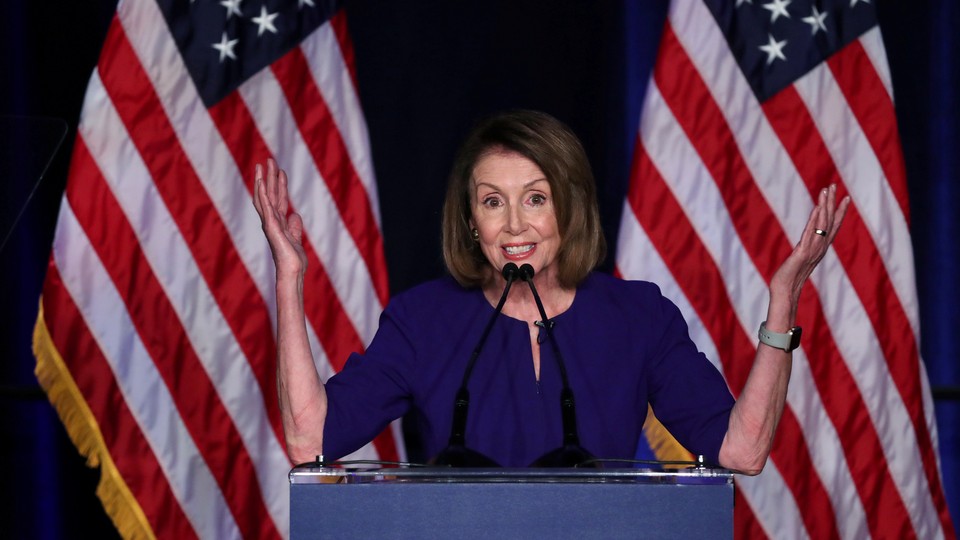 One of the great ironies of the 2018 midterm elections is that the Democratic Party's emergent stars—Representatives Kyrsten Sinema and Beto O'Rourke—likely would have remained nameless had they tabled their Senate bids in favor of another term in the House.
This isn't only because Senate candidates can attract a brighter spotlight than they would as one of hundreds in the lower chamber. It's because the House Democratic caucus is increasingly viewed as an unfriendly environment for rising talent. Against a nearly two-decade-old leadership structure and term-limitless committee assignments, more and more members have begun to eye the Senate or state office as the antidote to their long-shot prospects of scaling ranks in the House.
That reality has been brought into relief in recent days, as House Democrats scramble to prepare for internal leadership elections later this month. A handful of members are attempting to deny Nancy Pelosi the votes she needs to be speaker, arguing that yet another term of septuagenarian reign—presumably with Steny Hoyer and James Clyburn at the top, as well—would ignore the desire for change voiced by voters earlier this month.
The problem, of course, is that Pelosi's detractors have failed to put forth a viable alternative. But they argue that this, too, is an indictment of current leadership: It's not so much that the caucus lacks a solid bench, their thinking goes, but more that its most talented members have been given little opportunity to flex their muscles. "The notion that there's no one more experienced than Nancy Pelosi is a self-fulfilling prophecy because you can't have experience if you can't gain experience," one senior Democratic aide, who requested anonymity for fear of backlash, told me. "Our best members will keep leaving when they continue to see there's no movement at the top."
It's an odd quandary for the party that consistently dominates the Millennial vote and whose last successful presidential nominee campaigned on a message of hope and change. But if current dynamics stand, Democrats can likely expect yet another Pelosi-led term. This, even as a raft of young lawmakers, many of whom explicitly pledged to oppose Pelosi in their campaigns, makes its way to Washington. It's an indication that while Democrats may not have a young-voter deficit, when it comes to leadership, they certainly have a young-member one. And party veterans worry that because of this, especially ahead of 2020, they are hamstringing a crucial incubator of future leaders.
"The fact that Paul Ryan was a vice-presidential candidate just because he was [House] budget chairman is pretty impressive," former Representative Patrick Murphy, a 35-year-old who left the House to challenge Senator Marco Rubio in 2016, told me. "We're not giving those opportunities to our members … I think it's led to a lot of bigger problems in the party."
Members and aides frustrated with leadership point to competitive races down the ballot as evidence of the strength of their bench. Running for Democratic Congressional Campaign Committee (DCCC) chair, for example, are Representatives Cheri Bustos of Illinois, Suzan DelBene and Denny Heck of Washington, and Sean Patrick Maloney of New York (though Maloney, oddly, hasn't paid a dollar of his $125,000 in DCCC dues, according to records shared with The Atlantic). Except for Heck, who is 66, all members are in their 50s. Bustos and Maloney both represent pro–Donald Trump districts, and Bustos is the first woman her district has sent to Congress. The race is shaping up to be exactly the kind of contentious election leadership is hoping to avoid, but one Pelosi naysayers say is necessary in achieving a stronger caucus.
And then there's Hakeem Jeffries running for caucus chair. Alongside Bustos, the New York member chaired the Democratic Policy and Communications Committee ahead of the midterm elections. At 48 years old, Jeffries was considered a potent challenger to Pelosi for the speaker's gavel. Had he won, he would have been the House's first black speaker. According to multiple sources, his candidacy has sparked some ire among women in the Congressional Black Caucus, who had hoped to see one of their own, Representative Barbara Lee of California, run the caucus. Still, Jeffries is largely seen as a shoo-in, especially as whispers of a future speakership abound.
In other words, Democrats believe their caucus has no shortage of talent. At the same time, however, up-and-comers like Bustos and Jeffries are battling, put simply, for some of the least influential positions in the House. Pelosi's critics believe that's by design. "If you're a new member, those positions can seem like an exciting prospect, but you quickly realize what their limitations are and how hard it is to rise up from them," the senior Democratic aide said. "So you find yourself in these made-up positions that don't pass the smell test as real leadership opportunities, and then you wake up one day and you're Joe Crowley, sitting in the caucus-chair position for so long and then realizing it's too late."
Equally frustrating for the Democrats I spoke to is that this is not at all the case for House Republicans. Unlike Democrats, for example, Republicans term-limit their committee chairmen, making it possible for young and talented members to take over powerful committees early in their tenure. As Murphy, the former representative, pointed out, Paul Ryan is a good case study in the benefits of this policy: Ryan was only 41 when he took over the Budget Committee, a position that allowed him to build a national profile and attract attention from party leaders. Less than five years later, he gaveled in as speaker of the House.
"The Republican rules when it comes to term limits for chairmen is just how we view leadership," National Republican Congressional Committee (NRCC) Spokesman Matt Gorman told me. "It encourages younger members to step up so we don't see the stagnation we've seen on the other side."
There's also broader institutional support for young members. Like Ryan, 53-year-old House Majority Leader Kevin McCarthy—likely to be the GOP's minority leader in the new term—was identified early on by the NRCC as a potential leader. Then–Majority Leader John Boehner appointed him as a freshman in 2006 to the powerful Steering Committee; two years later, he was named chief deputy minority whip.
Put another way, the likely leaders of the GOP in the 116th Congress—McCarthy and the likely minority whip, Steve Scalise—were freshmen when Pelosi was previously speaker.
"The Dems talk a big game about Millennials, but then send them to the back of the line when they get elected to Congress," said Fritz Brogan, a chair of Maverick PAC, a group that aims to elect young Republicans to Congress.
Yet for every Democrat opposed to current leadership, there's another one—or two, or even three—content to maintain the status quo. Pelosi's detractors are pushing for a rules change that would require a speaker candidate to win 218 votes, rather than a simple majority of the caucus, to move to a floor-wide vote. But on Monday afternoon, a group of 14 Pelosi allies circulated a letter expressing their opposition to such a change. Those members argued that changing the rules would "empower a small minority of Members to override how we use our Caucus to select Democratic leaders in the House."
"It would thus invite small groups of Members to form in order to extract this or that concession—a committee or subcommittee chairmanship, a party office, or a legislative commitment—as the price for not holding up the entire process of legislative governance," they wrote.
Other pro-Pelosi members have stepped forward in recent days to reiterate their support for the California Democrat. In his own "Dear Colleague" letter on Monday, Representative Elijah Cummings of Maryland, the Oversight Committee ranking member, stressed to colleagues that opposing Pelosi would simply bolster Republican efforts to "vilify our leader."
"Some have suggested that Nancy Pelosi has been our leader for too long," Cummings wrote. "But most House Democrats have never served in the majority, and only a handful have ever chaired a full committee. At this moment, we need her experience and effectiveness more than ever."
As the debate over Pelosi's future continues, some young members are choosing to focus on paths forward that don't necessarily include leadership. Institutional support is nice, 38-year-old Arizona Representative Ruben Gallego told me. But ultimately it's up to members to carve out a name for themselves—a task even more crucial when leadership stays static.
"You don't need leadership to help you get a position or gain prominence within the caucus," Gallego told me. "If you're aggressive enough with fund-raising, with your social-media presence, and going on cable news … leadership becomes more and more irrelevant."
All the same, he said, no one is entitled to a top position in the caucus. Pelosi et al., he said, "lose nothing by coming to talk to us about what they actually want to accomplish."
"They can't just expect a vote because they've been doing this forever."