A Historic Wave of Support for American Jews
After a gunman killed 11 at the Tree of Life synagogue in Pittsburgh, hundreds of thousands of non-Jews attended Shabbat services around the world.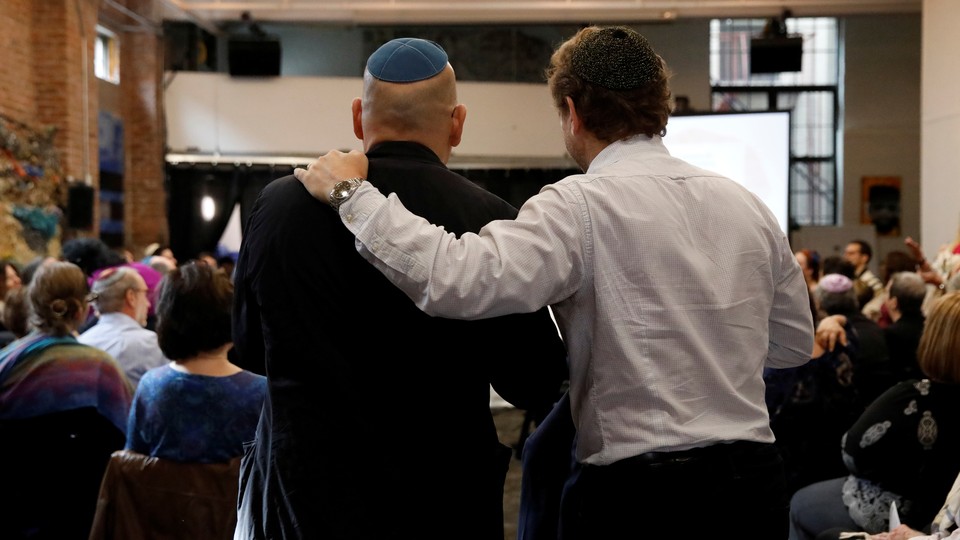 The Sixth & I historic synagogue in Washington, D.C., could have been mistaken for a nightclub or a concert hall on the first Friday after the synagogue shootings in Pittsburgh. By 5:30 p.m., the line to get in for the 6:30 Kabbalat Shabbat service ran the full length of one block and around to the end of the next. The synagogue had prepared to seat about 700 people.
Instead, 800 people packed its main sanctuary and a generous amount of standing space. And yet, so many people—hundreds—remained outside in the rain that Heather Moran, the synagogue's executive director and CEO, announced that an impromptu second service would be held directly after the first, for those willing to wait. Nearly everyone stayed.
Less than three days after the October 27 massacre at Pittsburgh's Tree of Life synagogue, the American Jewish Committee announced a worldwide effort encouraging those of all faiths and backgrounds to attend a Shabbat service over the weekend in a show of solidarity with the Jewish people, #ShowUpForShabbat. Support rushed in from every corner of the Jewish world. For those unable to attend a service in person, Central Synagogue in New York City announced early in the week that it would be live-streaming its main Friday-night service.
The week that began with a sickening display of anti-Semitic violence ended resonantly with what the AJC says was the largest-ever showing of solidarity in prayer with the Jewish people. There has also been a notable level of support for the Hebrew Immigrant Aid Society, given its tragic connection to the shootings in Pittsburgh—the gunman invoked the refugee-resettlement agency and said it was bringing in "invaders" minutes before he set off on a rampage that left 11 dead.
Melanie Nezer, HIAS's senior vice president of public affairs, said the organization caught the public's attention last year after strongly protesting the Trump administration's travel ban targeting several Muslim-majority countries, as well as other efforts to bar immigrants and refugees from entering the United States. But that support has paled in comparison to the wellspring of donations, notes, and volunteers in what has been the greatest expression of support for HIAS in at least the past few decades. "All of these new people that have shown their faith and trust in us—we intend to honor that through our work," Nezer told me.
Only once before in American history had such a large gathering occurred in a time of Jewish crisis. Two days before Mikhail Gorbachev's 1987 White House visit, more than 250,000 American Jews and allies gathered on the National Mall—just blocks from Sixth & I—to protest the treatment of Jews barricaded in the U.S.S.R. The demonstrators wanted Russia to allow its Jewish people to leave so that they, too, could have the chance to come to America. The movement's ethos was in its name: Freedom Sunday for Soviet Jews.
When Soviet Jews were given permission to emigrate shortly after the march, it was HIAS that helped so many of them embrace that ethos of freedom in the United States.
Ken Jacobson, the deputy national director of the Anti-Defamation League, was at Freedom Sunday 30 years ago. But the turnout at Sixth & I in the wake of the Pittsburgh shootings brought to mind a more recent outpouring. "It reminds me a little bit more of 9/11," he told me. "I thought of how people had an emotional and religious need to express themselves after the terrible tragedy. All the synagogues, all the churches and mosques—everything was mobbed. On the Shabbat after that, there wasn't even a call for anything, people just gravitated to it."
The September 11, 2001, terrorist attacks weren't tied to Judaism "at all," Jacobson said. But the importance of religion as a base of consolation and community in times of both tragedy and peace, he said, is crucial to our social fabric in the United States.
"Thank God, Jewish life in America for the last 50, 60 years has been a pretty secure and stable one," Jacobson said—so much so that some have at times questioned whether the Anti-Defamation League's vigilance in monitoring and combating anti-Semitism is still relevant. "Obviously after Pittsburgh, that whole chapter is long past now," he says. "No one would dare say that anti-Semitism isn't relevant."
The inspiration for #ShowUpForShabbat came to Seffi Kogen, the AJC's global director of young leadership, and a handful of other AJC leaders on the evening of the shootings in Pittsburgh. He had learned of the shooting at the Tree of Life synagogue after sundown, along with the rest of the small but significant portion of American Jews who are shomer Shabbat: adherent to a set of holy-day guidelines that include abstaining from the use of electronics.
It is precisely the spirit of these precepts, or halachot, that makes the concept of solidarity during Shabbat so nuanced, to Kogen and others.
"In traditional Jewish practice, public mourning is suspended on Shabbat," Kogen explained. "What that means is that even if you are someone who is in your first week of mourning—the week of shiva—you leave the shiva house to go to your synagogue and be a part of the community. Of course, everyone will still have mourning in their hearts," Kogen added. "Of course people, as they show up for Shabbat, will be thinking about what happened in Pittsburgh. But they'll be there also rejoicing in Shabbat."
By the following Friday afternoon, with #ShowUpForShabbat an international phenomenon, Seffi was still helping the AJC juggle requests from people all over the globe looking to be put in touch with nearby synagogues: a Muslim member of the French Parliament looking for a synagogue in the region of North Africa he was visiting with his family; a woman visiting her father in the Spanish countryside who sought out a liberal congregation for the first time in years; a Canadian abroad in Hiroshima who resolved to travel 300 miles by train to attend one of two synagogues in Japan.
Sixth & I is one of the country's central hubs of progressive Jewish life, a sort of standard-bearer for what a Jewish house of worship crafted for a secularized 21st-century lifestyle should look like. The building has been reborn multiple times since it was constructed in 1852—first as a series of Jewish congregations, then as a church, then once again as a synagogue. The spirit of interfaith activity is baked into its core, and it has often served as a meeting spot for the D.C. chapter of HIAS.
Jasmine May Lee and Farhad Chosky were among those waiting outside Sixth & I. Lee, who graduated from Rutgers University last spring, had been walking past Sixth & I on her way to work earlier in the week and asked a security guard at the temple if there were any services she might be able to attend there in memory of the 11 Jewish victims murdered at the synagogue in Pittsburgh. When she arrived on Friday at 6:25 p.m. with Chosky, her brother Kevin, and their friend Kshirajaa in tow, the line was barely moving. Lee and Chosky live down the block from Sixth & I, but in the hour and a half that the group stood waiting to get inside for the second service at 8 o'clock, they "never once considered going home." As they waited, Sixth & I staff brought out the challah intended for the kiddush blessing after the service and handed it all out along the congested block.
To Lee, it was simple: "If something were to happen to someone from the Chinese American community, I know I'd appreciate it if people who are outside of my community came to show support, so I wanted to do the same."
There was no way for the AJC to count exactly how many people "showed up" for Shabbat on November 2 and 3, but the rough estimate of Jews and their friends and supporters who packed synagogues across the world is at least in the hundreds of thousands.
Inside the sanctuary, when Rabbi Shira Stutman turned the page in her siddur to find the Hebrew prayer of mourning, the kaddish—a page printed with the same lettering as that morning's Pittsburgh Post-Gazette—she paused.
Traditionally, she explained, only those observing a formal period of mourning for a close relative would rise for the prayer—but tonight, she wanted all those present at Sixth & I to stand in three waves. First would be those in attendance as allies to the Jewish community, perhaps those of other religions or no religion. The next group would be those belonging to the Jewish community at large, followed by, finally, those who considered Sixth & I their spiritual home. They'd all be reciting the prayer for Joyce Fienberg, Richard Gottfried, Rose Mallinger, Jerry Rabinowitz, Cecil Rosenthal, David Rosenthal, Bernice Simon, Sylvan Simon, Daniel Stein, Melvin Wax, and Irving Younger, as well as Maurice Stallard and Vickie Lee Jones, two African Americans killed by a gunman several days before the Pittsburgh shootings in the parking lot of a Kroger store in Louisville, Kentucky, in what was immediately investigated as a hate crime.
Rabbi Stutman had thought that "about 10 or 20 percent" of the evening's attendees would be those who identified as (primarily non-Jewish) allies. But when she asked the first wave to rise for the kaddish, 40 percent of the room stood in the pews and on the balcony. The rabbi's eyes welled up so quickly that from the audience, it almost seemed that she'd momentarily forgotten to breathe.
Jennifer Wachtel, a University of Maryland master's student studying refugee and immigration history, sat front and center, huddled tightly with a group of friends who all waited to stand with the third wave for the mourner's kaddish. Wachtel has attended Sixth & I frequently in recent years: A number of times, she's come for HIAS meetings, an involvement that began for her after the 2017 Women's March in Washington. "I was concerned about what the new president was saying about Muslim women, specifically," Wachtel told me. "I was very concerned, because it reminded me of what had been said about Jewish women in the past … broadly, just dehumanizing them."
She, like the Anti-Defamation League's Jacobson, reflected on the duality of life for many American Jews. "At the same time that there's rising anti-Semitism, there's unprecedented acculturation, where we feel more welcome and more integrated into general American culture than we have before," Wachtel said. "In my head I was thinking, Maybe that's why people are so surprised. Because day-to-day life is very normal for me. But then I see swastikas and 'Kill all Jews' being spray-painted onto synagogues."
After news of the shootings in Pittsburgh reached Rabbi Rachel Grant Meyer, HIAS's director of education, she spoke with staff about a line from the Torah that comes after the deaths of Aaron's two sons: And Aaron was silent. "Jewish mourning rituals tell us to sink into our grief in the wake of tragedy," Rabbi Meyer explained in an email, "to sit low, to lean into community.
"But they also tell us that, after a certain period of time"—and this came on the Friday after the shootings, at synagogues around the world—"we have to literally rise up out of our grief and return to life, and, in so doing, we honor the memory of those we have lost."