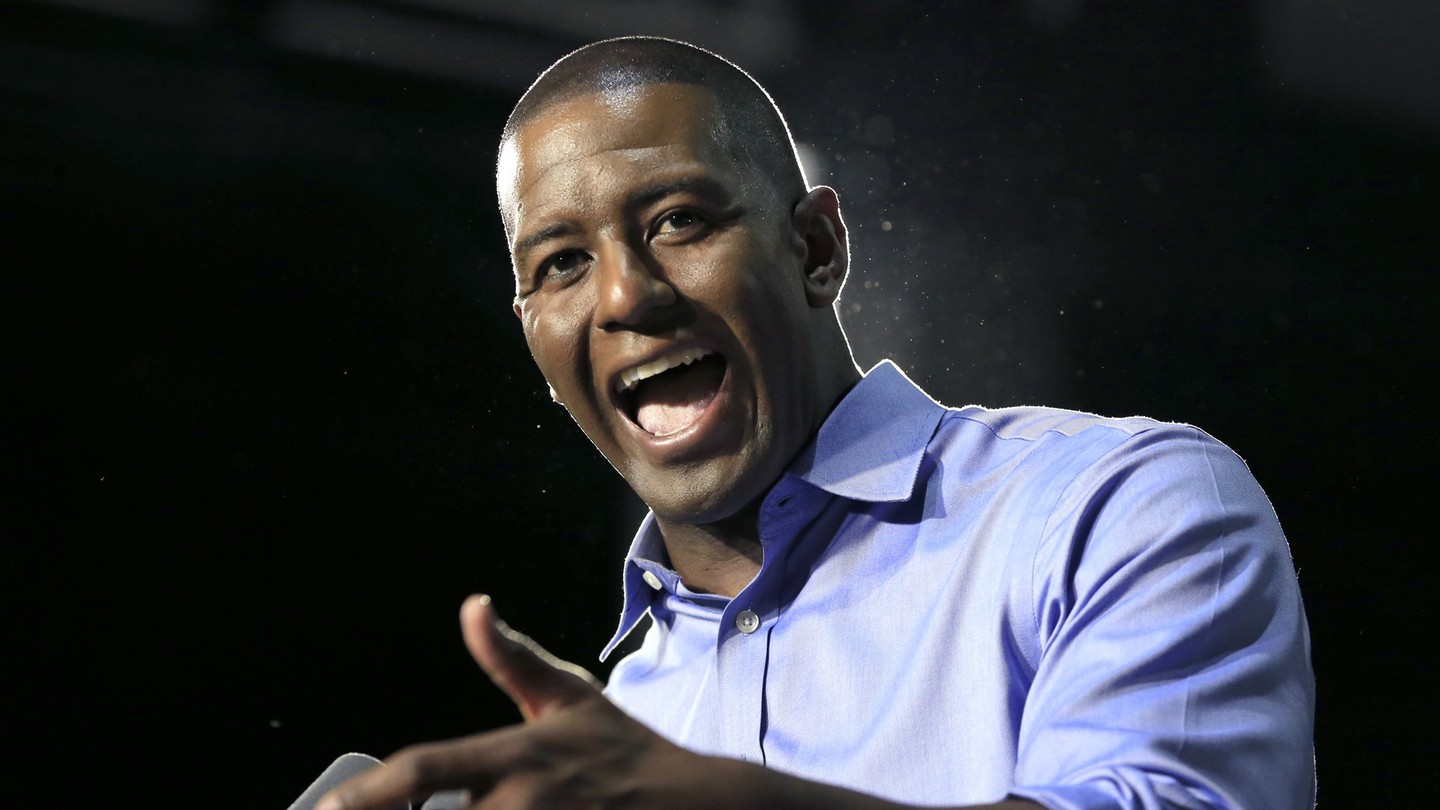 Andrew Gillum Is Florida's Homecoming King
Andrew Gillum's chances in the Florida governor's race rest on expanding the electorate. If he wins, that expansion could change the country.
TALLAHASSEE, Fla.—There's nothing quite like the cacophony of the homecoming parade at a historically black university. Here at Florida A&M, children run between floats, yelling and laughing as they chase down pieces of hard candy. Bass from car speakers and from roadside DJs rattle trunks and ear drums. Frying fish crackles and street vendors hawk orange and green shirts. And at the center of it all is the marching band, the legendary Marching 100. Shiny trumpets blare, drum majors strut, and dancers twirl. That's what people come to see.
But this year, at Florida A&M's homecoming, things are different. It's Andrew Gillum who gets most of the applause. Tallahassee's mayor and one of FAMU's most famous sons has turned the Saturday-morning parade into his own campaign rally. Gillum, the Democratic nominee for the state's governor, is at ease in the electrified atmosphere of his alma mater. He and his wife, R. Jai Gillum, take turns pushing their 1-year-old son, Davis, in his stroller, in front of dozens of volunteers who march behind. Children yell "There he go!" from blocks away. Gillum kisses babies, shakes hands, and takes selfies. Among the masses of black people lining the street, several tell me it's been a decade since they've been this enthusiastic about a candidate.
Lost in much of the national coverage of the Florida governor's election is the fact that, well, it's about Florida. In a bellwether election year, where the effectiveness of President Donald Trump's anti-immigrant, white-backlash-fueled nationalism is being put to the test as a top-to-bottom electoral strategy across the country, Gillum has emerged as one of the favorite figures among the opposition. A black man who has faced a slew of blatantly racist attacks and who, in a viral moment during a debate, said that racists believe that his opponent, Ron DeSantis, is a racist, Gillum reflects a new potential pathway for that opposition, one that sees combating racism and bigotry as an opportunity and not as a political minefield.
But here in Florida, his potential reflects the deeper possibilities of the state's electorate. An urgency seems to be animating the applause of the mostly black crowd at FAMU's homecoming, born both of a sense of the magnitude of the opportunity at hand, and anxiety about letting it slip away. In a place still bound in many ways by the strictures of old Jim Crow, the changing demographics of a growing black and brown population meet the realities of a statewide carceral machine and widespread structural disenfranchisement. Over years and years of tight gubernatorial races, razor-thin presidential margins, and efforts among activists to match Florida's politics to its demographics, the biggest political issue in the state in 2018 is the size and structure of the electorate itself.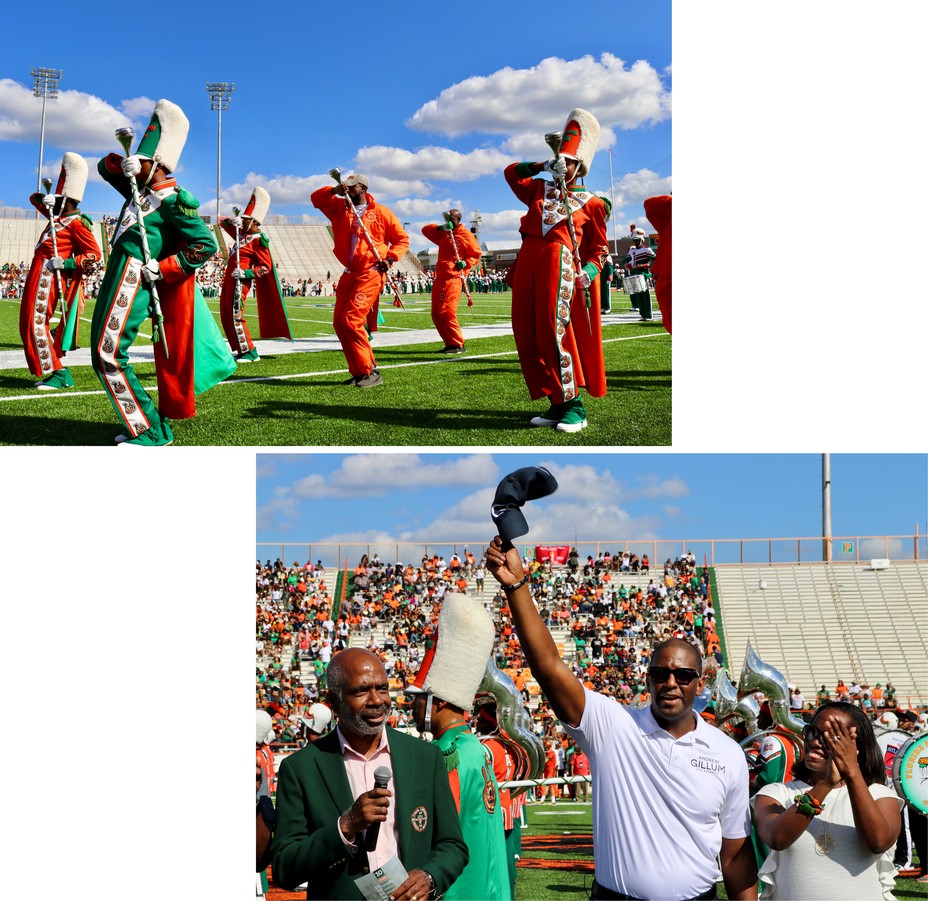 Gillum's candidacy is a turning point for the state's black and Latino populations, and his campaign hopes rest on expanding the electorate as much as possible. His success could mean the realization of a major political shift in Florida—one that will most certainly have major repercussions nationally in 2020 and beyond.
Andrew Demese Gillum's perfect storm began 17 years ago, in the exact same place where the 39-year-old is now greeted as a local hero. In 2001, he was elected the president of FAMU's student body, and subsequently became the first student member of the university's board of trustees. From there, while still in school, in 2003 Gillum ran for an open position on the city commission and won. A decade later, he launched a successful bid to become mayor of Tallahassee. Four years after that, he threw his hat into the Democratic primary for governor. If he wins this race, it'll be possible to trace his entire career path along two miles of the same street, from FAMU, to City Hall, to the governor's mansion.
According to people close to Gillum, running for office was always in the cards.  "I've known him since freshman year," says Yarbrah Peeples, an educator who entered college in the same class as the mayor. "Andrew started at FAM campaigning. We absolutely knew that he would get here one day."
"People have known him here and in the community since he stepped on this campus," Peeples told me during the parade. She'd walked over from an event commemorating a special anniversary of her induction into the Beta Alpha chapter of Delta Sigma Theta, the sorority of which R. Jai Gillum is also a member. "It's just become something where people feel proud and feel connected to him … it feels like he's ours, even in a different way than Obama."
After the parade, I asked Gillum about that sense of kinship and ownership among his longtime supporters, and whether it felt more distant as he approached the big time. "The community is coming with me," Gillum answered. "We may be of different races and may be from different parts of the state, but there is something that's real common between me and a lot of people."
"Now that the circle is widened, does it lessen the hold that this community—in particular, the FAMU community—has on me?" he continued. "I just have to say, I would find that quite impossible to divorce myself from. Not that I would try to anyway, but I'd find that very difficult. In fact, this is the kind of experience that I think a governor does need when going into office and leading a state."
No Florida governors have had experiences quite like Gillum's. The state has never had a black governor. In fact, Gillum would be the second black statewide elected official since Reconstruction, in a state where 13 percent of all voters are black. There are no HBCUs represented among the alma maters of those who've lived in the governor's mansion. Relatively few recent Florida governors were even born and raised in Florida. It's been two decades since the last one.
There are few politicians of prominence—in Florida or otherwise—who share comparable life experiences with Gillum. Born in Miami to a lower-working-class family, he has intimate experience with the safety-net, health-care, and criminal-justice systems that he has pledged to reform. Four of his brothers—Terrance, Eric, Chuck, and Patrick—have faced serious criminal charges and convictions. "Most would say I probably shouldn't have made it out of the neighborhood," he told me. In the language common to many black working-class neighborhoods, where relatively few young men manage to maintain the escape velocity needed to leave, Gillum is chosen.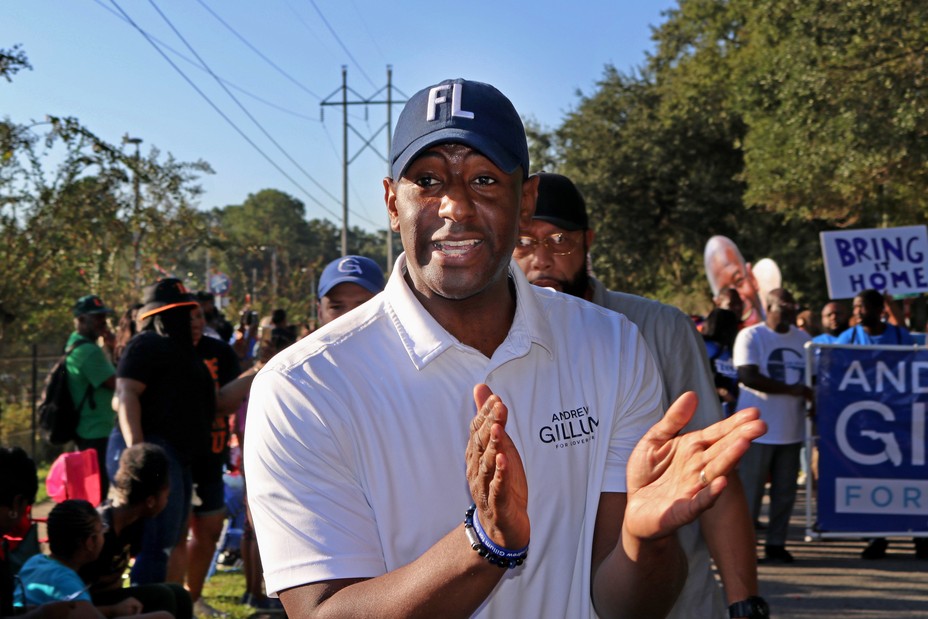 That personal story and connection with voters of color gives supporters hope that Gillum will be able to break the hold that the GOP has had over the office since Jeb Bush's inauguration in 1999. Nationally, the Republican Party has become almost explicitly a party for white men, a consolidation of demographic strength that has accelerated in recent years with the advent of Trumpism. In Florida, that dynamic has been made clear with the GOP's nomination of DeSantis, who began his attacks against Gillum with an ill-advised warning to voters not to "monkey this up."
Read: Andrew Gillum, Ron DeSantis, and the fight for Florida
But in tandem with those developments, efforts to constrain the political strength of nonwhites—who have become an ever-greater voice in Florida's electorate—have gained new relevance. The staggering democracy-warping effects of policies such as  Florida's policy of stripping people with felonies of their right to vote have been well studied. And, since 2013, after the Supreme Court's decision in Shelby County v. Holder destroyed most federal proactive oversight of election laws in the old Jim Crow South, mounting evidence points toward increased efforts to suppress votes. Gillum's path has involved figuring out how to navigate those barriers, and how to solve a decades-old problem of low turnout among black and Latino communities in midterm elections.
Lovell Lee was born in 1967 in Miami Beach, just two years after President Lyndon B. Johnson signed the Voting Rights Act that guaranteed the right for black people to vote. He'll be 51 in November, and he has not been able to vote for more than a decade.
In 1987, at the age of 19, Lee joined the United States Marine Corps. He received an honorable discharge four years later, but after returning to Florida from Okinawa, Japan, Lee says that he had trouble adjusting to civilian life. Within a few years, he had picked up a serious addiction to crack cocaine, which landed him in prison in 2005. "I served two years in prison for felony crimes," Lee told me. "I have not committed any crimes since, but I still have found it difficult to apply for jobs. It was still being held against me, even though I have paid my debt to society."
According to The Sentencing Project, a criminal-justice research and advocacy group, Lee is one of the 4.7 million Americans who are not incarcerated but will be ineligible to vote in this election because of a felony conviction. Three million of those are people who, like Lee, have completed parole or probation and live in states where disenfranchisement, even after the completion of all sentence and post-sentence obligations, is permanent or conditional. Of those 3 million, half live in Florida.
As my colleague Gabby Deutch writes, the twin policies of permanent felony disenfranchisement and mass incarceration have combined to keep 10 percent of Florida's population from voting. As one might expect, the effects have been particularly damaging for Florida's black population: More than 20 percent of all black people of voting age are disenfranchised because of felonies. This is not incidental or accidental. Felony disenfranchisement was a part of the state's 1868 Constitution, a single component of a suite of provisions designed to keep the state from becoming "niggerized," according to one legislator. Over the years, as the Voting Rights Act and other legislation have wiped out many of the other components of the Jim Crow regime, felony disenfranchisement has actually become a more powerful influence on the electorate, mostly because of Florida's strict carceral policy for both violent and nonviolent crime.
Lee was one of the people caught up in that dragnet of disenfranchisement. Even as he got clean and embraced a role as community leader mentoring young black men in Fort Pierce, Lee never applied to the governor for restoration of his rights, both because he was certain that he'd never be approved, and because he "just didn't know how important the vote was."
But the campaign for a November ballot initiative—Amendment 4, which would grant all people with felonies except convicted murderers and sex offenders the right to vote once they complete their sentence—has given him a sense of political purpose. He volunteered to lead a group of canvassers called Hard Knocks, which attempts to spread the gospel of Amendment 4 in and around St. Lucie County, on behalf of the Florida Rights Restoration Coalition, which has championed the ballot initiative on the state level.
The stakes of the amendment, which has to garner 60 percent of the votes on Tuesday to pass, have been made abundantly clear to Lee when he visits black neighborhoods. "When we go to homes and apartments, just about all of them have a relative or friend or know somebody who has been impacted by the felony system," Lee told me. And also, invariably, he hears about Andrew Gillum, both from people who can't vote, and from people who don't often vote—but might want to.
For Lee, for the people leading the initiative, and for Gillum himself, the two campaigns are bound together, both unlikely products of a remarkable time, and each reliant on the mobilizing potential of the other. Lee sees Gillum as a champion of rights restoration, and views his candidacy—along with the gubernatorial campaigns of Stacey Abrams in Georgia and Ben Jealous in Maryland, and Sean Shaw's campaign for Florida attorney general—as correctives to the old older. "I let the young folks know that this is a game-changer for us," Lee said. "When you have all these people of color running for office, it's a sign that we can really change something."
Gillum's homecoming coronation didn't end with the parade. He hustled back and forth all over a tight quadrant of Tallahassee streets, using his home church, the Bethel AME sanctuary just off campus, as a base. He went to a fund-raiser that new Atlanta mayor Keisha Lance Bottoms—a FAMU graduate—also attended, and shuttled in and out of the sticky Florida heat, which by noon had already burned the backs of my hands. At the church, I overheard volunteers working through the logistics of finding him new white shirts—his wardrobe signature—to wear for the afternoon, to keep up with the humidity and the stains from the dozens and dozens of hugs.
At the temporary headquarters, Gillum slowed down for a moment to talk about the symbiotic relationship between rights restoration and his own campaign. "Florida's one of four states that still has these vestiges of the Jim Crow South, and I believe that more than 60 percent of voters are going to vote to repeal and to change the Florida constitution to automatically restore rights for a class of former felons," he said. "But the rights-restoration process, which is an absolute necessity, is the beginning, and then there are the whole other range of public policies."
He listed those policies, the kinds of progressive reforms that have truly marked his campaign as something new, even way back during his long-shot win in the Democratic primary. He wants to "ban the box" to prevent employers from discriminating against people with felonies. His education policy involves utilizing a revamped state corporate tax code to establish higher minimum wages for teachers. Unlike Abrams, whose health-care platform revolves around a statewide Medicaid expansion but who has remained quiet on the prospect of a "Medicare for All" scenario, Gillum embraces both policies. With a new influx of Puerto Rican residents after the disastrous fallout of Hurricane Maria in 2017, Gillum pledges to seek federal housing assistance for displaced residents. And he intends to dismantle the infamous "Stand Your Ground" policy, Florida's self-defense law that played a central role in the killing of Trayvon Martin in 2012.
"I have not concluded that my position on Stand Your Ground is the popular position in the state," Gillum told me."It probably isn't. But hell, during the time of the civil-rights legislation and the crumbling of Jim Crow, it was not popular to dismantle those systems of racism."
Gillum talks a lot about the legacy of Jim Crow. But it's not just him: Each person I talked with for this story mentioned the old regime by name when discussing the current moment. Much of the historical resonance seems to have to do with a renewed national conversation around voting rights, and in places across the Deep South, the return of voter suppression for communities of color. In Florida, the veil between the Old Jim Crow and the New Jim Crow is thin. And it all shows in just who votes, and who doesn't.
According to a review of census data from the Brookings Institution, minorities suffered a six-point drop in voter turnout from 2012 to 2016, even as white turnout rose. At least some of that appears to be a result of targeted policy. A report from the liberal Center for American Progress found that "in 2012, after the Florida Legislature cut the state's early voting period from 14 days to 8 days and eliminated voting on the last Sunday before Election Day, early voting participation for African Americans dropped by 4.1 percent relative to 2008, while participation for Latinos dropped by 4.6 percent."
Those numbers are even more concerning for Democrats in the 2018 election. Florida gubernatorial races are always held during federal midterms, which means that the underlying electorate is always whiter and older than it is in presidential elections, in which Florida is a true swing state. The path to victory for Gillum and other Democratic hopefuls is relatively straightforward: The more that they can make the election look like a presidential election, the greater chance they have of winning. And that means ensuring that nonwhite voters, who make up 23 percent of the citizen voting-age population, vote at rates comparable to that percentage.
Andrea Mercado, the executive director of the aptly named advocacy group the New Florida Majority, sees this election as an opportunity to reverse the electoral losses by minorities. "We registered over 30,000 people this year alone," she told me. During the hotly contested Democratic primary, when Gillum squared off against party favorite Representative Gwen Graham, the New Florida Majority hosted one of the debates between the two. "That night after witnessing Andrew Gillum speak about an unapologetic people's platform, our members voted unanimously to endorse him," she said.
Since then, the group has been a reliable source of organizing muscle for the candidate, seeking to turn out new voters and unlikely voters alike, and using the kind of resource-intensive voter mobilization of black and brown voters that characterized other recent paradigm-shifting races in Alabama and Virginia. Part of that effort has included some more-unconventional methods, such as commissioning Miami-based artist Disem to paint a mural of Gillum in his birthplace of Miami.
The mural's purpose was clear. "A lot of people in the primary didn't know that there was a black man running for governor," Mercado told me.
In a time when pundits of all political stripes have attempted to mothball "identity politics" as a weapon against Trumpism, the strategy in Florida has countered some of those arguments. "He's from here, and that resonates with people," Mercado said. For the potential voters she's encountered, Gillum's race and story are material, as are the policies he champions for them.
"His campaign really is energizing and electrifying people who don't feel they are being spoken to and don't have their needs met," Mercado said. That electrification was illustrated in Gillum's surprising primary win. "In the 50,000 people that we targeted, only 200 of them had voted in the 2014 midterm, and we saw a 2,000 percent increase [in turnout]. And we know it was because people were excited to vote for a black person from a working-class family who we believe will really fight for us in Tallahassee." Gillum's campaign estimates that 150,000 of the ballots cast for him in the primary belonged to people who'd voted for the first time in at least three election cycles.
At the end of the day, turnout is still the major issue in play. Turnout was probably the biggest factor in Trump's win in 2016, and it'll be the biggest for Gillum's chances. On that issue, he has taken turns both advancing the party's—and Barack Obama's—developing rhetoric of voting as a moral mandate, and levying a more structural critique about the nature of American elections and voting.
"What is not acceptable is for you to sit back and complain about everything—hoping, and wishing, and praying—and then not participating in it," Gillum told me. "And I don't mean the people who don't have the right to vote. There's a role for them to play too, but I recognize that they need their relatives and friends to vote for them, so that they can then go out and exercise their right to vote."
"It's unacceptable for me, for anybody, to conclude that 'I'm just going to sit it out; it doesn't matter anyway.' There are too many examples of how it matters for people to conclude that it doesn't," he added.
But then, Gillum gave me his "to be sure" clause. "The system in and of itself keeps turnout confined, because politicians frankly want to control who participates in the process," he said. "For a lot of Republicans, particularly in these off-cycle or midterm elections, they're very happy with who turns out, how they turn out, and how they vote when they do turn out. On the Democratic side, we're trying to change the margins only slightly by getting folks who are already expected to participate in the process to choose us. We're just moving marbles rather than adding to it."
"I don't want to be Pollyanna-ish about why people are disengaged," he continued. "A lot of people are disengaged not because they believe voting in and of itself doesn't have an impact, but because nothing changes in their lives as a result of voting, and therefore, why vote?"
Gillum sees his own mission as adding to the universe of marbles, and providing a glimpse at what politics can do to break through the amalgamated structures of apathy and suppression. He recognizes that expanding overall turnout might be dangerous—there are Republican-leaning voters who might be mobilized too—but says that he trusts that expanding democracy will serve him and the state in the long run: "Our win is premised on expanding the electorate."
After the parade, after an exhausting slate of fund-raisers and tailgate campaigning, Gillum had one more stop. The football game itself was something of an afterthought—as are many HBCU homecoming games—but he was due to preside over the opening coin flip. Just after the ceremony, he and his small army of aides and volunteers marched off the field to take a flight to West Palm Beach, where he was due to headline the annual Truman-Kennedy-Johnson Dinner, now a staple of the state party machine. But there, flanked by the Marching 100 and by drum majors leaning so low the crests on their helmets touched the turf, the message was clear: He's still one of yours.
That's the message his team hopes will win out on November 6. It's one wrapped up with some fundamental questions: Just who counts in Florida? Just who counts in America?
The 2018 election will be a reckoning on those issues. Mercado said that in the past year, her group and its affiliates have knocked on more than a million doors, informing them both of Gillum's campaign and of Amendment 4's possibilities. In many ways, in many jurisdictions, the two are functionally running mates, and she told me that the possibilities of a governor and a government that intend to reflect a larger pool of people have moved several nonvoters to reconsider participation. And, both for Gillum and for the state, proving that strategy can work has national implications.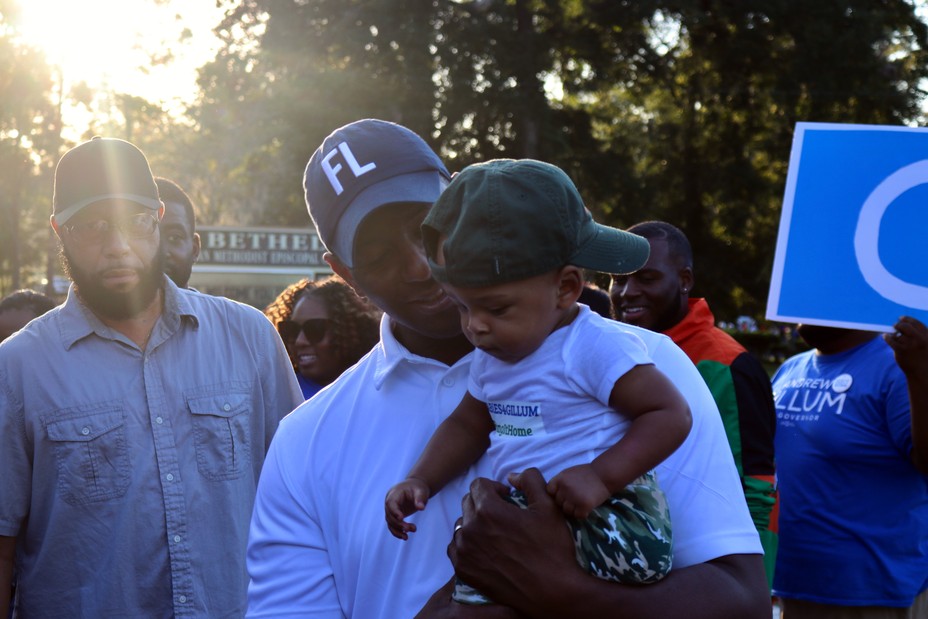 But for people like Lovell Lee, the consequences are more intimate. He's got big plans for when he gets his rights restored. He plans to vote for Gillum whenever he sees his name on the ballot. But he wants to start locally, by voting against entrenched officials in the local criminal-justice system, whom he holds responsible for the disenfranchisement that left him locked out for years.
"Hopefully you'll be hearing about us in Fort Pierce years down the road," Lee told me. "We're starting a movement."