What a New Crop of Veteran-Lawmakers Means for Democrats
They could be the start of a redefined party that's more closely associated with national security.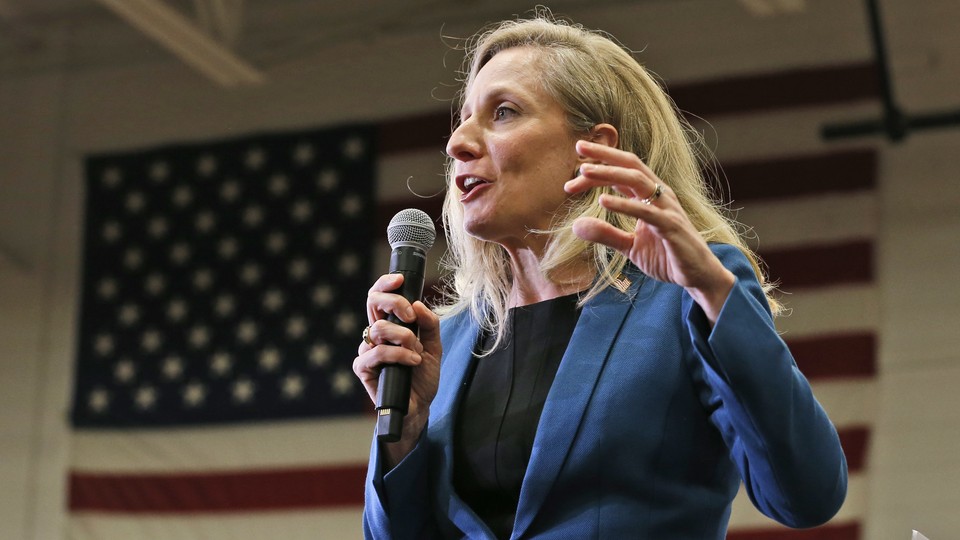 Freshman orientation on Capitol Hill can be a blur: There's the class photo, the rundown of ethics rules, the caucus meetings, the dinners. But after a grueling election season, there are highlights, too—and for Chrissy Houlahan, it was spending time with her "badasses."
That's the moniker Houlahan and some of her fellow military and intelligence veterans in the freshman class gave to their text-message group. "It's really, really exciting. We're having the opportunity to hang out in person and not in the virtual space," Houlahan told me.
Since the campaign, Houlahan, a former member of the Air Force Reserves, has been in regular contact with the former CIA officers Elissa Slotkin and Abigail Spanberger and the Navy veterans Elaine Luria and Mikie Sherrill, sharing messages of support and daily life updates. The five women—along with Gina Ortiz Jones, a former Air Force intelligence officer whose race is still too close to call—share backgrounds in national security. Now, their arrival in Congress could usher in a new era for the Democratic Party.
The new House Democratic caucus will have more incoming veterans than in any previous year since 1997, according to Seth Lynn, the head of the nonprofit Veterans Campaign. Next year, the Democratic House majority will be able to exercise more authority over the nation's national-security agenda, helming important committees like Foreign Affairs, Armed Services, Appropriations, and Intelligence. It's too early to tell how exactly newly elected members with military and national-security backgrounds will influence policy on Capitol Hill. But they could be the start of a redefined Democratic Party that's more closely associated with national security, the way it is with health care and immigration.
That's because the infusion of veterans and former intelligence officials is not unintentional. Democrats have long tried to recruit veterans, and they doubled down on those efforts last year. The Democratic Congressional Campaign Committee (DCCC) met with dozens of potential candidates. VoteVets, a progressive organization that tries to elect veterans, endorsed a slew of Democratic contenders who ultimately won their House races, including Houlahan, from Pennsylvania; Luria, from Virginia; Sherrill, from New Jersey; and Jason Crow, from Colorado. Democratic incumbents with military experience, like Senator Tammy Duckworth of Illinois and Representative Seth Moulton of Massachusetts, helped recruit veterans to run for House seats, too.
Asked what the uptick in veterans and former intelligence officials means for Democrats, Duckworth said in an emailed statement that "it absolutely strengthens" the party. "But more importantly," she added, "it is going to benefit our nation and our national security."
According to calculations by the Veterans Campaign, which assists veterans running for public office, and the University of San Francisco, voters elected the "largest cohort of freshman veterans," both Democratic and Republican, since 2010. In previous years, the number of veteran Democrats running for office has been affected by what's going on in the White House. In 2006, for example, there was a surge in Democratic nominees with a military background in response to the Bush administration's policies—specifically the Iraq War, said Lynn, who is a University of San Francisco professor in addition to his work at the Veterans Campaign. Their ranks later dipped, but they appear to be on the climb again in response to recruitment efforts and disapproval of the Trump administration.
"From the very start of the midterm cycle, the DCCC prioritized recruiting and empowering candidates with deep records of service and powerful messages that resonate with voters across the political spectrum," the DCCC spokesman Tyler Law said in a statement. Those veterans "built some of the strongest campaigns in the country and played a pivotal role in Democrats taking back the House." New Politics, a public-service-oriented recruitment group, has already said it intends to bring in more candidates, including more veterans, in 2020.
How the freshman Democrats will use their experience, if at all, is uncertain. Many of the veteran candidates sold themselves as aptly prepared to break through Washington's gridlock. And there's no shortage of national-security issues requiring attention from lawmakers—from nuclear proliferation and climate change to cybersecurity and border security. But they're still only freshmen. There's no guarantee that they'll get a seat on committees dealing directly with national-security matters.
Still, veterans argue that they can bring their experience to bear on issues that at first blush may seem unrelated to their specific expertise. Spanberger, for example, cited tariffs as an issue that benefits from a national-security perspective in addition to an economic one, arguing that it has implications for how the U.S. positions itself. "There's the issue of the United States' place in the world and the actions we're taking on a global stage," she said.
Similarly, Crow, an Army veteran who unseated the Republican incumbent Mike Coffman, cited his experience serving along the Afghanistan-Pakistan border in explaining his views on immigration. "I have immediate experience in securing borders," he told me. "I believe in strong and secure borders. That's not done by spending billions of dollars on a wall."
Each member of Congress is influenced by his or her background, veteran or not, said Christopher Preble, the vice president for defense and foreign-policy studies at the libertarian Cato Institute. How the new veterans' backgrounds inform their congressional decision-making will likely occur on an individual basis, he said—it doesn't necessarily mean that national-security issues will be prioritized by the House as a whole more than usual. In some cases, though, veterans may have more credibility to get out front on certain issues and be "insulated" against criticism, Preble noted.
That insulation could theoretically help them cross the aisle, too. Sherrill, who won a key race in New Jersey that helped Democrats take control of the House, told MSNBC that veterans have a shared sense of bipartisanship. "As a Navy helicopter pilot, I never flew Republican missions or Democratic missions. I would have had a very short career," she said. "This is something I do think vets bring to the table, this willingness to work with everyone."
Slotkin echoed that idea in an interview. Those with national-security and government experience bring a "mission focus" and would put "the mission above partisanship." It'll take until after the new class is sworn in in January to see just what that mission will look like.