Elizabeth Warren Test-Drives Her Presidential Campaign
The Massachusetts senator started a two-day campaign swing through Ohio and Wisconsin.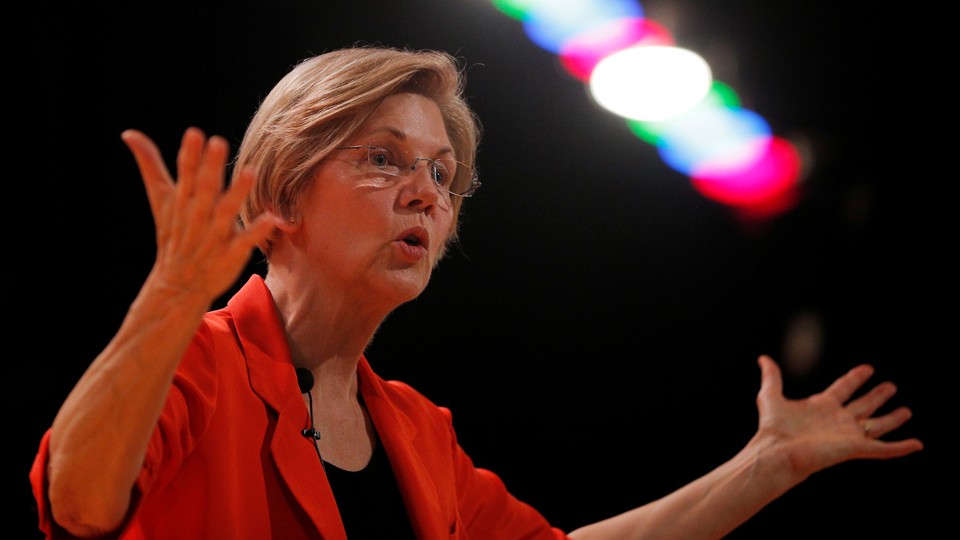 ATHENS, Ohio—Elizabeth Warren popped in here Thursday to call her old protégé and gubernatorial candidate Rich Cordray "the nerd we need." Cordray responded by saying that he didn't think the trip would be "the last stop on her whistle tour—but we'll leave that today."
No one said anything about Cherokees.
Making her first appearance outside Massachusetts since her attempt to demonstrate the strength of her presidential campaign with a DNA-test release that fell flat, Warren would not talk about Donald Trump or the campaign she's still looking at launching not long after Tuesday, when she's expected to be easily reelected to a second term in the Senate. But she did make a case against the president and his party that she said applies here in this tight election and across the country.
The choice for voters, Warren said, is about protecting health care, deciding if CEOs who break the law should go to jail, dealing with student loan debt, tackling climate change and criminal justice reform, and ending the expanded flow of money into politics made possible by Citizens United.
"Change is coming," she said to cheers.
Warren drew a crowd of more than 300 on campus at Ohio University, which Cordray joked was impressive for the afternoon after Halloween, and which was big enough for campus security to insist that they had to turn people away or risk being over fire-marshal capacity. That is not, however, at the level that Joe Biden and Bernie Sanders, largely seen as her fellow front-runners, have been drawing on college campuses in recent weeks, nor as many as Kamala Harris drew when she was on campus in Iowa City last week.
Unlike her prospective presidential-primary opponents, who spent the month doing a rush of appearances around the country—many in the early-voting states of Iowa, New Hampshire, Nevada, and South Carolina—Warren has largely stayed in Massachusetts, where she's done three debates in the last two weeks in a Senate race she's never been at risk of losing.
Also, unlike others in the field, who have tended to storm into their campaign stops with many aides (and in the case of Harris and Cory Booker, videographers), Warren arrived with barely any entourage.
But with just five days left until the midterms, Warren scheduled a two-day trip to Ohio and then to Wisconsin on Friday, bucking up candidates in states that she's hoping will be open to her brand of progressivism and help her make the case that she's electable even in states that Hillary Clinton lost.
Speaking briefly to reporters earlier in the day, Warren deliberately responded to questions about her 2020 campaign plans as if she didn't know why anyone would be asking.
"Right now, it's all about what happens on November 6. Focus, focus, focus. This is about turnout. This is about democracy working," Warren said.
Asked about the blowback to her DNA-test release and what it might mean about going up against Trump, Warren said only, "This is just who I am. I've put out 10 years of my tax returns, I've put out all of my employment records—yeah, I've even taken a DNA test. I'm an open book. It's all out there on the internet."
Her first stop of the day didn't make much of a mark. At a coffee shop and bar in Columbus, about 50 people showed, barely outnumbering the journalists and the campaign staff who'd stood outside in the rain, urging passersby to come in.
"This is a Republican Party that says we're going to work on building the future; we're going to make a government that works for a thinner and thinner slice at the top. And everyone else, you're just on your own," Warren said.
She spoke about highlights from her own life story, dropping out of college to marry her first husband, and going to a commuter college for $50 per semester that set her up for the life she's led since. There was a different balance of power in the country then, she argued, and one that she said she wants to restore.
"We weren't a perfect America, but we were trying to bend it in that direction," she said. "Right now, the Republicans want to bend it in the other direction."