Inside the Alternative Universe of the Trump Rallies
The president warns of radical, far-left Democrats and immigrant thugs in terms that bear little or no resemblance to the truth. His voters can't get enough.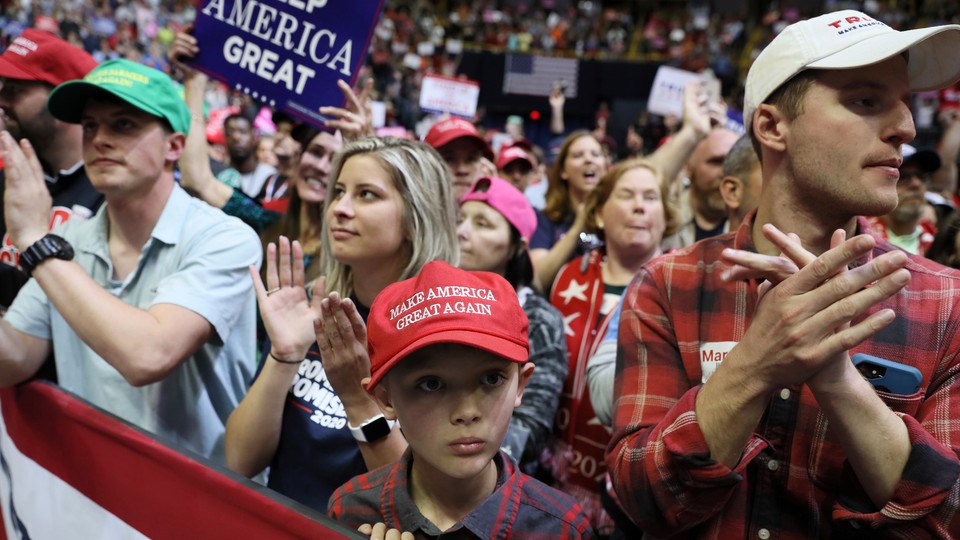 Kim Moore clapped, pulled out her smartphone, and zoomed in to snap a picture of President Donald Trump just a few hundred feet away on the stage Sunday night in Chattanooga. She and her husband listened as Trump talked about how one of the women who'd accused Brett Kavanaugh of sexual misconduct had recanted. They hadn't heard of this before, quite possibly because it wasn't true. The woman in question had never made an allegation.
"You heard on Friday, what happened?" the president asked rhetorically. "One of his accusers came out and said she never met him, that she made up the story. It was a total lie." He raised his voice and mockingly cried, "Rape! Rape!"
That prompted a smattering of shouts from both male and female voices: "Lock her up!" The chant spread around the nearly packed 10,000-seat McKenzie Arena at the University of Tennessee at Chattanooga.
"It was false accusations. She made up the story. It was a lie … And now we have to find about the others with their …" Trump said, and here he paused. "Accusations."
Moore, a 50-year-old Medicaid-program coordinator who had told me earlier that she was a rape survivor, watched closely. I wondered what she was thinking.
In the past seven days,  I traveled to Trump rallies in Fort Myers, Florida; Indianapolis; and Chattanooga; and I watched many more hours of rallies in Columbia, Missouri; Huntington, West Virginia; Belgrade, Montana; Pensacola, Florida; Macon, Georgia; Cleveland; Fort Wayne, Indiana; and Cape Girardeau, Missouri. After all that, I can attest that Trump voters are not ready to concede a monopoly on outrage. They are stoked by Trump's dystopian portrayal of a socialist America under radical far-left Democrats—a version of the country where jobs have been killed and Medicare destroyed to fund benefits for migrants pouring across open borders, where drug dealers and MS-13 killers take over sanctuary cities.
Trump's volume, his belittling rhetoric, and his misinformation seemed to escalate rally by rally as the election approached, to the point that Republicans like House Speaker Paul Ryan were begging him to focus on the economy and back off his immigration prevarications. But the people who packed his rallies seemed to love nothing more than his anti-immigrant rhetoric— "Build the wall! Build the wall!"—and they seemed to accept Trump's claims as the most reliable version of reality.
They lined up hours early, packed the house, applauded, chanted "Lock her up!" and went back out into America feeling affirmed and uplifted. Many of the rallies took place in sports arenas that seat about 10,000, some on college campuses, adding to the sense of rally as team sport. In Fort Myers last Wednesday, the crowd batted around inflated beach balls, though one man seemed to be spiking the ball toward a press pen. In Indianapolis on Friday night, three young adults got the wave to catch on, sending people standing up in sequence all around the stadium. In Chattanooga on Sunday, food trucks lined up in the parking lot where thousands waited for the arena's doors to open.
Boy Scouts show up in uniform. A scoutmaster named Andy Morris, 49, drove a firetruck-red Chevy Tahoe full of six scouts to the Indianapolis rally from their nearby town. While he waited for a prime parking lot to open, I asked whether he thinks Trump is a good role model for scouts, whose law urges friendliness, courtesy, and kindness. "Show me a perfect role model," he replied, seeming annoyed. "He's trying to keep us as Americans. He's pro-American."
By 10 o'clock the night before the Fort Myers rally, a few dozen people were already waiting on the sidewalk outside the arena. A man brought out a giant thermos of hot coffee and poured cups for strangers. Two men tossed a Frisbee. A woman stood in the road and talked about how proud she was to wave her Trump flag, the one that her daughter always asked her to take down from the wall of their home.
The very first person in line for that rally was an apartment maintenance manager who doesn't back everything the president has done. Scott Walker, 43, said he has friends whose small businesses are getting hit by Trump's steep tariffs on imported materials, Chinese goods, and other items. His buddy who builds pools has to pay more for supplies, and he has to pass on some of the cost to customers. But Walker, a longtime Republican who initially supported Ted Cruz in 2016, said he has faith that the president will have things sorted out soon enough. Trump has shown strength on trade, he said, as with the media and his political rivals. "He fights back," Walker said approvingly.
Two women in neighboring captain's chairs bonded in line. They both drove two or three hours from their homes in the West Palm Beach area on Florida's Atlantic coast. They both listened to Sean Hannity on the radio while they drove.
Virginia Sossi, 60, sat with her 14-year-old toy poodle, Snoopy, curled in her lap. Trump originally appealed to her because of his opposition to Obamacare, which she said had caused a drop in patients at her husband's eye-care clinic. Sossi's family is Italian, which she said gives her a firsthand appreciation of the dangers of the socialism from which the president was saving the United States.
The second woman, who refused to give her name, tucked her arms into her T-shirt to ward off the slight South Florida chill. She joined the president in blaming America's divisions on the media. She spoke about the camaraderie she'd already found in the first few hours in line—the sense of community, almost like family.
The rallies begin with a prayer, which concludes in Jesus's name and a resounding amen. Sometimes even the invocation sounds like a campaign speech, as in Chattanooga, where a local preacher's invocation gave thanks that Trump serves the country "while he could've chosen to count his money and relax for the rest of his life." In Fort Myers, the local state Senator Lizbeth Benacquisto's final supplication was for the president: "May he embody the shining light of freedom and goodness as he works to make the world and America great again. Jesus, it is in your name we pray."
Then comes the Pledge of Allegiance. And then, unlike the NFL players Trump likes to taunt, everyone stands for the national anthem, hands holding red hats over hearts. Cheers erupt at every mention of God. In Indianapolis, a 70-something retiree named Judy Lathrop told me she was first attracted to Trump's campaign when he promised to "put the Christ back in Christmas."
Trump reads the same boilerplate speech at every rally but spends considerable time ad-libbing, mixing fact and fiction as he touts what he says has been the greatest first two years of any presidency in history.
Some of his claims are easier to check than others. In Pensacola, for example, while mentioning how he went through with a promise to move the American embassy in Israel to the divided city of Jerusalem, he says, "We converted a building that we had for less than $500,000." Yes, but that was just for temporary upgrades; in July, the State Department awarded a $21.2 million contract for additions and security upgrades. Other boilerplate claims—the Democrats will triple your taxes, and destroy Medicare, and open the borders, and sign up undocumented migrants to vote—are more easily categorized as fabrications. No one inside seems to care.
While Trump accurately points to the lowest unemployment rate in 50 years and cites consistent GDP growth, he brags hyperbolically about job creation. On Friday, when the government reported employment data for October, he diverged from the scripted line about celebrating achievements, tossing up both hands so that his upper body formed a W shape and asking, "How were those jobs numbers today? How were they?" (They showed another solid gain, making it 97 straight months of growth.) As the Indianapolis crowd cheered in response, he turned around to the supporters in the stands directly behind him and nodded, as if to acknowledge an unprompted compliment.
He has a line that casts employment growth as beyond anyone's expectations during the 2016 campaign: "If I would have told the kind of numbers that we've achieved, nobody would have believed it. They would not have let us get away with it," he says in every city, pointing his index finger at the press pen directly opposite. A scattered round of boos breaks out. For anyone who doesn't peruse economic data—most people—this allusion to a theoretical fact check from "the enemy of the people" makes his claim sound all the more impressive.
But federal data show that fewer jobs were created in Trump's first 21 months in office than during the last 21 months of the Obama administration—4.1 million after January 2017 versus 4.5 million up to then. (Trump prefers his election as the starting post, but the comparison stands: 4.5 million after November 2016 versus 5.0 million in the comparable period before.) While it's notable that economic growth has continued so long since the Great Recession, Trump misleadingly creates the impression that gains have accelerated.
But supporters eat it up. "It was all doom and gloom under Obama. I lost a ton of money," Charlotte Shiflett, a retired Tennessee bookkeeper, said of her 401(k) retirement-savings account. But the data show that while the stock market has been strong for two years, it was no weaker under Obama, whose tenure saw average annualized S&P 500 returns of 16.3 percent. It seems a symptom of the increasingly polarized views of the economy; for the past decade, the Pew Research Center has found that Americans increasingly assess the economy and even their own personal finances based on whether their party controls the presidency rather than on actual results.
Trump can draw in his audience, making asides as if he were in conversation with a confidant. His supporters are invited into his inner circle. While talking about companies that were returning to the United States, he told his Indianapolis supporters about a private conversation with business leaders: "As two of the executives told me two days ago ..."
His speech gives a nod to local priorities—the steel industry in Indiana, hurricane recovery in Florida—and sometimes he regales the crowd with a story that brings out a local connection. He spent about five minutes telling the Indianapolis crowd about his history with Bobby Knight, the iconic Indiana University basketball coach, who was an early supporter.
"I get a call, and my secretary comes in. 'Sir, do you know somebody named Bobby Knight?' … I figure maybe it's 90 percent a crank call. I pick up." The president dropped his voice to a husky, grouchy-sounding imitation that brought down the house with knowing laughter. "'Hello, Trump? It's Bobby Knight.' I said, That's him. Nobody could imitate that."
He recalled writing down Knight's phone number on a piece of paper that he stuck in one of the two- and three-foot-high piles of paper in his office. When he recounts looking for the phone number months later, he leans away from the microphone for an audio effect of movement and mimes digging into a tall stack of papers. Trump's a vivid storyteller with dialogue and voices and motion around the microphone; he could be a radio actor.
Trump also winks to the conspiracy theories that float around the right-wing ecosystem, such as the baseless claim that Democrats and/or Jews—like the liberal billionaire George Soros, the first known target of the recent wave of pipe bombs sent to Trump critics—funded the caravan of Central American migrants walking across Mexico. Trump himself retweeted a video of cash being passed to caravan members; it was a single bill per person, probably worth less than a quarter, most likely from local supporters in Guatemala. This conspiracy theory engrossed Robert Bowers, the Pittsburgh man charged after last month's mass shooting that left 11 dead at the Tree of Life synagogue.
"They [Democrats] want to invite caravan after caravan—and it is a little suspicious how those caravans are starting. Isn't it?" Trump asked the crowd Saturday in Pensacola; people nodded to one another in agreement.
The previous evening in Indianapolis, an IT project manager had referenced that video of cash distribution. "They've been paid," speculated Robert Smith, 52. "They've been supported by—I won't say Democrats, but probably globalist organizations." He brought up Soros and said that, based on what he had heard, his work was "scary stuff."
While Smith, wearing a baseball cap with an eagle outlined in gold that matched his round gold-rimmed glasses, discussed the need for legal immigration to keep U.S. birth rates from dropping, as in Europe and Japan, he said, "Then we're going to bring in Muslims." He quickly reassured me, "I'm not racist," before adding that Muslims "reproduce like rabbits."
In conversations with supporters at the rallies, it became clear that many are at least intrigued by unsupported ideas that fall on the spectrum from perhaps-plausible concerns to absurd conspiracy theories, like the man wearing a 9/11 was an inside job T-shirt at the Chattanooga gathering.
The night before the Fort Myers rally, I talked with one man in a plain white T-shirt who was finishing a cigarette. Peter Connors, a housepainter with a strong New York accent who moved to Florida in 2010 for the lower cost of living, told me that while he doesn't like to watch the news, he'll tune in most nights to Fox News talk-show hosts Sean Hannity, Laura Ingraham, and Tucker Carlson.
Connors said he also liked to get his facts from WikiLeaks, the international anti-secrecy group that has published hacked Democratic emails as well as highly classified U.S. military secrets. When he, like many other supporters, described Trump as a desperately needed bulwark against socialism, he specifically named Soros as the money behind the madness.
The next afternoon I approached David and Sharon Starcher, a pair of 60-something retirees from West Virginia, as they were eating concession-stand burgers between the end of their volunteer shift and the start of the show. He had worked three decades at an aluminum mill until the company failed; Trump's focus on industry had raised their hopes for their long-struggling state. When I asked whether they'd voted early, they explained that they like to cast ballots on Election Day itself—because they figure there's less time for someone to manipulate their votes.
As people streamed out of that arena—home to a minor-league ice-hockey team called the Everblades—I encountered an earnest volunteer for Ron DeSantis's campaign handing out yard signs. John, who would give only his first name because he wasn't sure whether he was supposed to speak with a reporter, talked thoughtfully about the divisive tone of politics today and said he often watches CNN, though he does perceive a bias against Trump. He also said he liked the right-wing news outlet Breitbart and its founder, the former Trump strategist Steve Bannon, because they will be the first to publicize stories relating to a "deep state," a theorized cabal controlling the government in defiance of elected leaders. Like all good conspiracy theories, this fear cannot be disproved.
Along with optimism, camaraderie, and displays of patriotism, the rallies are filled with sound and fury. Mention of Obama's name draws intense boos. Behind the podium in Indianapolis, Trump reminded his people that Democratic Senator Joe Donnelly would have a rally with "Barack H. Obama," waving his finger to write an "H" in the air, reminding voters of his middle name, Hussein, which helped stoke the false belief that he is Muslim. (Polling in late 2015 found about 30 percent of Americans believed that, while a mid-2016 survey found a majority of Trump supporters believed it.)
In line for the Chattanooga rally, Sonya Wooden said disgust has not faded in her family. "Everybody is so over the Obama administration and how it ran America into the ground," said the 40-year-old who works in the front office of a medical practice. She and her relatives blasted Obamacare and its recently repealed mandate that adults have health insurance or pay a fine. "That's a right, for me to choose if I want insurance or to pay out of my pocket," she said.
Her relative Doris Durham, a 59-year-old administrative assistant at a country club, said she saw more poor people during the Obama years. "It sucked" was how she summed up that period. She viewed that administration as putting America second: "They didn't care if they bombed us ... It just seemed like it was all for the other countries." And, she added, "we never heard anything about God."
It isn't just Obama; crowds will boo at the mention of any Democrat: Nancy Pelosi, whose return as speaker of the House is feared by supporters for potentially bringing endless investigation and obstruction. Cryin' Chuck Schumer. Crazy Bernie. Pocahontas, Trump's racially tinged nickname for Senator Elizabeth Warren of Massachusetts. Trump said at the first of his three rallies on Monday in Ohio that he had to stop calling her Pocahontas because it's now been proved that she has no Native American blood, as she had claimed. In fact, Warren recently released a DNA test that showed definitively that she had a Native American ancestor, as she had been raised to believe.
When Trump talks at his rallies about Democratic leadership, he often mentions just Pelosi, Schumer, and Maxine Waters, the California representative who's earned his derision by calling on supporters to confront Trump administration officials in public. Unlike the other two, Waters does not hold a leadership post, and Trump drew accusations of racial dog-whistling when he tweeted in June that the prominent black legislator, "an extraordinarily low IQ person, has become, together with Nancy Pelosi, the Face of the Democrat Party."
And of course, there's the media. "CNN sucks" is among the most common chants, following closely after "U-S-A" and "Trump." A replayed announcement proclaimed that "Democrats and the fake news media" are working together to take away tax cuts.
In Fort Myers, while I took notes on a congressman touting Trump's accomplishments, a grandfatherly man near the press pen squinted in the direction of my notepad, as if monitoring my chicken scratch. Maybe he was trying to see the fake-news alchemy unfold before his eyes.
A campaign regular told me the Fort Myers rally was one of the most hostile he'd witnessed. When CNN's Jim Acosta geared up for a live shot, the chant went wild for several minutes—"CNN sucks"—and may have been stronger than any other chant that evening. Acosta later agreed to an on-camera interview with a Japanese news crew. Behind the relatively short cameraman loomed a bearlike bearded man wearing earrings, a too-small red MAGA bucket hat, and a black T-shirt with the words Fuck the Media printed in large white letters. A reporter approached him for an interview, and he leaned on the metal barricades that secure the border of the press pen, happy to talk. The reporter found him friendly in person, just looking for some attention.
A middle-aged man wearing a CNN Fake News shirt approached the barricades with more open anger. He argued with Acosta, who walked over and talked with him. Acosta recorded the discussion on a handheld streaming video camera, the man held up his phone to record video, the Japanese cameraman zoomed in from 10 feet away, and five bystanders pulled out their phones, seeming to anticipate an escalation. Their discussion finished. Acosta went back to work. The man went back to strutting in front of the press pen. A few minutes later, a young man in a shirt with Abraham Lincoln's likeness came over to tell Acosta, "Thank you."
When Trump came onstage, he took a moment to once again lament the "evil anti-Semitic attack" in Pittsburgh four days earlier. He talked about visiting the city the day before, returning to the White House and turning on the television. "I came home and sadly turned on the news as the far-left media once again used tragedy …" he said, interrupted mid-sentence by a deep-throated round of boos as supporters turned their gaze to the press pen, whose position on the floor of the arena always makes it the second focal point. The boos morphed into another rousing chant of "CNN sucks" as Trump stood at the podium during 10 seconds of chanting. He said reporters "did everything in their power to try to play [the demonstrations] up and push people apart."
After that rally, John, the earnest campaign volunteer, said he didn't blame societal divisions entirely on the media. He said Trump doesn't encourage attacks or violence but is simply "venting frustration" felt by many on the right. And that frustration is leading to partisan news outlets who make their presence known at Trump rallies, such as Right Side Broadcasting and Xcluded and YourVoice America, whose camerawoman-reporter at the Fort Myers rally showed the crowd her red MAGA hat.
After the "radical, far-left Democrats," "low IQ" Maxine Waters, open borders, and the "invasion" of America by caravan, Trump has also taken to citing Brett Kavanaugh's treatment by Democrats as another red-meat issue at the rallies. When the president spoke on Sunday night at the Chattanooga rally—his 23rd since October 1—he claimed credit for Kavanaugh's confirmation to the Supreme Court and then seized on the way Democrats "tried to destroy him."
Then, in a forceful ad-lib, he told of how one of the women who had come forward and said Kavanaugh had sexually assaulted her in the 1980s as a high-school student had recanted. "She made up the story," he said. "It was a lie."
Kim Moore, the supporter who'd just taken the president's photo with her cellphone, had somehow missed this news. But, in fact, none of Kavanaugh's three publicly named accusers—Christine Blasey Ford, Deborah Ramirez, and Julie Swetnick—had publicly recanted. Trump was actually referring to a woman named Judy Munro-Leighton, who had, at one point, claimed to be the author of an anonymous "Jane Doe" letter, received by Senate investigators, making accusations against Kavanaugh. But she later recanted and said she was not the author of the letter. She had, in other words, never accused Kavanaugh of anything.
All of that was lost on those listening to Trump in Chattanooga.
"Anyone who was paying attention could tell that they were lying," Sonya Wooden said of the women who made allegations. Doris Durham claimed that accusers were now coming forward to admit they were lying. "We were right all along," she said.
In the first 60 seconds of his speech Thursday at his rally in Columbia, Missouri, Trump attacked incumbent Democratic Senator Claire McCaskill because "she didn't even vote for Justice Kavanaugh. Think of that."
After the Indianapolis rally, a formerly Democratic-leaning college student told me the confirmation process helped secure his transformation into a Trump supporter, even though he didn't vote for him in 2016. Max Glaser, 22, borrowed a buddy's Mazda 3 sedan and drove three hours from Elmhurst College in a Chicago suburb. The junior-year finance major praised the president's adjustments to international trade deals, saying he felt more optimistic about his job prospects after graduation. But he sounded most motivated by the bitter fight over the Supreme Court nominee.
"After the whole Brett Kavanaugh thing, I felt like I couldn't support the Democratic Party right now," he told me in the chilly air outside Southport High School. He wore a red MAGA hat with a matching red MAGA sweatshirt. "I felt like there was no corroborating evidence … I believe that we should do what we can to help survivors of sexual assault, but I also believe that we have very important moral precedents of due process that we can't afford to lose. It scared me a little bit. I didn't want to live in a country where simply leveling an accusation would merit an indictment."
after Trump left the arena in Chattanooga, where he mockingly cried "Rape! Rape!," I went looking for Kim Moore, the supporter who had told me she was a rape survivor. I thought I saw her making a beeline for an exit to drive home to northern Georgia with her husband, David, a 48-year-old textile worker currently between jobs. I found the onetime high-school sweethearts standing in front of the bank of TV cameras in the press pen, shaking their heads.
She was stuttering with rage over the lack of respect for the president in the press pen. "It looks like they don't want to be here, like they hate every minute of it," she said. When Trump talked about "one nation under God," she spotted someone making a disgusted face.
Neither of them understood how Trump had misleadingly portrayed the supposed Kavanaugh accuser as having recanted her allegations. Kim was glad the president was calling the woman out. "When somebody lies about it, it makes me very angry," she said. The new information only confirmed what she and her husband had been saying for weeks, that a real victim would have come forward earlier in her attacker's career.
"I think they were all paid," her husband chimed in.
"What's the guy's name?" he asked her. "Soros?"