Year of the Governor
Democrats are favored to pick up gubernatorial seats in Illinois and Michigan, with gains possible in Iowa, Ohio, and Wisconsin.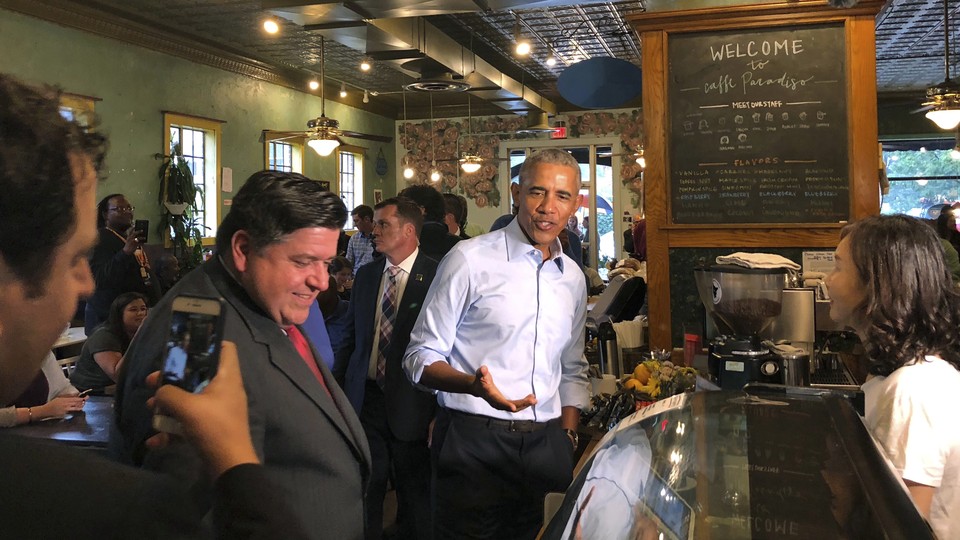 MIAMI—Whatever happens on Tuesday, there's not much Democrats can do to assume control in Washington. They're running as a check on Donald Trump's presidency, playing defense, positioning themselves for the long term, at best. Take the House, and even the Senate, and it's still about playing to a stalemate.
But if results break in their favor on Tuesday, Democrats could take control of state governments that have been in Republican control since 2010 or longer. That year, the GOP picked up six governor seats in what was considered a wave of its own. Democrats are expected to pick up at least that many across the country this year.
The result would rework all sorts of state policy, provide a massive injection of talent to the Democratic bench, force pundits to think anew about what the country wants, and through changes to gerrymandering, reshape the next decade in terms of who gets elected to state legislatures and the House.
At the heart of Democrats' hopes: the states that made Donald Trump president. Michigan and Illinois look like two governor seats previously held by Republicans that should be easy wins for the party. And Democrats believe that they have a good chance to pick up the Republican governorship in Iowa, and possibly those in Ohio and Wisconsin. The Democrats also should take Minnesota, the state where Trump's campaign came close in 2016 and had been hoping to expand to in 2020.
"It's a signal that Donald Trump has been a disaster as president, that he's a failure as president, and the people of the Midwest are rising up in a big blue wave against him. That's going to be disaster for his reelection," said J. B. Pritzker, who's widely expected to win the race in Illinois and move the biggest state currently under GOP control back to the Democrats.
Pritzker has put millions of his own fortune up against Bruce Rauner, the self-funding Republican who won the state in the 2014 red wave. "Think about the power of these large states and the ability to set standards for the nation," Pritzker said. "That's a great place for the Democratic Party to have rebuilt."
Jay Inslee, the governor of Washington and the chair of the Democratic Governors Association, said that he'd like to see more than half the American population under Democratic governors after the midterms, which is very much in reach given the polls in currently Republican-held big states, including Michigan and Illinois. Through that, he said, Democrats will move further into what has effectively been an antifederalist stance that they've adopted since Trump took office, splitting from the federal government when they've disagreed with his policies.
"People are thinking about health care, and they know their health care can be protected by governors, and they know that effectively Donald Trump cannot stop governors from providing health care for people in their states. And they know that Donald Trump cannot stop governors from fighting climate change and creating clean-energy jobs. And they know that Donald Trump can't stop Democratic governors from building roads and bridges and public transit," Inslee said Saturday, between campaign stops for Andrew Gillum in Florida. "He can't stop us. He can create anxiety and tweets."
Right now, just 16 states have Democratic governors; two of the bluest—Maryland and Massachusetts—have Republican governors who are the two most popular in the country, and both easily expected to win their own reelections. Most of the other Democrats are in other prime Democratic territories. But there's been movement on the ground, backed up by quiet investment from Democrats in Washington, in places where Democrats don't usually have a shot. Kansas, South Dakota, and Oklahoma all have candidates within the margin of error in polls, and leading in "favorability" ratings among voters asked whom they have a better opinion of. They are looking strong in New Mexico and Maine, and hoping for wins by Gillum in Florida and Stacey Abrams in Georgia. Their races, both in big southern states, are seen as toss-ups.
There are just two currently Democratic-held states where Republicans appear to be in striking distance, though both are themselves deep blue: Connecticut and Oregon. Democrats already eyeing the national political potential of a new class of local stars, from Gillum, a 39-year-old African American progressive, to Gretchen Whitmer, the mother of high-school students who's on track for a lay-up win in Michigan off a campaign where she's repeated her "Fix the Damn Roads" slogan endlessly in her tight midwestern accent.
But the biggest change if Democrats win these races won't have to do with governor races at all. The governors elected this year will be the ones in office in 2021 to sign off or veto the district maps drawn after the next census, giving them an opportunity to reverse the enormous structural advantage Republicans gave themselves after their 2010 wave, slicing up blocs of voters so that they have been winning more seats even though Democrats have been winning more votes. It's a huge part of why Republicans were able to win 63 seats that year, but Democrats still see even 40 seats on Tuesday as a pipe dream, despite all the Democratic and anti-Trump energy around the country.
At an event in Columbus on Thursday, Rich Cordray, the Democratic candidate for governor, said 2021 redistricting is at the top of his mind in Ohio, where Republicans have drawn lines that have helped them keep control of the statehouse and many congressional seats.
"We need a governor and lieutenant governor who will push back, who will move us forward, and ultimately will redistrict that legislature," Cordray said. "That's the long game here."
The governor seats won on Tuesday, former Virginia Governor Terry McAuliffe said, will help determine the party's future from 2021 to 2031.
McAuliffe finished his term as governor of Virginia in January and has been looking at running for president next year, but he's spent this year on a mission for Democratic candidates for governor.
"Nothing impacts individuals' lives more than the governor," McAuliffe said. "More so than the president."