Why Democrats' Response to GM Matters
The automaker is ceasing production at five plants in North America. How the party reacts could speak to its ability—and willingness—to make Rust Belt voters feel seen.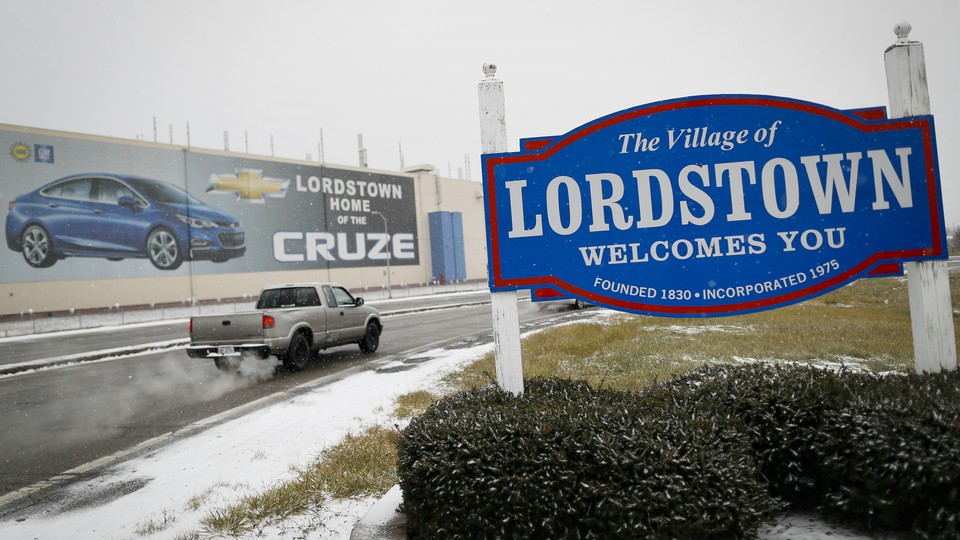 After General Motors announced Monday that it would lay off nearly 15,000 workers and cease production at five North American plants, Representative Tim Ryan of Ohio, whose district is home to one such plant, called on Congress to investigate the automaker.
"The American people deserve to know if the tax cuts they paid for are being used to inflate corporate profits at the expense of their economic security and the survival of American workers," Ryan wrote in a letter to the leaders of the House Ways and Means Committee.
It's not likely that the committee will actually investigate the company until at least January, when Democrats take control of the chamber. Even so, how the party responds to the closures could be significant: To capture the presidency, Democrats need to win in states such as Ohio, Michigan, and Wisconsin—places where there are hordes of white, working-class voters, many of whom voted for Donald Trump in 2016. Democrats, in other words, have some convincing to do. Their handling of the GM plant closures could speak to the party's continued development of a compelling economic message, and its ability and willingness to make these voters feel seen—two factors that could have a big impact on the long-term strategy of the party.
The GM cuts affect factories in Michigan, Maryland, and Representative Ryan's district in Ohio, which is home to the Lordstown GM complex. That plant, which currently produces the Chevy Cruze, has cut more than 3,000 jobs in the past two years, as it downsized from three shifts to one. GM has said that dropping workers and shifting its emphasis from the production of sedans, such as the Cruze, to more popular sport-utility vehicles will save it $6 billion annually.
The president joined congressional Democrats in criticizing the move, publicly chastising the automaker and threatening to eliminate GM's subsidies on Twitter. He told reporters on Tuesday that he was "very tough" in a conversation with the company's CEO, Mary Barra.
The strong reaction from the president stems from the promises he's made for the past two years to bring manufacturing jobs—and general economic prosperity—back to the Rust Belt. "They're all coming back. Don't move, don't sell your house," Trump said during a 2017 visit to Youngstown, Ohio. "We're going to fill up those factories or rip them down and build new ones." It's the same pledge he made time and again during the 2016 presidential campaign, perhaps most famously about the Carrier plant in Indiana, a "big, beautiful" air-conditioning company Trump vowed to keep in the United States but which later ended up laying off hundreds of workers.
The GM layoffs, then, come as a serious warning to Trump: If he fails to deliver on his promises, he could lose support in a region he needs to win to secure reelection—one that backed a Democratic president as recently as 2012. But that warning is also an opening for Democrats, activists and strategists told me: They've got a chance to step in with a compelling, pro-worker economic message of their own.
Trump has "presented us with an opportunity to eat away at the advantage he's built with these voters," said Matt Morrison, the executive director of Working America, the political-organizing arm of the AFL-CIO that advocates for progressive policies. "We are going to drive through that opening like a Mack truck … or, I should say, a Chevy Cruze."
Since before the 2016 election, some Democrats have criticized their party for lacking an inspiring economic vision—one that appeals to a broad range of folks, from progressives living in solid-blue strongholds to white, working-class voters in red districts. Party leaders sought to remedy this in 2017 by announcing their "Better Deal" economic agenda, and by running a midterm-campaign program in which they endorsed strong candidates with working-class roots in red districts, such as Iowa's Abby Finkenauer and Illinois's Lauren Underwood, both of whom won their election.
At the same time, since 2016 the party has been accused of overcorrecting: Many progressives argue that prioritizing Trump voters rather than doubling down on the party's existing electorate is politically unwise. Those activists have been urging the party to forget moderates and Trump voters and tap into the potential of a multiracial coalition made up of African Americans, Latinos, and white progressives of various income levels—a more reliable subset of Democratic voters. "The way to win is to inspire and mobilize the progressive vote, but far too many people are focusing on the wrong sector," Steve Phillips, the founder of the progressive organization Democracy in Color, told me in an interview earlier this year. "If you start electing people whose instinct is to compromise, that's not going to undo the damage" caused by the Trump administration.
But at least in the near term, Democrats likely need white, working-class voters in the Rust Belt if they're going to win back the Senate and the White House. And Trump, some Democrats say, has given the party ample room to appeal to these Americans. Members of the working class, for example, didn't benefit nearly as much from the Republican tax cuts as corporations did. Many farmers and other agricultural workers are suffering significant losses from the administration's trade war with China. And after two years with a Republican-controlled Congress, Trump never advanced any kind of meaningful infrastructure reform—despite many eventful infrastructure weeks.
Democrats must offer an alternative to Trump's ineffectual populism, strategists told me. "They need to listen to working people," said the Democratic pollster and strategist Stan Greenberg, who advised the presidential campaigns of Bill Clinton and Al Gore. Democrats weren't empathetic to the concerns of voters who were hit hard by the economic recession, Greenberg argued, and the only way to earn back their trust is by "making them front and center."
Both Greenberg and Morrison praised Representative Ryan for calling out GM. Ryan is doing something all Democrats should be doing, Morrison told me: engaging with working-class voters on a personal level. "Listen to people, and have a conversation with them," Morrison said. "Say, 'Hey, what's on your mind? How are you processing the tax breaks, the tariffs, the job losses here? Do you see anyone fighting for you?'" If Democrats don't make this kind of effort all across the country, and especially in states such as Michigan, Ohio, Wisconsin, and Pennsylvania, Morrison told me, "what they're gonna wind up with is something I don't think any of us want to see: a second term of Donald Trump."
Democrats won back the House in November, in part, by promising to fix America's health-care system. Already, would-be Democratic presidential candidates seem to be positioning themselves to make the economy a dominant issue in 2020. The primary could come down to which of the (presumably many) Democratic contenders can effectively articulate an economic vision that appeals to voters in urban areas as well as to those in the places Trump won in 2016. Both Ryan and Senator Sherrod Brown of Ohio, who practice worker-centric politics and have a proven ability to win Trump supporters, have been floated as potential candidates. And others, like Senator Bernie Sanders of Vermont, already have well-known economic-populist visions that could appeal to these voters.
Earlier this week, Nan Whaley, the mayor of Dayton, Ohio, wrote an op-ed in The New York Times in which she encouraged her fellow Democrats to "engage deeply in small towns and rural areas" she feels they've been neglecting. When I asked her this week about the kind of economic vision she expects from the Democrats, she put it this way: "I can't be part of a party that doesn't put the worker first. Even when some of them break our hearts, that is still what is driving me."