Democratic Governors Will Now Lead a Majority of Americans
The party picked up seven gubernatorial seats from Republicans while defending its own turf.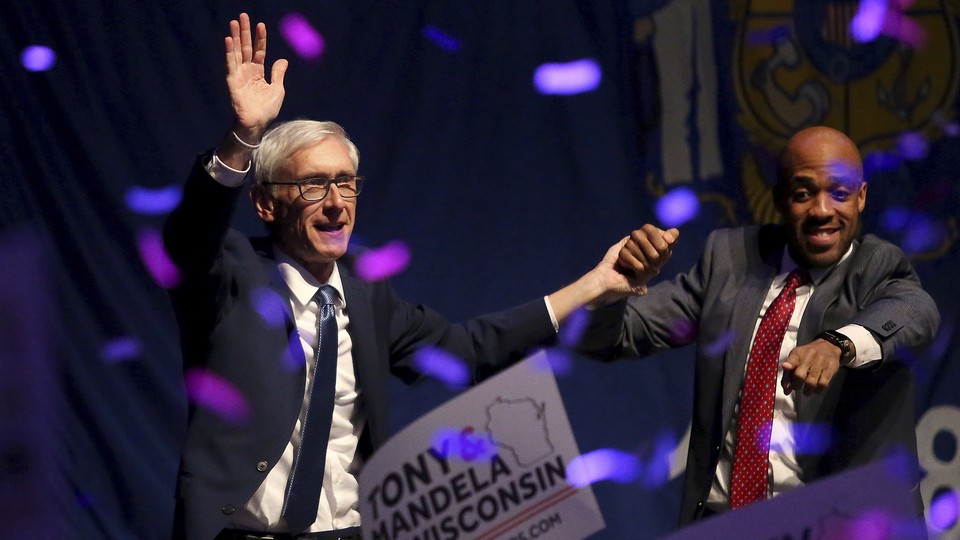 Scott Walker's eight-year run as the union-busting conservative governor of Wisconsin ended on Tuesday night, and Kansas voters rejected Kris Kobach's bid to take his hard-right views on immigration and voter fraud to the most powerful perch in Topeka. In Maine, voters replaced the combative and uncompromising conservative Paul LePage with a Democratic woman, Janet Mills, running on a message of collaboration.
In all, Democrats on Tuesday captured seven governorships held by Republicans for the past four or eight years, reversing a swell that had given the GOP a record 70 percent of the nation's executive mansions as recently as 2016. The Democrat J. B. Pritzker ousted Republican Governor Bruce Rauner in Illinois, and Democrats won open seats in Michigan, New Mexico, and Nevada. They now hold 23 of the nation's 50 governorships, with Republicans likely to control the remaining 27 once all races are called. Democrats also flipped six state legislative chambers and gained hundreds of seats nationwide. In New York, Illinois, Colorado, Maine, and Nevada, Democrats now hold control of the governorship and both houses of the legislature.
But the gubernatorial elections were not all Democrats had hoped for, and they fell short of capturing the top jobs in an outright majority of states. Democrats were unable to mount strong campaigns against a trio of Republican governors in deep blue states: Charlie Baker in Massachusetts, Larry Hogan in Maryland, and Phil Scott in Vermont all won reelection easily.
In a potentially ominous harbinger for the 2020 presidential election, Democrats lost races they aggressively targeted in the battlegrounds of Florida, Ohio, and Iowa. In Florida, Andrew Gillum's narrow defeat to the Donald Trump ally Ron DeSantis, despite Gillum holding a lead in most polls, was particularly stinging for progressives. And in Georgia, Stacey Abrams was fighting on Wednesday to get into a runoff election against the conservative secretary of state, Brian Kemp, who was just above the 50 percent threshold needed for an outright win.
But the seven Democratic gains in governorships were the most for either party in a single year since 1994. Depending on the state, these wins will allow the party to either block conservative policies or implement progressive proposals on the state level that stand little chance of success in Washington's divided national government.
They'll also be crucial bulwarks in the party as it prepares for state-by-state redistricting fights after the 2020 census. In Wisconsin and Kansas, for example, the Democrats Tony Evers and Laura Kelly will be able to veto maps drawn by Republican state legislators and negotiate less gerrymandered districts.
"For the first time in a long time, a majority of Americans will now have Democratic governors working for them," Governor Jay Inslee of Washington State, the chairman of the Democratic Governors Association, told reporters on a conference call. He noted that the seven states Democrats gained include 38 million people, giving the party a gubernatorial majority in population if not in states.
In addition to picking up seats from Republicans, Democrats defended all of their own governorships that were up for election on Tuesday night. Governors Andrew Cuomo in New York and Tom Wolf in Pennsylvania cruised to reelection, while in Colorado, Jared Polis joined Oregon's Kate Brown (who also won reelection on Tuesday) as the nation's only LGBTQ governors. Polis became the first openly gay man to win a statehouse. In Connecticut, the Democrat Ned Lamont narrowly avoided the party's only net defeat, as he edged out the Republican Bob Stefanowski. Lamont's win came 12 years after the liberal businessman made national headlines for defeating Senator Joe Lieberman in a Democratic primary, presaging Lieberman's move rightward.
Republicans did make one gain. In Alaska, Mike Dunleavy beat former Democratic Senator Mark Begich to capture a governorship that the independent Bill Walker has held since 2015. Walker ended his reelection bid a few weeks ago when it became clear that he and Begich were splitting the anti-GOP vote.
In Kansas, Wisconsin, and Maine, the elections could give new momentum to efforts to expand Medicaid. Voters in Maine approved the expansion in a ballot measure last year, but LePage slow-walked its implementation by opposing legislation to fund it. In Michigan, the election of Gretchen Whitmer could speed up the enactment of a major infrastructure package, Inslee noted.
Beyond the policy implications, none of the Democratic victories was sweeter for the party than those in Wisconsin and Kansas. Walker had been a conservative superstar when he won the governorship of the Badger State in 2010, and promptly worked with Republican legislators to enact sweeping restrictions on the bargaining power of public-sector labor unions. He defeated a Democratic recall effort in 2012, won reelection in 2014, and, before the rise of Trump, was a leading contender for the Republican presidential nomination in 2016. Evers, the Democratic state superintendent of schools, ran on a kitchen-table platform focused on education, health care, and infrastructure.
Walker conceded on Wednesday, as Evers led him by about 30,000 votes, or 1.2 percent, with all precincts reporting. Richard Trumka, the president of the AFL-CIO, greeted Walker's defeat with a statement comprising all of six words: "Scott Walker was a national disgrace," he said.
Kobach's loss in deep-red Kansas was even more of an upset, despite polls that showed the race between him and Kelly neck and neck. The two-term secretary of state and close Trump ally was just as polarizing in Kansas as the president is nationally. He made a name for himself as a crusader against both illegal immigration and voter fraud, instituting a strict voter-identification law in Kansas and serving as the chairman of the president's commission on election integrity. Trump empaneled the commission to investigate his unsubstantiated suspicion that millions of illegal ballots cost him the national popular vote in 2016, but in an embarrassment for Kobach, he disbanded it after states refused to submit voter data as requested.
Kelly won in Kansas by four and a half points, despite the presence of an independent candidate, Greg Orman, who Democrats feared would cost them the election. Her victory continues Kansas's tradition of switching parties in the governor's office every eight years, but it owes as much to the legacy of former Governor Sam Brownback, the conservative who left office deeply unpopular after Republicans in the state legislature rolled back his signature tax cuts.
In Kansas, Wisconsin, and Michigan, a Republican majority in the legislature will limit a leftward lurch under new Democratic governors. But by defeating Walker and Kobach, in addition to their wins in five other gubernatorial states, Democrats have not only curtailed the careers of two conservative stars—they will have reshaped the policies and the political landscape of those states for the four years to come.