The Lesser Lights Come Out in Iowa
With the Democratic stars biding their time, a mayor, a congressman, a senator, and a businessman commit to a big progressive holiday party in Des Moines.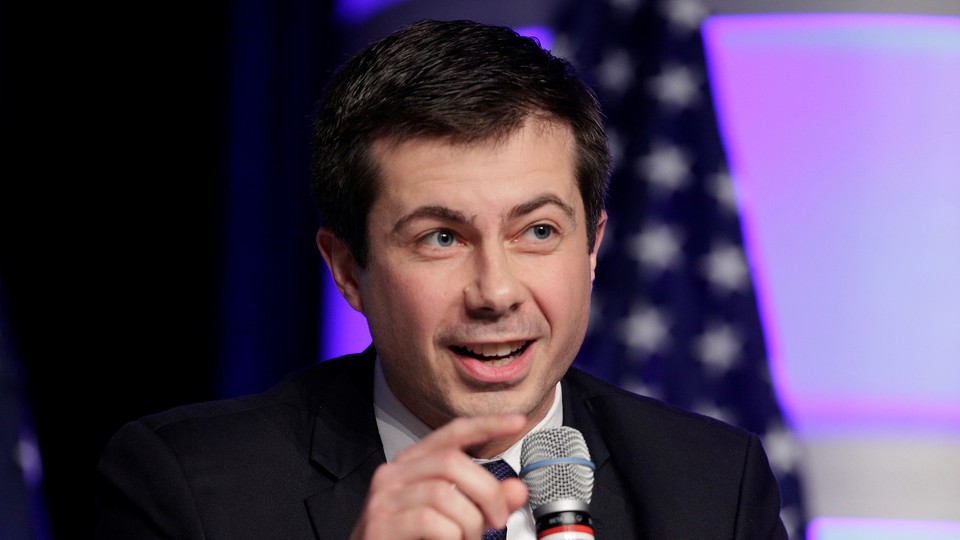 The real action of the 2020 Democratic presidential campaign has gotten off to a slightly slower start than most insiders expected—the political world was full of speculation that someone might announce by Thanksgiving, or at least by the week after. Neither happened.
That's left room for some of the lesser-known hopefuls to try to grab some of the spotlight before the bigger stars show up.
Their first big stop in Iowa, home of the caucuses: the Progress Iowa annual holiday party, coming up December 20 in downtown Des Moines. Headlining it this year will be South Bend, Indiana, Mayor Pete Buttigieg, Oregon Senator Jeff Merkley, Representative Eric Swalwell of California, and Andrew Yang, a businessman.
Organizers invited several better-known candidates, but were told that they weren't ready to make the leap of going to Iowa and push the speculation into overdrive.
It won't be the first time in Iowa for any of these prospective candidates, and it's looking like it won't be the last, with the Democratic field seeming to be in the accordion phase of politician after politician looking up and saying, "Hey, why not me?"
But the liberal political-activist group has developed a knack in its short, six-year history for being an early stop for mostly unknown Democrats who've then splashed into the presidential field: Bernie Sanders was the main guest in 2014 ahead of his last presidential run, and Jason Kander was the main guest in 2016, on the way from transforming from a losing Missouri Senate candidate into a nationally known Democrat who was, at one point, expected to make a presidential run of his own for 2020. And that's made it a key stop for presidential speculation: Last year, New York City Mayor Bill de Blasio used his own appearance at the event to stir the pot that he might be making yet another play for national politics—though this attempt, like his previous ones, never quite materialized.
"It's going to be a fun night and provide a lot of energy for progressives after the midterm election," said Matt Sinovic, executive director of Progress Iowa.
Other likely candidates are making mostly behind-the-scenes moves, such as hiring staffers and preparing the legal paperwork for the presidential exploratory committees that will allow them to officially start fund-raising. The only other substantive action so far: Tom Steyer, a billionaire environmental and impeachment activist, has been launching a website; former New York Mayor Mike Bloomberg has scheduled a screening of a climate-change movie in Iowa for Tuesday; and New Jersey Senator Cory Booker is heading to New Hampshire next weekend for an event celebrating local Democrats. Meanwhile, Bernie Sanders released a new book on Tuesday, and on Thursday, Elizabeth Warren will deliver a very hustings-sounding speech, "Foreign Policy That Works for All Americans," at American University.
At this point, though, Buttigieg, Swalwell, Merkley, and Yang are names that not even most Democratic activists know, but all of them are convinced that the current political moment is so topsy-turvy that there might be an opening for (in order) a small-city Millennial mayor who's both an Army vet and openly gay, a liberal Northwest senator who's mostly focused on behind-the-scenes coalition building, a third-term California congressman who's turned his role on the committee investigating Russia into daytime-cable-news stardom, and a guy who talks about robots and universal basic income but has never run for anything before.
[Read: Biden stumps in Iowa as he ponders 2020.]
A month from now, there will almost certainly be more candidates ready to publicly toe the line. A year from now, there could be four times as many. And in about 15 months, the Iowa caucuses will begin winnowing however many make it to that point in what's likely to be the most tumultuous race Democrats have ever seen.
"With this lineup," Sinovic said, "we know we'll be fired up heading into the new year."