Don't Bet on Comprehensive Immigration Reform in the New Congress
Even with a Democratic House majority, the most plausible immigration deal might only help the "Dreamers" and those with temporary protected status.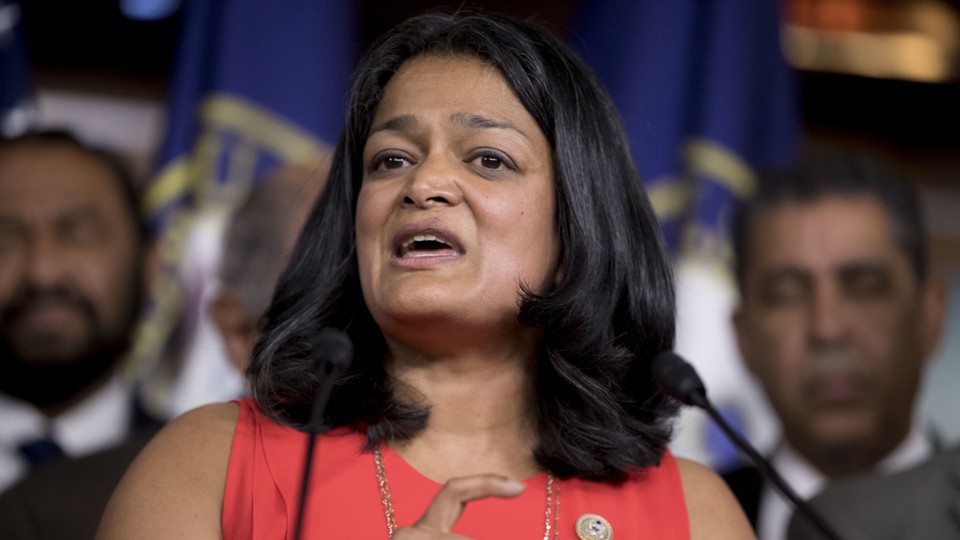 Three words—comprehensive immigration reform—have plagued Congress for decades. Bills get introduced. Bills fail. This cycle is likely to replay itself in the 116th Congress, and will possibly expose divisions within the Democratic Party.
This week more than 300 organizations signed a letter urging the Democratic-controlled House to move forward on legislation that would provide a path to citizenship for recipients of the Deferred Action for Childhood Arrivals (DACA) program, undocumented immigrants who arrived in the United States as minors, and for holders of temporary protected status (TPS), those who have been displaced by natural disasters, armed conflicts, or other events.
"Although lower court rulings are keeping some of these protections in place for now, the administration is moving quickly to reverse those rulings and expose these long-standing community members to the threat of deportation as soon as possible," the letter, which was released on Tuesday, reads.
Indeed, trying to prevent the dismantling of DACA and the revocation of TPS has taken on a renewed sense of urgency. For months, each program has been upheld in the courts after Donald Trump's administration has moved to end DACA and strip TPS holders of their status, leaving large swaths of the immigrant population in limbo. Nearly 700,000 people were enrolled in the DACA program as of August 31, and more than 300,000 people have permission to work in the United States under TPS. As the administration continues to challenge those court rulings, the pressure is mounting, advocates say, to take congressional action—and soon.
But the passage of any such legislation has proved challenging over the years, and it's not expected to get any easier. While Democrats have regained control of the House, the Senate continues to be run by Republicans, who have shown themselves to be split over immigration. And there are divisions within the Democratic Party, with progressives demanding a comprehensive immigration package while moderate members might be more selective. The way forward, then, may not look like a big immigration package, but like a smaller one that addresses programs, such as DACA and TPS, that are most at risk and have broad support.
"If courts rule that a million people can be deported by this administration, let's provide them a permanent solution," said Frank Sharry, the executive director of America's Voice, an immigrant-advocacy group. "Is it a big package or a much more narrow package that can pass? I'm not optimistic of a big package."
What does a narrow approach look like? The letter signed by advocacy organizations this week named two bills: the Dream Act of 2017 and the American Promise Act. The former provides a pathway to citizenship for DACA recipients, while the latter does the same for TPS holders. "We urge you to package them together and bring them to the House floor as soon as possible after the 116th Congress convenes," the letter reads.
Some progressives, however, might be more willing to attempt a comprehensive immigration package that also includes measures to dramatically change how the nation enforces its immigration laws—and that could pose some challenges. In a news conference held by the Congressional Progressive Caucus following the 2018 election, Representative Pramila Jayapal of Washington said the caucus was "in the process of putting together a comprehensive immigration-reform platform that I think every Democrat should be embracing."
Progressives and moderate Democrats have been split on immigration issues before. During the campaign season, progressive candidates rallied around "Abolish ICE," a hashtag that quickly transformed into a small movement to scrap the Department of Homeland Security's enforcement arm, while some Democrats kept their distance. Jayapal was among those calling for the agency to be eliminated, and introduced legislation, along with Representative Mark Pocan of Wisconsin, to do just that.
Representative-elect Veronica Escobar of Texas, who was endorsed by the Congressional Progressive Caucus, acknowledged that party members can differ on some issues, such as border security, but reiterated the need to bring up comprehensive immigration reform. "I think that yes, even within our own party there will be challenges," she told me. "My hope is that we can find avenues, areas of unity first, and focus on things that we can agree on."
In order to pass any legislation, Democrats would need 218 votes in the House and 60 votes in the Senate. Republicans have previously supported legislation that would allow DACA recipients to earn lawful permanent residence. Getting it past Trump is another matter.
Trump's administration has made cracking down on immigration a priority, but the president's agenda has had little success in Congress. Despite repeated calls for border-wall funding, Trump has yet to receive the billions he's requested. And although he's condemned the nation's immigration laws, no plan has been put forth to change them.
Ali Noorani, the executive director of the National Immigration Forum, an advocacy organization, said Trump differs dramatically from former Presidents George W. Bush and Barack Obama, both of whom were heavily involved in attempts to pass comprehensive immigration reform. "President Trump has shown no interest in a constructive approach to immigration solutions," Noorani said, making the likelihood of passing a comprehensive package slim. Nonetheless, advocates believe they could make inroads with legislation that tackles more limited legislation providing legal status to DACA recipients and TPS holders, rather than by taking on the nation's immigration system as a whole.
While the next Congress ushers in a slew of new members and a Democratic House majority, the roadblocks that have confronted lawmakers will persist. The question will be how they navigate them and whether any attempt at immigration legislation, no matter how big or small, has a chance at succeeding.