The Fight Over Jim Acosta's Press Pass Is Only Beginning
A federal judge temporarily restored Jim Acosta's White House press credentials, but didn't rule on the CNN correspondent's First Amendment claims.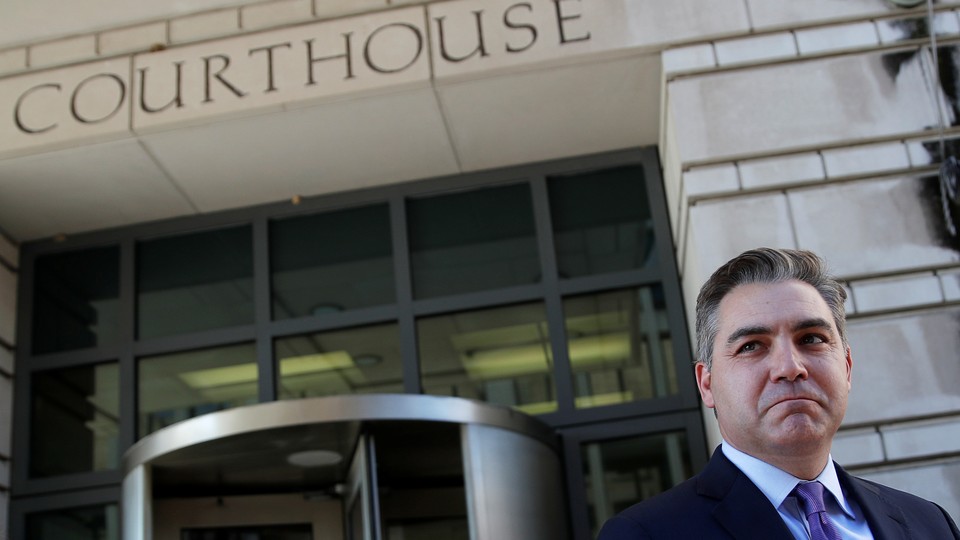 First Amendment advocates hailed Friday's ruling by a federal-court judge that will result in at least a temporary return of CNN chief White House correspondent Jim Acosta's press credentials, which were yanked more than a week ago, following a news-conference dustup between Acosta and President Donald Trump.
Since then, Fox News and more than a dozen other news organizations have joined ranks with CNN to argue that Trump can't revoke a reporter's press credentials simply because he didn't like a question the reporter asked, which appeared to be the case with Acosta.
Still, Jim Windolf, media editor of The New York Times, was among those expressing caution after Judge Timothy J. Kelly granted a temporary restraining order blocking the White House's revocation. "Subtext of the judge's order: You can kick a reporter out of the White House, but there are procedures you have to follow," Windolf tweeted. "So it wasn't necessarily a victory for the First Amendment."
In a hearing in D.C. federal court, Kelly ruled that the government violated Acosta's Fifth Amendment right to due process when it rescinded his White House press credentials following Trump's contentious news conference the day after the midterm elections. The ruling signals that Acosta is likely to prevail on the merits of his Fifth Amendment case, as the White House did not properly give notice, explanation, and an opportunity for rebuttal, as the D.C. Circuit Court of Appeals had said was necessary in a similar case decided more than 40 years ago. Kelly explicitly did not rule on Acosta's claim that his First Amendment rights had been violated.
Kelly ruled that efforts by the White House to afford Acosta due process were "belated" and "hardly sufficient."
"Whatever process occurred within the government is still so shrouded in mystery that the government could not tell me at oral argument who made the initial decision to revoke Mr. Acosta's press pass," Kelly said from the bench.
Friday's hearing completed proceedings that began in court on Wednesday when attorneys for CNN told Kelly that Acosta's Fifth and First Amendment rights had been violated, while White House attorneys argued that his credentials had been revoked for disruptive behavior, which they have a right to curtail.
"We are gratified with this result and we look forward to a full resolution in the coming days," Acosta said in a written statement. "Our sincere thanks to all who have supported not just CNN, but a free, strong and independent American press."
Outside the courthouse Friday morning, Acosta thanked the judge and members of the press who supported him. "Let's get back to work," he said.
In ruling on the temporary injunction, Kelly had to determine whether withholding Acosta's credentials would cause him "irreparable injury loss or damage." Although the White House argued that CNN had 50 other credentialed reporters, the judge ruled, citing precedent, that CNN and Acosta have separate interests: CNN's sending another reporter would not alleviate the damage inflicted upon Acosta.
"The granting or denial of a TRO is not a ruling on the merits, but key considerations include the likelihood of ultimate success of the plaintiff at trial, as well as the harm the plaintiff will suffer if interim relief is denied," David Lurie, a New York–based attorney, told me Wednesday. Lurie emphasized that Sherrill v. Knight, the 1977 case decided in favor of a reporter denied White House credentials, was on the books in the D.C. Circuit and provided direct precedent for Acosta's case.
Columbia University's Knight First Amendment Institute called the ruling a "victory for press freedom."
"We need reporters to be able to ask tough questions in these press briefings without having to fear that their access will be revoked as a result," Jameel Jaffer, the Knight Institute's executive director, said in a statement. "The First Amendment forecloses the White House from selectively revoking access on the basis of a reporter's viewpoint."
The ACLU said Friday that the White House's attempts to stifle tough journalists is backfiring.
"Today's decision reaffirms that no one, not even the president, is above the law," Ben Wizner, director of the ACLU's Speech, Privacy, and Technology Project, said in a statement. "The White House surely hoped that expelling a reporter would deter forceful questioning, but the court's ruling will have the opposite effect. The freedom of the press is a bedrock principle, and our democracy is strengthened when journalists challenge our leaders rather than defer to them."
Michele Kimball, media-law professor at George Washington University, agreed. "I was relieved to see that Judge Kelly's ruling recognized the importance of both the First Amendment and due process," she said. "We need to reiterate to the White House that it is a government agency acting for the people. Part of that process includes answering questions from the press, and allowing the press access, even when the administration doesn't want to. This was the first step in helping Acosta get his credentials back, but now we need to be sure that everyone else's press passes are protected from arbitrary revocation."
Jane Hall, a journalism professor at American University, said Kelly's issuance of the TRO was a good first step. "The fact it was made by a Trump appointee and supported by 13 media organizations including Fox News shows this is a really important issue for everyone in the press," Hall said in a phone interview. "Being rude is not sufficient grounds to take away someone's press pass."
Steve Coll, dean of Columbia University's Graduate School of Journalism, expressed cautious optimism. "A TRO decision is made on semi-technical grounds so there's a way to go on the First Amendment issues," he said. "But it's better than the alternative."
Acosta has received support from press advocates, First Amendment scholars, and the major national news organizations, many of which compete with CNN. Among the media entities that have said they will file an amicus brief in support of Acosta and CNN are the Associated Press, Bloomberg, First Look Media, Gannett, NBC News, The New York Times, Politico, USA Today, the National Press Club Journalism Institute, the Press Freedom Defense Fund, the E. W. Scripps Company, The Washington Post, CBS News, and BuzzFeed News.
The White House Correspondents' Association filed its own amicus brief, stating: "The President's view of the law is wrong. While he may have absolute discretion to exclude a member of the press from his Trump Tower residence, he does not have absolute discretion to exclude a member of the press from the White House."
Fox News' support of CNN turned heads in Washington, as Fox's opinion journalists and executives enjoy a cozy relationship, and something of a revolving door, with the White House. Bill Shine, former co-president of Fox News, is White House deputy chief of staff for communications and a named defendant in CNN's suit. Jay Wallace, president of Fox News, released the following statement on Wednesday:
"FOX News supports CNN in its legal effort to regain its White House reporter's press credential. We intend to file an amicus brief with the U.S. District Court. Secret Service passes for working White House journalists should never be weaponized. While we don't condone the growing antagonistic tone by both the President and the press at recent media avails, we do support a free press, access and open exchanges for the American people."
Coll, the Columbia dean, praised the media unity in an email on Thursday. "It has proven hard for news organizations and individual journalists to define the terms of solidarity during the Trump Administration. Polarization within and around the media is one reason; also, reporters are competitive," Coll wrote. "The Acosta case has been a gift in that it has presented an offense that everyone in the business can agree on—the denial of equal right of access to question the President. Other news organizations defended Fox News's access to the White House when the network ran afoul of the Obama Administration. It's good to see them reciprocating and defending a core principle."
Chris Ruddy, CEO of Newsmax and a friend of President Trump's, opposed the White House's decision. "Newsmax's position is that we oppose suspending CNN's press access and credentials," Ruddy told me in an email. "It is important the press has access to the White House and our government, however much one may disagree with a particular outlet's point of view. Denying such access to CNN and Jim Acosta sets a dangerous precedent."
However, One America News Network, a conservative cable network, filed an amicus brief in support of the government on Thursday, writing that Acosta's behavior has "has hindered our free press from functioning effectively during White House briefings."
Acosta's credentialing battle is still set to play out—only now he can do what he always said he wanted to do: go back to work.
"Reporting for duty," a smiling Acosta told the Secret Service at the Northwest Gate.