These Three Races Could Flip the Senate
Can the Senate really swing left? These three races could be the key to a monumental change in Congress.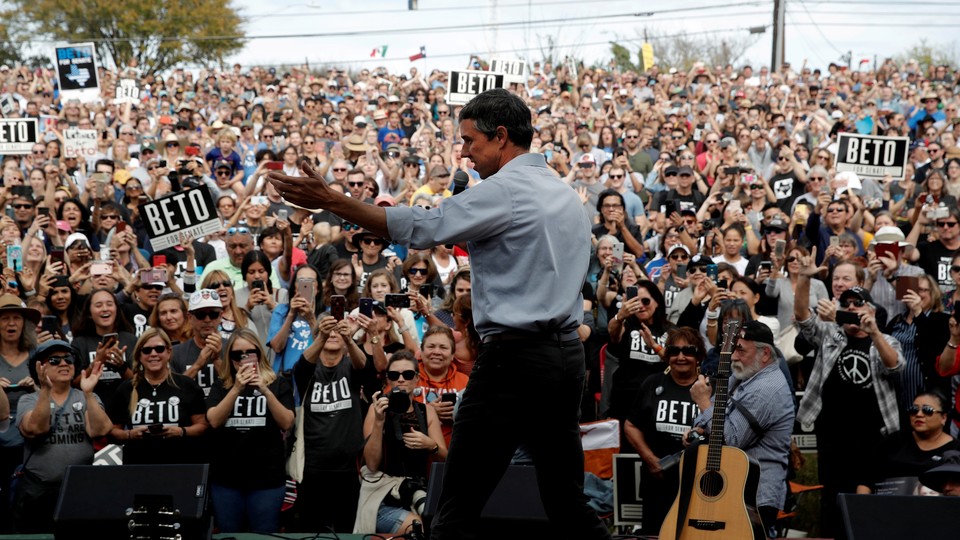 What would it take for Democrats to win the Senate?
Until now, it's a question most strategists have brushed off. Republicans may hold a one-seat majority in the Senate, but their members on the ballot on Tuesday include a litany of popular incumbents. Moreover, with 10 Democrats up for reelection in states Donald Trump carried in 2016, Republicans have concerned themselves not so much with maintaining their majority in the Senate, but with adding to it. For the most part, Democrats' congressional hopes have been pinned on the House, where paths to the majority abound.
Yet startling early-voting numbers have sparked hope among Democrats that taking control of the Senate may not be so far-fetched after all. In key states such as Arizona, Nevada, and even Texas, advance ballots have exceeded those cast in the previous midterm election by more than 100 percent. Young voters in particular—people between the ages of 18 and 34—are turning out in droves. That fervor could provide Democrats the last-minute lift needed to claim the upper chamber.
"A week ago, I wouldn't have speculated that Democrats had a path to the Senate," the Democratic strategist Scott Eckart told me. "And then people started to vote."
Here are the states to watch.
Arizona
The Valentine State has not elected a Democrat to the Senate since 1988. Representative Kyrsten Sinema may be poised to change that. The third-term congresswoman was once a spokeswoman for the Green Party, but has sought to position herself as a centrist as she vies for Jeff Flake's seat. She's voted in step with President Trump more than half the time in the past two years, and apart from former Vice President Joe Biden, she has declined to campaign with nationally popular Democrats.
It's a good strategy in an election where the popular Republican governor, Doug Ducey, is at the top of the ticket. If early-voting numbers are any indication—especially the surge in new voters and Millennial voters—Sinema's challenger, Republican Representative Martha McSally, may have to rely on Ducey's coattails to eke out a victory. The 52-year-old Air Force veteran is in many ways the Platonic ideal of a Republican candidate. But Sinema has managed to inch McSally into a corner for her support of the GOP's attempt to repeal Obamacare, which would have stripped coverage for preexisting conditions.
A RealClearPolitics polling average gives McSally a 0.2-point lead over Sinema. "If Sinema can win, it would signify that Arizona is a purple state," Representative Ruben Gallego of Arizona told me. "It would signify that with the proper investments, we can be a state that's competitive."
Nevada
Early voting in Nevada this year has outpaced that of the previous midterm election by 113 percent—more than in any other state. And the results don't look good for the Republican incumbent Dean Heller. The key data point? Democrats are clocking a nearly 2,000-vote lead in Washoe County. That's not to say Heller won't ultimately win Washoe. But if these early-voting trends continue and Heller can't clinch victory in the county that secured his win in 2012, it's hard to see how he makes up the loss elsewhere. "The math just becomes very difficult for him," the veteran Nevada political analyst Jon Ralston told me.
Heller is the only GOP senator up for reelection in a state won by Hillary Clinton in 2016. He's contesting Jacky Rosen, a Democratic representative whom the opposition has dubbed "Wacky Jacky." Like Sinema, Rosen has centered much of her campaign on health care, criticizing Heller for his support of repealing Obamacare. But unlike Sinema, Rosen has eagerly embraced the local and national party machine, promoting endorsements from former Senate Majority Leader Harry Reid, former President Barack Obama, and Senator Kamala Harris of California.
An Emerson poll released Monday shows Rosen with a four-point lead over Heller. "But the thing about Dean Heller is he's never lost a race," Ralston was careful to note. "So that should be in the back of everyone's mind."
Texas
At this point, Beto O'Rourke needs no introduction. The congressman from Texas has captured the national liberal imagination for his charisma and for his support of progressive policies, including "Medicare for all." But for all the national fanfare around O'Rourke, the Republican incumbent Ted Cruz has maintained a healthy lead in the polls.
Early voting in the Lone Star State suggests the race may be tightening. The state saw a 103 percent increase from the previous midterm election in advance ballots and, like Arizona, a surge in new voters and young voters. An O'Rourke win would depend almost entirely on unprecedented turnout from young voters and Latino voters, but whether early-voting trends will translate to Election Day realities remains to be seen.
O'Rourke may be the fresh-faced star of the Democratic Party this election cycle, but he's also the underdog. Sinema and Rosen are far more viable candidates in the party's path to the Senate. But it's up to a long shot like O'Rourke to seal the majority, and it's for this reason that Democratic strategists and lawmakers alike have for months been reluctant to speculate about Democrats' chances in the Senate.
Historically, national fanfare does not a statewide hero make. But perhaps the lesson of 2016 is that anything—polling, approval ratings, enthusiasm be damned—can happen.